For many people, a New Zealand vacation is the trip of a lifetime and for those people who make it happen, a piece of their heart will forever remain there. One of the best destinations in the world, you'll want to make sure that your holiday is exactly what you want it to be.
The best time to visit New Zealand is any time, literally. This intensely beautiful country has unique experiences to offer no matter what time of year you visit. From thrilling winter escapades like heliboarding or glacier hiking to fun in the sun like surfing and canyoning and everything in between, New Zealand will never disappoint.
New Zealand is comprised of two drastically different islands, both equally dramatic and impressive. The North Island is the smaller of the two and is covered in lush rainforest, alluring mountains, soft sandy beaches, geothermal wonderlands, and rolling, endless countryside. The South Island is rugged and wild, more desolate with staggering mountains, thick forests, glaciers, and fjords.
Whether you're a beach bum or a snow bunny or a special blend of the two, this guide will help you decide the best time to visit New Zealand for yourself.
Best Time of Year to Visit New Zealand
Remember that New Zealand is in the southern hemisphere and thus experiences opposite seasons than those in North America and Europe. While we're shoveling snow, New Zealander's are enjoying their longest days with the most sun and heat. While we have summer, Kiwis are hitting the slopes. So before you book a plane ticket, know what kind of weather you want and when New Zealand has heat or snow!
For Weather
The best time of year to visit New Zealand is highly dependant on what sort of adventure you're looking for and the amount of time you have for said adventure. It is also dependant upon whether you want to see the North Island, South Island, or both! The general climate for New Zealand is mild and temperate with warmer temperatures on the North Island and colder temperatures on the South Island.
No matter what time of year you travel to New Zealand, you should be prepared for all types of weather, especially if you plan on visiting both islands. The average temperature on the North Island is 15°c while the average temperature on the South Island is 9°c. Storms can whip up seemingly out of nowhere and disappear just as quickly.
For Budget Conscious Travellers
Many people think they can't afford a trip to New Zealand, however, there are plenty of ways to travel on a budget, and when you choose to travel to New Zealand can affect that. The time of year you choose to travel, how you're getting from place to place, and where you're going to say are all cheapest during the off-season months of July and August. You can also find good deals on the fringe months of March, April, and May.
The most expensive time to travel to and in New Zealand are during the peak months of December, January, and February which are the warmest months and the holiday season.
To Avoid Crowds
The best time to visit New Zealand without all the crowds is just before or after the holidays and during the shoulder seasons. The shoulder seasons are during the months of March, April, and May as well as September, October, and November.
To avoid all the crowds, you want to skip the months of December, January, and February. However, New Zealand doesn't ever really get that crowded, at least not like cities and towns in other parts of the world.
For Festivals & Events
New Zealand knows how to throw a good festival. Throughout the year New Zealand has a variety of festivals celebrating a number of events. Some of the most popular events are the Queenstown Winter Festival in June, the Matariki Festival, also known as the Maori New Year, which starts on the winter solstice and lasts several weeks. The Gisborne Wine and Food Festival takes place every year in October and the Wellington International Jazz Festival happens each year in November.
For Hiking & Outdoor Activities
The best time to travel to New Zealand for hiking, biking, surfing, and other outdoor activities like rock climbing and canyoning is during April and October. These months are ideal because they are within the fringe months so travel and accommodation are at their cheapest but the weather is at its best. It's in between the summer and winter months so the weather is just right, not too hot and humid and not too cold.
For Skiing & Snowboarding
The best time of year to go to New Zealand for skiing and snowboarding and other winter activities like ice climbing and glacier hiking is during July and August. The mountain resorts start opening in June and if the snow sticks around, the slopes can remain open through November. The best ski fields and resorts are on the South Island but the North Island has a couple of resorts as well.
New Zealand Travel Insurance
Best Season to Visit New Zealand
The weather in New Zealand can vary depending on which island you're visiting. While both islands see plenty of sunshine throughout the year, they also see moderate to high rainfall or snow on the South Island.
Summer (December-February)
The average maximum temperature during these months ranges between 20-30ºC (70-90°F). Summer days are long and warm, broken up by the occasional rainstorm. Summer nights are cool and comfortable, ideal for sleeping after a long day spent in the sun.
While this is the most popular time to visit New Zealand, many locals take time off and accommodation and restaurants can close down. It's best to book in advance if visiting in the summer!
The best places to visit during the summer months are Auckland and the surrounding areas, such as the Coromandel Peninsula and Waiheke Island, the national parks around Nelson, and the famous Waitomo Caves to see the glow worms.
Autumn (March-May)
Autumn is a great time to visit New Zealand. The weather can still be super warm on the North Island during these months, especially at the top of the North Island in Auckland where you can still catch some days that are optimal for beach lounging. The majority of New Zealand stays green all year long but in places like Wanaka, Lake Tekapo, Christchurch, Hawke's Bay, the Central Otago region, and Arrowtown (just outside of Queenstown) you can find trees changing colours and the pretty fall foliage makes it appearance.
Autumn in New Zealand is ideal for hiking, wine tasting, and festivals with temperatures anywhere from 7-21°C (45-70°F).
Winter (June-August)
During the winter months in New Zealand, the North Island typically receives more rain than the other months while the South Island typically sees plenty of snow in the Southern Alps which turns to rain the closer you get to the coast. The best month to visit New Zealand in the winter is during the month of July where you're guaranteed snow for snow bunnies. Winter in New Zealand is relatively warm as temperatures can range from 1.5-15°C (35-60°F).
Winter means ski season, which begins in June, but it's also a great time to visit Queenstown (though it's great any time of the year), fjords, and glacier country, so be sure to visit Franz Josef!
Spring (September-November)
Spring in New Zealand can be fierce. Mornings and evenings can be chilly and frosty with really warm temperatures during the day, as the temperature can vary from 4.5-18°C (40-65°F). Things start to bloom and the country comes alive with baby animals being born, gorgeous flowers make their appearance, and waterfalls are their most powerful as the snow melts. October is the best month to go to New Zealand for a wide range of activities.
Christchurch is in full bloom in spring, while hot spots such as Rotorua, Nelson, and Wellington are great picks for this time of year as well.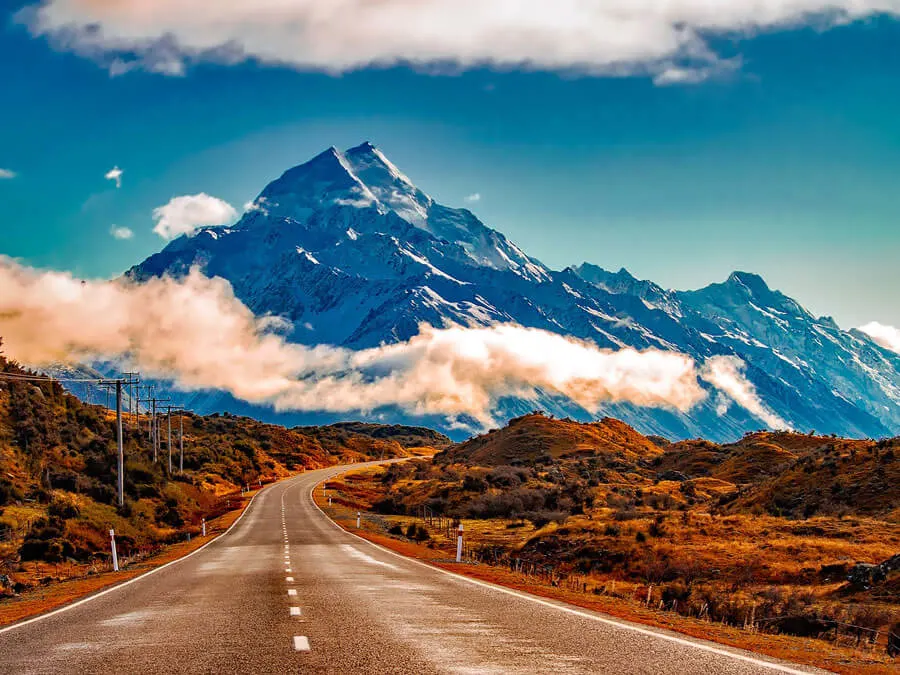 When is the best time to go to New Zealand?
The best time to visit New Zealand is during the shoulder seasons, just before and after peak tourist season in the summer. March, April, and May, as well as September, October, and November, are ideal months to travel, not only because temperatures are comfortable and mild but because there are fewer crowds and things are a little bit cheaper.
When is the best time to visit New Zealand and Australia?
The best time to visit New Zealand and Australia is during the months of September, October, March, April, and/or May. Similar to the reasons above, these months are not considered peak season. During the off-season, you can find a great deal on flights, accommodations, and activities with fewer crowds and still have plenty of choices for things to do. While you may not get perfect weather is every destination in New Zealand and Australia, you're bound to have pretty good weather and prices from the outback to the coast, fjords to wine regions.
If you're planning a trip to Australia and New Zealand, don't cut yourself short on time, they're both big destinations that have so many incredible things to see and do!
Continue planning your trip to New Zealand!