Portugal is a fascinating country with an abundance of sunshine, unique attractions, delicious food, wine, and beaches. There really isn't a good reason not to visit Portugal as it has got a little bit of everything for every kind of traveller.
Before diving headfirst into planning your Portugal vacation, it's wise to research the best time to go to Portugal based on the contributing factors such as the time of year and the type of activities you want to do when you're there, as these can determine when is the most ideal time for you.
Check out this outline of the best time of year to visit Portugal to help you plan your travels for the ultimate trip to this sunny destination.
Best Time of Year to Visit Portugal
Booking a trip is no easy feat. There's so much to consider including the weather, the seasons, price, crowds, and things to do, so here it's all broken down for you to make it nice and simple.
For Weather
Portugal's weather varies in different parts of the country, so the best times to travel may vary depending on where exactly you want to visit.
On Portugal's mainland, you can expect hot summers and wet winters, but you won't see too much in terms of extreme weather even though there are 6 climatic areas throughout the country.
The west coast and centre (destinations such as Lisbon and Coimbra are in this area) are warm in the summer, but from September through to spring, you can expect rainy days and breezy weather. With that in mind, the best time to visit Lisbon and its surrounding region is between May and August.
The north interior is more humid than the coast and is particularly warm in July and August, but it gets wet, foggy, and cool during the autumn and winter.
You'll find lovely summers with mild humidity in the north coast area (where the stellar city of Porto is located), but the rainy season is in full swing from December until April. The temperatures really drop in the winter, so you'll need to wrap up. So, the best time to visit Porto and its surrounding region is June, July, or August.
In the areas such as the Douro Valley in northern Portugal, the winters are cold and you can expect to see snow on the mountains by January! The summers are comfortably warm, but you may need to wear some layers in autumn, winter, and spring.
In the south in the Algarve, the summer is hot and the beach season is in full swing by May. It's dry and cool in the winter but, in Faro, it's cooler in the summer and warmer in the winter than other areas in the Algarve region.
The Azores are a group of 9 islands off the southwest coast of Portugal and are a firm favourite for sun-seeking tourists. The weather on these islands is mild and consistent all year round, with highs of 22°C (71°F) in the summer and 15°C (59°F) in the winter. It can rain at any time of the year in the Azores, but the summer months are drier. So, the best time to visit the Azores is really whenever you'd most like to go but, but if you want as little rain as possible, aim for the summer.
For Budget Conscious Travellers
While Portugal is the most affordable destination in western Europe, the best time to visit Portugal to stretch your dollars is outside of the peak season, which is the winter, spring, or fall.
Travel prices in the Christmas and New Year periods are generally very high wherever you go, and Portugal is no exception. This is because people travel to visit their families at these times or make the most of their time off over the holidays and take a vacation. So, for cheap travel to Portugal, avoid Christmas and New Year. However, if you don't mind paying extra, there are awesome parties and festivals during this time of year and, if you go to a major city on New Year's Eve, you can expect an astounding fireworks display!
One of the best times to visit Portugal if you want to make the most of the weather and attractions but not pay high prices are the shoulder seasons (the months before and after the high season). For Portugal, the shoulder seasons are May, June, September and October.
To Avoid Crowds
The shoulder seasons are the best time to travel to Portugal if you don't like busy streets and beaches because you miss the majority of the crowds but still get to experience the great weather.
A good time to catch crowds is during the school holidays which usually fall in mid-October, mid-February, from mid-July to early September, and over the Christmas holiday period.
If you want to miss crowds, we recommend avoiding days and weeks where there are festivals and major events.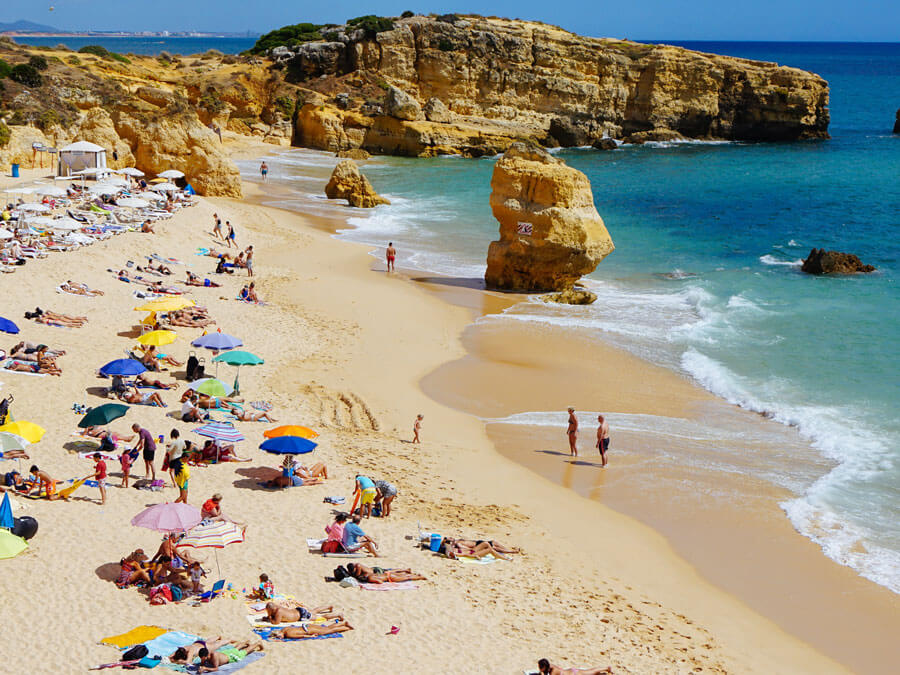 For Beaches & Outdoor Activities
Portugal attracts sun worshippers from all over the globe! If you want to get a tan, the absolute best time to visit is the month of August when the sun is shining strongly and the skies are clear. However, any of the summer months are a great time to catch a tan.
The Azores is a popular location for whale watching and the absolute best time in the area to see majestic blue whales is April and May.
The Douro Valley is a very popular Portugal destination and is a truly beautiful setting. For warm weather, clear skies, and striking scenery, the best time to go to Douro Valley is June, July, and August but, if you'd like to go walking, it may be more comfortable is you go in April and May or September and October when the weather is a little milder.
This valley is also home to the popular grape harvest and it takes place in September and October. You can take part in it if you visit during these months!
For Surfing
Espinho, which is near Porto, is one of the best destinations in Portugal for surfing. It offers great conditions for catching waves throughout the summer, up until October.
Ericeira, which is near Lisbon in central Portugal, is known as one of the most famous places for surfing. Waves are best caught here from April to November.
For autumn-winter waves, head to the Algarve. The sweet spot for surfing here is October to April.
For Festivals & Events
There are awesome festivals across Portugal throughout the year. Some of the most popular festivals are the São João festival in Porto on 23rd June, Rock in Rio-Lisboa, Lisbon (June), Arraial Pride (June), Carnival (February), and Festa dos Tabuleiros (July).
The summer months are definitely the most popular times to visit Portugal for festival lovers so if you'd really like to experience a festival when you visit, summertime is an ideal time for you to book your trip.
Plan Ahead with Travel Insurance
Get a quote and know what to budget for travel insurance before you jump on a plane.
World Nomads is designed for travellers who love adventure and giving back and is the travel insurance provider I've trusted for over 5 years. It can be purchased in over 150 countries (and while abroad!) and provides coverage for medical, travel delays, luggage, emergency response plus other perks.
Best Season to Visit Portugal
The weather can vary a lot between Northern Portugal and Southern Portugal, but the best time of year to go to Portugal for the weather is definitely the summer.
Summer (June-August)
The summer has the highest temperatures and lowest rainfall in Portugal. The average temperature (high) is 22°C (71°F) in June, 24°C (75°F) in July, and 25°C (77°F) in August. The rainfall averages are 7 mm in June, 3 mm in July, and 4 mm in August.
The best places to visit in Portugal during the summer are Lisbon, the Algarve, and the north such as Porto and the Douro Valley, but note that crowds will be at their peak across the country.
Autumn (September-November)
The autumn can have high temperatures and high rainfall. The average temperature highs in Portugal's autumn are 25°C (77°F) in September, 23 (73°F) in October, and 21 (69°F) in November. The average rainfall is 24 mm in September, 40 mm in October, and 50 mm in November.
Since the autumn still brings warm weather but with fewer crowds, all destinations across Portugal are great to visit. But if you're after fall foliage head to the Douro Valley, Sintra, Gerês National Park, or the mountains in Arrábida for a colourful treat for your eyes.
Winter (December-February)
Portugal is generally mild in the winter, but that varies from place to place. Portugal's average winter temperature highs are 19°C (66°F) in December, 18°C (64°F) in January, and 18°C (64°F) in February. The winter months have the highest average rainfall in the country, with 70 mm in December, 49 mm in January, and 40 mm in February.
While the rain picks up and the days are shorter, most destinations in Portugal are still great. Don't expect too much beach time but if you're after a city break the winter is an ideal time to visit Lisbon or Porto. You'll also catch some of the best and biggest surfing waves in the winter too. And while Portugal is not known for its ski resorts, you can still hit the slopes in Serra da Estrela.
Spring (March-May)
The temperatures start to increase in the spring, with average highs of 19°C (66°F) in March, 19°C (66°F) in April, and 21°C (69°F) in May. The average rainfall begins to decrease too, with an average expected of 37 mm in March, 24 mm in April, and 14 mm in May.
If you want beach time, head to Portugal in late spring, once the waters warm up a bit. Otherwise, spring is an ideal time for visiting cities and even the Algarve region.
When is the best time to go to Portugal?
If you want peace and quiet on your trip to Portugal, the best time to go is outside of the peak times, such as in the spring or autumn.
For the best of the weather, attractions, and events, planning your trip for July and August is a wise move for you, especially if you don't mind crowds or paying a little extra for your flights and accommodation.
However, on balance, the best time to go to Portugal is during the shoulder seasons because you'll get to experience the best of everything. You'll be able to take part in exciting events, visit fabulous attractions, miss the big crowds of tourists, stretch your dollar, and still get to experience the lovely weather! For Portugal, the shoulder seasons are May-June, mid-September, and October.
If you'd like a recommendation on the best month to visit Portugal, June or September are optimal choices. Enjoy your trip and have a pastéis de nata and some port wine for me!
Continue planning your trip to Portugal!