There are many things to do in Lisbon, so much so that you could easily spend a week roaming through the city and never get bored. Nevertheless, I've included these top day trips from Lisbon to share with you for those looking to step outside of the bustling city, to experience that classic Portuguese charm on a smaller scale, to find the best beach spots, wine tastings and towns that seriously need to be included on every Portugal trip.
These easy day trips can be done as Lisbon tours, some of them combining multiple towns into a day trip for those of you looking to optimize your time in Lisbon and others can be reached and explored at your own leisurely pace by public transit or trains from the city centre.
Top Lisbon Day Trips
Be ready to add an extra day or two to your trip, you're going to want to add a Lisbon day trip to your itinerary!
Sintra
Easily the most famous day tours from Lisbon are to Sintra, a place where fairytale dreams come true. Nestled in the Sintra Mountains just outside of Lisbon, colourful palaces decorate the foothills with Moorish influences. Sintra is where the Royals escaped to for the summer, cooler than Lisbon in the hills and the star attraction is the Royals summer palace, Pena Palace.
The town of Sintra itself is charming too so if you don't have time to stay a night here then a Lisbon to Sintra day trip is an absolute must where you can still manage to see the highlights such Quinta da Regaleira and Sintra National Palace, in a day. I've linked the best full-day Sintra tour from Lisbon below that also includes a stop at the scenic Cabo da Roca viewpoint.
READ MORE: 10 Dreamy Things to do in Sintra
Cascais
Another popular and one of the best day trips from Lisbon is to the resort town of Cascais. It's an easy escape to sandy beaches and coastal shores from the city centre. Cascais is a popular spot in the summer so you surely won't be alone on the beach. Stay for an evening though and you'll be able to wander through the winding laneways for boutique shopping, seafood restaurants and lively nightlife. Cascais is often combined with tours to Sintra.
Forgot travel insurance? No worries!
It's still possible to get affordable travel insurance when travelling.
SafetyWing can be purchased in 180 countries and provides coverage for medical, travel delays, luggage, emergency response plus other perks for a third of the price compared to the biggest competitor for similar coverage.
Palácio Nacional de Queluz (Palace of Queluz)
Sitting between Lisbon and Sintra, Palace of Queluz is considered the best example of Portuguese architecture in the country and one of the top Lisbon attractions (even though technically it's not in the city). Built in the 1700's this palace has many elegant rooms such as a dressing room with so many details you won't know where to look, the Dom Quixote Room where a king was born and many others with exquisite details. The palace is both a museum and a national monument. The lavish gardens were added after by a French architect but they only add to the grand scale.
Fatima
Fatima is an old town in central Portugal that draws in visitors for its religious significance and is also a popular one day trip from Lisbon. It's a pilgrimage site where it's said that the Virgin Mary first appeared in 1917 in front of three peasant children. Today over 6 million people come to Fatima to see the site for themselves and to experience the power of religion. Religious or not, this small town will impress with its architecture.
Evora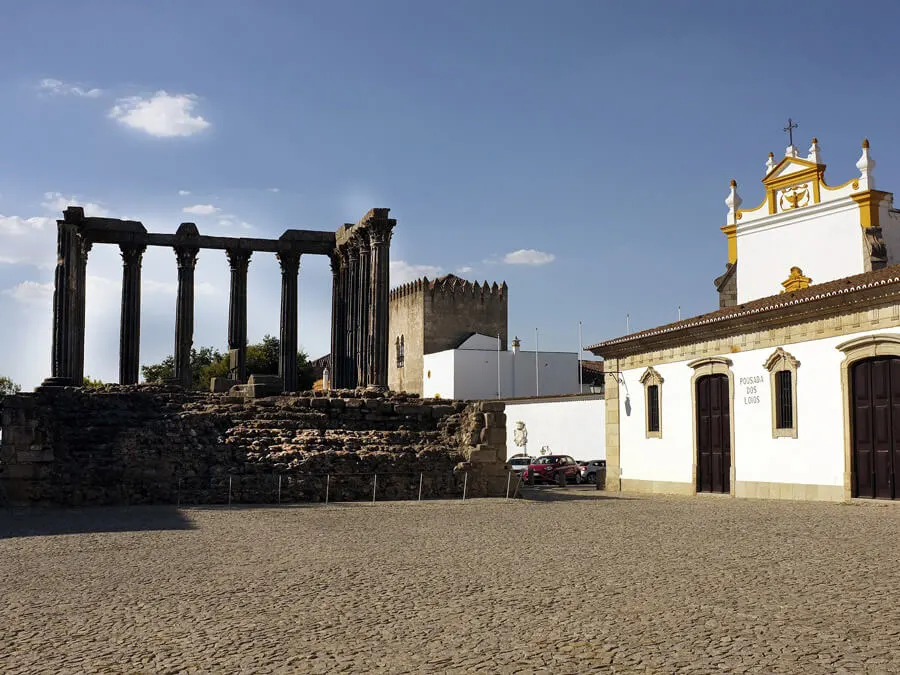 Evora is the capital of the Alentejo region and holds a lot of Medieval and Roman history inside the 14th-century walls of the city. It's very well preserved so you can roam the cobblestone streets and see the ancient architecture and sites such as the Chapel of Bones for yourself. It may hold a brutal past but today the town square in charming, the narrow lanes are perfect for sightseeing, the university students add to the city's atmosphere and even wine tasting can be done.
Batalha
Batalha, translating to battle from Portuguese is yet another small town that has architecture worth seeing. The town itself was nothing until the now UNESCO World Heritage listed monastery was built as a celebration of winning the Battle of Aljubarrota in 1385.
The building was designed in Gothic style with ornate details but the real importance of this building is that it shows the beginnings of the Manueline style which is also evident through a number of other unfinished chapels in the town.
This style is unique to Portuguese architecture that was popular in the 16th century. It's considered late Gothic style but took influence from voyages overseas and maritime shapes. Visiting Batalha is often combined with other towns such as Fatima on Lisbon day tours.
Mafra
Mafra is actually apart of Greater Lisbon but exploring this area is worth at least half of a day. It's most known for Palácio Nacional de Mafra, which is part convent part palace that has over 1200 rooms. It's considered one of the grandest in all of Europe and even has a library that holds over 36,000 ancient books.
Tapada Nacional de Mafra is also a highlight, once royal gardens. Mafra, like the rest of Portugal, is ever-charming, picturesque and has plenty of cafes. A Mafra tour can be done on its own or with other destinations included.
Costa da Caparica
If you're craving some time away from the city and love beaches then Costa da Caparica is the place for you. The name refers to both the town itself and the coastline that's accessible from Lisbon. Those who love the sun flock here to the family-friendly beaches and waves that are ideal for surfers.
Want to flaunt your stuff? There are nude beaches too. Something for everyone can be found here with a vibrant nightlife, laid-back feel and trendy restaurants and cafes. And if you want to try surfing followed by some yoga then you can book transport and classes just for that.
Obidos
Obidos is whitewashed buildings decorated with blue and yellow accents. It's an old fortified town just oozing charm and it's a place that unfortunately has become a very popular day trip from Lisbon. Though not as popular as Sintra, it's best to visit Obidos in the morning before the summer tourist buses arrive or to spend the night (you can do so in this castle hotel).
Walk the city walls, roam through a piece of history or perhaps use Obidos as a base to explore the region that includes the largest Buddha collection in Europe at Buddha Eden. Many tours to Obidos also include stops at other towns.
Serra da Arrabida
This day trip from Lisbon is ideal for travellers or who love nature and wine. join a tour from Lisbon through this natural park that's blessed with blue waters, secluded beaches and protected land across the mountain range of Arrabida National Park with stops in historic wine cellars and at breathtaking viewpoints.
Cheleiros and Bucelas Wine Regions
It is Portugal so did you think I was going to leave this list without a wine tasting tour? Absolutely not. Treat yourself and head north to the wine regions of Cheleiros and Bucelas to try the regions most famous wines and learn about the area's history. You'll be visiting small wineries and if you choose to do the tour below then you'll even get to try a wine that many wineries believe to be extinct! Plus the "Prince of Portuguese Wines", local olive oils and bread.
Constancia and Tomar
It's in these two old towns that tours will take you to explore the Knights Templar, a Military Order of the Temple. It's an interesting part of Portugal's history and in Constancia and Tomar you can witness some of it along with a castle, the story behind it all and see a UNESCO World Heritage Site. These two towns played a very important role in the Knights Templar with Tomar once the Templar capital of Portugal and Spain.
Sesimbra
Last but certainly not least, Sesimbra sits at the foothills of the Serra da Arrabida mountain range, a small village with terracotta roofs and a Moorish castle. The colourful water here is idyllic and a stop here can be included on a day trip from Lisbon to Arrabida national park. It's also a great jumping off point to explore the waters and land on cruises or hiking.
FAQ
Where to book day trips from Lisbon?
Many accommodation options will offer you to book tours and day trips through reception, however, I recommend booking online through Get Your Guide, a trusted tour booking site that allows you to read reviews and choose guided tours that best suit you.
What are the best day trips from Lisbon?
All of the day trips listed in this article of course! By far the most popular day trips around Lisbon is to Sintra, followed by Cascais.
Is Porto a day trip from Lisbon?
Technically, yes Porto can be done as a day trip from Lisbon. However, it is not recommended as Porto is a city well worth visiting. I recommend visiting Porto for 2-4 days as there are many things to do in Porto but if you're short on time then do visit Porto for a day from Lisbon!
How many days do you need in Lisbon?
I recommend no fewer than 3 days in Lisbon. This gives you ample time to explore the city and you can fit in a day trip to the must-visit Sintra National Park for a day full of palaces.
How to do day trips from Lisbon on your own?
If you prefer to explore on your own not on a guided tour it's possible to rent a car and see these places on your own or to take the train or bus.
Continue planning your trip to Lisbon!
Disclosure: This post contains affiliate links which I earn a small commission from and are at no additional cost to you.