Bali is an idyllic island with a name so famous that many people often think that Bali is a country. It's actually one of many islands that make up the incredibly diverse country of Indonesia and acts as a great jumping-off point for further travels to Lombok and Flores.
Bali is by far the most popular island, and where I called home multiple times during my travels. drawing The beaches, iconic rice terraces, jungle-covered volcanos, unique culture and heartwarming people are just a few of the Island of Gods perks.
Whether you're a luxury traveler or a backpacker, this Bali itinerary guide will serve you well. I've detailed multiple options for you to pick and choose what serves your Bali vacation best. There's no one-itinerary-fits-all here.
Planning a trip to Bali can be really daunting as there's no set route or place or place to start. This Bali travel guide will tell you what to do in Bali, the places you must visit in Bali and the top things to do in Bali. It's the ultimate Bali trip planner from someone who knows Bali well.
Bali Fast Facts
Currency in Bali: Indonesia Rupiah
Language: Indonesian (Bahasa Indonesia) which is spoken throughout Indonesia and Balinese
Population: 4.2 million
Religion: Balinese Hinduism (a mix of Buddhism and Shivaism)
Recommended Bali Tours
Skip planning your trip yourself with these top-rated tours around the country.
Bali Itinerary
Creating a Bali itinerary can be very difficult because it really depends on what a person is looking for. Below I've created mini itineraries for each place recommending how long to stay and the top things to do. Unfortunately, there is no best itinerary for Bali as it really depends on what you want to do.
Bali Trip Itineraries by Length
Follow the order that each itinerary is listed in and you'll have yourself a route! These itineraries move at a decent place so if you plan on relaxing more then drop one of the locations. If you want an itinerary for 4-5 days I recommend picking one or two spots maximum.
7 Day Itinerary
Ubud (2 days)
Uluwatu (2 days)
Canggu (2 days)
Nusa Penida (day trip)
10 Day Itinerary
Canggu (2 days)
Ubud (3 days)
Uluwatu (2 days)
Nusa Lembongan, Nusa Ceningan & Nusa Penida (3 days)
2 Week Itinerary
Canggu (2 days)
Seminyak (1 day)
Ubud (3 days)
Amed (day trip from Ubud)
Uluwatu (2 days)
Gili Islands (2 days)
Nusa Islands (3 days)
3 Week Itinerary
Canggu (2 days)
Seminyak (2 days)
Ubud (3 days)
Munduk (2 days)
Lovina (2 days)
Amed (2 days)
Uluwatu (2 days)
Gili Islands (2 days)
Nusa Islands (3 days)
Extra day to spend wherever you like!
Breakdown of my Bali Trip Itinerary
Ubud: 3-4
Days
Though easily a week could be spent in Ubud if you love wandering around, this cultural hub can be fully explored in just 3-4 days. Ubud is where you'll do most of your Bali sightseeing.
DAY ONE: Spend the day exploring around town. Hit up the Monkey Forest and make your way up Monkey Forest Road (watching out for the monkeys of course) where you can poke in and out of shops full of jewelry, souvenirs, local art and more. By the end of the road you'll hit the Ubud Market where you can easily spend an hour or more.
After the market make sure you make it over to the Campuhan Ridge Walk for sunset over the green fields. Grab some food, there are lots of options nearby and head back to your accommodation.
DAY TWO: Today is full of temple hopping and some waterfalls. Hire yourself a scooter, get a driver or do a tour. The first stop before it gets busy is Tirta Empul where you'll get into the water and bless yourself under the holy water. Gunung Kawi is close by and is very Balinese with beautiful rice terraces surrounding it. Next are the stunning and most famous rice terraces on the island, Tegallalang Rice Terraces where you can spend some time taking pictures and trekking through the terraces.
After, make your way to Tibumana Waterfall, a pretty but simple waterfall that is easy to get to but not very touristy. The next waterfall, Tegenungan Waterfall, is big and powerful but touristy. On your way back to Ubud stop at Goa Gajah, also known as the Elephant Cave, another temple which I'm sure you've seen pictures of before.
DAY THREE: Day three is the day to spoil yourself. Get yourself into a spa where the low prices will have you getting multiple treatments. Indulge in a yoga class. The most famous yoga studio in all of Bali is located in Ubud, the Yoga Barn. I can vouch that the classes and spaces are excellent! In the morning or afternoon squeeze in a cooking class so you can try multiple dishes from traditional Balinese cuisine.
DAY FOUR: Get up early and hike Mount Batur for sunrise. The second half of the day is either for sleeping or getting in some extra sightseeing. Some suggestions are visiting the Bali swing, stuffing your face with more great food, visiting the Bamboo Forest which is excellent for Instagram-worthy shots or watching a traditional Balinese dance.
READ MORE: 21 Incredible Things to do in Ubud & Where to Stay in Ubud
Canggu: 2-3 Days
Canggu is a major chill out zone but it is easy to get caught here, there's just something about the place that makes people want to stay longer.
DAY ONE: Do what Canggu is best known for, hang out on the beach. If you can't sit all day then catch a surf lesson or hit up a yoga class. Spend your evening at Old's Man, the main bar in town or party at one of the nightly hot spots. Make sure you catch sunset on the beach. Most hostels will have a schedule up of when to go to Pretty Poison, Sand Bar and more for the best party.
DAY TWO: Hit up the beach again or check out a beach club where you can live a little luxury without spending a fortune. Eat at some of the best spots in the area (the food here seriously does not disappoint) and do a mini shopping trip at the Love Anchor Market. For sunset visit the famous Tanah Lot just outside of Canggu, but we warned it will be busy. Then catch sunset on the beach.
DAY THREE: Another day to relax, do another surf or yoga lesson and party. Find yourself on a rooftop pool, at a spa or back at the beach. Don't forget to catch sunset again, Canggu seriously has the best sunsets!
READ MORE: 30 Cool Things to do in Canggu & Where to Stay in Canggu

Seminyak: 1-2 Days
If you're not planning a relaxing holiday for a week then I would move through Seminyak quickly as the luxe lifestyle here has prices that add up quickly.
DAY ONE: Today is a fun day, basically spend your time eating your through Seminyak at all of the trendy cafes and drinking at the stylish bars. Check out Bali's very first speakeasy bar, Baker Street Social. But if you don't just want to eat all day (who doesn't?) then chill out with some massages. At night you can party at Sky Garden that's open until 5AM and is often host to world famous DJ's.
DAY TWO: Hit the beach or a beach club. Potato Head is one of Bali's most famous beach clubs and it is fabulous. If you're at the beach you can try your hand at a surfing lesson. If you need some more activities while in Seminyak then try a little retail therapy or visit the escape room or Museum Art Trick 3D. End your night at another hot spot to party at and don't forget to enjoy a beautiful sunset on the beach!
READ MORE: 13 of the Finest Things to do in Seminyak & Where to Stay in Seminyak
Bukit Peninsula (Uluwatu): 2 Days
DAY ONE: There is nothing better to do in Uluwatu than beach hop. You have so many choices, the most famous ones being Dreamland Beach, Padang Padang Beach (where a scene from Eat, Pray, Love was filmed and also some of the best parties) and Uluwatu Beach. However, my personal favourite is Melasti Beach and Nyang Nyang Beach is also awesome. Spend your evening at one of the most famous Bali attractions: Uluwatu Temple where you can see the sunset as you watch a Kecak dance, otherwise known a as a fire dance. Beware of the monkeys here.
DAY TWO: Get active and get surfing or spend another day beach hopping. If you happen to be in Uluwatu on a Sunday then don't miss the party at Single Fin. Even if you're not here on a Sunday it's worth a visit to Single Fin to watch sunset or to see the surfers during the day on the epic waves. There are also lots of pools that you can hang out at if you buy something or pay an entrance fee.
READ MORE: 10 Fantastic Things to do in Uluwatu & Where to Stay in Uluwatu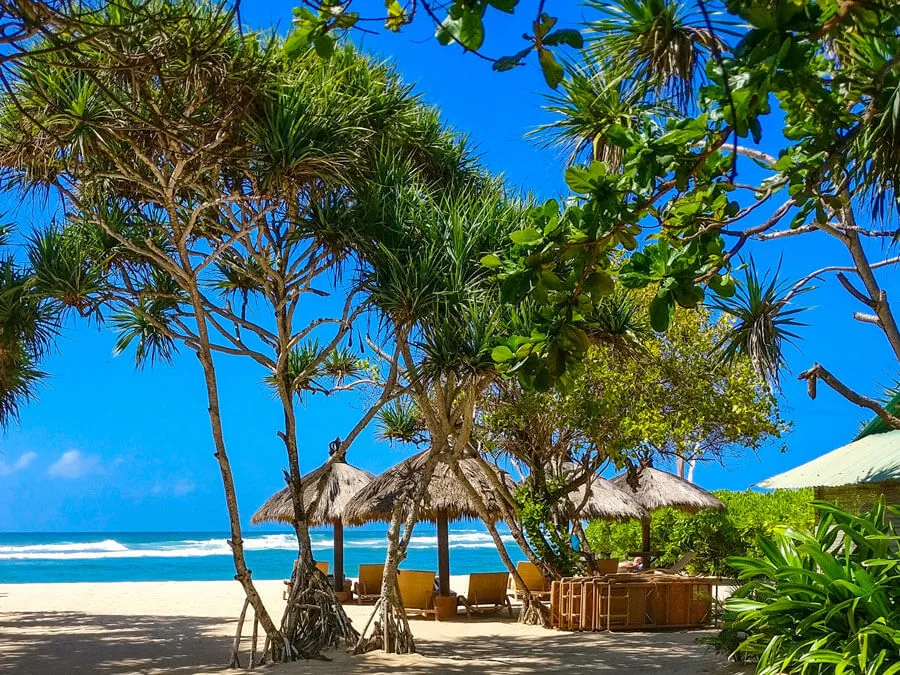 Nusa Dua: 2-3 Days
If you're up for a quick visit as a globetrotter, 3 days is plenty, but this little paradise could easily be where to stay for a week if you want more of a holiday.
DAY ONE: Visit the beaches where you can also eat and drink. The top ones to check out are Nusa Dua Beach and Geger Beach. Off of Nusa Dua Beach is a great snorkelling spot. Another water activity is witnessing the water blow, where water literally blows from a rock formation. In the evening you can catch a Cirque d'Soilel like show at Devdan Show.
DAY TWO: Day two is for exploring. If you're a shopping lover than stop at Bali Collection for a mix of stores. If you like culture then visit Puja Mandala, a religious monument with temples, mosques and more. Or if you want to be active then join a cycling tour. In the evening you can stroll along the Nusa Dua Promenade.
DAY THREE: Feel like a real-life pirate and visit Pirates' Bay, get back into the water for some water sports such as jet skiing and parasailing. Nusa Dua is full of entertainment! Lastly, you can check out the Surf n' Turf park that has practice waves and instructors waiting for you.
READ MORE: 15 Awesome Things to do in Nusa Dua & Where to Stay in Nusa Dua

Nusa Islands: 1-5 Days
This group of three islands are absolutely stunning. Nusa Penida or Nusa Lembongan can be visited as day trips or you can choose to spend time on each island. I recommend spending more time on Nusa Penida (2-3 days) and less on Nusa Lembongan (1-2). Nusa Ceningan is so small it can be visited as part of your time on Nusa Lembongan as it's connected by a yellow bridge which is a short walk or drive.
I have detailed itineraries for each island:
Kuta: 1-2 Days
Kuta is a love or hate kind of place. You either want to spend some time here or avoid it like the plague.
DAY ONE: If you want some water entertainment for the day that doesn't involve a beach then make your way to Waterbom Bali or Circus Waterpark. If that's too western for you then head to Kuta Beach where you can also catch one of Bali's best sunsets.
DAY TWO: Day two is another day packed with entertainment. You have the option to visit Kuta Theater which has a magic show, Dream Museum Zone which has immersive life scale paintings, try the 5GX "reverse bungee', get your surf on at Amanda Flow House, Upside Down World Bali (self-explanatory, I think), or Pandora Experience Bali.
READ MORE: 11 Entertaining Things to do in Kuta & Where to Stay in Kuta

Munduk: 2-3 Days
Munduk is great to do as a couple day trip from Ubud or as a trip from Canggu to Ubud. There is a lot of driving involved but the scenery is beautiful! Grab a bike or a private driver and you'll love the nature here.
DAY ONE: You'll spend a good chunk of today driving to the Munduk area but once there you can stop at some stunning waterfalls such as Munduk Waterfall, Gitgit Waterfall, Aling-Aling Waterfall, Banyumala Waterfall (if you only visit one, make it this one!) and Melating Waterfall. Spend the night in Munduk, trust me you'll be tired.
DAY TWO: If you choose to spend 3 days exploring Munduk then this is your hiking day. Get up early before the clouds roll in to see the epic views over the rolling hills and mountains. Guided tours are available.
DAY THREE: This is the day you head back to Ubud or move onto Ubud from Canggu. Get up early again so you can get to the hot spots before the crowds appear. Stop at the Twin Lake Wanagiri Spot (that's the name on Google Maps) for an Instagram heaven with a swing that has a view over one of the lakes.
Next visit some beautiful gates that are really only gates to a golf course (Handara Golf & Resort Bali). They're still awesome though. Lastly, stop at one of the most famous temples on the island, Ulun Danu Beratan Temple that sits along a lake with the mountains in the background. There are also lots of viewpoints to stop at along the drive through the lakes.
READ MORE: 8 Magical Things to do in Munduk

Amed: 2 Days
Your time in Amed really varies depending on what you want to do. If you're not diving then 2 days in fine to explore the basics, but if you want to spend more time in the water then budget time accordingly. You can also get scuba certified here.
DAY ONE: Amed is small to explore so spend the day in the water or along the beach. Go snorkeling or free dive at the top sites. Chill out on the beach, pop your head into the few shops or enjoy some yoga. In the evening make your way to the best viewpoint in town, Jemeluk viewpoint for sunset and a tasty dinner or a few drinks.
DAY TWO: Day two involves a mini day trip to the most Instagramable spot on the entire island: Lempuyang Luhur Temple. It's famous for having the 'Gates to Heaven' that frames Mount Agung, Bali's tallest volcano, in the background. It will take about half the day and the second half you can do activities from day one that didn't get to.
Lovina: 1-2 Days
Lovina is worth a quick visit or can even be worked in as a stop on a trip to Munduk.
DAY ONE: Hangout on the black sand beach. Visit any waterfalls between Lovina and Munduk and hop into the freshwater springs or the Banjar hot springs…or both!
DAY TWO: Go on a dolphin spotting tour, take a cooking class, visit Brahmavihara (a Buddhist temple) or spend even more time on the beach.
Best Time to Visit Bali
While Bali can be visit year-round there is definitely a best time to travel to Bali. Bali experiences only two seasons: wet season and dry season. The wet season, November to March, brings heavy rains but it never rains all day, mostly just showers for an hour or two during the day. The dry season, April to October has some rain but it is minimal and it is not uncommon to have dry days for weeks.
The temperature is consistent year-round with temperatures reaching as low as 23°C and highs of 34°C.
The busiest time of the year to visit in July and August so if you want to avoid crowds then the best time to visit is during the shoulder seasons April-June and September-October. It's a treat to visit in the spring as it's just after the wet seasons has finished and the island is covered in lush greenery.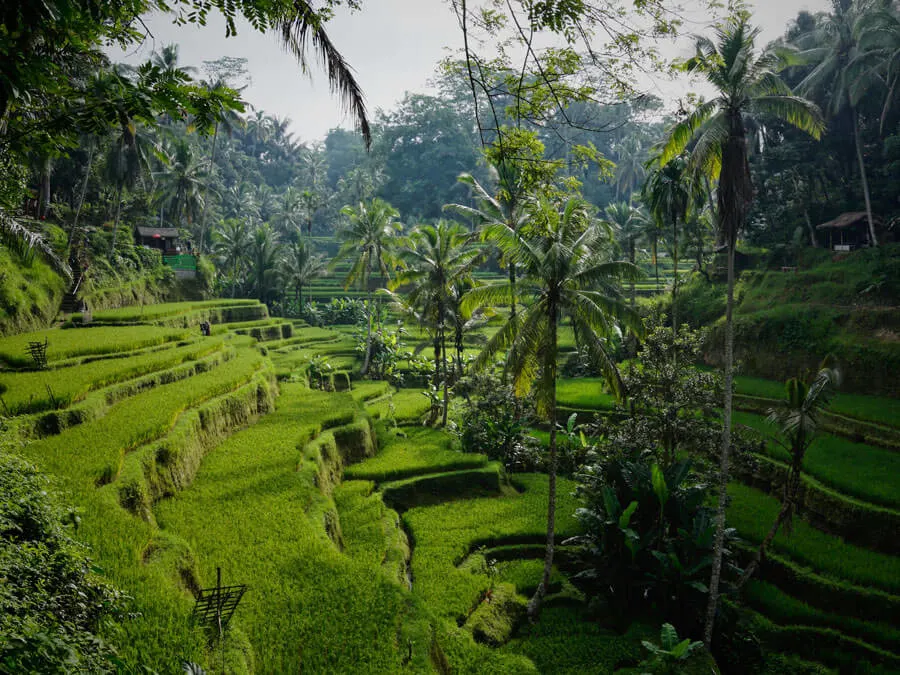 Bali Trip Budget
Bali can be a budget destination or it can be a luxury destination. The island has it all and you can choose how much money you want to spend. Though I found it slightly more expensive than other countries in Southeast Asia, I found Bali to be very flexible when it came to budgeting for accommodation, food and transport.
If you want to be tight $25USD day will get you by no problem but if you're looking to be on a budget but with some wiggle room plan for $35-45USD a day. This is if you're staying in hostels (100,000-150,000 a night), eating local food (15,000-50,000 per meal) and using budget apps to find transport which varies widely. Activities will fit into this budget but not daily.
If you want to live more comfortably, perhaps staying in a guesthouse, a cheap villa or hotel plan to spend $60-100USD per day. Accommodation in this range will cost you 300,000-600,000 per night.
On this budget you can eat all western food and enjoy the fancier restaurants with meals ranging from 100,000-350,000. Cocktails will run you anywhere from 70,000-200,000. You can also afford to take taxis or hire private drivers. You can also afford to do activities daily.
Activities range but typically cost between 100,000-300,000 with some costing more or else. Entering a temple is anywhere between 15,000-60,000, a yoga class is 100,000-130,000, a cooking class 300,000 and hiking Mount Batur 300,000.
Anything above $100USD a day you'll be able to stay in hotels, resorts and enjoy the totally luxe things on the island. Though know that Bali is home to some of the most expensive hotels in the world!
How to Get to Bali
There are 3 ways to get to Bali: plane, boat and bus. The most popular way to get to Bali is by plane, flying into the Ngurah Rai International Airport or Denpasar International Airport. There is one Bali airport (two names) that serves Bali and is located in Denpasar.
By boat is also an option with the most common route being from Java, which is a common way for travellers to travel between the two major islands. Lastly, you can take the bus from Java's capital of Jakarta which takes 23 hours.
Travelling Around Bali
Getting around Bali is easy and you have a few options. Unfortunately, there is no public transport in Bali so you will have to rely on private drivers and apps to find you drivers or drive a scooter.
Luckily it never takes more than 2 hours to get between destinations unless you are planning on travelling far across the island which shouldn't be the case as there is plenty to see and you'll want to make stops and stay in more than one or two areas.
To get from the Bali airport to where you are staying
It is best to have a transfer booked ahead of time before you get to Bali. Private airport transfers are very affordable which can be booked online. Many accommodations also offer transfers too.
To get from destination to destination
The cheapest way to move between different areas is to hire a Grab, Uber or Go-Jek (the Indonesian version of Grab/Uber). A price will be shown, however, drivers will always try and negotiate. This is normal so get your bargaining skills ready.
I recommend booking private drivers between destinations which are very affordable and less of a hassle.
The most expensive way is to hire a taxi, Blue Bird taxis are the main and trusted taxi company. Of course, if you're comfortable driving a scooter with your baggage then you can hire a scooter and drive wherever you please.
There are some shuttles available, mostly from Ubud that are a cheaper shared option. If you're taking a boat to the Nusa Islands, Lombok or the Gili Islands then transportation is usually organized and included in the price.
Getting around in an area
You can continue to hire cars or taxis or you can rent a scooter to scoot around to all of the highlights. Scooters cost 50,000-80,000 per day. Driving in Bali can be challenging because of traffic and I highly recommend only driving if you have experience. If you do not then either choose not to drive or practice somewhere quiet first. Through Go-Jek you can hire drivers to take you on a scooter which is a fraction of the price and extremely affordable.
READ MORE: 11 Common Southeast Asia Travel Mistakes (And How to Avoid Them)
Travel Insurance
READ MORE: 51 Tips for Backpacking Southeast Asia
Where to Go in Bali
A quick overview in map form of where to go in Bali with more detailed descriptions of each place below.
This is the big question and often the most difficult part of travelling in Bali for people. It's a large island, over 5,000 sq. km and there are many places to see in Bali. Below I've listed the highlights of the best places to visit in Bali and where to stay in Bali to help you decide which area or places you want to spend your time in. These are listed in no particular order.
Ubud
Ubud is the most famous area in Bali and it's here that you'll recognize the rice fields from Eat, Pray Love. Ubud is a town located in the centre of the island and is most known for its culture and abundance of yoga studios and yoga retreats in Ubud. A stop here is in order if you want to see temples, traditional dancing and crafts and to shop. Just outside of Ubud are the most famous rice terraces and some of the islands most famous scenery.
READ MORE: 11 Best Yoga Retreats in Bali
Canggu
Canggu is a digital nomad hub with lots of westerns living here permanently or spending a few months on the southern coast. Canggu has a distinct backpacker vibe as there are no resorts in the area (though it's considered an up and coming resort area). It's busy but also has black sand beaches and it's easy to find a party. The areas biggest draw are its easy surfing waves, cheaper accommodation prices and Australian style cafes. It's very common to find yoga here as well.
Seminyak
Seminyak is an area on Bali's southern coast, next to Canggu that is known for its high-end luxury Bali resorts, villas and spas. There isn't much to do in Seminyak as it's an area to hang out and relax in. High-end shopping, excellent restaurants, beach clubs, bars and beach sunsets are most common as it's popular for Bali nightlife. Surfing is also popular here. But don't forget your wallet if you plan on visiting here!
Bukit Peninsula (Uluwatu)
The southern tip of Bali, Bukit Peninsula, is often referred to just as Uluwatu which is only one area of this area. It's different from the rest of Bali because of its dramatic cliffs that plunge into the bluest waters found on the island. The area is well-known for its world-class surf breaks and white sand beaches, in which there are plenty to choose from. Travellers here most commonly stay at higher-end resorts or villas but it's not hard to find cheaper accommodation and places to party with a high or low budget.
Nusa Dua
Nusa Dua is another resort area on Bali's southern shores close to the Bukit Peninsula and opposite Uluwatu. It's famed for its all-inclusive beach resorts which boast white sand and an 18-hole golf course. Shopping and relaxing are the main activities here but some cultural things can be done here too. It's an excellent area for families.
Nusa Islands (Nusa Penida, Nusa Lembongan & Nusa Ceningan)
The Nusa Islands are not considered a part of Bali as they are actually three separate islands off of Bali's southeast coast that make up the Nusa Penida District. They are extremely common to visit during a Bali trip because it takes only half an hour by speedboat to reach these stunning islands.
Nusa Penida is the largest with dramatic scenery and vibrant blue waters. Nusa Lembongan is the most popular and much smaller in size but is popular for diving and surfing. Nusa Ceningan is the smallest but is equally as beautiful.
Kuta
Kuta was Bali's first main tourist development and has since turned into a popular spot for partying and beach resorts. Travellers of all sorts come here to be entertained and catch the easy waves that are ideal for beginners. Located in central Bali, Kuta is often looked down upon from some travellers as being too touristy but it has all of the attractions that families, backpackers and luxury travellers could ever want.
Denpasar
Denpasar is the islands capital and often a place skipped by visitors. It's a packed and chaotic area where over 1 million locals call home. On the east side you'll find Sanur beach and in the centre you'll find a hub of politics but also authentic restaurants, shopping and parks. Denpasar is also where the airport is located.
Munduk
Munduk is a spot in central Bali that often goes unnoticed in travellers Bali itinerary. This mountain village is popular for its trekking through the hills and jungle surroundings. A trip to Munduk will ensure that you see waterfalls, visit lakes and escape from the sometimes overpowering heat.
Amed
Amed is made up of a long strip of local fishing villages along Bali's less popular northern coast. If snorkelling and diving are you thing then make sure you check out the marine life off of Amed's shores. Still relatively unknown, Amed is slowly making it's spot on travellers radar, becoming more developed but still hanging onto its traditions. Stunningly clear waters, a beach, small town feels and the beginners of a yoga hub are all here.
Lovina
Lovina is a very relaxed resort area in northern Bali that is too made up of a string of villages like Amed. It's less touristy and quiet. A spot here is in order if you wish to get away from it all. Here you can spot dolphins, chill out and soak up the sun on the black sand beaches.
How Long to Spend in Bali?
On average, people who are vacationing in Bali spend 1 week and those who are travelling spend 2 weeks in Bali. I recommend this as the bare minimum. You will not be able to see all the places listed in this guide in 2 weeks, which is fine because some places are similar.
Have fun planning your Bali trip, I hope you fall in love with the island as much as I and so many others did!