Portugal is a country of many great places, foods, history and colour. Its wine country and Medieval history, ancient cobblestone streets, unique tastes, many hills and culture. It's no wonder that people are flocking to Portugal to experience the scenic beauty of this country and its historic cities.
The country oozes elegance, hides surprises around every corner and its rougher side shines with locals proud of all that this magnificent country has to offer. I've only travelled Northern Portugal and you can bet that the south is on my list of places to visit too. But the north will surely surprise you. Porto and Lisbon, the country's two biggest cities are on this itinerary along with charming small towns and the must-visit places for wine lovers or anyone who loves scenery: Douro Valley.
This Northern Portugal travel itinerary will show you the highlights of the north that can all be done in 1-2 weeks plus travel tips for getting around, budgeting, where to go in Portugal, Portugal travel tips and more. It's basically the ultimate Portugal travel guide. Planning a Portugal vacation doesn't have to be hard, enjoy your Portugal trip!
All prices are quoted in euros. Check up to date conversions here.
Where to go in Portugal
A quick overview of the best places to visit in Portugal and the destinations highlighted in this Portugal itinerary.
Portugal Fast Facts
Currency: Euro
Languages: Portuguese
Population: 10.2 million
Religion: Catholic is the majority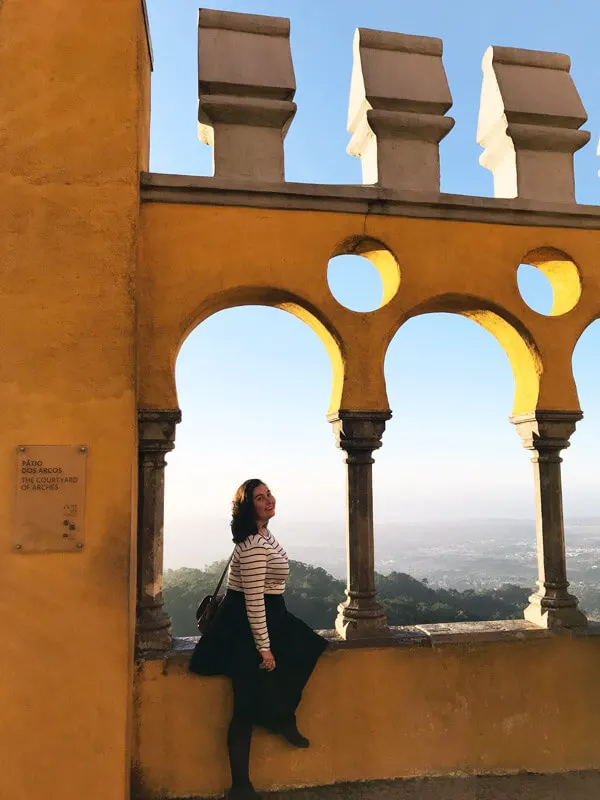 Best Time to Visit Portugal
Portugal is one of those amazing countries where you can visit at any time and still have decent weather. But the major deciding factor will all come down on where to go in the country and your budget. The most popular time to visit Portugal is during the summer (July-August) where crowds can be intense and prices soar.
To save some cash and be able to actually take pictures without tourists always in the background then it's best to visit in the off seasons of spring (March-June) and fall (September-November).
But if I were to pick the ultimate best time to visit Portugal it would be in the fall, working yourself up from the Algarve to northern Portugal. This way you'll be able to hit the beaches when it's still warm but not scorching, the waters will be heated from the summer's sun and there are less people.
As you work your way north you'll thank me for suggesting to travel in a slightly cooler time as you climb the hills of Lisbon and Porto. Plus it will be harvest season for wine in northern Portugal and you'll be treated to fall colours. September-November will be ideal for this and temperatures will range from 17-24°C.
Portugal Budget
Just another reason to love Portugal, it's fairly budget-friendly, especially compared to the rest of the countries close-by in western Europe.
Hostels you can expect to pay between €15-25 a night with the option to sometimes find cheaper and often times more expensive. Cheap hotels start at €35 a night with the average hotel costing anywhere between €50-100. Luxury hotels can be a splurge at over €200 a night.
Food can range quite a bit but it's definitely possible to eat on a budget. Expect to find sandwiches and sweets at bakeries starting at €3, cheap meals for €7 and up and a casual sit down meal for €15. Of course, it's easy to spend more as well (I'm all for treating yo' self). Wine is very affordable with an average bottle costing only €4! And beer can be as cheap as €0.50.
Transportation is cheap too but I go into more detail about that in the next section.
Activities in Portugal are, you guessed it, cheap as well. But some are quite costly, for example, a day tour from Porto to Douro Valley for wine tasting is almost €100 but that is one of the most expensive tours in the entire country. On average a day tour is €50, there are free walking tours in the major cities where only a tip is required and museums or attractions are typically between €4-€10.
You should budget €35-50 per day if travelling on a budget, €45-70 if on a budget but want more wiggle room, €70-100 if planning on staying in hotels but travelling cheaply.
Getting Around Portugal
Getting around Portugal is easy with options to fly, take the train, ride the bus or rent a car and drive.
Fly: The only reason you'd need to fly is to get into or out of the country or to get to the Azores or Madeira. For travel in northern Portugal, you can either fly into Porto or Lisbon and complete the itinerary below.
Train: Trains in Portugal are cheap, reliable and comfortable. For this itinerary you do not need a train pass. You can find train information at Comboios de Portugal for prices and times and even to book but you can also show up before a train, buy a ticket and jump on. Trains between cities can be as cheap as €4 and longer rides closer to €20-30. Tickets for trains in and around cities are on average €1.50.
Bus: Buses in Portugal are just as reliable as the trains. You can find all bus information on Rede Expressos for routes, times and stations. Tickets are bought at bus stations but sometimes on the bus from the driver. Buses are the cheapest transportation option in Portugal and are sometimes faster than the train!
Car: Portugal is also a great country to road trip through and when driving it means you can easily get to smaller towns and do day trips without forking out cash for tours. However, driving in Lisbon and Porto is not always easy so I would suggest renting your car only between these destinations. This entire itinerary can be done as a Portugal road trip.
Portugal Itinerary
This itinerary focuses only on Northern Portugal from Porto to Lisbon (though it can also be a Lisbon to Porto itinerary) and a bit beyond for day trips outside of these regions as well. This itinerary can easily be added to any Southern Portugal trip itinerary as well which you should plan an additional 1-2 weeks for. You can travel Portugal in its entirety in 1 month using this itinerary and then adding on a Southern Portugal itinerary.
How this itinerary works: If you only want one week in Portugal then choose the minimum amount of days for each location. If you want 2 weeks in Portugal then choose the maximum. Obviously, you can choose to spend more or less in each destination or none at all, these are just my best Portugal destinations that I can suggest to you!
Porto: 3-4 Days
Porto can be summed up into one word: charming. But it's a city that needs exploring to understand its true charm. It's located in Portugal's north along the western shores. The city just oozes history and colour pops from everywhere. It's relaxed, vibrant and personally my favourite place in Portugal. It's this city that inspired some pieces of Harry Potter, it's a UNESCO World Heritage Site, there are viewpoints dotted throughout the city, it's a foodies paradise and it's beautiful around every corner. You'd never know that it's Portugal's second largest city with its overall vibe.
Sip port wine at one of the many port houses along the river, explore the ancient streets, step into cafes for a break, marvel at the blue and white tile work around the city, roam for hours up and down the hills and of course take the time to dine. This is Porto and it's worth spending a minimum of 2 days in but I really suggest 3 because it's a place where you need to take the time to relax, not just explore constantly.
Of course, if you like to stay busy then you can also do day trips or choose to spend a night in the Douro Valley which one of Portugal's main wine regions and the area where port wine is grown (plus it's so scenic) and is one of the top Potugal tourist attractions.
Day Trips from Porto
Douro Valley (an absolute must for scenic views and wine lovers)
READ MORE:
Aveiro: 1-2 Days
Aveiro is a costal town that can be done as a day trip from Porto or Lisbon but since it's further south than Porto on the way towards Lisbon then it only makes sense to spend a night here. This picturesque town is often refered to as the Venice of Portugal because of the colourful boats, moliceiro, as the locals call them and the canals that run around the streets.
Aveiro is a good place to roam around for the day, it's quite picturesque and is small, perfect for a relaxed day on a moliceiro, taking in the architecture or snapping pictures of the colourful streets. It's also worth jumping on a bus for a short ride to Costa Nova where you can see the white and colour striped houses along the beach and the red and white striped Praia da Barra Lighthouse which you can go to the top of. There's also surfing just beside and a beach for lounging lovers.
Aveiro can be a place just to pass through or stay the night. I don't recommend more than 2 full days as it is small and there isn't a ton to do.
Coimbra: 1-2 Days
Coimbra is Portugal's former capital during the Medeival Times and is home to the country's oldest university of five centuries. This riverside city is very pretty and historic with gothic influences making up the small city's core. There is a modern side too along the river with terraces where students and tourists hangout alike. The university makes me rethink my college choice with walls and buildings so beautiful as it was once a palace. The library is an absolute must-visit.
I also recommend Coimbra as a place to pass through or to spend a night as it too is small and most can be done in a day at a moderate pace. Coimbra can also be done as a day tour from Porto in combination with Aveiro or Fátima or Dão. Day tours from Lisbon to Coimbra are also possible.
READ MORE: The Best Places to Visit in Portugal
Lisbon: 3-5 Days
A Portugal trip is certainly not complete without a stop in the stunningly beautiful and very hilly capital city of Lisbon. Lisbon is captivating, it's pulsating and it's historic. Walkthrough the cobblestone streets and see a piece of history around every corner from ruins to gothic cathedrals and more. The city has viewpoints galore that allow you to look across the 7 hills (though I think it's closer to 14 hills) and to the waters. This coastal capital city is in central Portgual and is the beating heart of the country.
Colour, food, people, scenic views, nightlife and music, what more could you ask for from a city? Lisbon is well connected and easy to get around. It's large (and hilly…did I mention that already?) so you're not going to want to walk everywhere but you're going to want to explore the top neighbourhoods. Make sure you stroll through the historic centre of Baixa, Chiado and Rossio, Barrio Alto for nightlife and a hip area of the city, Alfama is old and charming, and Belém (which is technically not Lisbon but a municipality). There's even more places to visit but you get my point: there's lots to do!
I wouldn't recommend creating a Lisbon itinerary for any less than 3 days, though 4 would be better. But for the remaining days there are a number of popular trips from Lisbon.
Day Trips from Lisbon
READ MORE:
Sintra: 1-2 Days
Sintra is literally a fairy tale destination where you can go to live out your wildest princess fantasies while overlooking lush green gardens while atop colourful palaces. And no, that is not an exaggeration in the slightest. Sintra is a UNESCO World Heritage Site and is the must-do day trip from Lisbon, which is what I did but do not recommend. If you're tight on time then a day trip is fine but I would personally spend 1 night so you have more time to explore the village and palaces.
Sintra is where the royals used to vacation during the summer in their summer palace, Pena Palace. At Quinta da Regaleira you can roam through the gardens and paths getting lost and calling down from castle-like towers. The Castle of the Moors has impressive views of Pena Palace…I could go on but really just go to Sintra, I guarantee you'll love the attractions that are totally Instagram worthy and the charming town. It's also easy to get to from Lisbon!
READ MORE:
Travel Insurance Portugal