It was John Muir himself who said that Sequoia and Kings Canyon National Parks rival Yosemite, and he wasn't wrong. Venture south of the well-known granite peaks and trodden trails of Yosemite National Park and you'll find yourself in other parks that are anything but lacking. It's in these neighboring national parks that you'll find yourself weaving your way through the largest number of sequoia trees in a grove remaining, standing beside some of the largest trees in the world, with rock climbing opportunities for all levels, and driving through a picturesque winter wonderland.
The best part? You can see and do all of it with a fraction of the crowds. But don't begin your adventure without a plan, as one must always be prepared for the outdoors and know the low-down in advance. This Sequoia & Kings Canyon Parks travel guide has got you covered from what to do, where to stay, how long to visit for, park permits, and more.
Places to Go
There are five areas across the two parks that offer different opportunities to explore nature as each has its own unique climate, things to do, and see!
Grant Grove
Camping, day hiking, and horseback riding are popular activities in this part of Kings Canyon National Park. Originally, this area was General Grant National Park, which was created to stop the sequoia trees from logging. Today you can find the second-largest tree in the world here, General Grant Tree, amongst many others, which is what Grant Grove is known for: sequoia trees! This area can be visited year-round, but access to certain trails is closed when the roads are snowy. The weather here is warm throughout the summer with cool nights and lots of snow in the winter.
Cedar Grove
Cedar Grove is home to Kings River and offers gentle as well as challenging hikes along the canyon's edge. This area is a valley created by a glacier and so you can look up in awe at the towering cliffs, magnificent waterfalls, and admire the canyon (hence the park's name!). There is a visitor center for planning trips through this area, and there are also organized horseback riding trips for an hour or two to multi-day treks. As one of the lower areas of the park, the days are warmer in summer but nights are still cool.
Giant Forest & Lodgepole
Giant Forest is the spot with the most famous attractions in Sequoia. This area is abundant with the famous sequoia trees, including the world's largest living tree, General Sherman Tree. You'll find lots of hiking trails and rock climbing here, including the noteworthy Moro Rock, but unfortunately no camping is possible in Giant Forest. You will, however, have camping opportunities in Lodgepole. Lodgepole has a greater selection of trail views too including sequoia trees, High Sierra lookouts, and alpine lakes.
The Foothills
The lowest area of the parks, The Foothills is the hottest in the summer months and experiences weather extremes. But that means that even though the rain falls here a lot, that spring and early summer are great times for hikers to be in awe surrounded by greenery and wildflowers. This area is just inside the Sequoia National Park entrance and is where you will drive through if heading to General Forest.
Mineral King
Mineral King is the most remote area of the park and with the highest elevation. It's accessed through a very windy road that is also quite steep and is thus only accessible from late May to October, depending on weather conditions. Mineral King has opportunities for tent camping and hiking with views that if you make the journey up here are well worth the extra effort.
Things to Do
A better question to ask than what to do in Sequoia & Kings Canyon National Parks is what isn't there to do? Both parks have ample outdoor opportunities, some areas only in certain seasons and some areas year-round!
Hiking
There are hiking trails through all areas of the parks, and there are trails for all levels. Whether you prefer a relatively quick stroll through the sequoia trees or are looking to venture overnight for a multi-day backpacking trip across the High Sierras, then you've got options. Some of the most noteworthy and best hikes in Sequoia & Kings Canyon are:
General Sherman Tree Trail
Moro Rock Trail
Big Trees Trail
General Grant Trail
Little Baldy
Big Baldy Ridge
Rock Climbing
The rock in Sequoia & Kings Canyon is similar to that in Yosemite and that means that you can have a similar experience but without the crowds that head to Yosemite! While most climbing areas will require a day's hike in there are some that are more easily accessed including Moro Rock, Little Baldy, and Big Baldy, which are all in Sequoia. Angels Wings is remote but is also one of the biggest walls in the park.
Obelisk, Grand Sentinel, and Charlotte Dome are a few others worth checking out for climbers. The best part is that the climbs range in difficulty from easy to very difficult so all are welcome.
Horseback Riding
In the summer and early fall there is the chance for you to try your hand at horseback riding through the parks. Anywhere from an hour to multi-day trips are available from Grant Grove Stables or Cedar Grove Pack Station. Make a reservation to avoid disappointment.
Camping
Camping is a popular activity in both parks with a total of 14 campgrounds, 3 of which are open year-round! Due to its popularity, it's essential to make a reservation in advance, which you can do up to 30 days beforehand. Note that there are no RV hookups in the park but trailer and RV camping is possible with dumps and generator use available at some campsites. Visit the official park website for booking details, prices, and reservations.
Crystal Cave
Located in Sequoia National Park, Crystal Cave is the only cave in the park and it can be visited! The only option to see inside the cave is on a guided tour. Plan for a half-day of an adventure getting to the cave, hiking, and visiting inside the cave. Typically tours are offered through the summer and fall from Thursdays to Sundays.
Winter Activities
The beauty of walking or driving under a canopy of snow-covered trees is truly spectacular and visiting these parks in the winter is a real treat. Some of the winter activities offered in the parks include guided snowshoeing walks or do it on your own. You can find snowshoe rentals at Lodgepole Market, or try your hand at cross country skiing through the groves of sequoia trees in either Grant Grove or Giant Forest.
The National Park Service has the details on where to stop while doing winter drives through either park to see some awesome winter viewpoints. Note that tire chains may be needed, always check advisories before embarking on a winter drive.
Other Park Activities
Dark Sky Festival
Picnicking
Wildlife spotting
Junior Ranger program
Visitor centers and museums
Best Time to Visit Sequoia National Park
Overall the best time to visit Sequoia & Kings Canyon National Parks is in summer, between June and August. This time of year will ensure that you'll have comfortable daytime temperatures for hiking and outdoor activities, as well as mild overnight temperatures for camping, and it's also the time of year with the least amount of precipitation.
Keep in mind that these parks are open year-round, so you can visit any time, but during the winter there may be some closures and tire chains may be required. In the summer the lower Foothills area of the park can get very hot and wildfires are a concern, so opt to check park closures before visiting.
How many days do you need in Sequoia & Kings Canyon?
This really depends on what you like to do outdoors. While these two parks combined can give you enough to do for a week, it's most common to spend 1-2 days in Sequoia & Kings Canyon. Within a weekend you can see the main highlights of these parks.
Park Permits
If you are visiting for a day and not staying overnight in the park then a park permit is not required. For those camping, backcountry camping, and more, a park permit is required. During the non-quota season (late September to late May) permits are free and self-issued. During the quota season, permits can be made up to 6 months before your trip and can be picked up at one of the permit desks. Visit here for permit availability and booking details.
Where to Stay
Like other national parks, there are options to stay within the parks but those accommodation options often fill up very quickly and are of course limited! Aside from camping, there are Sequoia and Kings Canyon accommodation options with beds that include:
John Muir Lodge (Grant Grove Village)
Wuksachi Lodge (Giant Forest)
Grant Grove Cabins (Grant Grove)
Cedar Grove Lodge (Cedar Grove)
All are open year-round expect for Cedar Grove Lodge which can be booked spring, summer, and fall. Find prices and book on Visit Sequoia.
Three Rivers
Three Rivers is conveniently located just outside of Sequoia and has quick, easy access (12 minute drive) to the park plus the town has all of the basic amenities you could need. Be sure to book in advance if staying in this area. Some great options include:
Visalia
A great spot for all ages, Visalia is the closest base to the parks with a number of amenities, plus beautiful nature as the backdrop! It's also where the closest airport, bus, and train stations are and where you can catch the Sequoia Shuttle. Check out these places to stay: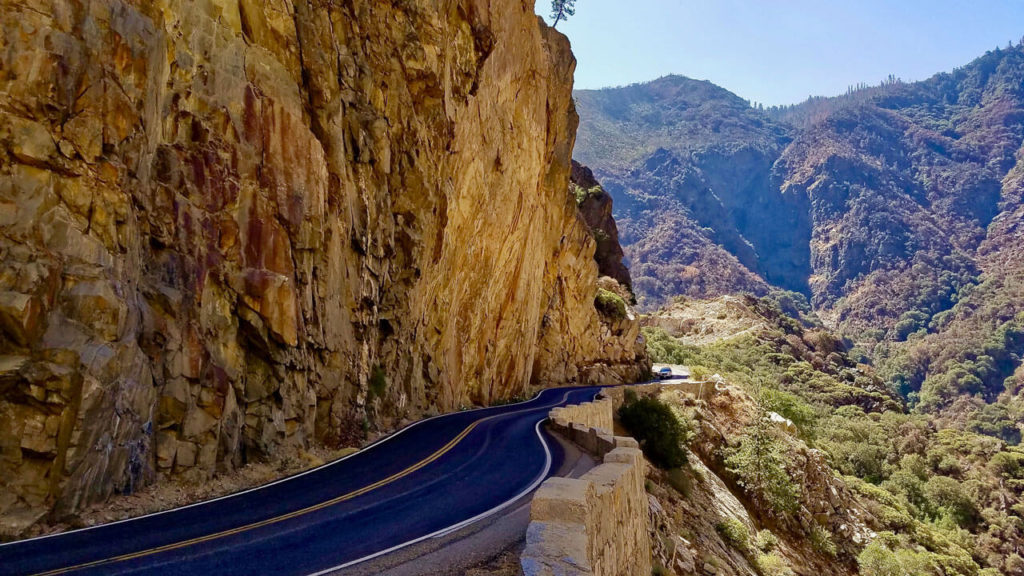 How to Get to Sequoia National Park
The most popular way to get to these national parks is by car. There are two main entrances to the parks: Ash Mountain Entrance to Sequoia National Park, and Big Stump Entrance to Kings Canyon National Park. There is a third entrance, Lookout Point Entrance to the Mineral King Area, but this is to a secluded area of the park that you most likely will not be visiting.
It's also important to know that you cannot access either park from the east, the only entrances are on the west sides of both parks, and that the Sequoia Shuttle is only an option in the summer months.
By Car
From Los Angeles head to the Ash Mountain Entrance which will take approximately 4 hours of driving via Visalia. From San Francisco make your way to the Big Stump Entrance which will be about 4.5 hours of driving. From Yosemite National Park, also head to the Kings Canyon Park entrance (Big Stump), and you'll arrive in 2.5 hours.
If opting to drive through the park, a self-drive audio guide is a great way to learn about the highlights and history of the parks.
By Plane
The closest airport to Sequoia & Kings Canyon parks is Visalia Municipal Airport, with Fresno Yosemite International Airport being the second closest. It's possible to rent a car from either airport and you'll be at either main entrance to Kings Canyon or Sequoia in under 2 hours. Additionally, if you prefer not to drive, the Sequoia Shuttle is an option from the Visalia Transit Center.
The closest major international airports are Los Angeles and San Francisco.
By Bus
Greyhound Lines has stops in both Fresno and Visalia where you can then rent a car or take the park shuttle.
By Train
The closest Amtrak station stops are in Fresno and Hanford where you can connect to the Sequoia Shuttle after a bus connection to Visalia Transit Center from Hanford.
While I keep this guide as up to date as I can, please refer to the National Park Service website for the most up to date information regarding prices, closures, advisories, safety tips, and more.