Hvar is one of Croatia's most popular destinations but don't write it off just because so many people go here (seriously it's a must on any Croatia trip), there are still places on this small island where you can find a secluded spot for just you.
As one of the best islands in Croatia, Hvar is known as where celebrities love to vacation, making it a top spot for everyone else to swing by too to experience the true beauty of this marvelous island. The beauty isn't the only perk though, there are a ton of things to do in Hvar and all of them are stunning.
Whether you want to spend your time lounging on the beach or by the pool or rent a scooter and adventure across the island to practically deserted beaches, then you need to visit Hvar.
Forgot travel insurance? No worries!
It's still possible to get affordable travel insurance when travelling.
SafetyWing can be purchased in 180 countries and provides coverage for medical, travel delays, luggage, emergency response plus other perks for a third of the price compared to the biggest competitor for similar coverage.
All prices are quoted in Croatian Kuna. Check up to date conversions here.
Things to do in Hvar
Find what to do in Hvar to fill your time by exploring or doing the top leisure things on Hvar Island.
Spend time at the beach
It is an island so of course one of the top things to do in Hvar will be to visit the beach. There are a number of awesome Hvar beaches, some Hvar Town beaches are within walking distance too. Closer to town you'll find water sports where you can rent things such as a stand-up paddleboard or a jet ski.
The best beaches in Hvar are not all right in Hvar Town but some are still completely worth the effort to get to. These beaches worth heading to include:
Dubovica Beach, one of the most famous beaches on the island (it's a small hike down but not difficult)
Lucisca Beach
Milna, just 4km from Hvar Town
Explore Hvar Town
I know when it comes to old towns so many writers simply say, go and explore and get lost in the winding cobblestone streets. Well, sorry to repeat what you have read a million times but Hvar Town is the perfect place to get lost! I hate getting lost but the streets of this town are truly charming. But if you're really against getting lost, join a free walking tour of the Old Town.
Since the town is so small each street is packed and I can guarantee that you will find a place to sit down and taste test some of the local wine, a store will intrigue you with whatever it's selling (there is lots of jewelry ladies!) or you'll be snapping pictures around every corner.
The main sites to see in Hvar Town are St. Stephen's Cathedral, a renaissance structure than you can enter and see paintings from the same period. Visit in the evenings when the sun is just setting to see the evening light shine through the stone arches.
Directly in front is St. Stephens Square which is the town's main square and a perfect place to grab a cup of coffee and do as Croatian's do, people watch.
See the views from Fortica
One of the top Hvar activities for the best picture in all of Hvar is to head up to the fortress that sits atop the highest part of Hvar Town. This fortress delivers views of all of Hvar Town as well as the breathtakingly gorgeous Pakleni Islands.
It's possible to walk up to the fortress which is doable but not recommended in the heat so go early in the morning or for sunset. There is a parking lot at the top if you choose to drive.
The fortress was originally built by the Venetians in the 16th century but it was rebuilt in 1557. Exhibits are available for visitors to view inside the fortress and coffee and refreshments are served for a steep price but excellent to enjoy with the view.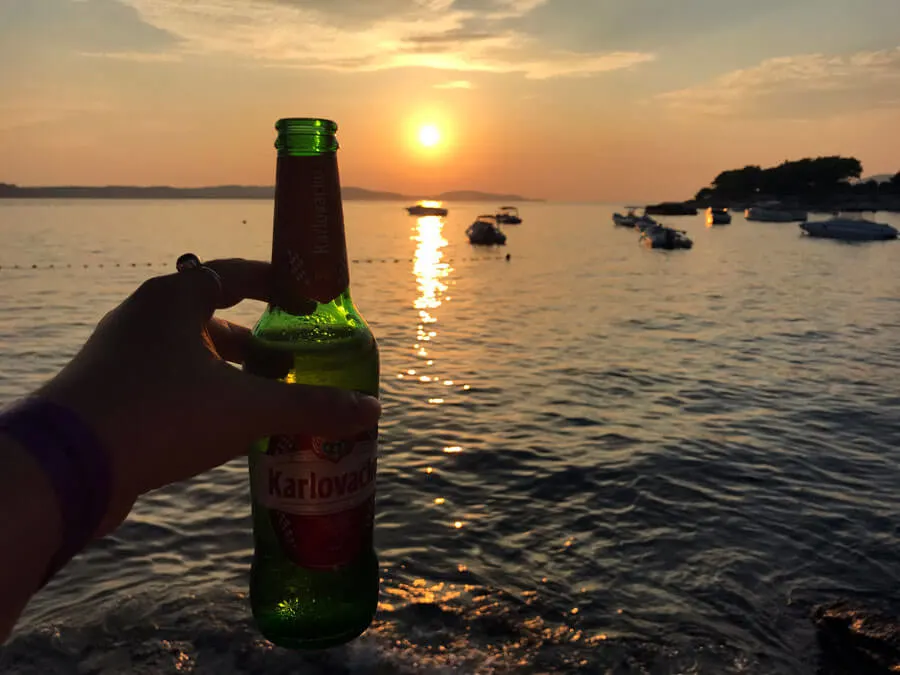 Watch sunset at Hula Hula Beach Bar
Hula Hula Beach Bar is the place to go for sunset in Hvar Town. It's a 15 to 20-minute walk from the centre of Hvar Town but the beautiful walk is along the ocean on an evenly paved walkway.
Once there you can grab a lounge chair, sit back and enjoy your drink as the sunsets behind the islands just off in the distance as sailboats make their way home.
Tour the vineyards
Make your way across Hvar to the islands best area for wine, Jelsa, famous for their longtime making wine, and enjoy tasting four different wines with scrumptious local appetizers.
Stop by Franciscan Monastery
I doubt you will visit Hvar without spotting the Franciscan Monastery. It sits not far from the harbour and the bell tower can be seen from almost anywhere in town.
The monastery is notable because of its renaissance architecture and paintings from the same period inside. The most famous work is the depiction of the Last Supper that stretches two metres by eight.
There's also a garden to roam through and there is a cypress tree that is historic, having been there since the early 1700's.
Take a trip to the Pakleni Islands
The Pakleni Islands are a string of small islands that you could easily label as paradise. Just off of Hvar's coast, these islands are where you can find secluded beaches, forested patches, lagoons and crystal clear waters that you can dip into for a cooling break.
Boats to the Pakleni Islands are available to catch from the Hvar Town marina and kayaking tours are also a popular option.
Visit an abandoned village
There is a beautiful abandoned village not far outside Hvar Town, Malo Grablje, that locals left in the 50's to find a better life and economic stability in Milna. Today the village is an ethno-eco village that is very quiet and serene, a good place to visit for a while to get out of the constant movement in Hvar Town.
A second abandoned village to visit that is further from Hvar Town but even quieter (you will probably have the place to yourself) is Humac. It makes for an excellent backdrop for pictures, gives you a peek into earlier Croatian life and you'll probably make friends with some cats.
Explore Grapceva Cave
Right by the abandoned town of Humac is a Neolithic cave that is home to one of the oldest civilizations in the Adriatic, dating back to 5000 B.C.
There are small and large halls as well as chambers for visitors to explore. The stalactites and stalagmites act as decorations through the cave where fragments of pottery and the oldest depiction of a boat was found.
Jump on a boat trip to the Blue and Green Caves
The Blue Cave is one of the most popular Hvar attractions (even though it isn't actually on Hvar). Day trips are popular to his cave where the blue is so vibrant it looks like it's glowing. Day trips also stop at the beautiful green cave so you'll be cave and island hopping.
Hvar tours to the caves also include stops for snorkeling, beach lounging and cooling off in the blue waters of the Adriatic Sea.
Stroll through the streets of Stari Grad
One of the best things to do in Hvar is to explore the island. Stari Grad is where the main ferries dock, though it's possible to take a ferry direct to Hvar Town too, and will get you out of the bubble of Hvar Town.
Whether you come through Stari Grad or not, I recommend visiting this town which literally translates to Old Town.
This ever so charming town is said to be the oldest in all of Croatia and one of the oldest in Europe. The streets are much quieter than Hvar Town so spending some time snapping pictures, popping into the local shops for souvenirs and grabbing some ice cream is perfect.
Make your way to Jelsa
Jelsa is another town about halfway across Hvar. Hvar is small so driving there will take you less than an hour. It's another great spot to roam around the tiny streets, grab lunch by the water and people watch.
It's the islands main resort area (apart from Hvar Town, which has everything) but the town is worth a walk through to see the architecture.
Tour through the lavender
Hvar has been nicknamed the Lavender Island because of obviously the lavender that grows on the island. The rocky slopes and hills fill with purple in the flowers peak season, June and July offering one of the most beautiful backdrops in the country.
Because of the season this Hvar day trip is not offered year round but don't miss it if you are here when the flowers are at their most beautiful (and send me pictures because it wasn't the season when I was there!).
Not only will get to see the lavender but also have the vibrant blue waters and cliffs behind you. Talk about picture perfect!
Lavender is available around Croatia to take home has a souvenir. I think it's a great idea to buy, it will make your back/suitcase smell wonderful!
Spend a night on the town
Hvar is known as a party island, where celebrities visit and everyone else flocks to to experience a taste of the luxurious life. Don't fret about accommodation those, there are plenty of places within walking distance of the main Hvar attractions that are far enough from any noise.
Hvar Town comes alive as night with pub crawls for backpackers, wine bars for romantic evenings, jazz venues for great music and plenty of bars for dancing. Take your pick, Hvar Town has your nightly entertainment covered.
Hvar Accommodation
Read my detailed Hvar accommodation guide to find the best places from budget to luxury, hostels to hotels and guesthouses.
Planning your trip to Croatia? You'll love these posts.
Enjoy your Hvar holidays! If this Hvar guide was helpful, share it!