Lisbon is one of those perfect cities to visit that has a little bit of everything for everyone. As the capital city of Portugal, it's a must-visit on any Portugal itinerary as it's one of the best places to visit in Portugal.
It's not a boring capital city, there are a ton of things to do in Lisbon. It's packed with beautiful architecture, a number of stunning viewpoints, many hills and it's totally hip. Street art decorates the city along small cobblestone lanes, brightly coloured trams navigate through the winding streets, a river cuts along the city's edge and it's a major foodie destination.
What's even better is that Lisbon has a solid nightlife scene and it's very affordable, especially compared to other destinations in Europe.
Plan for however long you want but expect to want to visit Lisbon for longer. This guide shares what to see in Lisbon, Lisbon day trips and a detailed Lisbon itinerary for 3-4 days for the perfect Lisbon trip.
Overview of Where to go in Lisbon
This map highlights what to do in Lisbon for each day of this itinerary so you don't end up all over the city.
Day one: red
Day two: blue
Day three: purple
Lisbon day trip: green
Recommend Lisbon Itinerary Length
Lisbon is a huge city and you could easily spend a week here, especially if you use Lisbon as a base for exploring other areas around the city. I recommend a minimum of 3 days in Lisbon if you want to want to see the highlights. 4 days in Lisbon is ideal and gives you time to explore the city as well as do 1 day trip (Sintra is a must!).
Best Places to Stay in Lisbon
Not suiting your fancy? Check out my detailed Lisbon accommodation guide for more.
Lisbon Itinerary
Things to do in Lisbon: Day 1
Day 1 in Lisbon is all about exploring one of the city's most famous (if not the most famous) neighbourhood, Alfama. You will probably see part of the area on your walking tour but make sure to spend longer as there are other things to see (including one of the best viewpoints in Lisbon).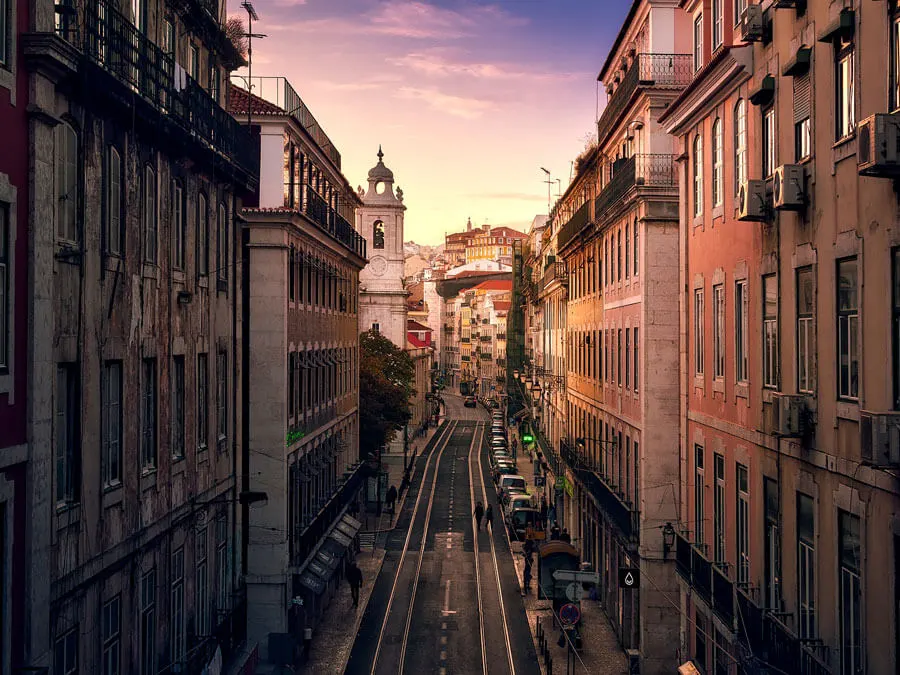 Join a Lisbon City Tour
Get yourself oriented with the city on a Lisbon walking tour that will take you through a number of the neighbourhoods, tell you some history about Portugal and Lisbon, share what you must eat and handy tips from a local.
Free walking tours are available with plenty of choices and all you have to do is tip what you felt the tour was worth! If you prefer a more specific tour there are ones for Alfama alone, Belem and even Fado tours.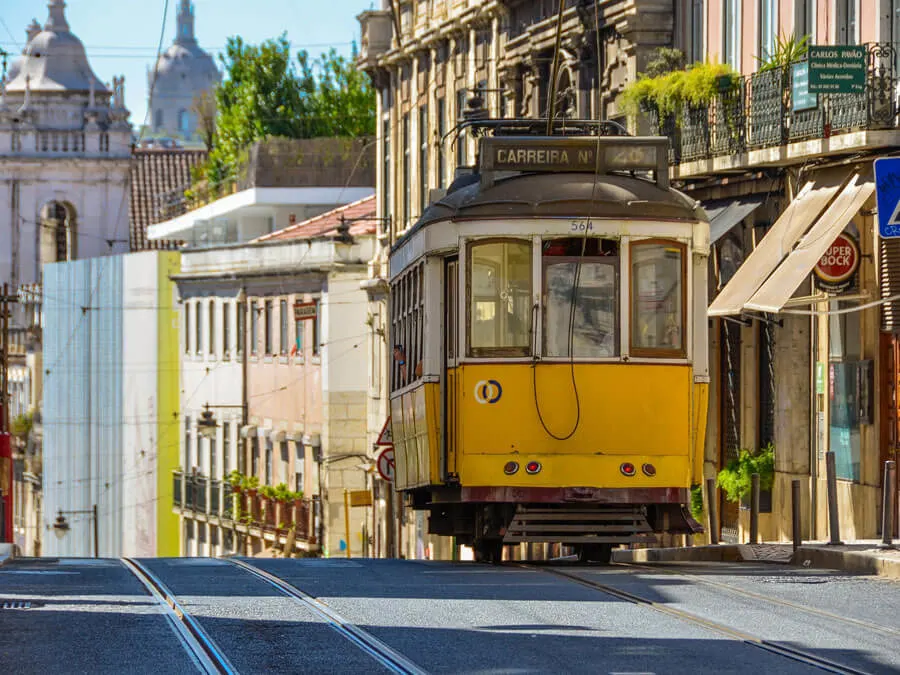 Ride Tram 28
Every guide on what to do in Lisbon will include riding tram 28, a famous tram route that takes visitors through the Alfama area as one of the top Lisbon sightseeing activities. This is ideal because Lisbon is full of hills so you can see it all without having to put in the effort! Keep in mind that the tram is actually local transport for locals so don't treat is as a tourist attraction (though you will see a few Lisbon tourist attractions while on for the ride).
Fado Museum
Don't know what Fado is? It's a music genre that originated in Lisbon that is very emotional and powerful. The small Fado Museum will take you through history with an audio guide explaining the music's past and give you an idea of what to expect for your first show.
Castelo Sao Jorge (St. George's Castle)
One of the top things to do in Lisbon is to visit St. George's Castle where you can get unrivaled 360° views of the city. People spend anywhere from 1-3 hours here roaming around the castle walls and checking out the history behind this very well preserved castle. Be warned though, it is at the top of one of Lisbon's hills.
National Tile Museum
If time permits be sure to check out the National Tile Museum that displays Portugal's famous azulejo tiles. You can learn about the 5 centuries of history behind these beautiful, decorative tiles.
Lisbon Cathedral
For a break from the heat visit the Lisbon Cathedral (you'll pass right beside it on the tram). It's the oldest church in the city with construction starting in the 10th century. Inside you'll find stained glass windows or maybe you'll be lucky and stumble in during one of the festivities. The entrance is free.
Get Lost in the Streets
I usually hate when people tell me to just get lost but Alfama is really a beautiful place to get lost with many winding streets and lots of cool street art.
Miradouro da Senhora do Monte (Viewpoint)
Just in case you wanted to climb another hill to see another viewpoint, this is the highest one in the city. It is, of course, popular for sunset and recommended as it is beautiful to see the sun falling over the entire city. If you can't be bothered to climb another hill there are always tuk-tuks waiting at the bottom to drive you up.
Fado Show
After sunset grab dinner and then head to a Fado show, one of the top things to do in Lisbon. If there's one thing that you can't miss while in Lisbon it's this. Alfama is the area to catch a show. Of course, you can make a bigger night of it and have dinner during the show. If you end up not staying in Alfama for the evening they are all around Lisbon.
Things to do in Lisbon: Day 2
Day 2 in Lisbon is going to focus on food and the neighbourhoods of Baxia and Rossio, Lisbon's main downtown area.
Elevador de Santa Justa (Santa Justa Lift)
Yes, I just suggested that you go see an elevator. I promise it's great, mainly because it will help you avoid some hills. It also helps that it's very beautiful, made in the 19th century out of wrought-iron with intricate details in the neo-gothic style.
At the top there is a viewing platform with excellent views of the city and the lift will take you from Baxio to the ruins of Carmo Convent.
Convento do Carmo (Carmo Convent)
At the top of the lift is the Carmo convent, ruins of a former Catholic convent, today it's now a museum and where you can see the beautiful large arches and archeological treasures.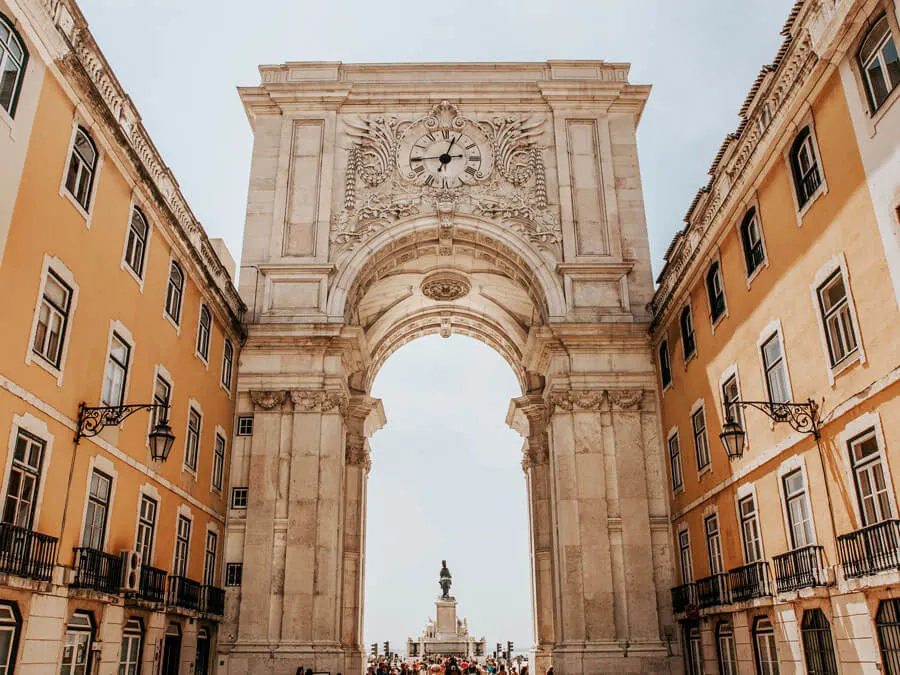 Arco da Rua Augusta (Rua Augusta Arch)
This grand historic building can't be missed. Located in the Praça do Comércio, it was built after the city was hit by a devasting earthquake, fire and tsunami in 1755 as a symbol of rebirth for the city.
Today you can actually get to the top of the main arch for views of Baxia over the city's busiest pedestrian street and the river.
Avenida da Liberdade
If you love to shop and got some money to spend then this is the place for you. The 10 lane boulevard stretches 90 metres and is filled with shops and boutiques. It's the 35th most expensive street in the world but is also worth walking around for the 19th-century architecture that is evident in the plazas with grand statues.
Eduardo VII Park
If you're craving a little bit of green space in the city head to Lisbon's largest park in the city centre. There is a hothouse and greenhouse filled with exotic plants which are free with the Lisbon card. The park is at the end of Avenida da Liberdade.
Time Out Market
If you're doing a food tour you can skip this option but if you want to do something cheaper then head to the Time Out Market for a ton of food options. It's a historic market where you'll be served food from top chefs and you seriously will not be able to choose with so many options.
Food Tour
The food in Portugal is so good, especially if you love seafood. But if you don't there are still plenty of sweets and more (including alcohol) to go around. Lisbon is a big foodie city so if you have the time I highly recommend taking a food tour (don't worry you'll walk it all off) or know where to go to try some of the must-eat dishes. Some sample options include a gourmet walking tour or a secret food tour to show you hidden spots.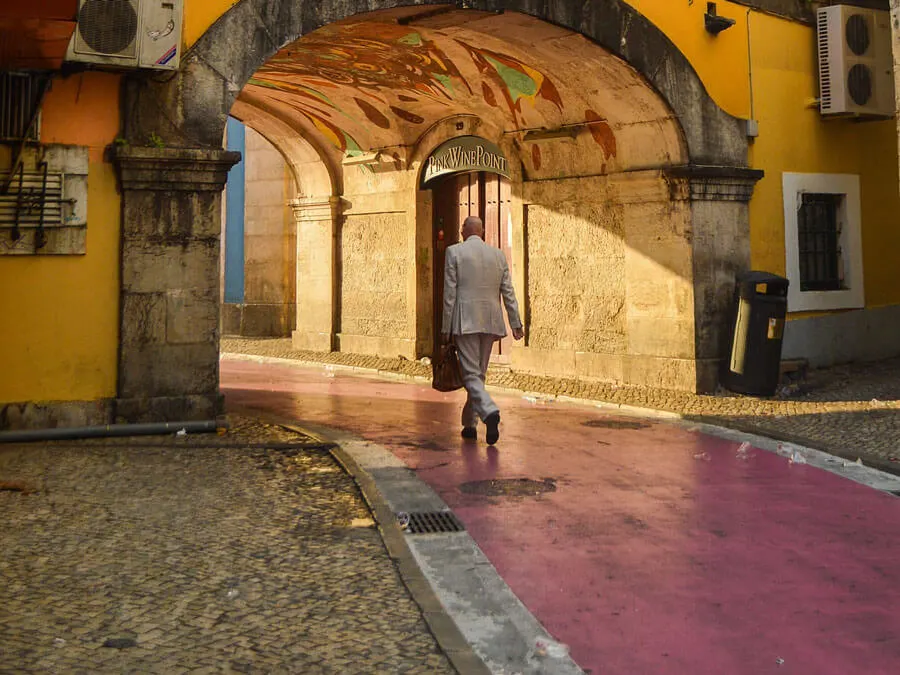 Night Out in Barrio Alto
Lisbon is well known for its nightlife and Barrio Alto is arguably the best place to go out in Lisbon. It's packed with lively bars that have drinks that are very well priced. When the area shuts down at midnight people will make their move to Pink Street that is literally pink! The clubs here stay open well into the morning.
A great way to experience nightlife in Lisbon is to go on a pub crawl where you can meet other travellers and see some of the top spots. There are a few options:
Things to do in Lisbon: Day 3
Day 3 in Lisbon involves exploring the western side of Lisbon, Belém.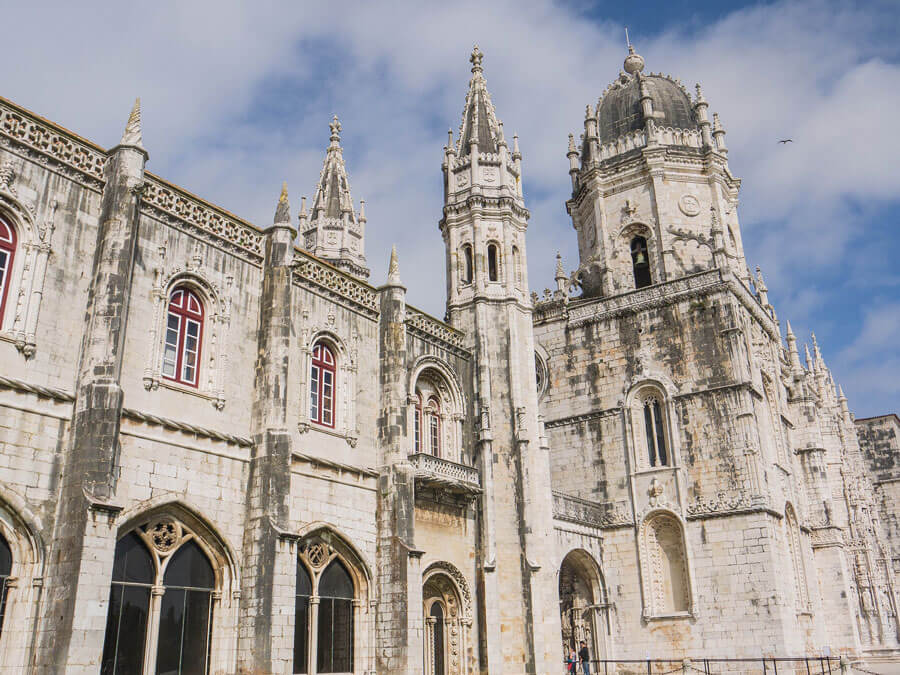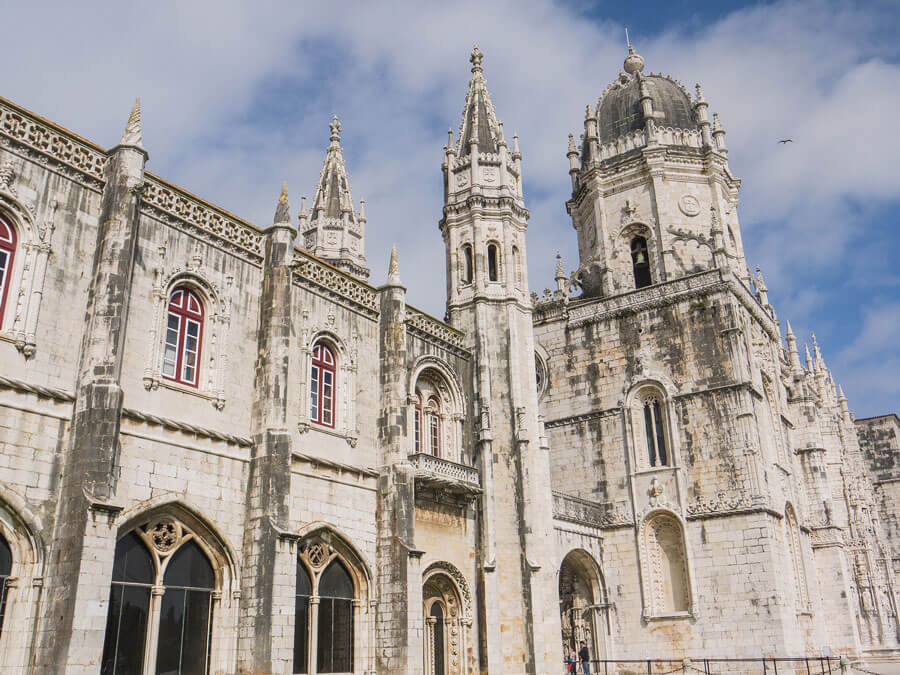 Monastery of Jerónimos
This monastery is one of the city's UNESCO World Heritage Sites. It's quite a grand site and is close the Belém Tower so it's easily on the way. It was built in Manueline style which is the combination of multiple architecture style which represents well the explorers coming to Portugal who brought their cultures with them.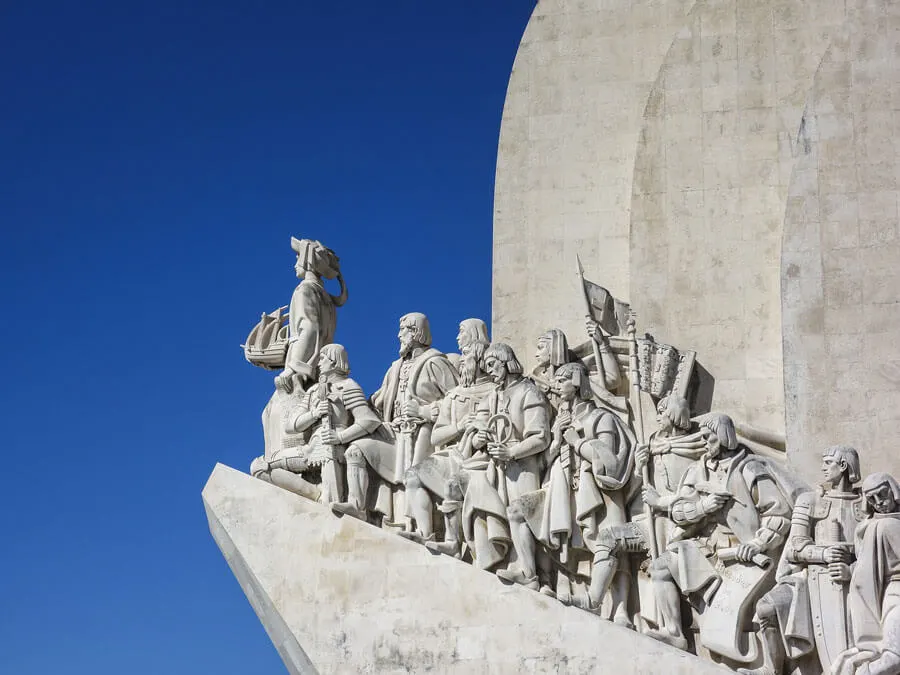 Padrão dos Descobrimentos (Discoveries Monument)
Along the Tagus River, also in Belém, is this monument which is dedicated to all of the explorers and adventurers who came to Portugal and established it as a powerful country in the 14th century. The original structure was made out of wood and was featured as the centrepiece for the 1940 world fair.
There are actually three parts to the monument, the outside which is well photographed, inside there is a small museum and on the top there is a viewing platform.
MAAT
At this museum you can find a combination of architecture, art and technology, basically summing up Lisbon as a whole. It's one of the newest additions to Lisbon, only opened in 2016, but it has exhibitions, lectures and debates.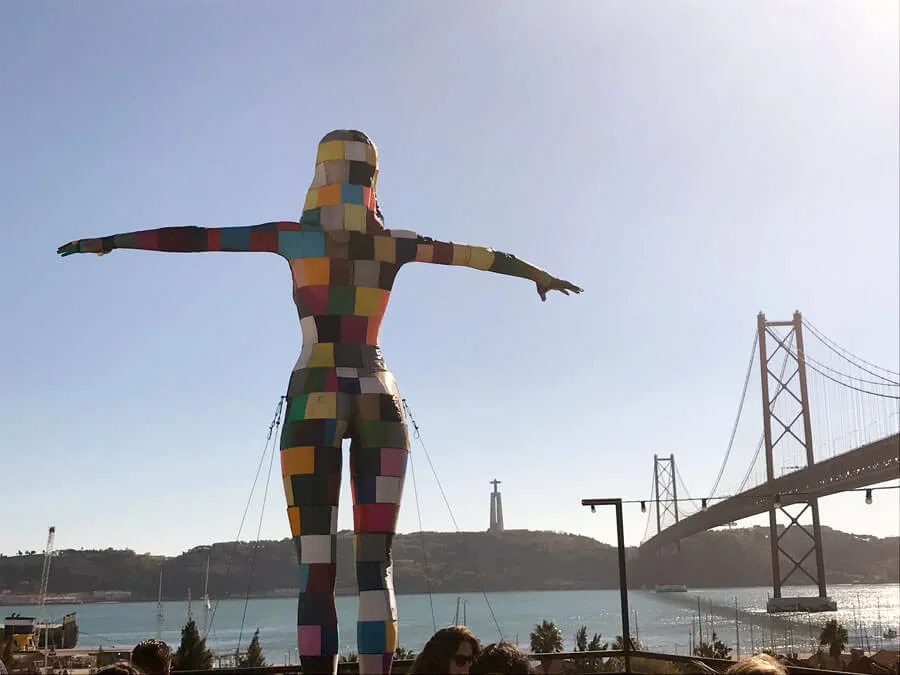 LX Factory
LX Factory is one of the coolest places in all of Lisbon. The area is a historical industrial complex that is now filled with many shops and restaurants, including a nice rooftop view that has views of the river with a colourful statue overlooking the water. The best time to visit is during the LX Market which is held every Sunday from 10-6.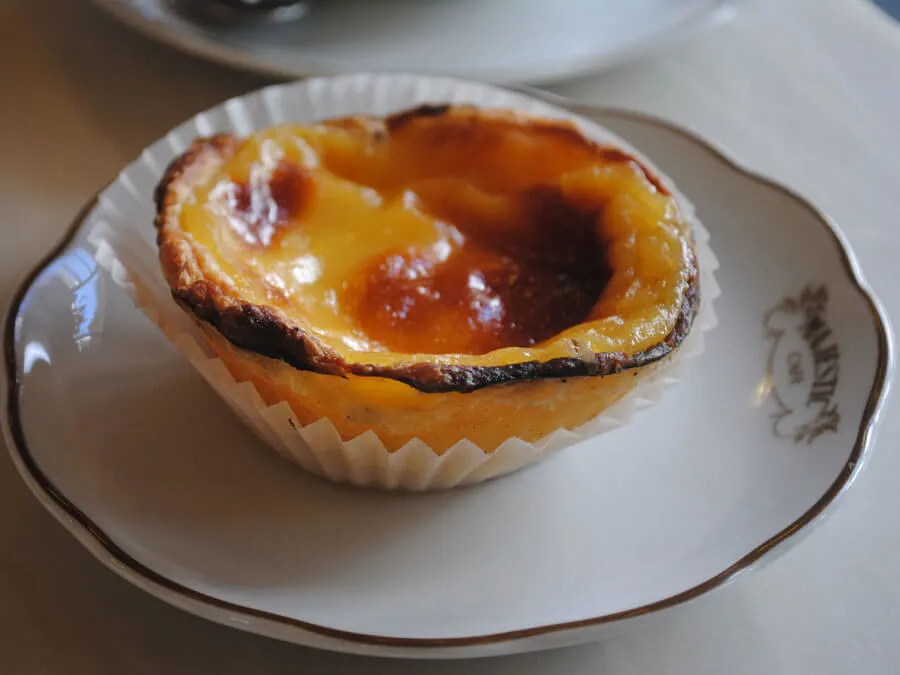 Pasteis de Belém
This is the place to try the famous pasteis de nata, a Portuguese egg tart topped with a dusting of cinnamon. They're absolutely delicious and you will want to eat about 10 in one sitting. Pasteis de Belém uses the original 187-year-old recipe, making it the most famous pastry shop in the entire city if not the country and easily one of the best things to do in Lisbon.
Cruise on the Tagus River
Hop on a river cruise to see the city from the water. Tours are offered for morning, afternoon and sunset where you can spend the time relaxing while cruising by 15th-century architecture along the shores.
PARK Bar
For the evening check out one of Lisbon's rooftop bars where you can catch sunset (if you didn't already on the river cruise). In Barrio Alto, you can find PARK Bar, a bar where you can see sunset over the river. It's special because it uses a parking lot, a found space that was reinvented to something new. It can be hard to find, you have to take the elevator up through the parking lot below.
Things to do in Lisbon: Day 4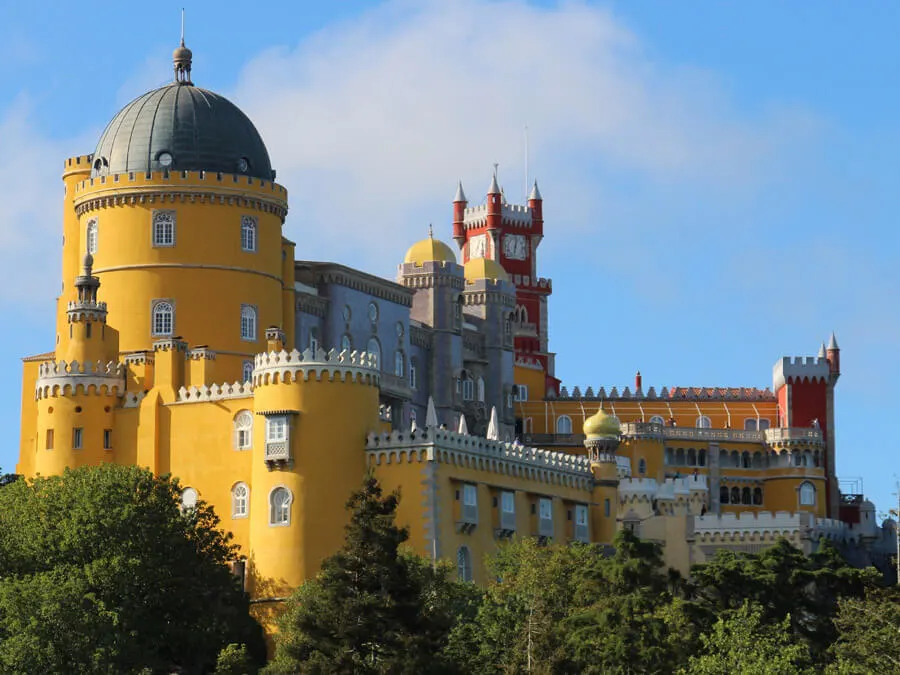 I highly recommend spending a 4th day in the city to do a day trip to Sintra. It is a beautiful area where royalty would escape to in the summer to live in colourful palaces. It's surrounded by forest and lots of greenery. A trip to Portugal is seriously not complete without a visit to Sintra and it is possible to get from Lisbon to Sintra on your own or as a guided tour.
Most tours will also include stops at Cascais, the top beach destination within easy reach of Lisbon, and Cabo da Roca, the most westerly point in mainland Europe.
If you only have 3 days in the city it's definitely possible to do a day trip to Sintra as well as the other days activities, you will just have a more packed schedule and may have to drop a few activities.
READ MORE: 13 Charming Day Trips from Lisbon
Extend Your Trip to Lisbon
Want to stay in Lisbon longer or visit the natural scenic beauty just outside of the city? A great way to unwind and experience a different side of Lisbon is to join a yoga retreat. Not far from Lisbon's city centre there are beaches and some of the best waves in the world for surfers who want to join yoga with their time on the water.
Retreats are anywhere from a couple of days to over a week and are a great addition to a Portugal itinerary!
READ MORE: Top Yoga Retreats in Lisbon and Beyond
How to Get to Lisbon
Lisbon is the main hub in Portugal so finding domestic and international flights here is not a problem.
Getting from the airport to the city centre has lots of options as the airport is only 9km outside of the city centre. The cheapest option by far is the metro. The aerobus or bus are also cheap options. Uber is available for pickups at the airport or private transfers can be booked for ease.
Train and buses connect the rest of Portugal as well as international destinations such as Spain.
How to Get Around Lisbon
You're in luck, it is extremely easy to get around Lisbon and its surrounding areas by metro, tram and buses.
Typically the metro is the fastest way to get around Lisbon and all stops have information in English and are marked by signs with a big blue M. Tickets can be bought at the metro stop stations.
Single metro tickets can be bought as well as daily passes with unlimited travel or unlimited transport is included if you purchase the Lisbon card for Lisbon attractions. The Viva Viagem card can be loaded in increments as low as €3 and can also be used for long-distance trains. You can find updated pricing information on the official metro site.
Buses and trams are operated by Carris but have the same prices as the metro. Daily tickets, Lisbon card and the Viva Viagem card also work. Tickets can be bought on board but are the most expensive option.
Lisbon is a huge city so you will end up taking local transport probably more than once.
Get all of that? Enjoy your trip to Lisbon!
You'll love these Portugal posts
Disclosure: This post contains affiliate links which I earn a small commission from and are at no additional cost to you. Taylor's Tracks is a participant in the Amazon Services LLC Associates Program, an affiliate advertising program designed to provide a means for us to earn fees by linking to Amazon.com and affiliated sites.