Nusa Dua is a popular resort area in Bali along the southern coast in the Bukit Peninsula. But don't let the term resort area turn you off from visiting here. Spend a day or your entire holiday here and you'll be treated to some of Bali's best beaches, clear waters, great snorkelling, the top golf on the island and more. There are an abundance of things to do in Nusa Dua.
Nusa Dua actually means 'two islands' in Indonesian and though Nusa Dua is on the mainland this mostly refers to the two points where temples sit a top of. Nusa Dua's manicured lawns of the tourist area are just one part of the area with culture, shopping and tons of entertainment all around.
Taking a trip to Nusa Dua is worth it for everything, don't be too quick to judge based on what you've heard, it's a great area to stay in Bali with beauty at your doorstep on any Bali vacation.
Forgot travel insurance? No worries!
It's still possible to get affordable travel insurance when travelling.
SafetyWing can be purchased in 180 countries and provides coverage for medical, travel delays, luggage, emergency response plus other perks for a third of the price compared to the biggest competitor for similar coverage.
How to Get to Nusa Dua
Fortunately, Nusa Dua is close to the Bali airport and is only a 20-minute drive. From the airport you can grab a taxi which is the most expensive option at around 150,000 but it is still very affordable.
Blue Bird taxis are the official taxis on the island and they have an area to book taxis for a set rate just outside of the arrivals area. Another option is to book a private car in advance. This can often be done through your accommodation as well.
From other areas of Bali taxis and private cars are still an option but cheaper options are also available such as using a car-sharing app. Grab, Uber and Go Jek (the Indonesian version of Grab and Uber) are also available offering cars for a fraction of the price. Locals will often try and bump up the price but after a few drivers you will always find one willing to go for the price stated in the app.
Getting Around Nusa Dua
The best way to get around Nusa Dua is to walk. It's a well-developed tourist area and is much easier to walk around than other parts of Bali. For further distances grab a taxi or hire a Grab, Uber or Go Jek. You can hire car or motorbike drivers which are an even cheaper option costing you only a few dollars or less.
You can also hire a motorbike yourself which is 50,000 per day on average. If you have never driven before I highly suggest that you practice first in an empty parking lot or quiet street.
If you plan on taking some day trips hire a private car. You may want to hire one for the day to check out the beaches in the Bukit Peninsula which includes Nusa Dua and Uluwatu. Private cars start around 500,000 per day.
Things to do in Nusa Dua
Discover what to see in Nusa Dua for all ages and travellers.
Find the Best Beaches
One of the biggest draws to Nusa Dua are the stunning white sand beaches that are soft to walk on and contrast beautifully with the vibrant blue shores. They act as a gateway Nusa Dua beach activities such as water sports and are where you'll find people lounging from the abundance of resorts during their day. Some of the best beaches in Nusa Dua worth checking out are:
Nusa Dua Beach (Pantai Mengiat)
Geger Beach (Pantai Geger)
Samuh Beach (Pantai Samuh)
Sawangan Beach (Nikko Beach)
Pandawa Beach (Pantai Pandawa)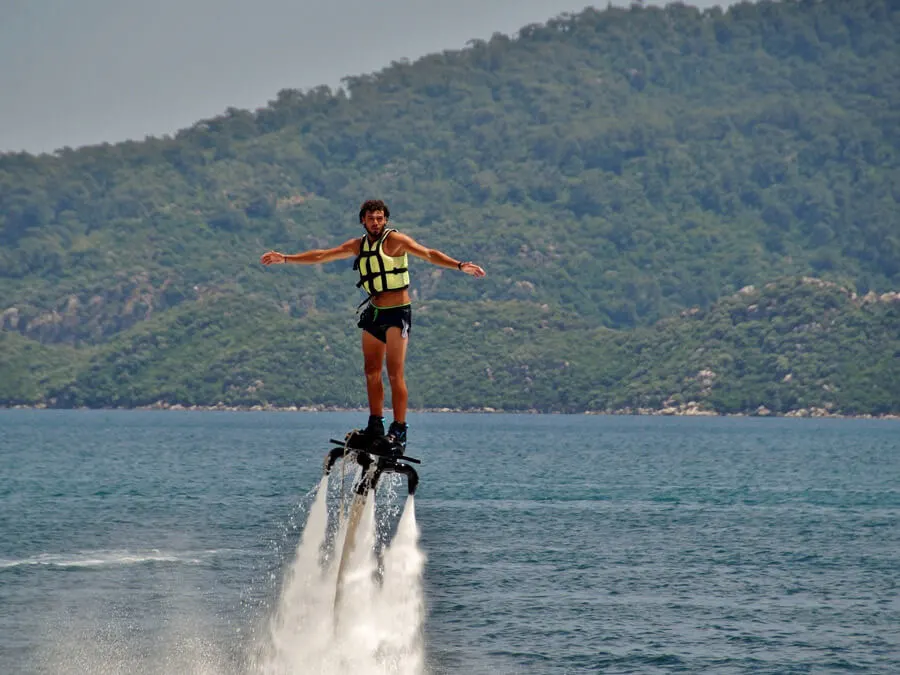 Get Active in the Water
What to do in Nusa Dua? Get in the water of course! Nusa Dua is not short on entertainment for all ages, especially when it comes to water activities. So if you tire from lounging on the beach you can try jumping into the water for some jet skiing, parasailing, kiteboarding and even flyboarding.
These Nusa Dua activities will surely impress. Flyboarding is a board in the water that uses water pressure from below your feet to push you into the air so you can have your chance at feeling like a real life superhero.
Have a travel photoshoot
Nusa Dua is a stunningly beautiful part of Bali which makes it a great spot for a travel photoshoot that will capture some of your holiday memories for a lifetime.
Hiring a vacation photographer through Localgrapher was what I did in Canggu and the pictures turned out even better than I could have imagined, making me look like a rockstar as well as showcasing Bali's beauty on the beach!
READ MORE: Step Up Your Travel Pictures with a Vacation Photographer from Localgrapher
Go Shopping at Bali Collection
If you need a break from the heat or just love to shop then Bali Collection is for you. It's one of the Nusa Dua attractions where you'll find a group of shops that include international brands and local retailers selling you Indonesian souvenirs. You can easily spend a while here and there are restaurants in the complex.
Stroll Along the Nusa Dua Promenade
The Nusa Dua Promenade is a paved walkway along the Indian Ocean that stretches 7km long and is one of the best things to do in Nusa Dua at night just before the sun does down.
At one point there is a fork in the road but both directions lead to two of Nusa Dua's temples so you can't go wrong with either direction. There are some small huts along the walkway that are great for pictures with the pretty blue water as your backdrop, especially at sunset.
See
Puja Mandala
Puja Mandala complex is a unique spot that is divided into five sections, each of which represents a different religion. This just goes to show how Balinese are proving that each of the country's five major religions can live side by side in harmony. This really is one of the best things to see in Nusa Dua. The Balinese are especially welcoming people and you will feel it when you visit Bali.
Try Seawalking
I realize that seawalking is easily categorized as a water activity which I could have included above but it's one that's so unique that it's worth mentioning on it's own.
Sea walking is perfect for people who are not strong swimmers or don't like swimming or diving. You get a helmet and can explore the underwater marine life by walking along the ocean's floor getting close to colourful fish and coral. Nusa Dua is one such place you can do this unique activity.
Chill out at Nusa Dua's only beach club: Manarai Beach House
Many visitors to Nusa Dua opt to leave their resorts to check out one of Bali's famous beach clubs, but what they don't realize is that the closest beach club is in Seminyak which is often a solid hour drive one way.
There's a solution now though, Manarai Beach House is the first beach club in Nusa Dua offering a place for visitors to come and chill out on one of Nusa Dua's fine white sand beaches. No longer are the days when travellers have to sit in a car for an hour to visit one of Bali's top spots.
The beach club just oozes a relaxed vibe with large day beds surrounding the pool which overlooks the ocean. Events are hosted with world-renowned DJ's, the food is absolutely mouth-watering and don't even get me started on the cocktails (hint: you're going to try a few, don't skip on the c-cup).
My visit was sponsored by Manarai Beach House. As always, all thoughts and opinions are my own (seriously, try all of the cocktails).
Check Out the Water Blow
For some Nusa Dua sightseeing head over to the water blow which does exactly as its name suggests, it blows water into the air due to the tight formation of rocks. It erupts quite suddenly and is a show worth checking out as it's not far from the heart of Nusa Dua right on Nusa Dua Beach by the Grand Hyatt Hotel.
As always, be careful around water, especially when it's this powerful!
Go Snorkelling or Diving
Just off of Nusa Dua Beach there is a reef that is full of colourful fish and coral where Nusa Dua snorkeling is popular. You can swim to it just off of the beach or choose to hire a glass bottom boat. Local fishermen often hire out their boats and will take you to some of the better spots of the reef.
Visit Pirates' Bay
I don't care how old you are, you never get tired of pretending to be a pirate. Pirates' Bay is where you can relive your childhood dream of being a pirate by dressing up and climbing up and through a pirate ship to a lookout tower that showcases ocean views. The area is actually a restaurant but there are also beach huts, tents and bonfires that are pirate-inspired. So go hop in your outfit and find yourself on a treasure hunt.
Cruise Over to Serangan Island (Turtle Island)
While enjoying your holiday why not take some time out to help some of the local wildlife and be educated at the same time. On Serangan Island, otherwise known as Turtle Island, you can visit a conservation centre that takes care of injured turtles, nurses them back to health and sets them free.
There is also a hatchery that helps baby turtles get to the ocean from the sandy shores. Birds, snakes and other Balinese wildlife are also apart of the conversation centre.
You can get to Serangan Island by boat from Nusa Dua. Be sure to go to the actual Serangan Island conservation centre as there are others hoping to just pocket your money for profit and not help any wild or marine life.
Be Entertained at the Devdan Show
Prepare to be entertained at the Devdan Show that is a spectacular event held nightly. The show is a cultural performance that showcases Balinese arts that are unique to this area of the island. It combines dances, music, costumes and traditions from across the island to create a 90-minute show that won't disappoint.
Go Golfing
One of the top things to do in Nusa Dua is golf. Nusa Dua is one home to one of the best golf courses in all of Bali, the Nusa Dua Golf and Country Club. It's closely located to a number of resorts making it easy to get to.
Try Surfing at Surf & Turf Beach Club
Surf & Turf Beach Club provides surfers the chance to catch waves at any time with the first flow rider in Bali. With consistent waves pros can jump on easily while it may take an hour or two for beginner surfers to get a good hand at it. The club also has a few water slides and its beachfront location makes it a prime spot to kick back with a few drinks.
Take a Bali Tour
There aren't a ton of places to see in Nusa Dua but the area lends itself as a nice spot to day trip from and since Nusa Dua is typically an area where visitors come and stay for a while as their base tours are often popular.
You can book tours to anywhere in Bali with some of the best being to temples, rice terraces, up to Ubud or to do typical Bali activities such as a cooking class or climbing Mount Batur. It will allow you to get a glimpse into the Bali life and other areas of the island that wasn't specifically built for tourism like Nusa Dua was.
Nusa Dua Accommodation
Read my detailed Nusa Dua accommodation guide to find the best places from budget to luxury, hostels to hotels and villas.
Continue planning your Bali holiday…