Porto is a beautiful, charming and historic city in the north of Portugal. Though it's the second largest city in Portugal it's nothing like Lisbon, though they do share an incredible amount of hills. Porto is the perfect jumping off point to explore regions such as Douro Valley in the north, is the ideal place to begin or end your Portugal itinerary and is a great base because there are plenty of things to do in Porto.
Prepare to visit Porto by getting your walking shoes and camera ready, you'll be walking a ton and taking more pictures than you thought. Have your belly empty as food is delicious here and you'll want to try everything and your tongue ready to taste the sweet liquid of port wine.
Forgot travel insurance? No worries!
It's still possible to get affordable travel insurance when travelling.
SafetyWing can be purchased in 180 countries and provides coverage for medical, travel delays, luggage, emergency response plus other perks for a third of the price compared to the biggest competitor for similar coverage.
Overview of Where to go in Porto
This map of Porto highlights what to do in Porto based on each days itinerary.
Day one: red
Day two: blue
Day three (day trip)
Day four: purple
Extra things to do in Porto: green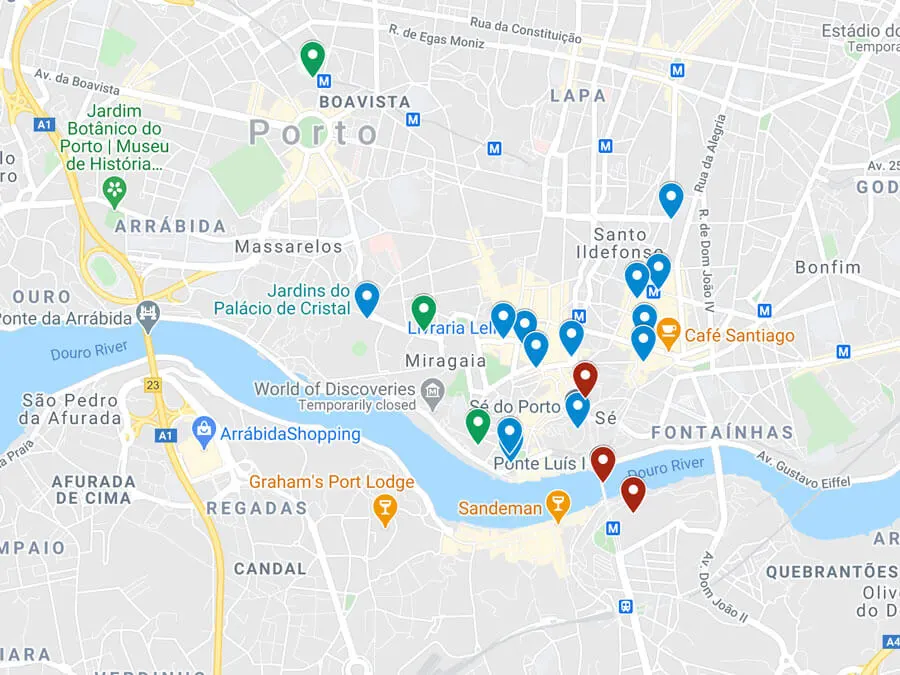 Recommended Porto Itinerary Length
Give yourself a minimum of 2 days in Porto to explore, but longer is better. The highlights can be seen in 2 days exploring at a modest pace. 3 days in Porto allows you to have a day trip to Douro Valley (which I consider an absolute must) and 4 days in Porto will give you the freedom to roam through the city at a leisurely pace, soaking up the atmosphere and gives you time for the must-do Douro Valley day trip (that's if you're not already planning on spending some time there).
Best Places to Stay in Porto
Not suiting your fancy? Check out my detailed Porto accommodation guide for more.
Porto Itinerary
Things to do in Porto: Day 1
Day one is all about getting yourself familiar with the city and enjoying the evening Porto style with port wine and epic views. If you only have 1 day in Porto make sure you hit all of these must-do's!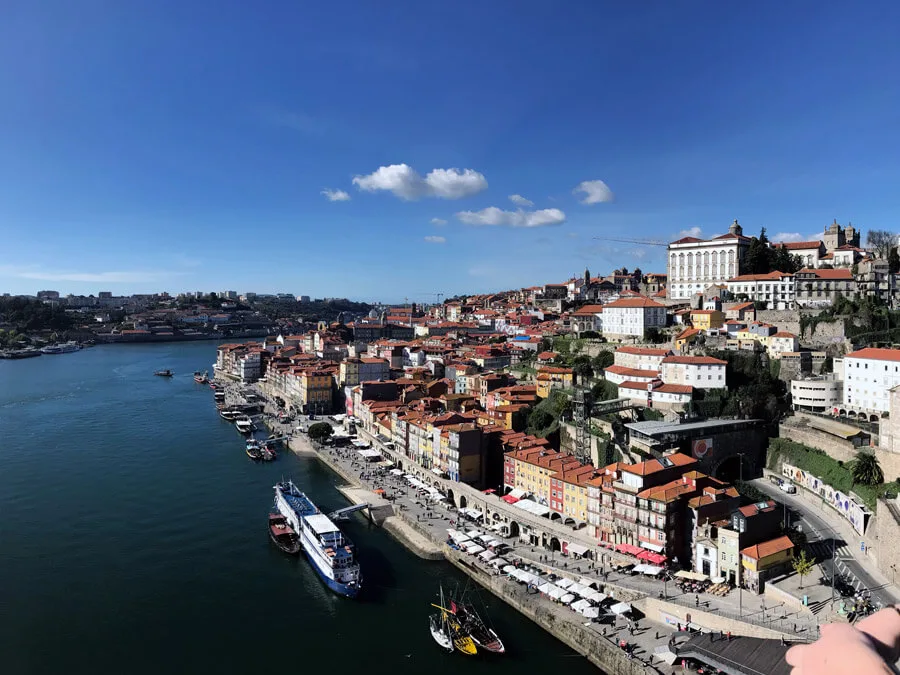 Join a City Tour
I always recommend joining a walking tour of a city as the first thing to do when you get to a new destination. There are a number available in Porto and they are typically between 2-3 hours and take you to all the highlights, shine light on the history and give you cool tidbits about how things are built and extra things to see in Porto.
Free tours of cities are something I always do when visiting a new city and highly recommend. This free Porto tour is the most rated in the city. Another option is to jump on a hop-on-hop-off bus or even take a city tour by train (it includes wine tastings!). Additionally, if you love Harry Potter you can join a Roots of Harry Potter tour, as Porto is a city that J.K Rowling lived in and took quite a few influences from for her famous books.
Eat a Francesinha Sandwich
After your city tour head somewhere that you can sit down and tuck into a francesinha sandwich, a local Porto dish. Prepare yourself, it's basically a heart attack on a plate but when in Porto why not try a dish that came from the city?
It's wet bread that is piled with ham, sausage, steak or a roast meat with melted cheese and topped with an egg sunnyside up. A gravy-like sauce is poured over and served with friends. I recommend sharing with a friend and asking your tour guide for the best place to try one.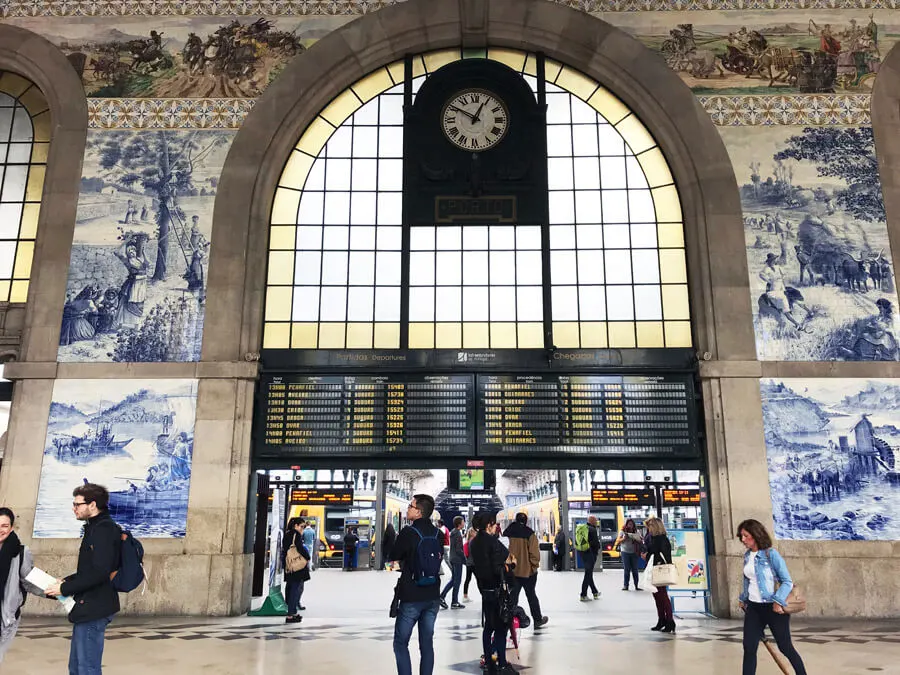 San Bento Railway Station
You will most likely see this on your city tour but if you opt not to do one make sure to add this in (I even went back to visit and take more pictures because it's so pretty).
San Bento is one of the most beautiful train stations in all of Europe and though it is a working station you likely won't be taking the train from here. The station is decorated with over 20,000 of the famous blue and white Portuguese tiles (called azulejos) that depict the history of Portugal. It took a decade from 1905 until 1916 for the tiles to be completed.
Walk Across Dom Luis I Bridge
After a big meal it's time to walk it all off. The Dom Luis I Bridge has become an iconic image of Porto. A metal double-decker bridge with an arched design, it provides great views of the city and Vila Nova de Gaia on the other side. It was the longest of its kind in the world when it was built to span across the Douro River but now it most importantly connects you to the port houses in Vila Nova de Gaia and the Porto district of Riberia.
Church of Santa Clara
Sitting beside the medieval city walls, the Church of Santa Clara is an obvious landmark of Porto. You can spot it from almost anywhere along the river, the rounded building sitting high on top of a hill. Outside of the church you get great views of the city and river (a good picture point) and inside you'll find even more stunning detail of carvings dating back to 1457. I'm talking like so much detail you'll have to stand there for a while just to take it all in!
Editor's Note: This is marked as Mosteiro da Serra do Pilar on the map above.
Taste Port Wine
You're in Porto, this is a must. As you walk across the bridge you'll see all of the port wine houses, it's here that you can try port along the river and with amazing views, sometimes even on the rooftop.
Get cozy in one or bounce around and try drinks and maybe some food at a few. Many also offer tours which gives you a cool behind the scenes look at the making and history of port.
If you end up tasting port for long enough that the sun is beginning to set I recommend staying on the Vila Nova de Gaia side but move to the top of the hill so that you can watch the sunset over the river and Porto right beside Terrace Lounge 360°.
Cais da Ribeira
Afterward roam back across the bridge (lower level, sorry you have to walk back down the hill!) and explore the Riberia district, finding food for dinner and some entertainment (usually there are musicians playing along the water or in the restaurants).
Riberia is an expensive place to eat so if you're on a budget I recommend leaving the area to eat. You could always grab something to go and some wine and enjoy dinner along the river's edge too!
Things to do in Porto: Day 2
Day two is when you'll discover the most beautiful and historic places to visit in Porto. Get your camera ready, this Porto itinerary is bound to impress you with the amount of details.
Spot Azulejo Tiles
What to see in Porto: tiles. Porto and Portugal, in general, are famous for azulejo tiles and they should be as each tile is a work of art in itself which for me makes it one of the top things to do in Porto. It's easy to spot them throughout the city but if you're dead set on seeing some (which I think you should be) add these spots to your map as they're some of the best in the city! Don't go to all of these in order, I've marked the spots in the rest of this itinerary below with an *.
Igreja do Carmo
San Bento Railway Station (on the itinerary for day 1)
Capela das Almas (Chapel of Souls and also my personal favourite)
Igreja de Santo Ildefonso
Porto Cathedral
Livraria Lello
Book lovers add this to your itinerary (even if you're not a book lover this store is still beautiful). Livraria Lello is a famous bookstore in central Porto because of just how stunning it is.
Head over early though, the beauty of this bookstore and the knowledge that it was a favourite place of J.K. Rowlings when she lived in the city have made it extremely popular as you will often see a line up outside of the store.
It costs €5 to enter and you can buy a ticket online or at a shop just down the street from Livraria Lello.
*Igreja do Carmo is close-by
Clerigos Church
One of Porto's Gothic style highlights, this small and pretty church was the tallest building when it was built in 1763. Today for a small fee you can enter, see the church and opt to climb 240 very narrow steps to the top. You'll be rewarded with awesome views 360° views of the city and this is another spot where you can catch a great sunset.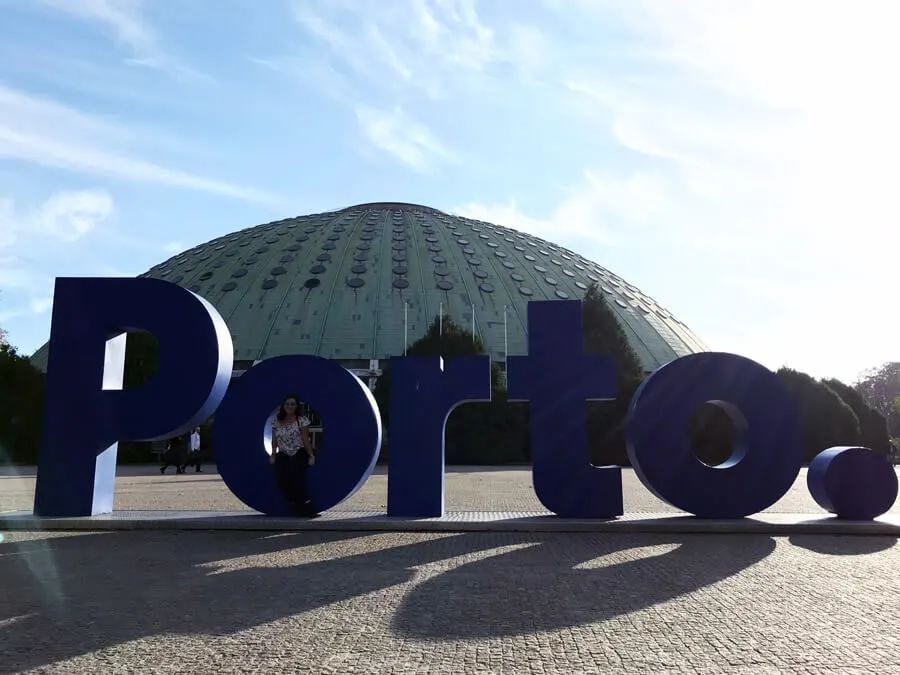 Crystal Palace Gardens (Jardins do Palácio de Cristal)
A short walk from the city centre lies the Crystal Palace Gardens, a picturesque area filled with beautiful flowers that were designed to surround the Crystal Palace that was present from 1865 to 1961. Today there is a futuristic dome-shaped building that holds exhibitions.
Be sure to explore around the gardens as you may run into a peacock, there is a large Porto sign that you can pose with and the gardens closer to the river have more amazing views and is an excellent place for Instagram-worthy pictures.
Shop Your Heart Out
The main shopping street in Porto is Rua de Santa Catarina where you can find an abundance of local and international stores. There are also market stalls that are open some days of the week where you can buy things such as hats and handmade leather bags.
There are also lot's of cafe's here to grab lunch or stop by one of the next two places for food or drinks.
*Capela das Almas (Chapel of Souls) is on this street
*Igreja de Santo Ildefonso is also close-by
Marvel Inside Majestic Cafe
There's a reason why it's called Majestic Cafe as the Belle Epoque-era cafe is grand even from the outside. Step in and you'll be stopping by day after day to feel like royalty in a cafe that's just so pretty.
It was a favourite spot of J.K. Rowling who sat here writing and not knowing how her books would change the world. It's expensive compared to other cafes but it's Portugal which means it's still very affordable.
Bolhão Market
The Bolhão Market is one of the best things to do in Porto. Many will tell you that a visit to Porto is not complete without visiting this food market so do yourself a favour and make sure you show up here hungry.
Locals sell fresh fruit and vegetables here and butchers hang their meat. They are tourist stalls too where you can sit down at a small table to enjoy some port or table wine and cheese among many other delicious treats.
Praca da Liberdade (Liberdade Square)
A grand city square, Praca da Liberdade is a perfect spot to familiarize yourself with and to take off from to explore the surrounding streets leading off of the square.
Boutique shopping, plenty of cafes and more stunning buildings are what you'll find. Be sure to stop into the McDonald's in this square, not to eat but to see the most beautiful McDonald's in the world (trust me)!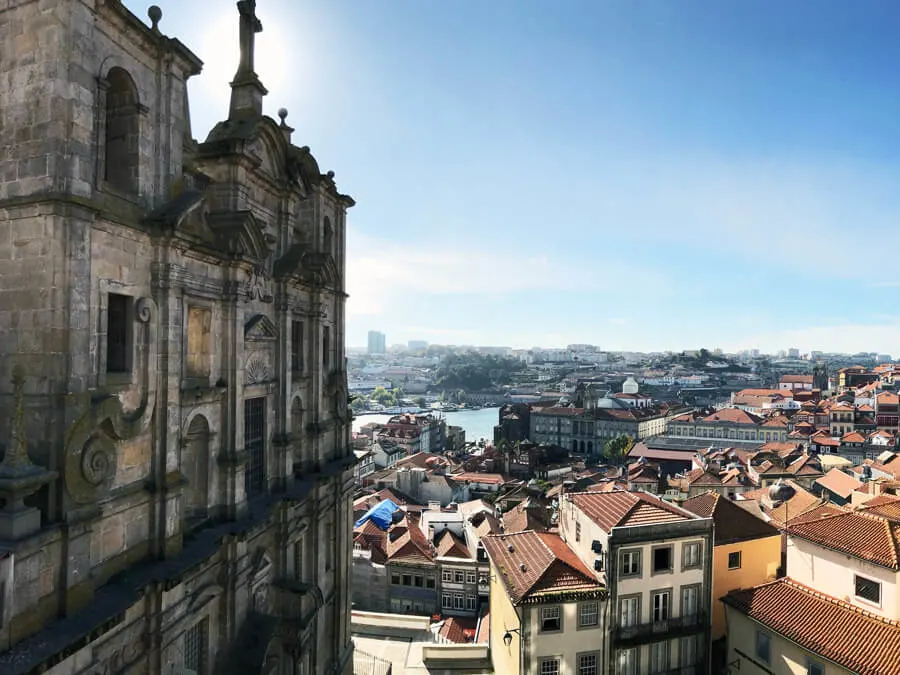 Porto Cathedral (Se do Porto)
One of my favourite spots in the city is Porto Cathedral so I don't recommend skipping it. I only took a quick peek inside but enjoyed snapping pictures from the outside of this grand 12th-century cathedral.
Though not as detailed as other Porto sights it's from here that you can see yet another great view of the city and it's a unique spot for taking some nice pictures. It's in oldest in the oldest part of Porto and there is a hill that you have to walk up to get to it but it's well worth it.
Palacio da Bolsa
Designed in the 1800's the Palacio da Bolsa is actually Porto's old stock exchange. Sounds boring, but this building is one of many that adds to Porto's charm.
From the outside it was finished in a Neoclassical design but step inside and be prepared to be blown away by the frescoes, sculptures, tiles, chandeliers and more. The interior has been decorated right up until the 20th century and is not disappointing.
Church of Saint Francis (São Francisco)
A UNESCO World Heritage Site, the Chruch of Saint Francis is a top place to visit in Porto for its incredible Baroque design as it was the last Gothic building built in the city in 1425.
The outside is nothing compared to the detail inside and you can even go down into the catacombs. The rest of the rooms are decorated 1500-1700's style with lots of intricate details, woodwork and gold.
Porto River Cruise
After all that Porto sightseeing it's time to get off your feet just for a bit. A Douro River cruise is just the thing. There's something magical about this river and hopping onto the boat for an hour-long ride will have you in a daze of beauty as more of Porto's neighbourhoods and charming architecture floats past you.
Porto Nightlife
If you're up for it after a full day of sightseeing and lots of walking then join a Porto pub crawl and experience the city's nightlife. It's one of the fun things to do in Porto and it won't cost you much.
Drinks are cheap and it's a good time if you love to stay up late! If pub crawls aren't your thing there are plenty of restaurants and bars to check out that aren't on the Vila Nova de Gaia side of the river (prices on this side are usually more expensive for port).
Things to do in Porto: Day 3
Day three is easy, I highly recommend going on a day tour to Douro Valley. It's a picturesque valley that has vineyards rolling down to the river that cuts through the land. It's about a 2-hour drive from Porto and if you have a knowledgeable guide it will make it all the better.
Douro Valley makes both the famous port and table wine and this is the only region in the world that grows grapes for port, much like how champagne only comes from the Champagne region. Port is quite sweet and strong as brandy is added to it. I highly recommend the tour that I did which included both port and table wine tasting, a river cruise and lunch.
READ MORE: The Best Way to see Douro Valley in Portugal
Things to do in Porto: Day 4
Day 4 in Porto is more relaxing after a busy 3 days, alternatively, you could use day 4 to explore some of the sites from day 1 or 2 for a slower, more relaxed pace (or just drink port wine all day!).
Hit the Beach
Porto is not known for its beaches but those who have the time and wish to relax a little can hop onto a tram and find themselves with a number of beaches to choose from on the Atlantic Coast. Praia do Carneiro beach is the closest beach to Porto. Praia dos Ingleses is the most popular as it's in the Foz do Douro area with lots of cafes and Praia do Molhe is another in the Foz district.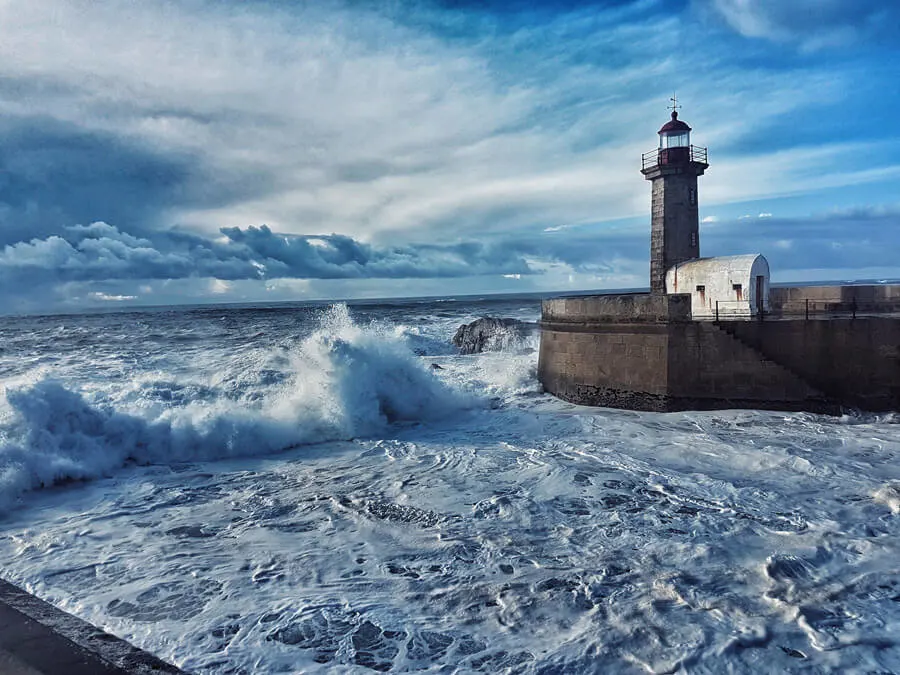 Foz do Douro
Foz do Douro is a district just outside of Porto known for its picturesque views and beaches (as mentioned above). There's a lovely promenade to walk down and an abundance of cafes. Catching sunset here is a great spot to do so. There is also a lighthouse here too that is beautiful for pictures but is no longer in use as of 2009.
If you wish to only spend half of a day in this area there are a few other things to do in Porto to fill your day:
Muralha Fernandina
Porto markets for shopping (see them all here)
Casa da Música
Soares dos Reis National Museum
READ MORE: 9 Stunning Day Trips from Porto
How to Get to Porto
Porto is easy to get to. It has an international airport and you can jump on the metro to get into the city, grab a taxi or organize a transfer beforehand all for cheap.
Trains and buses also serve Porto from a number of destinations around the country and internationally from Spain. For buses find more information on Rede Nacional de Expressos and for trains see Comboios de Portugal.
How to Get Around Porto
Getting around Porto is relatively easy. Once in the city centre you can explore the city by foot, but be warned, Porto is full of hills so if you don't enjoy getting your steps on your Fitbit then roaming through this city might be a challenge.
Luckily the public transport in Porto is easy to use with buses, trams and metro available which is operated by Sociedade de Transportes Colectivos do Porto (STCP). In order to use public transport, you will need to purchase a Porto card which gives you unlimited travel and entry into a number of Porto attractions or an ANDANTE card (€0.60) which gives you slightly cheaper tickets. These cards can be bought at metro stations or at the airport when you arrive. Paper tickets can also be bought on buses and on the trams. The Porto card is not accepted on trams.
Personally, I walked everywhere and only ever used the metro to get from the airport. It's worth taking too as it's budget-friendly and above ground so you get to see lots of the city.
You're all set to visit Porto! Enjoy a glass of port for me!
You'll love these Portugal posts
Disclosure: This post contains affiliate links which I earn a small commission from and are at no additional cost to you. Taylor's Tracks is a participant in the Amazon Services LLC Associates Program, an affiliate advertising program designed to provide a means for us to earn fees by linking to Amazon.com and affiliated sites.