Vienna holds a special place in my heart as it's the first international city that truly captured my interest, and is a place I've been to more than 5 times! Each time I visit I try something new, and some sights and activities I return to again and again. I've been to this European capital in summer, fall, and winter, and promise you that there is plenty to see and do in every season.
With about 100 museums, countless cafes, shopping galore, churches and cathedrals around many corners, and a number of palaces, there is truly no shortage of sightseeing in Vienna. I've rounded up the best things to do in Vienna to try and not overwhelm you. These highlights are perfect for first-time and returning visitors. Most you'll be able to do in a weekend in Vienna, and please, spend more than just a day in Vienna!
Pro tip: There are two city cards available in Vienna. I don't recommend either of them. They are quite costly and unless you are planning on visiting a lot of museums they aren't worth it!
What to Do in Vienna
These top sights and activities in Vienna cover a range from foodie experiences, to museums, palaces, and architecture to take you on a fabulous and diverse journey around and across town.
---
Planning a trip to Austria? Find out where else to go with my itinerary for Austria!
---
Schönbrunn Palace and Gardens
A trip to Vienna is simply not complete without visiting the gorgeous Schönbrunn Palace. A summer palace for the Habsburgs, this yellow palace sits just a few kilometres outside of the historic city centre and is easy to reach by metro. For many, Schönbrunn is the number one attraction in Vienna as it's far more than a palace made up of over 1,400 immaculately decorated rooms. The UNESCO World Heritage gardens sprawl around the palace and are free to wander. What's more, the Tiergarten Schönbrunn (a zoo) is located here, and additional gardens, a maze, and the tea house which offers impressive views of the back side of the palace, also make up the palace complex.
Once home to the well-known Empress Maria Theresa, Schönbrunn will take you back in time as you explore the palace rooms and wander through the grand gardens. Don't miss Cafe Residenz, located before you enter the palace itself. It's a beautiful spot for some food or a drink and also where you can watch an apple strudel show, and enjoy some of the tasty pastry too.
Pro tip: Schönbrunn gets insanely busy and it is highly recommended that you purchase a skip-the-line ticket so you can show up and get in at a decent time as tickets are sold in time slots for when you can enter.
Hofburg Palace
Dominating Vienna's city centre, the Hofburg Palace is composed of 18 groups of buildings, covering 59 acres. You'll probably end up walking through a part of the palace at one point or another without even realizing it, and other times you will most definitely know as the Baroque architecture will rise in grand buildings as you turn a corner or walk down a street.
A Vienna must-see, this palace is the most important in all of Austria and was home to Habsburgs for multiple centuries. Today the vast complex is home to a number of museums including the Sisi Museum, the Imperial Apartments, the Silver Collection, and the Hofburg Treasury. It's also the official home and workplace of the Austrian President, and with 2,600 rooms, some locals even live in the palace!
I highly recommend wandering over to Michaelerplatz at night to see how beautiful the architecture is lit up at night.
Vienna State Opera House (Wiener Staatsoper)
You can't miss this grand building when you're exploring Vienna. The outside certainly puts on a show, but inside is where the true beauty of this building lies. While it's not free to enter, guided tours are available. But I recommend skipping the tour, and going to a show instead! With over 300 performances held a year, including opera and ballet performances, there's a very high chance that you'll be able to see a show.
Standing tickets that are only €10 go on sale 80 minutes before a performance and it's recommended to get there at least 60 minutes before to get a ticket. The best standing area is Parterrestehplatz, which is centre on the ground floor! The tickets for the highest balcony are good too. If watching an opera show, screens are provided for you to translate the show into multiple languages.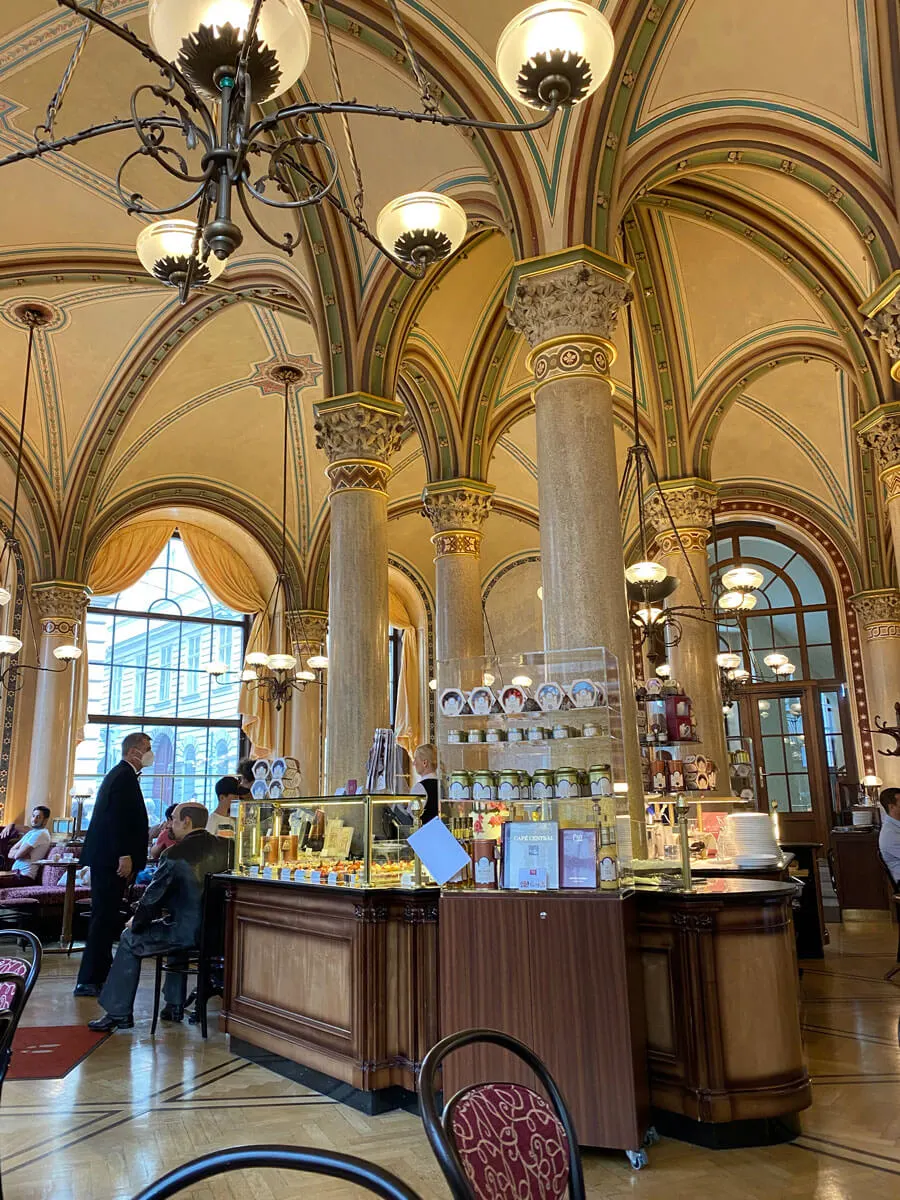 Take part in Viennese cafe culture
Cafe culture in Vienna is huge and is a way of life for the Viennese. It's in the local cafes that you'll find tourists and locals alike lounging, taking their time, and enjoying the atmosphere that was created long, long ago but is still upheld today. Aside from great coffee and delicious desserts, it's the sense that no one is in a rush that will put you at ease. Some will sit in cafes for hours, catching up with others or simply enjoying the newspaper.
Cafe Central is the most popular original Vienna cafe and is most definitely worth a visit as inside it is truly spectacular. Guests such as Freud dined here often. Cafe Hawelka, Cafe Sperl, and Cafe Pruckel are other notable options, but there are many!
Join a free walking tour
I know, every guide on a city in Europe says to join a free walking tour, but in Vienna, I believe it's an absolute must. There's just so much to know in Vienna that a tour will not only showcase and explain the history of the buildings you wander past, but give you a better understanding of why Vienna is so different from the rest of Austria, how the culture has come to be, past and present, and why Vienna is one of the best cities in the world (that's not just me saying that!). I personally did and recommend this Vienna walking tour. It goes above and beyond the usual history and the guides are absolutely fantastic.
St. Stephen's Cathedral
An iconic part of the Vienna skyline, St. Stephen's Cathedral (Stephansdom) is one of the best places to visit in Vienna. The now Gothic-style cathedral is located right smack in the middle of the city centre and can't be missed. Inside and outside are truly spectacular as the sheer size and detail impress visitors. Take the 343 steps up the South Tower to the Steffl's Watch Room for views over Vienna, but also to see the unique tile work on the roof up close. Or opt to take an elevator up the North Tower where the Pummerin Bell is housed.
Try a slice of the famous Sacher torte
Perhaps the world's most famous chocolate cake, Sacher torte is a two-layered chocolate cake with apricot jam in the middle, and a thick chocolate ganache finishes the top. This cake was created by pastry chef Franz Sacher in 1832 in Vienna for Prince Klemens von Metternich who asked for a special dessert for his guests.
One of the best places to try it is at Sacher Cafe, where it's said to serve the original recipe. But there is debate as to whether another famous cafe, Demel, has the original recipe. Either way, you can find this cake served at many restaurants and cafes throughout Austria. I personally recommend trying it at Sacher Cafe as it's a very luxurious cafe that is most definitely touristy and over-priced but a nice treat.
If you're asked if you want whipped cream with the cake, always say yes. It's quite dry and the whipped cream is a necessary part of the tasting experience!
Prater Park
Prater Park isn't the typical green area of a park you'd expect in Europe, but actually an amusement park. Far more than just something for kids, the permanent rides here are fun for all ages. A ride in the ferris wheel is a highlight for many as you can see over much of Vienna, with an option to dine in one of the cars. You'll find lots of local treats here too, and delicious lunch options such as a bosna (like a hot dog with curry) or langos (like a deep-fried flatbread).
I recommend eating schnitzel at Schweizerhaus, a restaurant recommended by a local family member of mine. The beer garden is large and shaded and the schnitzel comes at a really good price.
Belvedere Palace
There is no shortage of museums in Vienna (there are about 100!), but Belvedere Palace is a notable museum because it's both a stunning palace as well as home to Österreichische Galerie Belvedere, which houses an extensive collection of art. Most famous is the largest collection of pieces by Gustav Klimt, including The Kiss.
Not one but two palaces are located here (the Upper Belvedere and the Lower Belvedere), as well as an Orangery, palace stables, and Baroque gardens that complement the Baroque architecture of the palaces.
Spanish Riding School
Located right in the city centre in the grounds of the Hofburg Palace you could find yourself walking past some horse stables. These famous horses are the Lippizaner horses which are trained at the Spanish Riding School, one of the best in the world. Dating back to 1562, these horses put on performances for the court originally, but since 1918 the shows have been open to the public. Get your tickets in advance for a show as they sell out quickly, or opt to take a guided tour where you'll get to meet the horses (but won't be able to touch). If you can't make it to a show, another option is to watch them during a dressage training session.
Naschmarkt
Naschmarkt is Vienna's largest open-air market that is a highlight of the city for foodies that has been around since the 16th century. A mix of locals, expats, and tourists can be found here where some shop for their daily meals, others relax at the wine bars, and some hop from food stall to food stall. You have the option of joining a Naschmarkt food tour or wandering through on your own, taking in the smells of everything from Indian spices, to fresh produce, to Austrian specialties. Naschmarkt is a great stop for lunch and is within walking distance from many highlights of the city in the centre.
Kärntner Strasse
Whether you're a shopper or not, you'll most definitely find yourself at some point wandering down the mostly pedestrian Kärntner Strasse, one of Vienna's most famous streets. It is lined with shopping, cafes, and runs from Stephansplatz (where you'll find St. Stephen's Cathedral) to the Staatsoper and Karlsplatz on the Ringstrasse (where you'll find Karlskirche).
This shopping street is mainly mid-range shopping and tourist shops but it's well worth the wander down. Don't miss the Manner Waffle shop at the end by St. Stephen's as they're a classic treat from Vienna.
Vienna City Hall & Rathausplatz
The city hall (Weiner Rathaus), is a picturesque Neo-gothic building that overlooks Rathausplatz. Tours inside city hall are available to see some of the state rooms, but even a visit to see only outside is worth it. There's a green space in front too, Rathauspark, to enjoy some time in the sun and rest your feet.
The best time to come here is during the Christmas season, as the area truly comes alive with the lights and activities of the Vienna Christmas market that sets up here.
Austrian National Library
Whether you're a book lover like me or not, there's something to be said for how special and magical libraries are. With how grandiose the Austrian National Library is, I'm sure you'll agree with me when you see it that it is truly a magnificent place. Located in the Hofburg Palace and just across from the Spanish Riding School stables, I urge you to step back in time as you roam the halls that are home to over a million books in Austria's largest library. It's worth visiting for the pictures of the statues, painted ceilings, and atmosphere!
Albertina Museum
For museum-lovers, the Albertina can't be missed. The collections of modern art here cover a vast number of schools including avant-garde, impressionists, expressionists, and more. Pieces by world-famous artists including Picasso, Chagall, and Ernst are only a few of many. Give yourself some time here as there are over a million pieces, including one of the largest print rooms in the world with around 65,000 prints. Works are hung in the state rooms of the once Habsburgs residence that have been restored to their original splendor.