Ho Chi Minh is a hectic, crazy city with insane traffic. But it must be visited. You'll quickly get over the buzz of cars and motorbikes whizzing past as you take in the colonial style buildings, the vendors spilling into the streets and skyscrapers that mix this city's history together with the new.
Ho Chi Minh City is a large city which can make choosing the best place to stay in Ho Chi Minh difficult. But with this easy guide you'll find the perfect place for you to stay amongst the chaos, in the quiet or right in the middle of the action.
Accommodation ranges from budget hostels and guesthouses to luxury hotels with rooftop bars and casinos on-site and everything in between. So if you're on a budget there are plenty of options but in a country like Vietnam, a night or two of luxury is a lot more affordable than you'd think! Keep scrolling to find where to stay in Ho Chi Minh City.
Disclosure: This post contains affiliate links which I earn a small commission from and are at no additional cost to you and help keep this site running. All images used in this article are from Hostelworld, Booking.com or Airbnb.
Best Budget Ho Chi Minh Accommodation
Find the best hostels in Ho Chi Minh City for their location, budget and atmosphere.
The Hideout
This hostel deserves to be shared first as it won the 2016 and 2017 Hostelworld award for the most popular hostel in the city. And it's easy to understand why. It is a very social hostel and known for its party vibes. Amenities include a rooftop bar, nightly events and games, happy hour with free beer daily, plus this hostel runs the largest pub crawl in the city. There's fast Wi-Fi, free breakfast and individual power outlets for each bed.
The Hangout
If you want what you just read above but without being in the middle of the party then this is the hostel for you. This is the sister hostel of The Hideout so you get all of the same great amenities in a location literally just down the street. You also get to partake in all of the events at The Hideout without having the party on your door step but still close enough to access with ease. I personally stayed here and had no complaints as it's the best of both worlds.
Ngoc Thao Guesthouse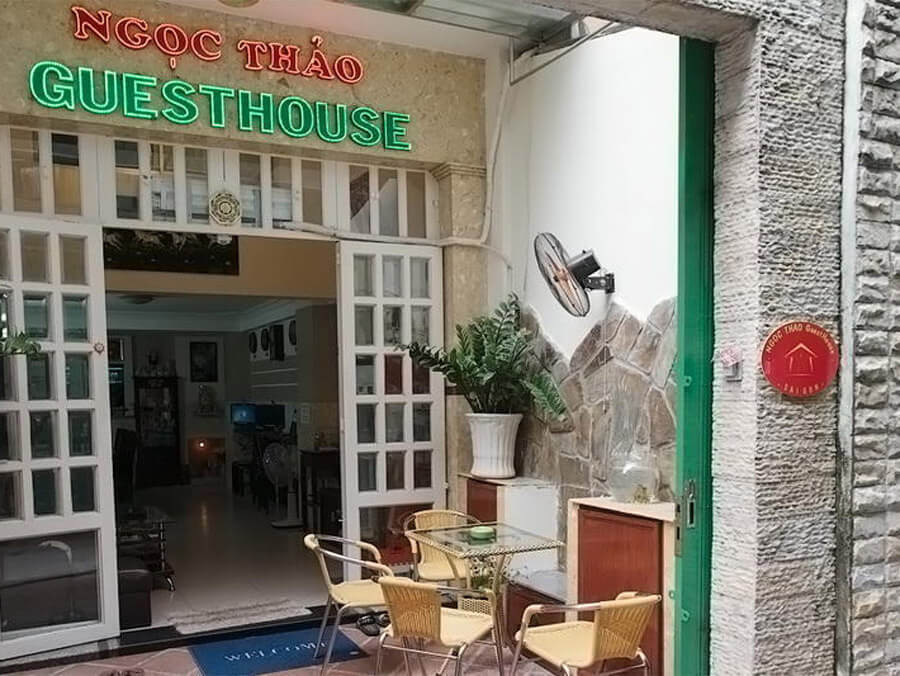 You're in the perfect location in this guesthouse which is right smack in the middle of the backpackers area. Most of the major sites in the city are within a 20 minute walking distance. The cosy atmosphere here is thanks to the family that runs it. There is a tour desk on-site with awesome prices, individual power outlets for each bunk, it's bright and clean.
Not quite what you're looking for? Find more hostel options on Hostelworld.
Best Mid-Range Ho Chi Minh Accommodation
Find the best hotels in Ho Chi Minh that won't break your budget from cheap hotels in Ho Chi Minh City to hotels that are cheap with amazing amenities.
Alagon Saigon Hotel & Spa
This boutique style hotel will spoil you with the price yet still offer amazing amenities such as an outdoor pool, a sun terrace and a fitness centre. Previous guests rave about the included breakfast, its location and the wonderful staff. The hotel is only mintues from the famous Golden Dragon Water Puppet Theatre and a restaurant is on-site with excellent quality food for those who wish to stay in.
Acacia Saigon Hotel
Guests say that this hotel has great value, is in a quiet location (which can be difficult to find in Ho Chi Minh!) and is excptionally clean. On-site there is a bar, free Wi-Fi, breakfast is included and an airport shuttle is available. The hotel is only a 5-minute walk to the famous Ben Thanh Market with plenty of places to eat close by.
Eden Garden Hotel
Rooms at this boutique style hotel offer rooms with balconies and city views in the backpacker area of Ho Chi Minh, making it the perfect place to be for quiet but without leaving the area with all the action. All major Ho Chi Minh City attractions are within 20 minutes walking and plenty of food options are on your doorstep. On-site amenities include a spa, free Wi-Fi and breakfast is included.
Not quite what you're looking for? Find more hostel options on Booking.com or HotelsCombined.
Best Luxury Ho Chi Minh Accommodation
These luxury hotels in Ho Chi Minh City are going to blow you away. All hotels listed are 5 star hotels in Ho Chi Minh City.
Rex Hotel
Stay in the heart of the city with this luxury accommodation that won't leave you disappointed. On-site you'll find a rooftop restaurant, casino, a full spa, a gym and a pool. Not to mention the available activities such as tennis, yoga, aerobics and even dance classes. The location is ideal for travellers who love nightlife, museums, shopping or all three.
Hotel Majestic Saigon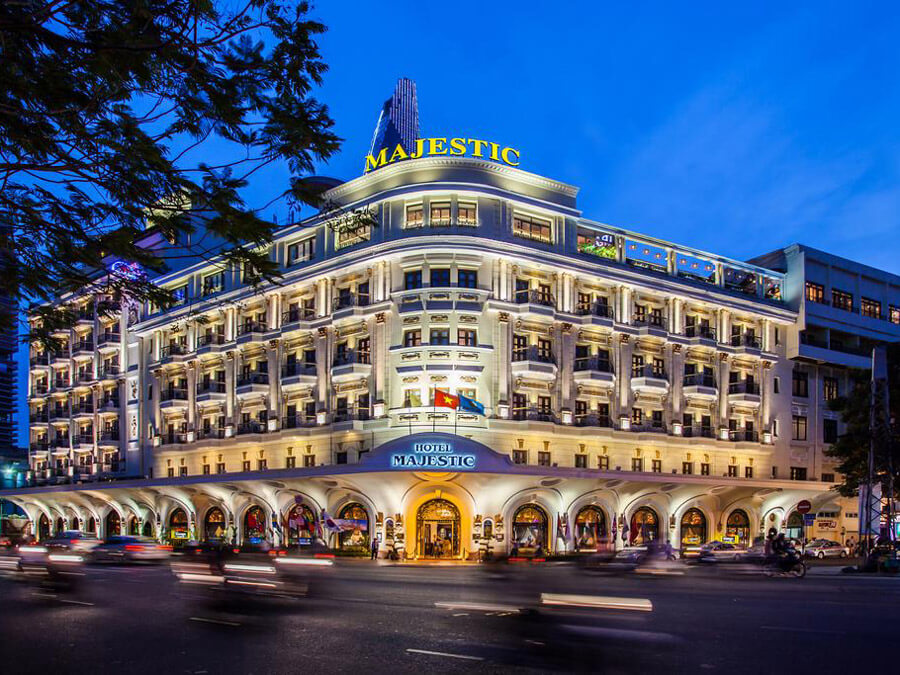 This 1920's landmark building sits overlooking the Saigon River and has an art deco theme. Hotel Majestic Saigon is closely located to points of interest such as the Opera House, Notre Dame Cathedral and Ben Thanh Market. There is a charming courtyard on-site as well as amenities that include a casino, pool, Sky Bar, buffet breakfast and more.
Grand Hotel Saigon
The Grand Hotel Saigon is housed in a restored colonial building that close to must-see attractions such as Notre Dame church and the Reunification Palace. You can choose to relax at the outdoor pool between sightseeing or enjoy the in-house restaurant which serves multiple cuisines. A casino, rooftop cafe, fitness centre and bar are also available for guests. This could just be on the best hotels in Ho Chi Minh with all of its stellar ratings.
Not quite what you're looking for? Find more hostel options on Booking.com or HotelsCombined.
Best Ho Chi Minh Airbnb Accommodation
Experience Ho Chi Minh like a local with these Airbnb Ho Chi Minh options.
1BR + FREE Rooftop Pool, No Noise from City
For a cheap price you get an entire serviced apartment that has access to a rooftop pool, you'll be only 5 minutes by driving away from the city centre and get great views of Ho Chi Minh.
The Colonial — French-era flat, central Saigon
Right in the cente of Ho Chi Minh is this beautiful French-era flat that is super easy to check into. It's self check in with a keypad! You will be steps away from Ho Chi Minh's top sites such as the Opera House, Ben Thanh Market and more.
Domino Homestay
This is the place for you to stay if you want to experience Ho Chi Minh more authentically. This budget Ho Chi Minh accommodation option is located on a quiet street close to the popular area of District 1. It's a chilled out place with a common area for travellers to relax and has plenty of local eateries within walking distance.
Editor's Note: My goal is to be honest with you guys so…I am only one person and can obviously not stay at all of these places. This post is intended to be used as a guide with any place I stayed at included in this post by personal recommendation. I did the hard work to help you find the best place to stay by filtering out the shitty stuff and picking places that I know my readers (aka you fabulous person) would love. But ya know I'll be sending good travel vibes your way if you decide to book through one of my links 😉
Planning your visit to Ho Chi Minh? You'll love these posts