Hoi An is a beautiful city located along Vietnam's coast right in the middle of the country. It's know for the Old Town which is a UNESCO World Heritage site filled with stunning and colourful buildings. Lanterns light up the streets at night, it's home to some of the best food in Vietnam and it's close to beaches.
A stay in Hoi An Vietnam is really the best of both worlds and I highly recommend spending a few days in this incredible city.
Not only do you get good food, beaches and history but Hoi An is also the prime spot in Vietnam, or even all of Southeast Asia to get clothes, shoes and accessories custom made for bargain prices.
Accommodation in Hoi An ranges from cheap hostels to luxury beach resorts. All of the properties listed here include Wi-Fi and most have free bicycles to get around the city. Keep in mind the hotels and hostels are not in the Old Town but you can find many that are very close to all of the action. Now it's time for you to find the best places to stay in Hoi An for any budget below!
Disclosure: This post contains affiliate links which I earn a small commission from and are at no additional cost to you and help keep this site running. All images used in this article are from Hostelworld or Booking.com.
Best Budget Hoi An Accommodation
Find the best hostels in Hoi An for location, budget and atmosphere.
Vietnam Backpackers Hostel Hoi An
When you visit Vietnam you will hear a hostel chains name come up over and over again. And that is Vietnam Backpackers. This chain is known for their great hostels and parties and their Hoi An location is no different from their original in Hanoi. The location is ideal being half way between the UNESCO World Heritage site town of Hoi An and the awesome beaches. Not to mention here you'll get free unlimited buffet breakfast, complimentary Wi-Fi, a pool on-site, bar and restaurant. Need I say more?
Sunflower Hostel Hoi An
This Hoi An hostel is one of the most popular hostels in Hoi An. It's located about a 10-minute walk from the Old Town and a 15-minute ride to the beach. It's a great hostel with a very chilled out atmosphere during the day by the pool and a bit of a party happens at night. The on-site bar gives out free drinks certain nights of the week, has free unlimited breakfast and drinking water, an on-site restaurant and a shuttle bus to town. I personally recommend this hostel!
Paddy's Hostel and Bar Hoi An
If you're a beach lover on a budget then this is where you need to stay. The property is located only 5 minutes from the beach and a 15 minute cycle into town. Bicycle rentals are free, laundry facilites are on-site, there is free Wi-Fi and tours can be booked from the hostel. Single and double dorm room beds are available as well as private rooms. Don't forget about the beer garden and swimming pool. Plus if you love sports you'll find them on the big projector screens.
Not quite what you're looking for? Find more hostel options on HostelWorld.
Best Mid-Range Hoi An Accommodation
Find the best hotels in Hoi An that won't break your budget.
Sunset Hoi An Hotel
You're spoiled with the location of this hotel that is only 500 metres from Hoi An Old Town and very close to the night market (which you're going to love). Each room has a private bathroom and TV but the best parts of the hotel are the outdoor swimming pool, bar and free shuttle. Breakfast is available as well as free Wi-Fi.
Long Life Riverside Hotel
This hotel may be on the higher price end of mid-range hotels but you get a few bonuses such as a private beach area included. Some rooms feature a private balcony or terrace while all rooms include breakfast, air conditioning and private bathrooms. On-site you can treat yourself to the spa, enjoy the outdoor swimming pool or rent a bike for free. All rooms have a city or pool view.
Hoi An Emerald Waters Hotel & Spa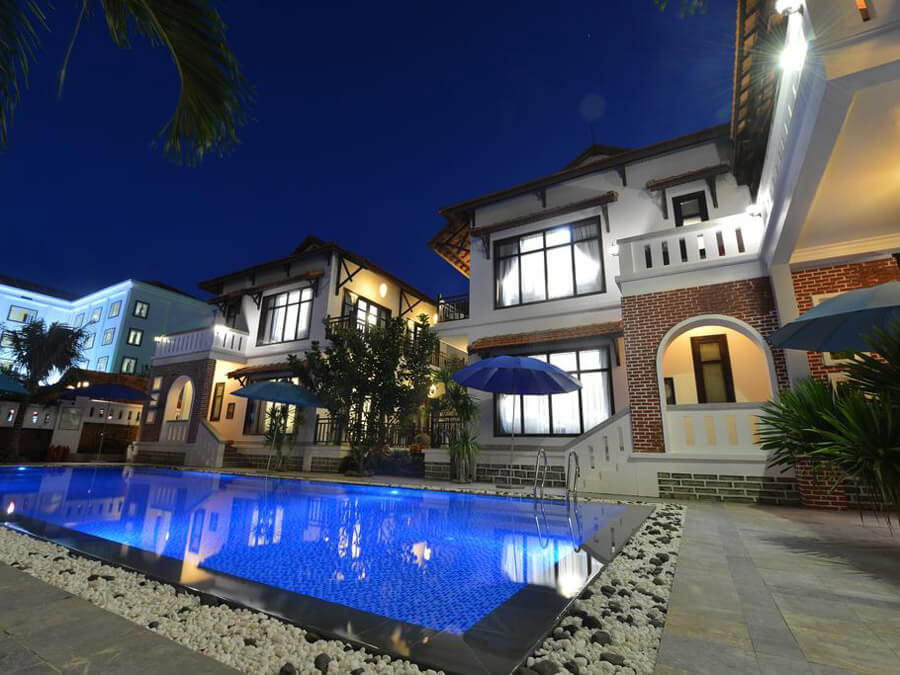 Previous guests rave about this hotels included breakfast. Each room has pleasant views of the garden, pool or city which is not far away. Bicycles can be rented for free or you can choose to stay in the hotel for a day to check out the on-site spa or restaurant. There is also an outdoor pool and free Wi-Fi included.
Not quite what you're looking for? Find more hostel options on Booking.com.
Best Luxury Hoi An Accommodation
These Hoi An luxury hotels are more affordable than you think plus find the best Hoi An beach resort for you.
Hoi An Ancient House Village Resort and Spa
You're going to love this stunning resort that is a beautiful building, boutique style and has wonderful staff. There is no shortage of luxury here with a outdoor swimming pool with views of rice fields, an on-site spa, bar and an exceptional breakfast that is included. Free bicycles are available for guests to use as well as the gym.
Lasenta Boutique Hotel Hoian
If you love beaches, relaxation and shopping then this Hoi An resort is the prime spot for you to rest your head for a few days. Facilities on-site include a swimming pool, spa, bar and a restaurant. Guests are free to use the bicycles provided free of charge and an airport shuttle can be organized. The property also has a gym and the rooms at this hotel are bigger than most in Hoi An, making it the top Hoi An boutique hotel.
Aurora Riverside Hotel
This boutique style hotel is loved by previous guests who claim that there is an excellent quality of food at the on-site restaurant and for the included breakfast. Rooms have either a view of the garden or river and a tea and coffee maker is available in all rooms. Free bicycles are available to guests as well as free Wi-Fi and the outdoor pool.
Not quite what you're looking for? Find more hostel options on Booking.com.
Planning your visit to Hoi An? You'll love these posts