There's no doubt that Bali is one of the best destinations for yoga teacher training. Many flock to the island for spiritual and transformational experiences, as well as to enjoy the beaches, surf the waters, and immerse themselves in the culture that is very welcoming on this island.
Bali has many consistent training options, as well as options that come around one or only a few times a year from yoga schools elsewhere in the world. Whether you're after the basics of classic Hatha, are craving to learn more of vinyasa, or have no idea what you think you'd like to teach, there are multistyle training for you too.
While the options for yoga teacher training in Bali may seem endless, let this be a guide to help you begin your yoga teacher training (YTT) journey!
Best Yoga Teacher Training in Bali
There is an abundance of yoga teacher training courses in Bali, these are a few of the top options across the island and styles.
23 Day Beachfront Ashtanga Yoga Teacher Training in Nusa Lembongan
If you have a picture in your mind of how yoga teacher training in Bali would look like that includes practicing yoga in an open-air shala with the beach as the backdrop, beside others in an intimate group of trainees, then All Yoga is most likely what you're picturing.
Nestled just off the coast of Bali on a small island called Nusa Lembongan, you could spend three weeks exploring the depths of your yoga practice and developing your voice as a future yoga teacher in (without exaggeration) paradise.
All Yoga offers an incredible, sought-after training that is in-depth and prepares you to teach when you're done with your training on all levels – physical, mental, and spiritual. Limited to just 20 students per training, All Yoga ensures that your yoga education is a hands-on experience not only with your fellow trainees but your teachers as well. Your instructors are diverse, with varying backgrounds that offer you the chance to transform your practice and create a method of teaching inspired by global teachers.
All Yoga training is focused on the Ashtanga lineage of yoga, but the training will leave you knowing how to successfully and safely teach traditional Ashtanga, the primary series, and vinyasa flow. Plus you get a well-rounded yoga education in philosophy, meditation, flying poses, subtle anatomy, yoga's history, and so much more.
All Yoga has been the home and inspiration for thousands of graduates since 2009 and offers competitive prices in an unbeatable location. And, to make things even better, you get $200 off just for being a reader. Use the code TAYLORSTRACKS to begin your yoga teaching journey today.
Not to mention that there is free accommodation for the first 10 people to sign up, an $800USD early bird discount, plus $150USD if you sign up with a friend! Don't miss out on this sweet and enlightening opportunity.
27 Day World-class expert 200-Hour International Yoga Teacher Training in Canggu
The location of this Bali YTT is hard to beat. It is the only yoga school in Bali that is nestled among the rice fields, yet also right on the beach and close to the heart of Canggu. With a team of experts guiding you each day, this school has everything anyone visiting Bali could ever want for a place to practice, eat, and sleep. Loka Yoga School is a fully legal, licensed and well-established school in Canggu that delivers an exceptional yoga teacher training in groups of 16 or less to ensure that you can truly interact with your instructors. Experience various styles including hatha, vinyasa, power yoga and yin yoga, whilst also enjoying feature workshops with expert trainers in Yoga Mechanics, Kids Yoga, Ecstatic Dancer, Ayur Veda, Mandala Art and more!
You'll enjoy instruction from a number of teachers who are experts in their fields so that you can dive deep into anatomy, yoga philosophy, and of course, perfect your postural alignment and technique in the yoga poses whilst being introduced to, and exploring, fun arm balances and inversions. With a strong focus on merging the East and the West and using props to deepen one's practice, this training is truly a top choice for not just those looking for a YTT in Bali, but around the globe. BONUS! They also give students FREE access to the Loka Yoga School online portal, including the course manual and content to reflect on in years to come following your graduation, to really help in setting you up for success on your yoga journey! This school comes recommended by me, and you can enjoy an extra discount if you use the code TAYLORSTRACKS.
READ MORE: Why Yoga Teacher Training is Life Changing (Even If You Don't Want to Be a Teacher)
29 Day 200-Hour Vinyasa and Hatha Yoga Immersion and Teacher Training in Canggu
Join Peaceful Warriors as they guide you through a full month of traditional Hatha yoga and modern vinyasa flow. Combining the two styles gives you the opportunity to create a teaching style for yourself that is reflective of both. Not only will you dive deep into these styles of yoga, but you'll also have the opportunity to learn more about yin, restorative, acro, and even power yoga. The longer length of this training gives you more time to learn about other styles, take in what you've learned, and explore the beautiful island of Bali, which Peaceful Warriors believes is essential and make it a part of their training.
Other than yoga in a truly stunning accommodation that's only minutes from the beach, you'll have the opportunity to take a surf lesson and visit a temple in Bali to connect more to this island's unique culture, and also get a massage. You'll learn from multiple teachers who are experts in their fields and have many opportunities to work and learn in small groups. This training bridges the East and the West so you can expect to leave with a well-rounded yoga education.
23 Day 200-Hour Self-Development Yoga Teacher Training in Ubud
Ubud is a hub of yoga in Bali and this yoga teacher training in Ubud is a top choice, with it being in the middle of the peaceful rice fields. This serene place for you to study is one of the most booked and reviewed YTT in Indonesia on BookYogaTeacherTraining. The combination of self-development and yoga training goes hand-in-hand, as learning about yourself and understanding yourself is a skill that makes you an incredible teacher.
This YTTC is a Vinyasa Ashtanga flow with a strong focus on marrying breath to movement. Aside from the basics, this Yoga Alliance accredited training also goes into the business of yoga, nutrition through Ayurvedic beliefs, and of course diving deep into your self-development. Additional styles are also practiced to encourage your yoga practice development too, which most certainly makes you a more well-rounded yoga instructor.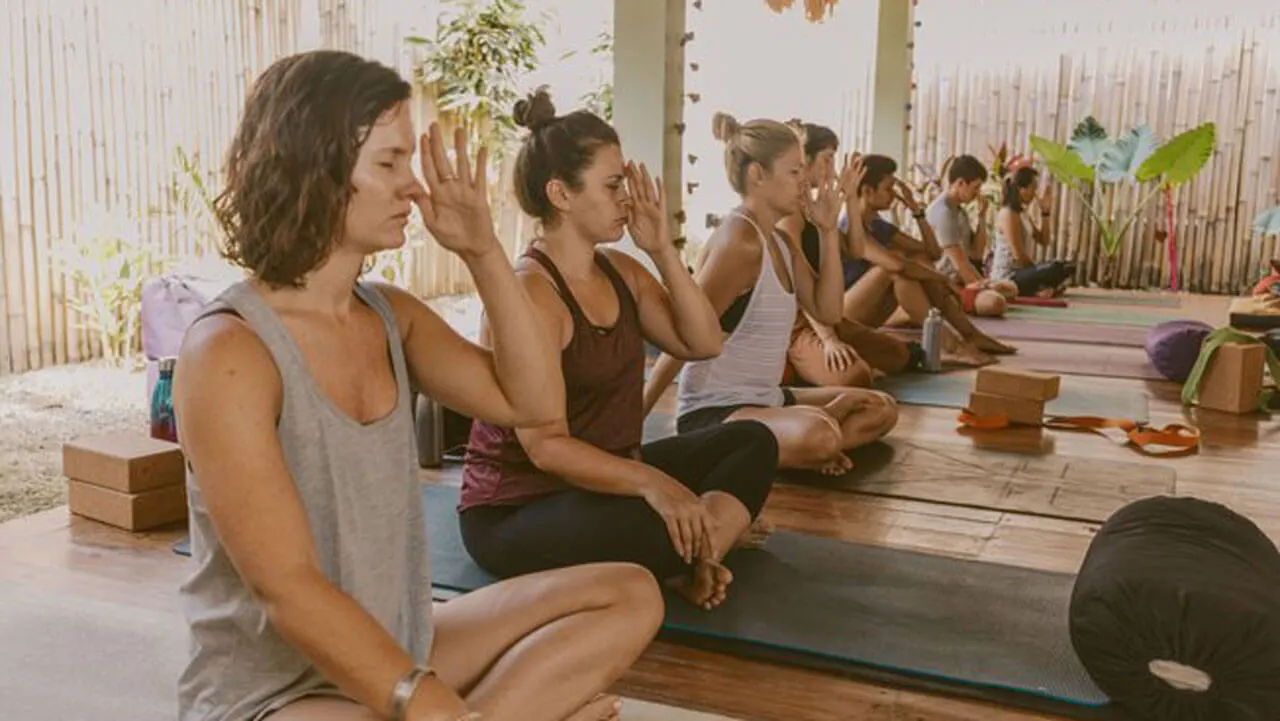 25 Day 200-Hour Vinyasa, Yin, Myofascial Release, and Meditation Yoga Teacher Training in Nusa Lembongan
Just off the coast of Bali sits the peaceful island of Nusa Lembongan, where the roads are quieter than Bali, the water is bluer, and the overall atmosphere is even more relaxed. This is the location of this next yoga teacher training, that focuses on teaching teachers the power of yin and yang yoga classes. Learning how to tap into both truly brings an exceptional balance for teachers and students.
In this 25-day course, you get to learn the basics and beyond of teaching vinyasa, as well as yin. While the benefits of both styles overlap, there are additional benefits to both as well. The instructors for this course are specialized in their fields so you get very hands-on knowledge from teachers who have been teaching for years. You'll begin your days at 6:30am and end by 6:30pm, beginning and ending your days with yin/yang yoga classes and your training in between.
24 Day 200-Hour Vinyasa, Hatha, Ashtanga Yoga Teacher Training in Ubud
For a more classic approach to yoga, look no further than this yoga teacher training course in Ubud. A branch from a yoga school in Rishikesh, Bali Yoga School is a well-regarded school that offers multi-style yoga teacher training including Hatha, Ashtanga, and Vinyasa techniques. The combination of multiple styles gives soon-to-be teachers the opportunity to truly adopt a style that works for them as teachers, and also as practitioners.
While this course may be situated in Ubud, you will get time on the beach and maybe even some practice time on the sand! All meals are included, as well as weekend excursions, Kirtan, and movie nights. The course covers all of the basics and more, diving deeper into mediation and pranayama than is usually seen in a 200-hour YTT.
21 Day 200 Hour Yoga TT in Uluwatu, Bali + Ocean View Resort in Bingin Beach
Take your yoga teacher training from a new angle, quite literally, with a 200-hour YTT that also includes aerial yoga training! While this course is 300-hours, you will qualify as a Yoga Alliance 200-hour instructor once you have signed up after training. The aerial yoga is a great bonus that few schools offer.
Aside from vinyasa and aerial yoga training, you'll also practice yin, yoga Nidra, and restorative yoga in the evenings, with your more active practices beginning the day. This course features multiple teachers so you will walk away with skills passed on by experts in their fields and tips from a variety of trainers with different backgrounds.
The exceptional yoga training isn't all that you get in this course though. On top of a truly amazing views, where some of the best views in all of Bali are, in Uluwatu, you also get excursions, spa time, and be close to the beach.
READ MORE: Best 300-Hour Yoga Teacher Training
20 Day 200 Hours Bikram Yoga Teacher Training in Seminyak
Perhaps this style of Bikram is more for you. This Bikram YTT in Seminyak is quite focused on the poses so you will take plenty of time to learn about the postures of Hatha and Ashtanga and their basic series. This knowledge is a starting point to later on teach vinyasa with a strong anatomy focus.
The best highlight of this yoga course is how much teaching is involved. While you don't get as much into philosophy as other courses, you will have ample opportunity to practice teach during your training, around 80% of your training, actually! You will get to enjoy 2 yoga classes a day, daily sunsets on the beach, posture clinics, and lectures, as well as time for personal practice or additional lectures and time to explore Seminyak and around with free time over dinner.
27 Day 200-Hour Multi-Style Yoga Teacher Training in Canggu
While this yoga course in Bali has a strong foundation in Hatha, it will have you prepared as a teacher to teach multiple styles of yoga. A training course that goes into multiple styles is ideal because it gives you the opportunity to discover what your teaching style really is as it's often different from how one likes to practice (I can speak to experience on that!).
Anandam Yoga School is known around the world and hosts training across 3 countries in India, Indonesia, and Germany. The length of this program offers more of a relaxed pace and will give you more time to take in the information you're learning. If you can afford the time for a longer program, I definitely recommend it. The highlights of this program are truly that it gives you an excellent knowledge of the basics of yoga, multiple styles, and designing a class, which is what a lot of new teachers find the most difficult.
21 Day Mystical 200-Hour Yoga Teacher Training in Uluwatu
This yoga course in Bali is the most spiritual of them all. The entire 200-hour training has a focus on transformation, for yourself and to learn as a skill to teach your students as you guide them through classes. You will find that the training is structured around beliefs of the ancient wisdom of the East as well as on the Shamanic Medicine Wheel of Peru.
This training is truly unique and is held in the most beautiful area of Bali, Uluwatu, so you will get to enjoy vistas of the vibrant blue ocean between classes. Community is a large part of this training too as the spiritual connection made here is something that will hold the group together for a long time. Aside from the basics and necessary yoga teacher training, you'll get to participate in evening ceremonies that include Kirtan, cacao, mediation, and more.
16 Day 200-Hour Vinyasa Yoga Teacher Training in Canggu
Don't miss taking a peek at this training, it's the one I personally recommend and is where I did my yoga teacher training! I may be slightly biased but I truly believe that Erin has done an incredible job of creating a well-balanced course that includes ancient teachings of yogic philosophy, practical anatomy knowledge, and hands-on teaching experience. This 200-hour YTT course goes above and beyond, leaving you ready to step away from your training and onto your teaching mat with skills such as theming, thought-out sequencing, and ready to help students with injuries or limitations.
This intensive training is all-in and will leave you walking away not only with new knowledge as a yoga teacher, but provides truly transformational experiences. Get ready to cry, learn more about yourself through included personal development workshops, and create an intense passion for all things yoga and movement. If you're not sure please feel free to reach out to Erin or me! Plus, when you sign-up just drop my name (Taylor) and you'll get an extra special and big discount!
What's next?
Get my How to Choose a YTT Mini Guide! Avoid scams, what you MUST consider & my top course recommendations
Need a way to deepen your practice before YTT? Try my 30-day yoga adventure – Journey Home
Practice yin & vinyasa classes with me on YouTube to prepare for your upcoming training