One thing every yogi realizes when they embark on their first teacher training is that it is only the beginning. Sooner or later, you'll feel the itch to dive deeper and increase your skill set. While many great teacher workshops and short courses are available, a 300-hour yoga teacher training will take you to a whole new level. So, if you need some inspiration for your next yoga course, check out these top picks below.
Top Advanced Yoga Teacher Training
These handpicked courses are the best 300-hour yoga teacher training courses from all over the world that will allow you to evolve as a person and a leader.
30 Day Beachfront Multi-Style Advanced Yoga Teacher Training in Nusa Lembongan, Bali
Not all yoga teacher training is made equal, but I believe that All Yoga's advanced YTT goes above and beyond with in-depth yoga knowledge that thoughtfully encompasses multiple lineages and styles of yoga. This is what makes this training stand out from the rest. You can rest assured that when you walk away from the tropical paradise where you'll be living for a month you'll be able to teach from an abundance of knowledge, drawing from Ashtanga, Hatha, and yin philosophy, practices, and more.
I am a huge believer that yin is very important for all teachers to practice and have a background in, which is why I applaud All Yoga for incorporating such a large yin component into their training. But to go even further, All Yoga also has a strong focus on arm balances and inversions, delving deep into the anatomical, breath, and mental processes required for this fun skill for yourself and your students.
It is required that you have a 200-hour certification already under your belt because this 300-hour training goes deep in all aspects. Prepare yourself to fly, embrace the yogic lifestyle on a new level through philosophy studies, up-level your teaching through creative sequencing, advance your understanding of anatomy, physiology, and mobility, as well as elevate your personal practice through Rocket Yoga (a type of fast-paced yoga modified from Ashtanga).
I could go on, but I truly believe this is an advanced training worth checking out. And that's even before the reader discount (TAYLORSTRACKS for $200 off), the $500USD early bird price, and the first 10 people get free accommodation! Did I mention that your training takes place just off of a beautiful white sand beach?
Best Online 300-Hour Yoga Teacher Training with Business Coaching
If you can't travel due to kids, injury or a desk job, you do NOT have to sacrifice doing a quality 300-Hour training with mentorship and support. Brett Larkin's Uplifted 300-Hour Advanced Yoga Teacher Training can be done anywhere in the world and is also a high-level business mastermind.
Let's face it, at the 300-Hour level, most of us are hoping to earn an income from teaching yoga. If you want to bring your yoga offerings online, host profitable retreats, or create your own signature wellness program, Brett's Uplifted program is for you. The training starts with the subtle body. You harness the power of the chakra system and bioenergetics to better understand yourself, your own blockers, and better serve your students. The anatomy and therapeutic modules with author Kristin Leal are top notch. You'll learn how to teach progressively, in a trauma-informed way, with detailed anatomical knowledge. Did I mention best-selling author Anodea Judith Phd (global authority on the chakra system) is a part of the faculty?
The Uplifted 300-Hour yoga curriculum stands out, but what sets this training apart (aside from being purely online) is the live interaction on Zoom with Brett and your fellow classmates. You slay your money mindset blocks, get coached on your offering, digital marketing plan and pricing together with accountability and support.
29 Day 300-Hour Advanced Yoga Teacher Training in Nusa Lembongan, Bali
This 300-hour teacher training in Bali is perfect for those looking for a tropical escape and a profound learning experience. At Yoga Bliss, the groups are capped at 16 participants to ensure everyone gets sufficient individual attention and guidance. The course covers various styles; Ashtanga, Vinyasa, Power and Hatha, where you'll master advanced asanas like arm balances and inversions.
Anatomy nerds will love this course as you'll look at each posture from a much deeper anatomy perspective than you did in your 200-hour TTC. You'll also revisit sequencing and learn how to create more creative, unique, and transformative classes. Moreover, you'll learn to tailor your lessons to different bodies and offer beneficial modifications for injuries and pre and postnatal women.
You'll stay in a Balinese-style bungalow on Nusa Lembongan island. Nusa Lembongan is just 30 minutes away from Bali but much less touristy and far more pleasant. Also included in the package is a Balinese massage, snorkelling excursion and three healthy meals a day.
29 Day 300-Hour Yoga Teacher Training in Goa, India
If you want to evolve your teaching in the birthplace of yoga, head to AYM Yoga School in Goa for this 29-day advanced yoga course. The course teaches both Iyengar and Hatha styles, so it has a heavy focus on alignment and props. Aside from asana, you'll go deeper into the yogic culture than ever before and learn new meditation and pranayama techniques.
Goa is a fabulous place to immerse yourself in practice, and the tranquil environment will allow you to unwind, too. The yoga school and cottage are right by the beach, like the cafe where you will get your meals. Although the accommodation is simple, choosing to do your 300hr yoga teacher training in Goa is the best choice if you're looking to save money.
22 Day Advanced 300-Hour Yoga Teacher Training in Broward County, Florida, USA
For Americans looking to complete their 300-hour YTT in a short time and without leaving the states, Yogi Hari's Ashram in Florida is a superb option. In just 22 days, you'll gain a ​​300-hour certificate with Yoga Alliance and can facilitate deeper transformations in your students.
You'll explore advanced Hatha yoga poses and teaching techniques during the course and dive into lesser-known yoga styles such as Raja, Jnana, Bhakti, and Nada. In addition, you'll study critical yogic texts like the Bhagavad Gita and Hatha Yoga Pradipika and learn how to infuse those teachings into your classes and your daily life.
Yogi Hari's Ashram sits in a 10-acre tropical organic farm between Miami and Fort Lauderdale, and its proximity to the airport and west coast of Florida makes it a convenient advanced yoga training site. Alternatively, it's a fab holiday for anyone who has always dreamed of visiting the sunshine state.
28 Day 300-Hour Advanced Yoga Teacher Training in Pokhara, Nepal
If you prefer to do your 300hr yoga teacher training in the Himalayas, this YTT in Nepal is ideal. In the tranquil natural setting of Pokhara, you'll be able to clear your mind of all your troubles and immerse yourself in your passion once again.
At Pokhara Yoga School, you will deepen your knowledge of the aspects of yoga most 200-hour courses briefly introduce, such as cleansing techniques, mantras, kirtans, and bhajan. You'll also practice the intermediate Ashtanga series and learn advanced Hatha postures. The days will last between 8 and 12 hours, and in your free time, you can indulge in a spa treatment or enjoy the beautiful surroundings.
31 Day 300-Hour Earth Medicine Advanced ​Yoga Teacher Training in Tzununa, Guatemala
This unique 300-hour teacher training combines ancient yogic tradition with shamanic healing and holistic cleansing. As a result, you'll learn how to lead holistic yoga classes from various lineages. You'll also be well equipped with combining mystical traditions like ceremonies and sound healing into your lessons to create a truly transformational experience for your students.
This 300-hour YTT takes place in the small Mayan village of Tzununa, located in the western highlands of Guatemala. Here, you will explore Bhakti and Nada yoga and learn to develop your authentic voice and speak from the heart. Plus, you'll dive deep into yoga Nidra and study mantra and mystical poetry.
You'll stay at the homely and eco-friendly Casa Cobananda overlooking the lake and volcanoes. You'll feast on delicious vegetarian meals and have access to the sauna and ceremony dome. Plus, you can refresh in the gorgeous Lake Atitlan and explore local indigenous villages in your free time.
29 Day 300-Hour Hatha, Vinyasa, and Ashtanga Yoga Teacher Training in Amorgos Island
It's difficult to go wrong with this modern-day YTT as it's in one of the best destinations in the world to study yoga. Think world-class facilities, an expert instructor, access to a gym, spa, and more, tranquil settings, and picturesque views while on your mat.
Amorgos island is where you'll call home for a month of study into advanced YTT that goes more in-depth than your traditional 200 hours. It's difficult to put into words the scale and beauty of this yoga school and all that they offer. I recommend you dive further into the pictures and details by clicking the button below. It's one of the schools and locations that I recommend the most!
29 Day 300-Hours Multistyle Yoga Teacher Training in Rishikesh
Journey to the birthplace of yoga itself for an immersive multi-style 300-hour TTC in India. What's so great about this course is that is covers a number of yoga styles including the popular Ashtanga and Vinyasa, is very affordable for a 300-hour (even a 200-hour!) yoga course, and has 6 different teachers. I can't recommend enough doing a training with multiple teachers as it's invaluable to get education from different sources that can challenge your perspective and enlighten you further!
This course can be tough, but everything is covered for you, from 3 meals a day, tea twice a day, 2 Ayurvedic massages, a Shatkarma kit for cleansing techniques, and weekend excursions to give you a break from all of the studying.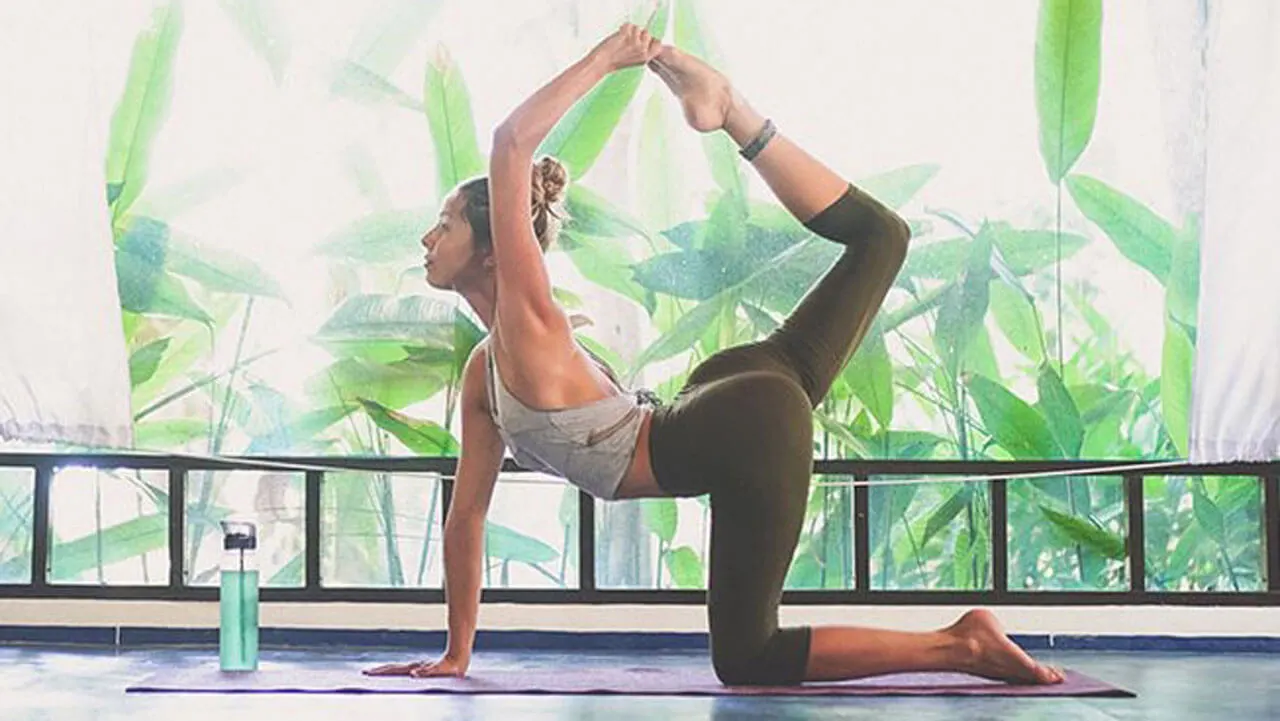 43 Day 300 Hours Advanced Yoga Teacher Training in Surat Thani, Ko Phangan, Thailand
This 43-day advanced teacher training course at Ananda Yoga Center in Koh Phangan, Thailand, has a relaxed pace, allowing you to unwind and enjoy the tropical island while sharpening your teaching skills. This is the ideal advanced YTT for you if you feel stuck teaching drop-in classes and want to broaden your offerings.
You'll learn how to structure and lead workshops, masterclasses, and retreats, which will significantly increase your value as a yoga teacher. The course also focuses on the business of yoga, and you'll learn how to market on social media, create successful newsletters, and set up effective pricing systems.
You can share a room or opt for a private space at the beachfront retreat centre, and you'll have every Sunday off along with some evenings, giving you plenty of time to explore or rest.
What's next?
Get my How to Choose a YTT Mini Guide! Avoid scams, what you MUST consider & my top course recommendations
Need a way to deepen your practice before YTT? Try my 30-day yoga adventure – Journey Home
Practice yin & vinyasa classes with me on YouTube to prepare for your upcoming training