So many travel to Las Vegas to gamble and drink their memories away. As appealing as that may seem to some, Vegas has far more to do than just party.
Vegas and the surrounding area are more than booze and lounging, and while the insides of the hotels can entertain you for many days, I encourage you to move beyond their walls and even The Strip itself too.
Whether your weekend in Las Vegas is just 2 days or an extended weekend away, this Las Vegas itinerary will have you exploring the favorite spots as well as beyond for a truly epic city getaway.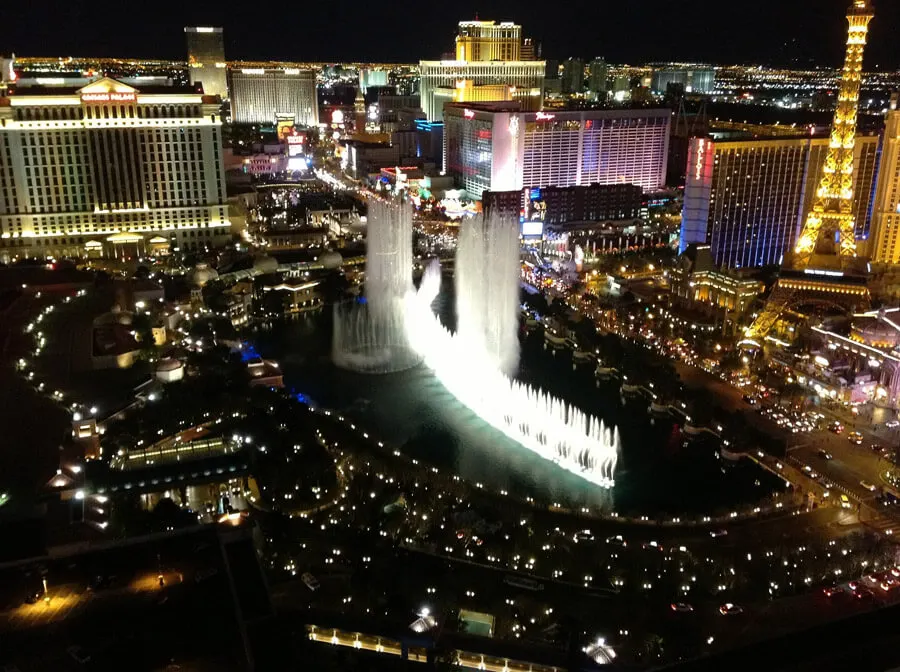 Weekend in Las Vegas Itinerary
One Day in Las Vegas: Sightseeing on the South Las Vegas Strip
For the purposes of this itinerary, we will start on the south end of The Strip and move north. While I've broken The Strip sightseeing up into 2 days, you can always do it in one day and just drop whatever it is you're not interested in seeing.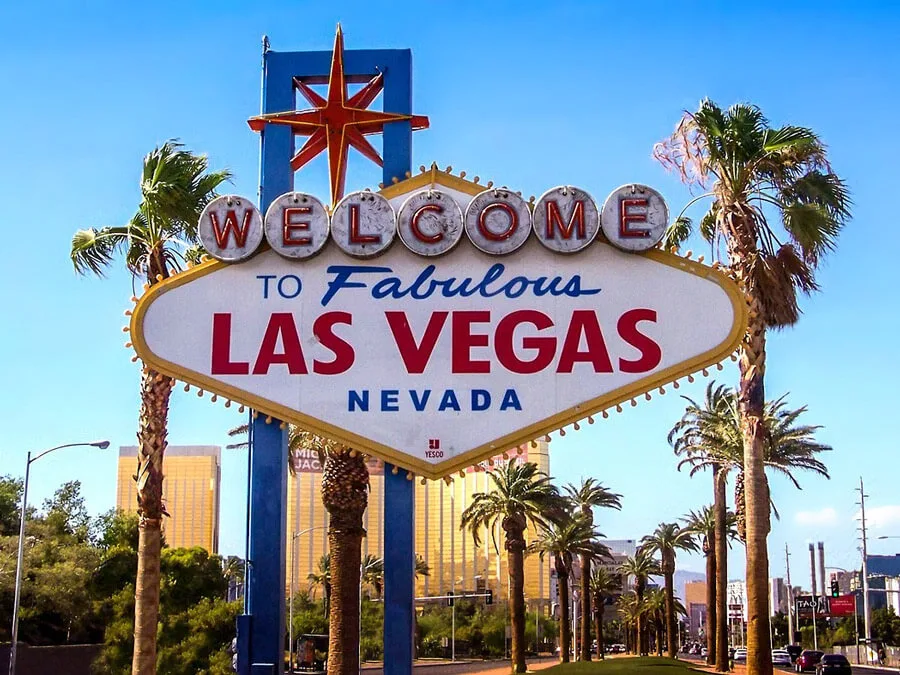 Las Vegas Sign
First things first, the Las Vegas sign! It's best to visit this on your way to your hotel from the airport, so you can ask to make a stop or schedule it later on your itinerary. It's about a 15-20 minute walk from the closest hotel, Mandalay Bay, so head here if you're in the area. Get your iconic pictures of the "Welcome to Fabulous Las Vegas" sign (which is actually named a Historic Place on the National Register) and then continue your journey down The Strip.
Mandalay Shark Aquarium
Whether you like marine wildlife or not, the Mandalay Shark Aquarium is nothing short of spectacular. It's one of the largest in the country and features 14 different exhibits, including Shark Reef Tunnel which immerses you in 360° views of the marine wildlife.
Luxor Hotel & Casino
This pyramid may not be as nice or cool as the real ones in Egypt but don't pass up on the opportunity to pose in front of the one that is a part of the Luxor Hotel. You'll pass by here as you make your way to other Las Vegas attractions. But if you're a lover of all things Titanic, don't miss Titanic: The Artifact Exhibit. There are over 250 recovered and recreations of artifacts.
Art at ARIA
For art lovers or for those just looking to escape the heat for a bit, take some time to wander through ARIA where art is featured around the entire resort.
Roller Coaster at New York New York
Next up you'll find yourself in New York. This hotel is spectacular inside and out so be sure to venture in too. You can opt to stand outside and watch those fly on the roller coaster and high into the air, or you can join in on the fun yourself on the Big Apple Coaster, which is the first roller coaster to have a 180° twist!
M&M's World
I don't care how old you are, M&M's World is cool. Head into here to stock up on your favorite treat, find fun souvenirs and marvel at the sheer size of the store that is filled with M&M's in every color.
Bellagio Fountain & Gardens
An absolute must when visiting Las Vegas is the fountain show at Bellagio. The lights and water show is absolutely free and you can catch it every 15-30 minutes (depending on the time of day) typically from noon to midnight (see schedule here). It is truly quite a sight! While you can stand outside on The Strip and watch the show, you can also grab a drink or some food at Hyde in Bellagio for some of the best views of the fountain show.
Secondly while at the Bellagio Hotel, go inside and marvel at the glass ceiling in the lobby while on your way to the conservatory and botanical gardens where the showstoppers are the real flower arrangements that change seasonally.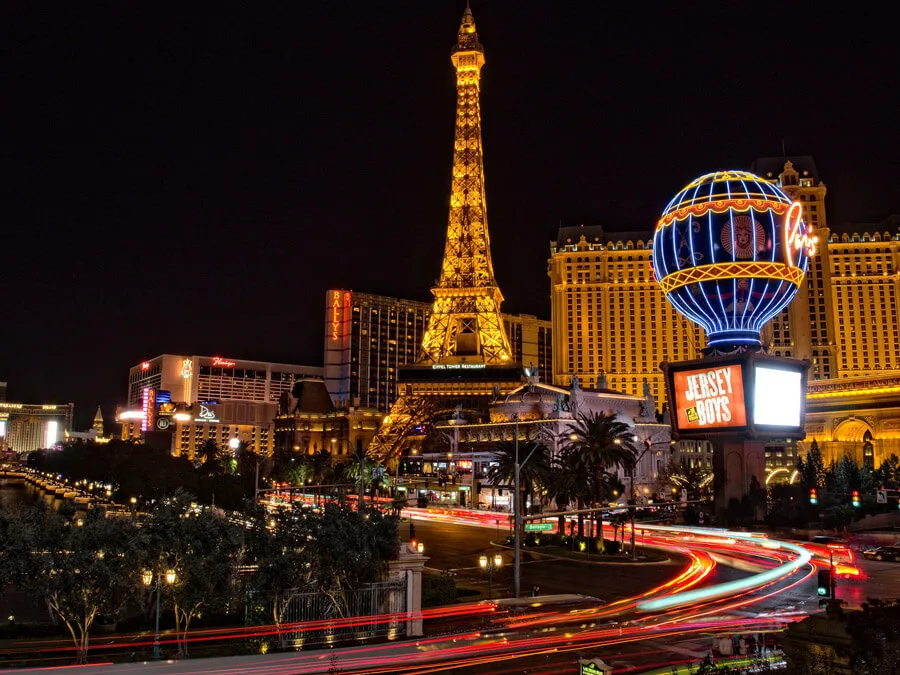 Eiffel Tower at Paris Las Vegas
Yes, seeing a pyramid and the Eiffel Tower in one day is possible, but only in Las Vegas! From the Bellagio Hotel, turn around and you'll get a spectacular view of the whole tower, but head closer and the view from right beside or under is awesome too.
For another great view, head up to the Eiffel Tower viewing deck for 360° views of The Strip (and perhaps even catch the fountains across the street). The half-size replica of the iconic Paris attraction also puts on a light show nightly every 30 minutes. Paris Las Vegas is also another fabulous hotel to go inside and check out.
Dinner & a Show
If you do all of the above, it's quite a bit for a day! Next up on the itinerary is to grab dinner and then head to a show. I recommend having dinner at one of the restaurants close by or even in the hotel of the show you're going to see so you don't have to worry about timing. There's no shortage of nightly entertainment where you can sit and rest your feet. My recommendation is a Cirque du Soliel show but here are a few other options too:
Two Days in Las Vegas: Day Club & Sightseeing on the North Strip
Today you'll continue seeing more of the highlights on The Strip (trust me, more good things are to come!) but there's also some time for relaxation too.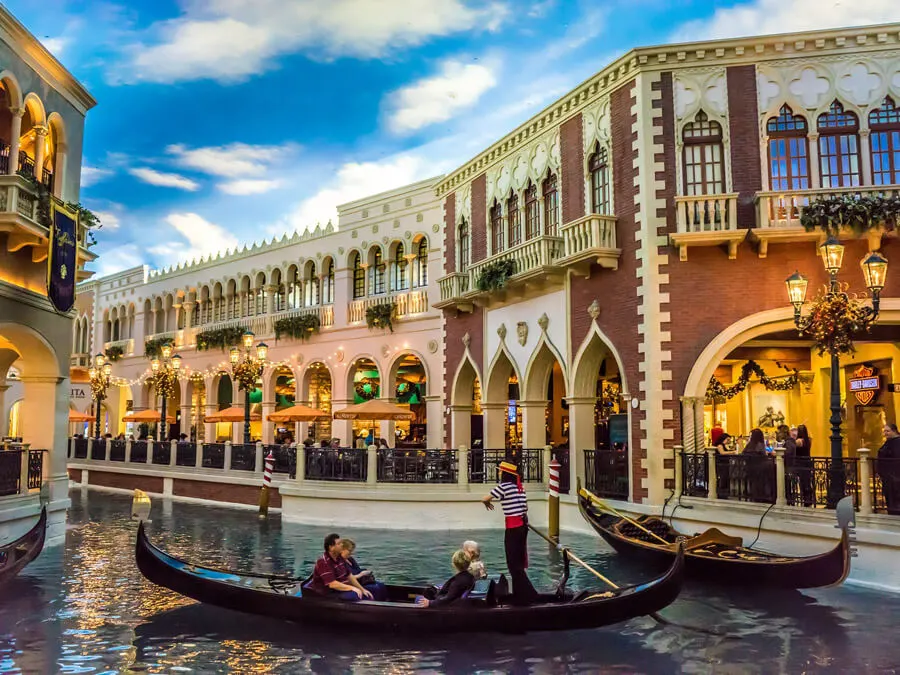 Enjoy a gondola ride and Madame Tussauds at The Venetian
Begin your morning at one of the best hotels on The Strip, The Venetian. Honestly, you could get lost in this hotel for days, but for now opt to take a ride in a gondola and feel like you're in Venice. Afterward roam the Italian streets of the mall and make your way to Madame Tussauds which is also in the hotel and included in a gondola ticket. While at The Venetian, you'll be able to see the volcano at The Mirage across the street, but return in the evening if you wish to see it erupt.
High Roller Observation Wheel
Just a 10-minute walk away is the High Roller Observation Wheel where you can take in more great views of the city, and even enjoy a drink if you opt for a cabin with a bar. In 30 minutes you'll be taken around the wheel (which is even larger than the London Eye) in air conditioning with commentary on the history of Las Vegas.
You'll then be on The LINQ, an outdoor promenade with shopping, entertainment, and food between The LINQ Hotel and the Flamingo Hotel & Casino. If interested in visiting, there is a Flamingo Wildlife Habitat with, you guessed it, flamingos at the hotel of the same name. It's free to visit too.
Enjoy a day club
Day clubs typically open around 11am so you can skip on more sightseeing, or fit more into your first day, and then spend most of your day lounging at a day club. Visiting a day club is one of the top things to do in Las Vegas, but keep in mind that when you are visiting Las Vegas will determine if you can enjoy a Vegas pool party. Day clubs are usually closed from late fall until spring. Dates differ from day club to day club, so check in advance if you're visiting over the winter season. To name a few a few good ones worth checking out, try:
Encore Beach Club
Ayu Dayclub
Marquee Dayclub
Wet Republic
Drai's Beachclub
Or indulge at a spa
If a day club isn't your thing or they're closed, a spa is definitely the way to go! Spas in Las Vegas are not like your typical spa at home, we are in Las Vegas after all. Each hotel will have its own spa, themed after the hotels' theme of course. Expect extravagance and even extra perks such as access to the hotel's pool, sauna, etc.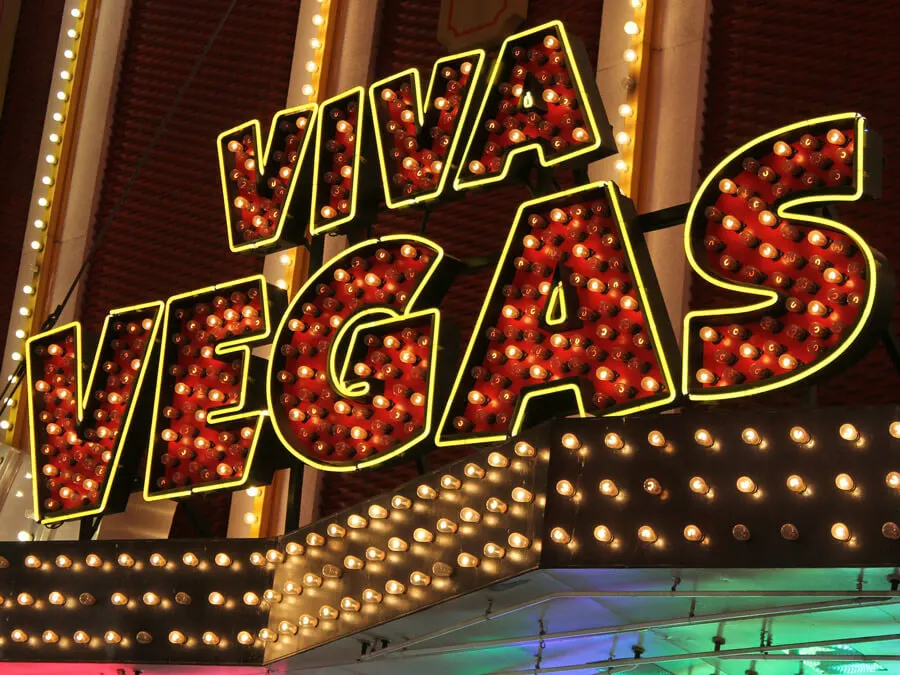 Have a night on the town
Is a trip to Las Vegas complete without spending a night hitting up the casinos or clubs? Nope! Even if you're not into drinking, wandering through the casinos or trying your hand at a few games is all a part of the Vegas fun. While gambling you get free drinks (yes, you read that right). As long as you are playing, no matter the price of the game, you get free drinks, which is a great way to pre-game!
When it comes to nightclubs always check and see if the one you want to visit is open. Some of the best nightclubs worth checking out include:
Omnia at Caesars Palace (there's even a patio overlooking The Strip here)
Marquee at The Cosmopolitan
Tao at The Venetian
Hakkasan at MGM Grand
There are other options for a night out too, such as a night tour on an open-top bus, or a bright lights city tour in a Pink Jeep to sights like the Las Vegas sign at night and wedding chapel lane.
Three Days in Las Vegas: Get Out of Vegas & Downtown Las Vegas
Vegas is fabulous yes, but after a busy 2 days in the city, it's a great time to see some nature and get away from the crowds a bit. Of course, you can always take the first 2 days in Las Vegas and take them at a slower pace, doing some of the previously listed things on your third day.
But if you want to get out of the city, there are a few options for day trips from Las Vegas. Note that you may want to do a day trip on your second day after a show instead of a night of drinking.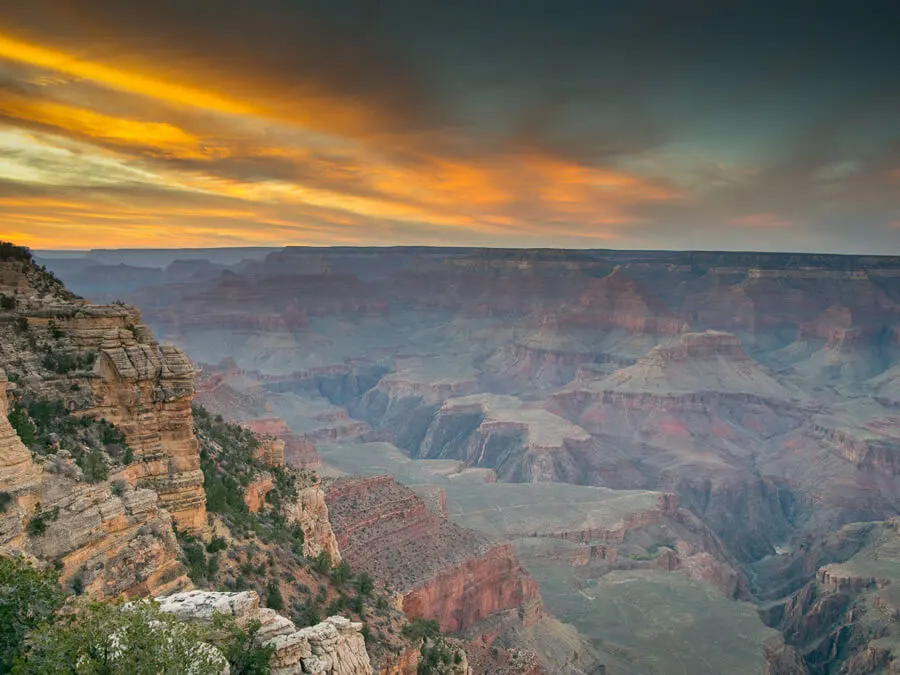 Grand Canyon
A very popular choice (and a great one at that) is heading to see the Grand Canyon. A truly exceptional experience that can be done as a day trip from Las Vegas, visiting the Grand Canyon South Rim will be a full day of about 15 hours, with 3 hours actually at the Grand Canyon. While the time may seem short, it's enough to do some walking along the rim and taking in absolutely spectacular scenery.
Antelope Canyon
Another fantastic day trip and a really special treat is visiting Antelope Canyon (either lower or secluded). In 15 hours you'll cross back and forth over the Arizona and Utah border with other amazing stops for iconic views in places such as Horseshoe Bend.
Bryce & Zion National Park
More natural scenery awaits on a 13-hour tour from Las Vegas to Bryce & Zion National Parks in one day. Get to see the highlights with a guide on tour who will show you some fantastic photo opportunities too.
Experience Fremont Street
If you're up for another night out (or taking it a bit easier) then head to downtown Las Vegas, which is not The Strip. Fremont Street is a little rougher (in a good way) and is where locals and tourists alike go to hang out as its got better prices and is still lots of fun. Fremont Street is full of food, activities like ziplining, and street performers. It's more relaxed and casual here and the bars are close together so you wish to go bar hopping.
4 Days in Las Vegas: Seven Magic Mountains & Head Home
This itinerary has been packed so your fourth day in Vegas could of course be more of the same, but doing things at a slower pace. Alternatively, spend half the day visiting Magic Mountains.
Seven Magic Mountains
You've most definitely seen the colorful rocks of the Seven Magic Mountains on Instagram before. Head out of the city for a quick 30-minute tour to get your pictures, see the desert, and make a stop at the Las Vegas sign. There's also the option to add on Hover Dam too for a half-day trip.
Head Home!
Make your way to your car, the airport, or continue roaming The Strip. There's always more to see, do, and eat in Vegas.
Best Things to Do in Las Vegas
To sum things up or if you're short on time, these are must-do and see attractions in Las Vegas.
Wander The Strip
I think this is pretty self-explanatory as you can't visit Vegas without checking out all the hotels. Give yourself some time and a good pair of walking shoes. There's plenty of food, casinos, activities, and a ton of shopping (there's a mall in every hotel!). You can weave your way in and out of the hotels for a break from the heat. There's no shortage of things to do there.
See a Live Show
Why go to Las Vegas and not see one of the many shows offered at any of the hotels along the strip? Vegas is here for your entertainment, so go out and see it!
You can pick up your tickets day of and enjoy the show at night. If you want to spend every night at clubs, make sure you check out one an earlier show as there are usually two per night.
Take a trip to the Grand Canyon
If you have the time, actually you should make the time, to go and visit this natural wonder that is not too far from Las Vegas. Visiting the Grand Canyon is a bucket list experience and if you're this close, why not go?
Experience the nightlife
Of course, this is something you should give a try. Partying in Vegas is a must-do at one of the many hotel nightclubs along the strip. Caesar's Omnia nightclub offers a terrace that overlooks the strip, which is definitely worth checking out.
Make sure whatever nightclub you want to go to is open (especially during the slow season), and check out what DJs are playing (if you're into that), as Vegas brings in top DJs from all over the world.
Visit Downtown Las Vegas (Fremont Street)
An area where the locals tend to head to is Fremont Street, avoiding The Strip and tourists. It's definitely worth your time to get out of the crowds and enjoy some food or drinks for a bit cheaper.
There are shops, bars, restaurants, more gambling (of course), and even zip-lining. It also has free light shows and music performances, all under a canopy to keep you out of the sun and heat.
Take time to relax
Vegas is hot, no matter what time of year you visit so a relaxing day to recover from walking or partying is perfect to spend at a pool lounge.
Perhaps check out Radius, which is 25 floors up at the Stratosphere, where even guests can feel the cool breeze many stories up. A fee may be required to lounge here.
Where to Stay in Las Vegas
You won't find uber budget-friendly places to stay in Las Vegas on the Strip but you can find Las Vegas Strip hotels for cheaper than you'd think.
Luxury Las Vegas Accommodation
These are the best of the best hotels in Vegas that will show you a side of luxury you've never seen. Get ready to splurge (but it totally be worth it)!
Mid-Range Las Vegas Accommodation
I think you'll be surprised that some mid-range hotels in Las Vegas are some of the more popular ones. You don't have to fork out a ton of cash just to stay on the Strip!
Budget Las Vegas Accommodation
Hostels in Las Vegas are the cheapest accommodation in the city. I personally recommend Hostel Cat and it's perfectly located between the Strip and downtown Las Vegas so you can the best of both worlds and public transit runs right past!
Best Time to Visit Las Vegas
The best time to visit Sin City is during the shoulder months of March to May and September to November. Though you'll be able to score travel deals throughout the year these months are the best for a combination of prices and weather.
During the winter months there is a huge influx of visitors, especially around New Year's Eve. The summers can be extremely hot, reaching temperatures of 37°C and higher. Trust me, I went during this time and it was tough to walk for long on the Strip!
Temperatures during the shoulder months can dip down to 15°C but still reach the low 30's so pack a few layers when it cools down at night. Lastly, be sure to book a trip during the week to score the best deals on airfare and accommodation as Las Vegas is a weekend destination so prices tend to spike.
Las Vegas Budget
Las Vegas on a budget? It can happen! You may be planning on being a high roller for the weekend but there are certainly some ways you can save money so you can spend it on more important things.
*All prices are quoted in USD.
If you want to do Las Vegas on a budget then it can be done for a daily budget of $50-100. This budget is if you're staying in a hostel, cooking some of your own meals and not eating at prime spots on the strip and using local transportation.
Hostels can be as cheap as $20 a night for a dorm. Public transport can be less than $8 a day depending on how long you buy a pass for and meals you can find very budget options like Subway and McDonalds but except to pay $15+ for cheap sit-down restaurants.
If you'd like to stay in a hotel, not take public transit and eat out at nicer restaurants then have a daily budget $150-300. This can be even higher depending on how fancy you want to be!
Hotels can be booked using points to save or you can score hotel deals by staying at some of the cheaper hotels. Eating out at nicer but not the fancy restaurants will cost $25-50 a meal and transit can be done for $25 or less a day depending on how much you taxi/Uber.
Las Vegas Transport
Getting around Las Vegas is very simple, even if you're taking public transit.
Getting from McCarran International Airport to the Strip: The easiest way to get from the airport to the strip is by taxi but this is the most expensive option and not all taxis accept payment by cards. Prices range from $12 to $25 depending on where on the Strip you're headed.
Uber and Lyft are both available at the airport and are 30-40% ($13-17) cheaper. Pick up in terminal 1 is at the 2M parking garage and on the valet parking level of the parking garage in terminal 3. The cheapest option is taking the 109 bus from the terminal located outside on the ground level.
You can purchase your fare at the kiosk before boarding. One final option is a Las Vegas airport shuttle that take you directly to your door and cost as little as $7 one-way.
Transporation in Las Vegas is easy. The Strip is long so walking, especially in the heat is not always an option. The cheapest option The Deuce which is public double-decker bus that runs down the Strip and to downtown Las Vegas. You can purchase 1-time tickets for $2, 2-hours for $6, 1-day for $8 and 3-days for $20.
There are free trams between certain hotels that can save you from walking. Know where the attractions are that you want to see and you can plan to take the tram.
Taxis are the most costly way to get around town but you can calculate rough rates here for an idea. Also note that you should never hail a taxi from the side of the road as they can be fined. Be sure to always grab one from a hotel. Uber and Lyft are also available through the city.