Israel is often seen as dangerous, unknown and is usually not the place that people put on the top of their bucket list. I'm here to shatter those beliefs and to let you know that Israel is actually completely unique yet somehow familiar at the same time.
I believe that an Israel trip is a must for any seasoned traveller.
Picture yourself in the desert, overlooking the Dead Sea, laying on the beach along the Mediterranean coast, taste testing olive oil in the north and standing atop mountains from where you can see Syria.
Israel is packed full of religious monuments, sites and holy places that are important to almost every religion. But it is also a country filled with history, adventure, unique nature and wildlife and epic parties. There is truly something in Israel for everyone.
This Israel travel guide will help you plan the perfect trip to Israel for 1-3 weeks and includes the best places to visit in Israel and Palestine, where to stay in Israel, what to do in Israel and Israel travel tips. By the end of this Israel guide you'll have your Israel vacation planned.
Some tours, accommodation and transportation mentioned in this post were sponsored by Abraham Tours and Abraham Hostels. As always, all thoughts and opinions are my own.
A Brief Word on Israel and Palestine (Must-Read)
The Israeli-Palestinian conflict is complicated and can take a bit of time to wrap your head around. It is still ongoing and something I believe that you should be aware of before you take a trip to Israel or Palestine.
While this guide is labeled as an Israel trip, parts of it include Palestine, which is referred to as West Bank from the Israeli point of view.
Israel and Palestine are both safe to travel to so long as you avoid areas of heavy conflict such as the Gaza Strip where violence can occur. Guns are seen regularly by those who are in the army who are required to have a gun on them at all times, even when out of uniform.
This is quite a detailed guide on the ongoing conflict but it is broken down into questions so you can choose to read parts that will still allow you to get a good idea on what's going on.
I personally read My Promised Land: The Triumph and Tragedy of Israel to gain a better perspective of the country from before Israel was created to why and ideas on the future of the country. It certainly helped me understand more and the complexity of this small country.
Do not be afraid to venture into Palestine, the barbed wire and concrete walls make it look harsh but the people are so welcoming. More people welcomed me into their country by saying "Welcome to Palestine!" than I have experienced anywhere else in the world.
Lastly, I refer to Palestine as Palestine because 137 out of 193 United Nations member plus two non-members recognize Palestine as a state. However, in this guide I sometimes refer to it as the West Bank as many tours from Israel call it the West Bank, so as to help avoid confusion.
I had a guide tell my group on our way to Hebron (Palestine) that we would go into the conflict confused with many questions and come back out even more confused and with twice as many questions. I can promise you that that is true.
Israel Fast Facts
Currency: Israeli shekel (NIS)
Languages: Hebrew and Arabic (English is widely spoken in main tourist areas)
Population: 8.7 million
Religion: Jewish, Muslim and Christian, with some less common faith's practiced as well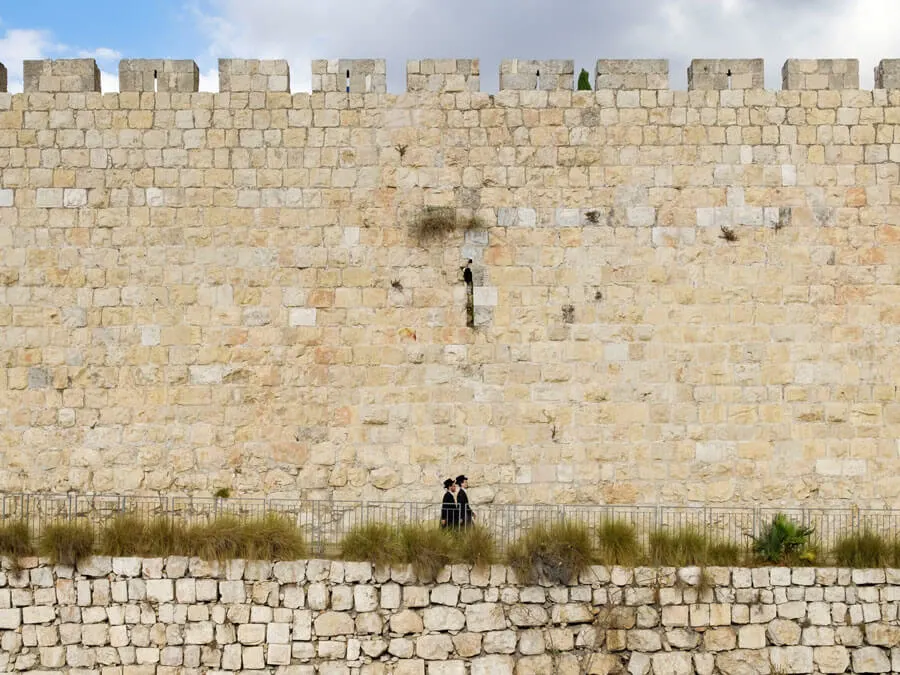 Best Time to Visit Israel
When it comes to Israel weather there really is no bad time to visit Israel as the weather is never extreme cold, rainy or snowy. It all really boils down to what kind of vacation you have to have when in Israel.
The weather in Israel varies significantly from the north where there are mountains to the south where there is the desert. The country experiences four seasons.
In summer the temperatures are hot, reaching above 30°C (86°F) and oftentimes into the 40°C's (104°F) in the desert and the Galilee (in the north).
Winters in Israel are still mild but areas such as Jerusalem and the north which have high elevations can get snow, though it is rare. Temperatures are around 10-20°C (50-68°C) during the day and dropping to 5°C (41°C) at night.
Weather and budget-wise the best time to visit Israel is during spring (March-May) or fall (September-November) when temperatures are in the 20°C's (68-84°C), there are fewer visitors and prices are more affordable than summer.
Israel Travel Budget
I'm sorry to be the bearer of bad news…Israel is not cheap. However, travelling Israel on a budget can be done but expect to keep an eye on your wallet as things will add up quickly.
For backpackers aim to budget $75-$100USD (275-370 NIS) per day. This will give you enough to stay in hostels 80-130 NIS per night ($21-$35USD), cook your own food or eat out at cheap street food joints, 10-20 NIS ($2.70-$5.40USD), get around by bus, cheap daily activities and to take an occasional tour.
For a mid-range budget plan to have $175-$300USD (650-1115 NIS) per day. This gives you plenty of wiggle room to stay in private rooms in hostels, cheap apartments or mid-range (3-star) hotels which are 350-550 NIS ($95-$150USD) per night.
You will be able to eat more meals out at sit down restaurants, 80-250 NIS ($21-$68USD) but will still need to eat some budget meals. This will also allow for taxis, pricer daily activities and more day tours.
A luxury budget in Israel should be $450USD+ (1670 NIS) which will allow you to stay in 5-star hotels, get private cars or tours and to eat out wherever you like.
How to Get to Israel
Flying to Israel is by far the most common way to get into the country. Flights from North America are often expensive but budget airlines fly to Israel from Europe often. I recommend getting a sale flight to Europe and then hopping over to Israel.
From abroad you will fly into Israel's largest and main airport, Ben Gurion Airport, which is located about half-way between Tel Aviv and Jerusalem.
It's also possible to enter Israel from Jordan. There are shuttles/buses that make border crossings or you can opt to take a taxi, you'll need a taxi on both sides of the border.
Visa Requirements for Israel
Always a question on travellers minds heading to Israel, luckily for a lot of people getting into Israel is not as difficult as many think.
Majority of the countries in Europe along with Canada, USA and Australia (plus many more, check here) are given tourist visas that are free and valid for 90 days.
In Israel you will be given a card upon entry and exit that you must keep with your passport while you are in Israel as if you are asked to show your passport (you may need to show it if you plan on going into Palestine and accommodation will ask you to show the card) then the card is the only proof you have of legal entry into the country.
This card is used because some Arab countries do not allow those who have visited Israel to travel in their countries so a stamp is avoided by using this card.
Be prepared to be asked many questions going in and especially out of the country. This is normal but not always the case.
How to Get Around Israel
You have options when it comes to travelling around Israel. If you're in a group and plan to see most of the country then a rental car is your best option as it will be the fastest.
Buses are the most popular way to get around Israel and the cheapest too. The company to look for buses is Egged. Buses don't go to all tourist destinations though so sometimes you may have to walk far from a stop so check routes before jumping on.
Trains are definitely less popular because of the lack of trains. There is a train that runs from the airport to major cities such as Tel Aviv and Haifa (you have to go through Tel Aviv to get to Jerusalem).
Personally, I took shuttle buses through Abraham Hostels that delivered me from door to door to each hostel in Jerusalem, Tel Aviv and Nazareth.
Israel Travel Insurance
Where to Go in Israel
This Israel map gives you an idea of the best places to visit in Israel. I have also included places to visit in Palestine (marked in red). These places are often visited as day trips from Israel, typically Jerusalem, or you may visit them on your own.
North Israel
Haifa: Haifa is the third largest city in Israel and is located on the northern Mediterranean coast. The city is most well known for the expertly designed Baha'i Gardens (Baha'i is a small religion that is fascinating) and the German Colony, a street lined with restaurants at the base of the gardens. Haifa is a good place to base yourself to explore the north.
Nazareth: Nazareth is a second option for you to base yourself when travelling around the north. This small city is the largest Arab city in Israel but has many religious sites and is where the Jesus trail begins. Nazareth is a work in progress though, it's developing itself as a cultural and culinary destination but is still rough on the edges.
Golan Heights: Golan Heights is an area in northern Israel that borders Syria, once a place where conflict and tension ran high but is now a spot where it is safe to travel. In Golan Heights you can find everything from nature reserves to wineries, mountaintop views, old war bunkers and you can even go skiing on Mount Hermon in the winter.
Sea of Galilee: The Sea of Galilee (known as Yam Kinneret in Hebrew) is well-known for its biblical associations. At the Sea of Galilee and in the area around Jesus is said to have performed many of his miracles. The sea itself is Israel's largest freshwater lake which the Jordan River runs through that has beaches, camping and many walking and cycling trails around.
Acre (Akko): Acre is more like an old town in Europe than it is unlike any other city in Israel. Located on the northwest Mediterranean coast, Acre is a UNESCO World Heritage Site with stone walls and alleys that lead you to the Mediterranean shores. The town is small with markets and tons of history. Even Napolean tried to take over this town but failed.
Central Israel
Tel Aviv: If you're a city person then Tel Aviv is where you want to be. It's the second largest city in Israel and most likely where you will start your trip. Tel Aviv is hip, packed with culture, has beaches that rival some of the best beach destinations in the world, art, architecture and is home to the country's party scene. Foodies will love Tel Aviv too.
Jerusalem: Jerusalem, the Holy City, is in the Judean Mountains in east Israel and is where history is still an open book. New ancient discoveries are made constantly and pilgrims venture to the old part of the city where they can find some of the holiest sites linked to Judaism, Christianity and Islam. Beyond the thick stone walls of the old city the modern expands outwards with trendy cafe lining streets, educating museums and much more.
Dead Sea: Stop by the Dead Sea, one of the top Israel tourist attractions, to float in the saltiest of water at the lowest point on Earth (431m below sea level). As you float you will see Jordan across the sea and to get to the Dead Sea you'll drive through the picturesque Judean Desert.
Masada: Masada is an ancient fortress with Roman ruins that sits atop a plateau in the Judean Desert that overlooks the Dead Sea. It's here that a bloody siege took place but now it's a place for dramatic views.
Ein Gedi: Ein Gedi is a nature reserve in the Judean Desert that is an oasis in the middle of the harsh, hot climate. It's here that plants are found that are usually in Africa, thousands of miles away, freshwater waterfalls plummet to the ground and unique wildlife make their appearances.
South Israel
Eilat: Eilat is the most resorty area in all of Israel. In the far south of Israel, bordering Jordan, Eilat sits along the Red Sea where beach lovers flock to enjoy some rays. Snorkelling and diving here are extremely popular as the waters are filled with an abundance of marine life and coral reefs that are not bleached.
Palestine
Hebron: Just 30km from Jerusalem, Hebron is where travellers go to see a very real side of the Israeli-Palestinian tension. Hebron is believed to be the final resting place of Abraham and the city is very important to all three major religions of Islam, Judaism and Christianity. Barbed wire lines the walls of some streets, metal gates stop Palestinian's from passing through to the Israeli side of the city and soldiers stand guard at all times in this Israeli controlled city.
Bethlehem: Bethlehem is an extremely important city for those of Christian faith. It's believed that Jesus was born here in the Church of Nativity. Other than religious sites, Bethlehem is also famous for being the home of some of Banksy's most well-known pieces of art that line the wall that separates Bethlehem from Jerusalem.
Jericho: Jericho is a place of history, where you can see monasteries carved into mountain faces and ancient cities being uncovered from dirt. Jericho holds the name of the 'world's oldest continuously inhabited city' where evidence has proven that settlements here date back over 10,000 years.
Ramallah: Ramallah is a great city to visit to experience Palestine as just that, Palestine. The city is the political and economic heart of Palestine with street art decorating many walls but it's more than just politics. It's a bustling place to see everyday life.
How Long to Spend in Israel?
This really depends on what you want to see. I would recommend spending a minimum of one week in Israel but typically people spend 10 days to two weeks and this just covers the major highlights.
I personally spent three weeks in Israel and feel like I got a good look and feel of the country but could have easily have spent more time there and still not do the same thing twice.
Israel Itinerary
Here's the tough part, deciding where to go! Pick out which spots above interest you the most and then build around that. Below I recommend some itineraries to help you get started.
I do not include Eilat in these itineraries as many people choose to visit Eilat on it's own as a place to stay for a week at a resort or to spend time diving. You could easily visit for a couple or few days but plan that it will take you at least half a day of travel to get to Eilat.
Recommended Israel Itineraries
1 Week in Israel (Central Israel, Palestine)
Tel Aviv
Jerusalem
Day trip to Dead Sea and Masada
Day trip to West Bank (Palestine)
10 Days in Israel (Central and Northern Israel, Palestine)
Tel Aviv
Nazareth or Haifa as base for trips to Golan Heights and Sea of Galilee
Jerusalem
Day trip to Dead Sea and Masada
Day trip to West Bank (Palestine)
2 Weeks in Israel (Central and Northern Israel, Palestine)
Tel Aviv
Nazareth of Haifa as base to see Golan Heights, Sea of Galilee, Acre
Jerusalem
Day trip to Dead Sea and Masada
Multiple day trip(s) or base yourself in the West Bank (Palestine)
3 Weeks in Israel (Central, Northern and South Israel (or Jordan), Palestine)
Tel Aviv
Haifa as base to se Acre
Nazareth as base to see Golan Heights and Sea of Galilee
Jerusalem
Day trip to Dead Sea and Masada
Multiple day trip(s) or base yourself in West Bank (Palestine)
Spend more leisurely time in places or opt to spend 2-3 days in Jordan or head down to Eilat
Recommended Time for Each Destination
I recommend the minimum amount of time for each destination and longer so you can experience the best things to do in Israel at a leisurely pace or for those with limited time.
Tel Aviv: 2-4 Days
If you like nightlife then use Tel Aviv as your base, otherwise, I would recommend spending a few days in Tel Aviv to explore Tel Aviv and then moving onto Jerusalem as Tel Aviv is further than many of the Israel tours that leave from both Tel Aviv and Jerusalem.
DAY ONE: Spend your first day relaxing after your travels. Head to the beach and check out the city's most famous market. The Camel Market and the Nahalat Binyamin Arts and Crafts Market are two of the most popular.
In the evening go on a pub crawl or try doing a self-guided food tour to experience a diverse range of foods in Tel Aviv.
DAY TWO: In the morning take a Tel Aviv walking or bike tour to get to know the city. In the afternoon I recommend roaming around the city some more to see what street art you can find (there are tons). Street art tours are also available and give a great background behind the art and help you find many that are hidden.
DAY THREE: Explore Old Jaffa, which was once it's own city, by doing the free Old Jaffa walking tour. For the afternoon hit up some more markets, museums or opt to do another food tour (I did a vegan one even though I'm not vegan and loved it).
DAY FOUR: Get cultured, do a half-day trip to visit a Kibbutz. A Kibbutz is a community living together where all income is split equally to all people. It's a very interesting concept that many people enjoy (though I didn't personally love the tour).
Another option which is unique is The Other Tel Aviv Tour which takes you to a lesser known neighbourhood and touches on subjects and issues in Israel that often get hidden by the conflict. It's a very educational experience that also has food!
READ MORE: 13 Cool Things to do in Tel Aviv and 7 Best Day Trips from Tel Aviv
Jerusalem: 3-5 Days
I recommend this long in Jerusalem because there is really a lot to do in the surrounding areas as well as in the city itself.
DAY ONE: Familiarize yourself with the city, join the Holy City tour which gives you an in-depth explanation of many of the city's most famous sites, the free walking tour or a full-day city tour if you're limited on time.
DAY TWO: Take a day trip to the Dead Sea! There are day trips that include visiting the Dead Sea, Masada and Ein Gedi so you get to see all three spots in one day. I personally did the sunrise tour which was ideal because you hiked up to Masada in the morning without the sun. A non-sunrise option to all three places is also available.
If you prefer to travel at a more leisurely pace or just want to spend half of the day hanging out at the Dead Sea then choose this chill out option.
In the evening head to the Mahane Yehuda Market to grab dinner (it's seriously one of the best food markets I've ever been to and I went every night I was in Jerusalem).
DAY THREE: Take the day to explore some Jerusalem city sites on your own. Check out Dome of the Rock (a must) if you haven't already on a tour, go shopping in the Old City market, stop by the Western Wall and go to the Tower of David which also has a light show at night.
Other top spots to visit include Yad Vashem, a Jewish memorial site from the Holocaust, the Israel Museum and the Mount of Olives. Then do a pub crawl!
DAY FOUR: Visit the West Bank (Palestine). One of the best Israel tours I did was the Hebron Dual Narrative Tour through Abraham Tours. I can not recommend it enough. The guides were beyond amazing and it is the tour that I learned the most about Israel and Palestine. If you want to understand these places and the people there is no better tour to take.
DAY FIVE: Take another day to explore a different spot in the West Bank (Palestine). For those limited on time the best option is to take the Best of the West Bank tour. Another option is to explore Bethlehem more in-depth or take a multi-day tour to the West Bank.
READ MORE: 20 Awesome Things to do in Jerusalem and 10 Best Jerusalem Tours and Day Trips
Nazareth: 2-3 Days
I personally used Nazareth as my base for exploring the north of Israel through Abraham Tours. I opted for the Northern Israel 4 Day Package from Tel Aviv which was a great value. I visited Nazareth, Golan Heights, the Sea of Galilee, Haifa, Acre and Rosh Hanikra.
I choose to do the tour because getting around the north can be difficult without a car.
Nazareth itself you really only need a day to visit sites such as Basilica of the Annuication, Mary's Well and walk part of the Jesus Trail for a pretty sunset view. Your second and third day can be spent visiting Golan Heights and the Sea of Galilee and then Haifa, Acre and Rosh Hanikra.
Haifa: 1-2 Days
Haifa is another place that you can base yourself to explore the north of Israel but I only recommend doing this if you have a car.
DAY ONE: Spend the day in Haifa, see the beautiful Baha'i Gardens (one of the most beautiful Israel attractions), roam around the German Colony, check out some of the museums or chill at the beach.
DAY TWO: Take a day trip to Acre and/or Rosh Hanikra.
Dead Sea, Masada and Ein Gedi
I mentioned to do these from Jerusalem by tour or if you have you own car then it's ideal!
Here are your tour options:
Golan Heights and Sea of Galilee: 1-2 Days
You can easily spend a day driving around Golan Heights and checking out the must-see sites for yourself or you can opt to do a day trip if you don't have a car. What you can see are nature reserves such as Banias Nature Reserve (waterfalls!), see the view (including Syria) from Mount Bental, stop by the Golan Heights Winery or go skiing if it's winter at Mount Hermon.
If you have a car and want to explore at a more leisurely pace then opt to do the Sea of Galilee on a second day to visit the beaches around the Sea of Galilee, stop by the Town of Jesus (Capernaum), Mount of Beautiudes and the Tiberias-Hamat Hot Springs. This day tour from Nazareth combines stops in Golan Heights and the Sea of Galilee.
If you are driving Tiberias is also a good spot to base yourself without driving back to Nazareth.
Acre: Half-Day – 1 Day
I recommend visiting Acre as a part of a tour from Nazareth or as a half-day or full-day trip from Haifa. The old town is not very big and all things can be done in a day.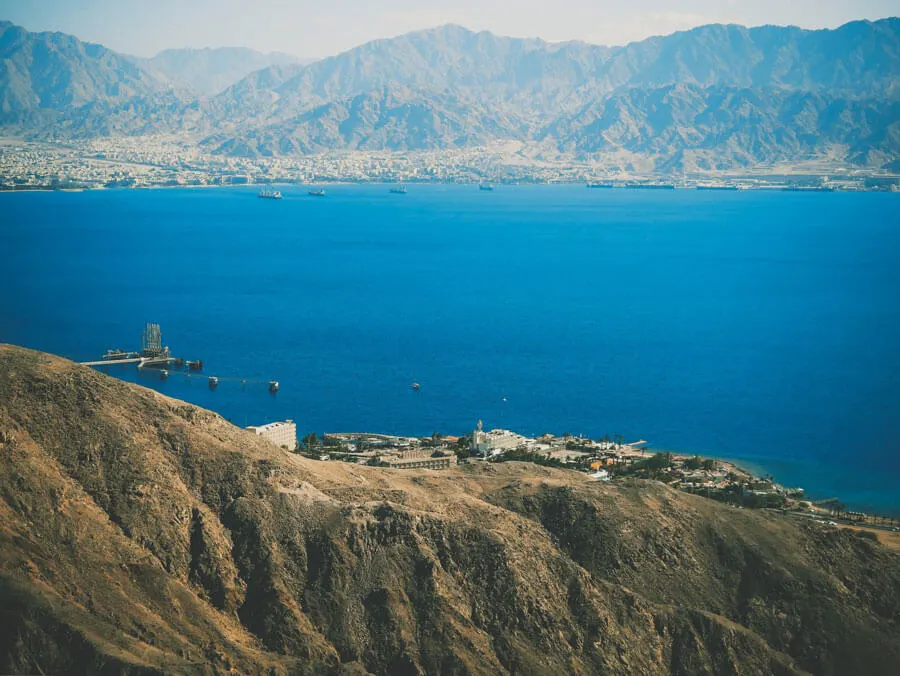 Eilat: 2+ Days
How long you stay in Eilat for really depends on why you're visiting. A minimum of two days is required so that you have one day to explore the mountains by jeep and a second day to see what's underwater or to spend time relaxing at the beach.
Tack on a third day if you want to visit Petra or plan to scuba dive.
Palestine (Hebron, Bethlehem, Jericho and Ramallah): 2+ Days
Once again, this really depends on what you want to do while you're in Palestine. Some people prefer exploring each city on their own, others want to do tours so that they can gain as much information as possible.
I based myself in Jerusalem and visited on day trips.
I think Hebron is a must-visit which is most common to do by tour. The Hebron Dual Narrative Tour is a must (it's the best tour I did on this trip).
Here are some tour options:
Enjoy your Israel holidays!
Must Read Posts About Israel
Disclosure: This post contains affiliate links which I earn a small commission from and are at no additional cost to you. Taylor's Tracks is a participant in the Amazon Services LLC Associates Program, an affiliate advertising program designed to provide a means for us to earn fees by linking to Amazon.com and affiliated sites.