Budva in Montenegro is an incredible place visit all year round, so it's no wonder that it's at the top of many people's travel wish list. It's a quaint coastal area packed full of interesting places and beautiful spots, and known for its atmosphere, beaches, and activities.
Like many cities in Montenegro, Budva strikes the perfect balance between being rich with history and culture and having an exciting, modern edge with lots of fun things to do.
If you're wondering what to do in Budva when you travel here, we've put together these 10 travel tips to help you out, including exquisite beaches on the Adriatic Sea, local hospitality, and the best historical landmarks in the area.
Keep reading for our travel guide on the best things to do in Budva – we think this is one of the best places to visit in Montenegro, so get ready to get inspired!
Top things to do in Budva
You won't be short of places to visit in Budva, with so many activities and sights keeping you on your toes.
Budva Old Town
One of the oldest places in Europe, Budva's Old Town (also known as Stari Grad) is around 2,500 years old. It used to be an island connected to the mainland by a sandy strip but, over time, it became a peninsula.
As well as being home to some important historical landmarks that we'll outline in this guide, this area is home to restaurants and bars, perfect for making the most of the Montenegrin nightlife, as well as the food and drink.
The Old Town is also where you'll find the Budva City Walls. These are without a doubt amongst the best things to see in Budva and, when you walk them, you'll be treated to glorious views of Budva and the surrounding sea.
Sveti Nikola Island
One of the best Budva attractions, just 1 kilometer from Budva's Old Town and in the Adriatic Sea, Sveti Nikola Island is made up of 89 acres of land and its highest point reaches 397ft above sea level.
On the Island, which is dubbed 'Hawaii' by some locals, there are lovely beaches and clear waters for swimming – so don't forget your bathing suit.
You can get there by boat for a very reasonable price and, if you're lucky, you might spot a deer when you're on Sveti Nikola Island, as they live in the uncultivated areas! This island is a Budva must-see, so we highly recommend that you add it to your list of things to do when you're visiting Montenegro.
Experience Budva's Hospitality
Like many Mediterranean cities, Budva is home to some exquisite food and drink. There are many restaurants and bars to visit in Budva, but dining at the home of a local resident is on a completely different level!
You can take part in a lunch experience with locals in the high hills above the town, a really unique opportunity and absolutely amongst the best things to do in Budva. Step into the countryside and head for the hills, where you'll enjoy local and homegrown produce served by your host, Rajko, as well as homemade wine and grape brandy.
Here's the sample menu…
Pobori plate: prosciutto with cheese, home grown vegetables from garden and wine.
Pobori grill: grilled meat with grilled vegetables.
Vegetarian: vegetarian options available.
Rajko is a descendent of the Kuzman family and will be able to tell you the tales of the tribe that helped defend Montenegro from the Ottoman empire. If you're looking for unique things to do in Montenegro, this experience is for you!
Sveti Stefan
Sveti Stefan has to be one of Budva's most recognizable sights. It's a small islet off Montenegro's Adriatic coast and is quite popular as the picture that is featured most often for Montenegro tourism. It's connected to the land simply by a sandy beach area and is on the Budva Riviera.
Initially built as a fortress town in the 15th century, this islet is now a much more relaxed place, with beautiful sandy beaches.
In the 1940s, Sveti Stefan became a tourist hotspot and is now a glamorous resort often used by the wealthy and famous. In fact, in 1972, the Aman Resort (one of the most elite hotels in Budva) on Sveti Stefan was given a Golden Apple award for being so exclusive.
These days, you can't really get full access to Sveti Stefan unless you're staying at the resort (for around 800 Euros per night!), but you can certainly still access to South Beach and walk through Milocer Park, so you can get a real flavour of the place. Sveti Stefan has to be top of the list for Budva sightseeing, so don't miss out on a sneak peek.
Church of the Holy Trinity
While it may be small, this is a significant church and is one of the most popular Budva places to visit.
Austria allowed this church to be built at the request of the Orthodox population of Budva, after the 1797 downfall of the Venetian Republic.
It's known for its fascinating appearance and artistic credibility, with some really striking features including the bell loft, three bells, and dome. It is also home to the tombstone of Stefan Mitrov Ljubisa, a well-known politician and author from Budva.
Forgot travel insurance? No worries!
It's still possible to get affordable travel insurance when travelling.
SafetyWing can be purchased in 180 countries and provides coverage for medical, travel delays, luggage, emergency response plus other perks for a third of the price compared to the biggest competitor for similar coverage.
Podmaine Monastery
Built in the 15th century, this is a Serbian Orthodox monastery near Budva. Also known as Podostrog, this building is made up of two historic churches and was badly damaged in the 1979 earthquake.
In 2002, it was completely rebuilt and, in the smaller church, new frescoes were painted. You can now visit the monastery, a curious and peaceful attraction out of the hustle and bustle of the main city.
Budva Beaches
If you'd like to visit the best beaches in Budva, you'll be spoilt for choice. There are a number of beaches in the area, each with its own natural beauty.
Becici Beach is 100m wide and 2km long and is known for its lovely soft sand. This beach is perfect for sunbathing and relaxing and many visitors to this beach come in search of the colourful and perfectly shaped pebbles that it's known for.
Slovenska Beach is an awesome place for outdoor activities and games such as volleyball, tennis, bungee jumping, and bowls. There are also lots of bars in this area.
Jaz beach is a good place for jet skiing, parasailing, water scooters, volleyball, and more, plus there's a café so that you can refuel after all that activity!
Mogren Beach, or Mogren I and II beaches, are connected by a tunnel and have gorgeous views of the old town and is one of the most iconic places to see in Budva and is easy to get to on foot from the centre. They were given the Blue Flag award by the Foundation for Environmental Education.
Micelor Beach is really beautiful and is teeming with nature but, as a part of the Aman Resort on Sveti Stefan, it's only available to hotel guests. If you're lucky enough to be staying at the resort, you'll have exceptional views.
These are the best beaches in the area and are popular with both locals and tourists, especially during the summer months.
Saint Ivan Church
This church can be seen from many places in Budva because its bell tower is so tall, but it's found in the Old Town.
This recognizable landmark is a Catholic church that was built in the 7th century and is still a fully-functioning church. You're welcome to go in to light a candle, attend a service, or simply admire its stunning architecture and interior, such as the glass mosaic on the altar wall.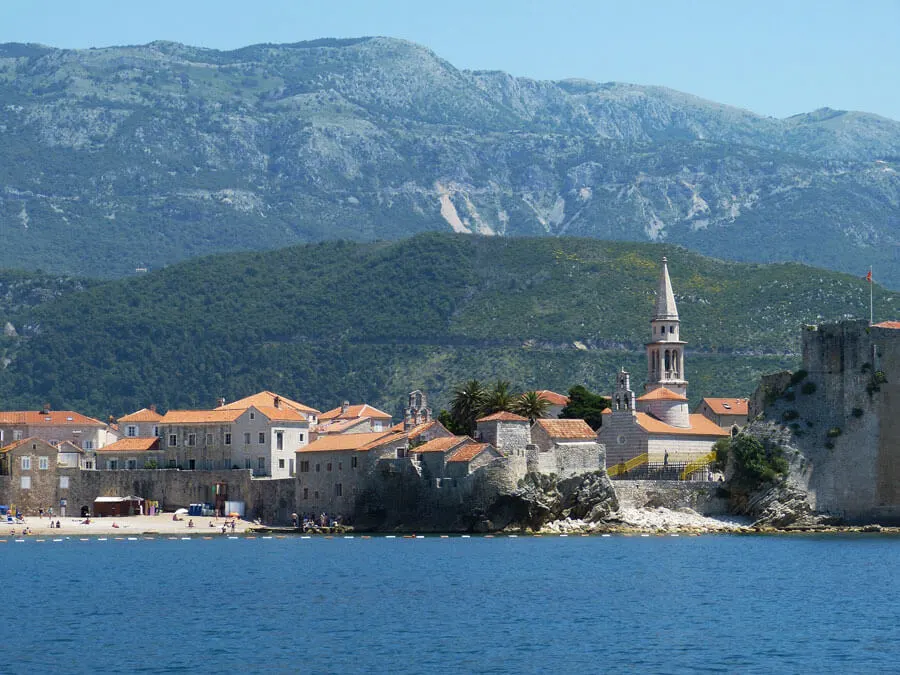 Walking Tour
A walking tour is a great way to get your bearings of a new place and get to know it like the back of your hand! On this walking tour, your guide will take you to some of the most important Budva tourist attractions, including the Old Town, St John's Church, Citadel Fortress, the maritime museum, and more.
We hope you've enjoyed reading this travel guide to Budva, Montenegro. Have an excellent visit!
Continue planning your trip to Montenegro!