Meditation is yoga, but many yoga retreats focus more on the physical (asana) practice of yoga and leave little time for finding the peaceful stillness of meditation. Choosing to join a meditation retreat in Thailand will allow you to reconnect to your mind, body, and soul, by finding the power of silence, stillness, and self-reflection. You're spoiled for options in Thailand, and whether you're after more of a luxury holiday on an island, or would prefer a cultural experience in the mountains, fear not, there is a top choice for you to get all that you're looking for.
Best Meditation Retreats in Thailand
While some of these retreats include yoga, if you're looking for some time away that is more focused on yoga, don't miss my yoga retreats in Thailand article!
5 Day Life Balance Qigong and Meditation Retreat in Pai, Mae Hong Son
Learn and connect to the wisdom that has been shared by Chinese Masters for centuries during a stay at this retreat in Northern Thailand. Nestled in the picturesque area of Pai, the retreat centre location will transport you to a place of calm and peace. Over the course of 5 days to 4 weeks you'll partake in daily training sessions that immerse you in the arts of ancient China, enabling you to take a step back from western society and heal. Through Qigong and meditation, you will connect your mind, breath, and body, guided by English-speaking teachers who are here to support you through your journey. This retreat centre also has options available with Kung Fu.
8 Day Walking Meditation Retreat in Ko Pha Ngan
Join the Inner Walk Program at this island retreat in Thailand that will have you practicing a moving meditation to connect with your inner self and move away from the distracting noise that we live with day to day, mentally and physically. In this program, you'll walk for 4 hours a day for 4 days in a row in a calming centre, with other practices for you to join that support the journey that you're embarking on. From yoga to other forms of meditation, even lectures, as well as other healing modalities including sound healing, dance, and breathwork are all included too. This is the most popular offer for a meditation retreat in Thailand, so don't pass up the opportunity to explore this experience further!
5 Day Silent Tantra Retreat in Mae On, Chiang Mai
The location alone of this retreat is worth visiting. The retreat centre is a peaceful oasis, built to hold a high spiritual vibration and in accordance with the rules of sacred architecture. It's something that can be felt as soon as you walk onto the property. The retreat itself focuses on meditation from the views of Tantra, and once this way of meditation is learned, all others can be learned too. With a program broken up into 2 parts, you'll spend some days learning the Tantric ways, with other activities such as yoga, lectures, and more to support your new practice. For the final days, you will then dive into silence with your newly learned techniques to guide you through the space of emotions and desires that Tantric meditation focuses on.
5 Day Samkara Private Luxury Meditation & Yoga Holiday in Koh Phangan
Journey to the beautiful island of Koh Phangan and spend a short week indulging in an all-inclusive holiday while also being introduced to meditation. Whether it's a regular practice for you or totally new, this retreat doesn't focus on a single meditation technique but instead guides you through options such as sitting, laying down, and walking, so that you can find a style of meditation that works best for you that you're likely to continue once at home.
You'll end each day with a guided meditation but begin each morning with a yoga class. Meanwhile, your days can be filled with time in the dry Finnish-style sauna, relaxing by the infinity pool, dipping into an ice bath, or hopping on a shuttle to one of the picturesque beaches nearby. Not to mention a massage is included too!
4 Day Mindful Speech Meditation Retreat, Maha Sarakham
This small group Buddhist meditation retreat is a wonderful opportunity to get away from your day-to-day life (or maybe busy vacation) to immerse yourself in reconnecting to yourself and silence. A bonus of this retreat is that you get to join monks in their rounds, and learn from teachers who are certified in the Buddhist language Pali. Of course, there are others here to support you who speak other languages too, including English.
For 4 days you'll dress in white (clothes are provided), and you have the option to add a detox to your stay. You'll be taught basic meditation skills and learn the techniques of Anapana and Samatha meditation, as well as singing bowls meditation. Aside from meditating, you will have time to detox, relax, and rejuvenate in the herbal sauna, with free time, and experience an energy field purification.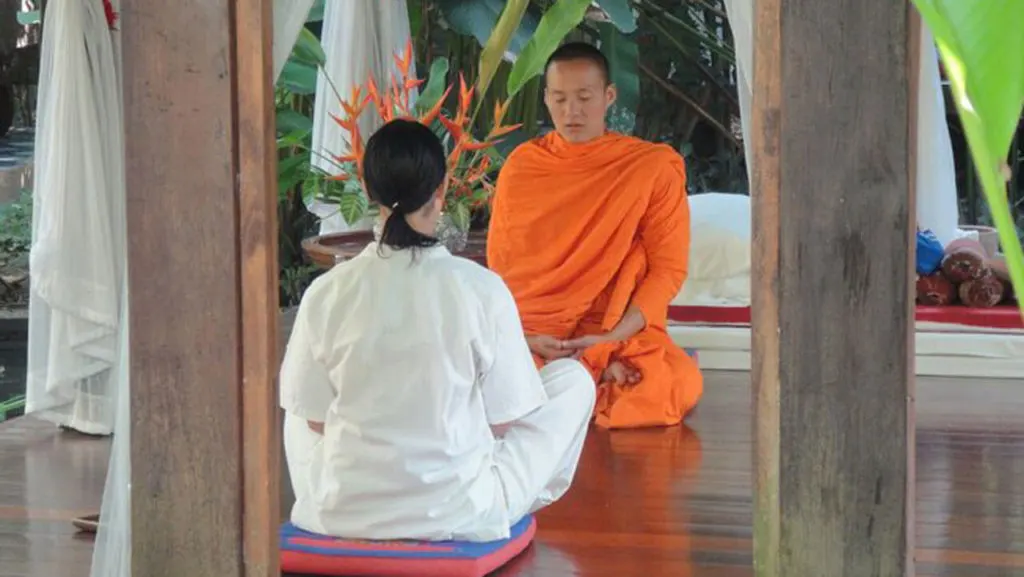 7 Day Rejuvenating Meditation and Spa Retreat in Chiang Mai
With a holistic approach, this Chiang Mai meditation retreat is a top choice for those who love to be pampered while also being willing to put in the work to focus on growing their meditation practice. Join for a week at one of the finest spa resorts in Thailand where your meditation is focused on Vipassana techniques. Aside from meditating daily, you will no doubt thoroughly enjoy your time by the pool, receiving spa treatments daily, and eating tasty and healthy meals. Your body and mind will feel completely refreshed after a week here!