Everybody dreams of a trip to Ireland to view its emerald green hills, staggering seaside cliffs, and of course, pub culture to seek out the best Irish beer. Kilkenny is a town in the southern part of Ireland surrounded by three major rivers that run through the town. They are referred to as The Three Sisters and are called the Nore, the Suir, and the Barrow. From 1641 to 1649, Kilkenny served this brief time as the capital of Ireland. Today, in this medieval city there are various things to do in Kilkenny from touring medieval landmarks, ancient ruins, and castles that tower over their kingdoms, to exploring magical wonders like a gushing waterfall, a mysterious cave, and vibrant, beautiful gardens.
Top things to do in Kilkenny
There are plenty of fun things to do in Kilkenny including sightseeing tours and bar hops, museum walkthroughs, and impressive adventure experiences.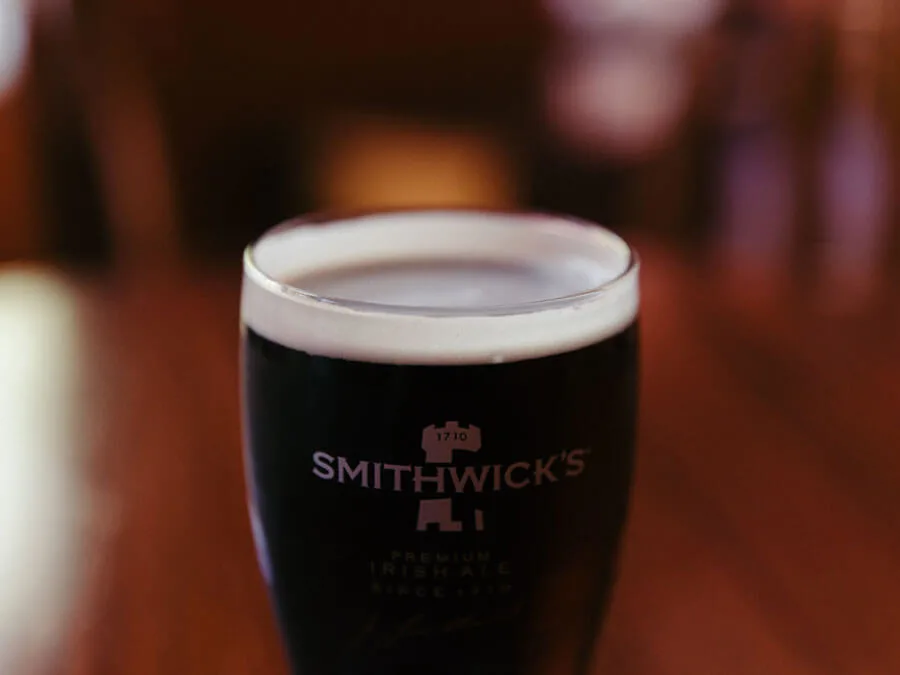 Go beer tasting
Beer is one of the first things people think about when Ireland is mentioned and Smithwick's Experience is one of the best things to do in Kilkenny Ireland. The Smithwick's brewery began in 1710 as a small family-owned brewery, and a tour of this fantastic brewery is where you will learn all about the beer-making process as well as the history behind the Smithwick family and their now-famous beer. Trust me, it's worth trying other beers that aren't Guinness!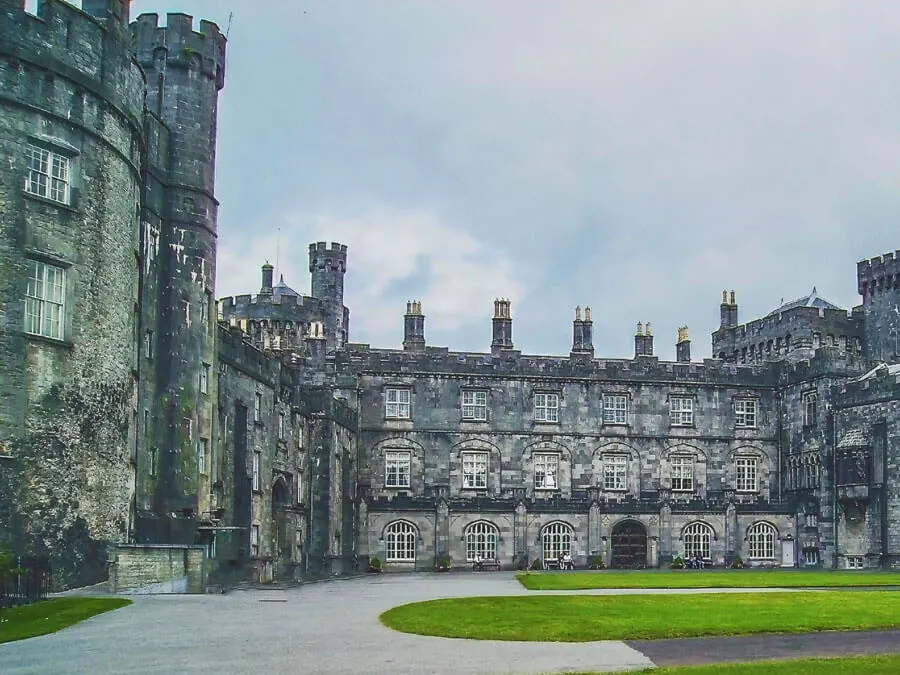 Wander through Kilkenny's Medieval Village
Some of the most charming places to see in Kilkenny are the castles that make up the city landscape and the cobblestones streets that make up the town. Kilkenny's medieval history comes alive when you take a guided tour through the city. You will learn about the local history and heritage as you walk through the village with your guide. They will take you to some of Kilkenny's most popular attractions including Normand Castle and Rose Garden, among other Kilkenny sights that highlight this town's ancient past.
Take a peek around the Rothe House
The Rothe House is one of the most intact buildings in Kilkenny and was the home of a very wealthy businessman. It was built in three separate installments with the first being in 1596 then 1604 and once again in 1610. Each "house" has its own courtyard but they all share the same garden. It was and still is one of the most unique homes in the entire city. The home has since been turned into a quaint museum with local artifacts and treasures that have been found in and around Kilkenny and the garden has been restored to its original glory and includes an orchard, herb garden, kitchen garden, and a topiary garden. The Rothe House is a very important part of Kilkenny's history.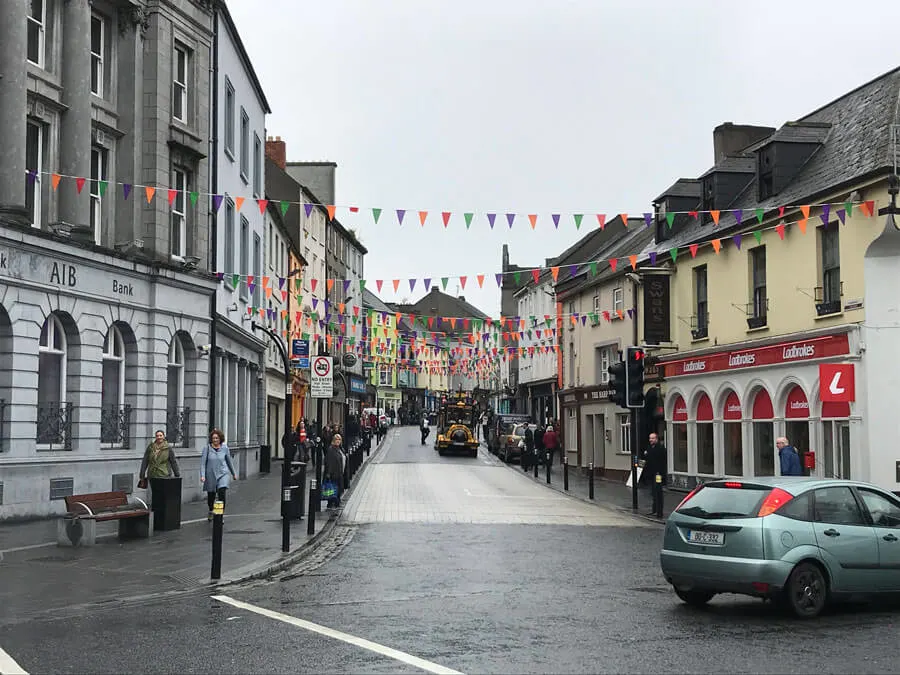 Take a Historical and Hysterical Walking Tour
Kilkenny city is home to the "Cat Laughs" festival, one of Ireland's first comedy festivals. Since 1994, The Cat Laughs Comedy Festival brings local comedians as well as British comedians together for a weekend of good belly laughs. The festival typically takes place the first weekend in June and if you happen to be in town for it, it's a must-see. If not, opt to take a walk down the medieval mile with local favorite Nevin Cody. Medieval Mile is a discovery trail that takes visitors past old and new Kilkenny attractions. At one end of the trail is the 13th century St Canice's Cathedral and at the other is a gorgeous Kilkenny castle. Your tour guide will treat you to stories, magic, and historical facts along the way. The medieval mile is a Kilkenny must-see.
Forgot travel insurance? No worries!
It's still possible to get affordable travel insurance when travelling.
SafetyWing can be purchased in 180 countries and provides coverage for medical, travel delays, luggage, emergency response plus other perks for a third of the price compared to the biggest competitor for similar coverage.
Go Underground in the Dunmore Cave System
The Dunmore Cave system reaches a depth of 46m (150 feet) and is about half of a kilometre long. Exploring Dunmore Cave is one of the best things to do in Kilkenny as the cave features magnificent examples of stalactites and stalagmites formed over millions of years by dripping water. One pillar is so stellar that it was given the nickname, the Market Cross. It reaches over 5 meters (16 feet) in height. The chamber that the cross can be found in also has evidence of humans living in the caves dating back to the 9th century. There is even archeological evidence that Vikings were once murdered here, so make sure you pay your respects, especially as a visitor.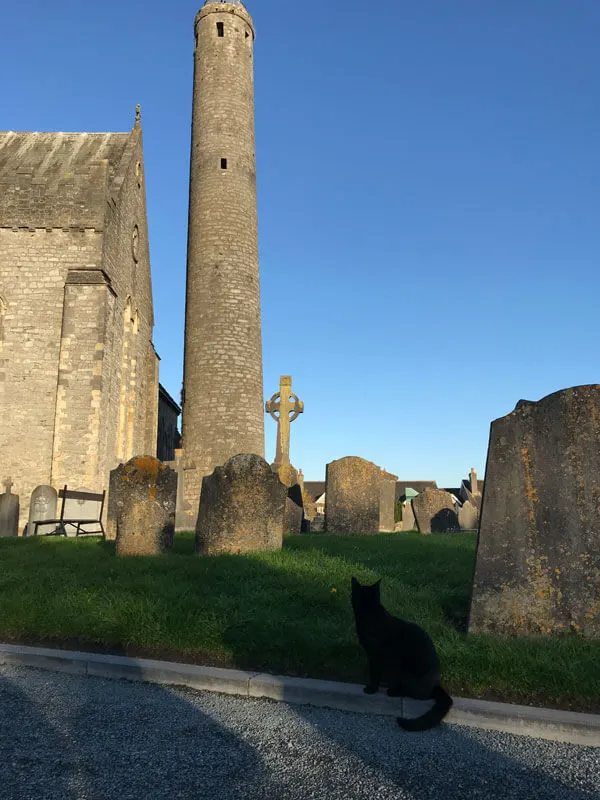 Climb the Round Tower
Alongside St. Canice's Cathedral is the infamous Round Tower which was built as a lookout tower to protect the residents of Kilkenny. Today you can climb the tower for phenomenal views of the surrounding area. After climbing the tower, you should visit St. Canice's Cathedral. Built in 1285, this lovely cathedral is built out of limestone giving it a magical shimmer when the sunlight hits it. The cathedral houses unique tomb chests from the 17th-century and a legendary throne made of stone for a 5th-century bishop. One of the most significant pieces the cathedral houses is the Great War Memorial List which lists every name of an Irish soldier who gave their life for their country during WWI.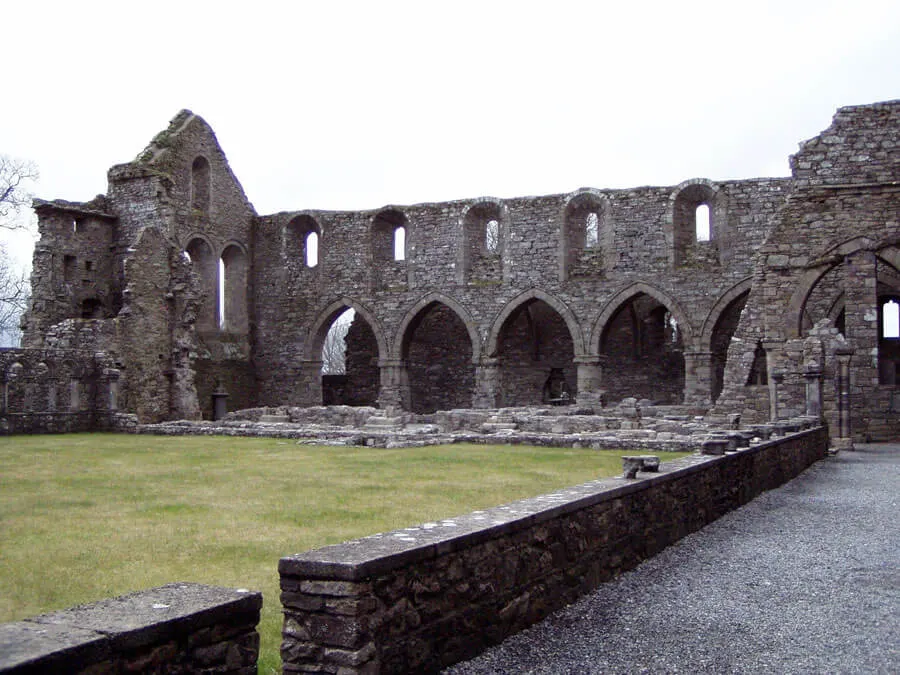 Meander around Jerpoint Abbey Ruins
The Jerpoint Abbey Ruins are hardly ruins, they are one of the most intact Irish monasteries and is thought to have been built late in the 12th-century. There is also a gorgeous crossing tower that has been a prominent part of the landscape for centuries. There are parts of the abbey that have been made into a sort of museum with intricately carved tombs and sculptures. The Jerppoint Abbey ruins are a great place to find some mystical solitude. The Jerpoint Abbey should be on everyone's list when visiting Kilkenny.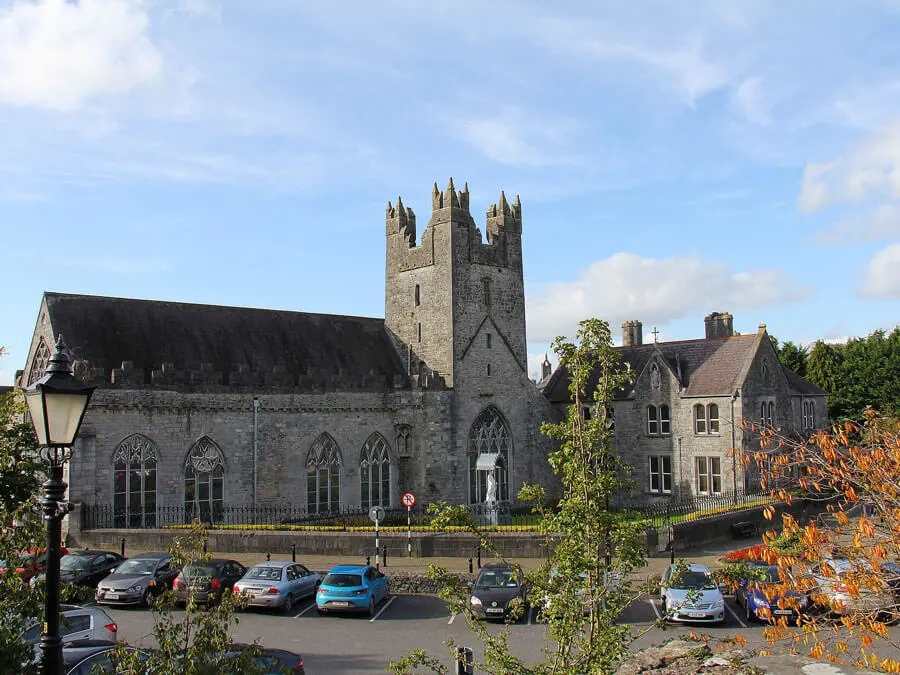 Explore Black Abbey
The infamous Black Abbey has been around since the 13th-century and used for several different reasons. No one quite knows where the name was derived from, some stories say it came from the black robes that the monks used to wear and others say it comes from the death of 8 priests who died as a result of the black plague and still others say the name refers to the lives lost when it was used as a court. The abbey was destroyed and rebuilt with several original statues and today you can walk around the Black Abbey and admire the intricate stained glass windows, gorgeous stonework, and incredible architecture.
Stroll around the Kilfane Glen and Waterfall
This manmade garden and waterfall have been a magical, romantic place since it was first created over 200 years ago. The 10 metre (30 feet) manmade waterfall is the centerpiece of the park and feeds into a canal. There is a little cottage and several bridges on the property as well as gorgeous flowerbeds, ferns, and towering trees. There are paths and trails for you to walk around on or shady places to sit and have a nice picnic.
There are different fruit trees planted through the gardens, as well as a carp pool and beautiful statues and sculptures. This is a great place for exercise and relaxation. The beauty and serenity will help you feel revived after seeing such a lovely place, you'll almost forget that it is manmade.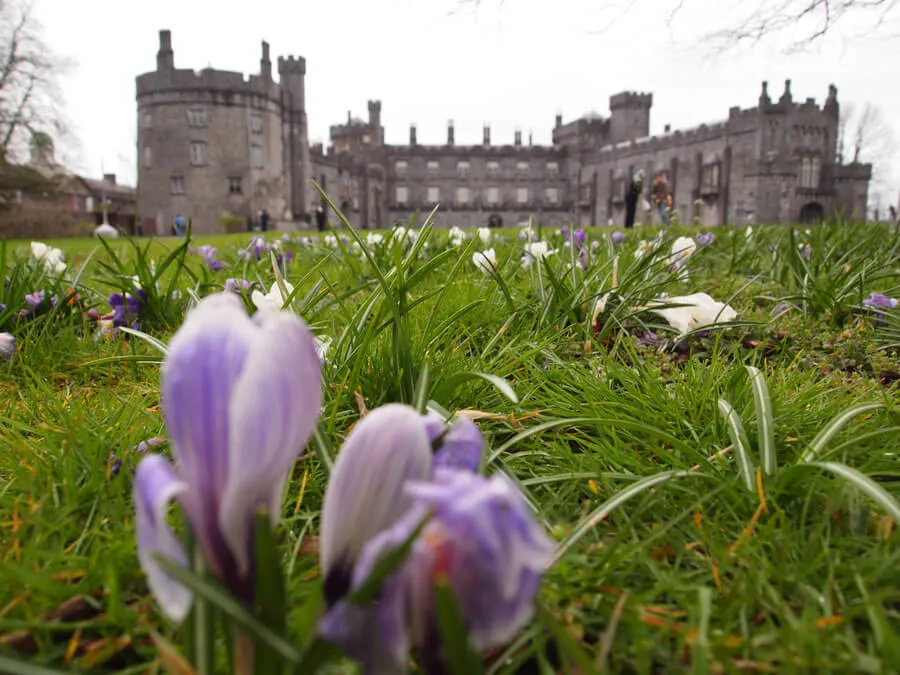 Walk through Kilkenny Castle
Kilkenny Castle is included in a lot of tours, but you can also make a trip on your own to explore at a leisurely pace. Kilkenny Castle sits over the River Nore and is surrounded by beautifully kept gardens and fountains. Originally built as a wooden fort way back in 1170, Kilkenny Castle has been added to, rebuilt, and restored and is one of the top Kilkenny tourist attractions. The Kilkenny Castle houses an art and craft gallery with their art collection dating back to the 1700s. You can also walk around the drawing-room and the library as well as the long room. The long room is a favourite amongst visitors to Kilkenny Castle because of its portraits and tapestries.
Check out the National Craft Gallery
The National Craft Gallery is such a great place to find special souvenirs to remember your trip by. This gallery is located in the stableyard of one of the castles and features local and international artists, writers, and musicians. The gallery is filled with colourful, intricately detailed arts and crafts. Walking through the gallery you will find a lot of unique ceramic art, delicate jewelry, and different weaving items.
Play around at Castlecomer Park
Perfect for families, those who want to tap into their inner child, or anyone looking to get over a fear of heights, the Castlecomer Discovery Park offers visitors a fun little adventure above the treetops. There are so many fun things to do in this park both for adults and kids. The park features Ireland's longest over the water zipline, climbing courses, and an elf and fairy village. You can also take workshops to learn about the history of the local area. You don't have to be a kid to enjoy this wonderful whimsical park.
Try your hand at hurling
To many, hurling is Ireland's national pastime. This sport has been around for centuries and is super fast-paced. You'll be taken around O'Loughlin Gaels GAA Club where you'll learn about the history of the sport as well as the rules and how to play the game. Eventually, you'll be taken out to the field where you can practice the sport yourself.
Hurling is thought to be even older than Ireland itself and is played with wooden sticks on a grass field. The players use these wooden sticks, called hurls, to hit a small ball called a sliotar either over or under a crossbar. You get a different number of points depending on if it goes over the bar or under the bar.
Players don't wear protective gear other than a helmet and it's played in many other countries throughout the world including Argentina and New Zealand.
There are so many things to see in Kilkenny that you won't ever get bored. You can travel through time and learn about the exciting medieval history of the city through museums or ancient ruins and visit important landmarks honouring the countries long existence or just simply enjoy the natural beauty of the emerald green country. Either way, there is plenty of Kilkenny sightseeing to do in this tiny Irish town!
Kilkenny FAQ's
How to Spend a Day in Kilkenny
A day in Kilkenny is enough to see the highlights of this pretty town. Of course, there is more to do if you wish to stay longer but in just 24 hours you can get a feel. The town centre is very walkable so I recommend plugging in these hot spots on your map based on what's closest to you:
Kilkenny Castle
Wander down Medieval Mile (and stop for food along here as well)
Rothe House
Smithwick's Experience
St. Canice's Cathedral
Where to Stay in Kilkenny
There's no better place than to be in the centre of Kilkenny itself! You'll be able to walk everywhere and have an abundance of restaurants and attractions right at your doorstep. These are the top picks of the best places to stay in Kilkenny:
Butler House: Bright, and spacious rooms that ooze luxury.
Kilkenny Inn: One of the most booked properties in Kilkenny, this funky hotel is a top choice.
Hotel Kilkenny: Luxury on a budget! A very sweet and lovely hotel just 10-minutes from the town centre.
Continue Planning Your Trip to Ireland!