Kilkenny is a small, charming medieval city that is worthy of at least one night. A stop at this delightful city is a must on any trip to Ireland for some time to explore castles, ancient history, visit a local brewery and much more.
While this city may be small there are quite a few Kilkenny accommodation options. But never fear dear reader, this accommodation guide has got you covered with the best hotels in Kilkenny from luxury to budget, all close to the top attractions in Kilkenny. Ready to decide on where to stay in Kilkenny? Dive into this article!
Best Area to Stay in Kilkenny
Keeping it simple, there's only one area to stay in Kilkenny!
Kilkenny City Centre
Best for: Being in the centre of the action
Truth be told, there's really only one area to stay in Kilkenny, and that's in the centre of town! Kilkenny is a small Irish town that doesn't take long to walk across which means that you can pretty much reach everything on foot from the centre, including the bus and train stations which are in the central neighbourhood of MacDonagh Junction. While this central neighbourhood is close-by there's not much there which is why it is suggested that you stay in the centre of town. No matter where you stay in central Kilkenny, you won't have issues seeing all of the top historical attractions and sights, the best bars in Kilkenny, restaurants and more. Since Kilkenny is quiet you won't have an issue of being woken up at night either. While it's possible to stay in further out neighbourhoods or other parts of County Kilkenny, it is definitely recommended that you stay close by as you'll most likely only be here for a night or two!
Best Places to Stay in Kilkenny
Take a peek at these top Kilkenny hotels for a fabulous stay in the city.
Best Luxury Hotels in Kilkenny
Get ready to treat yourself, simply because you deserve it.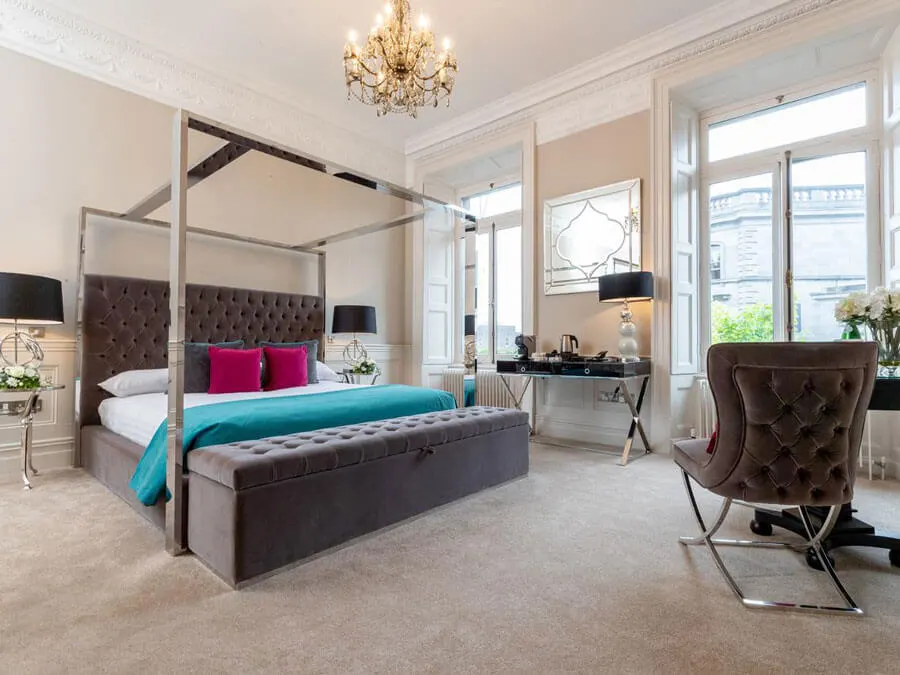 Kilkenny Hibernian Hotel
Housed in what used to be the Hibernian Bank, this traditional hotel with a modern twist sits in the shadow of Kilkenny Castle and is easily the best place to stay in Kilkenny. The guest rooms feature sleek yet bright decor for a trendy take on accommodation. As one of the top picks for travellers visiting Kilkenny, this award-winning hotel is am excellent choice with an on-site restaurant and 2 bars for a luxury experience.
Butler House
A fabulous choice for luxurious accommodation in Kilkenny, the Butler House is in the heart of Kilkenny and offers visitors guest rooms that are bright and spacious with large windows that fill the rooms with natural light. Comfortable beds along with a seating area are in each room while amenities that include an on-site restaurant, bar, a garden and free parking (for those on an Irish road trip!) are just extra perks. This Kilkenny hotel is just 700 metres from Smithwick's Brewery which is one of the most popular activities in Kilkenny.
Lyrath Estate
If you're craving an extra-luxurious getaway or perhaps need a break from cities during your Ireland trip, this luxury hotel is easily the top choice in Kilkenny. Located outside of the city centre on the outskirts of Kilkenny, this secluded property draws in visitors for its prime amenities, green space and facilities. Set on 170 acres of parkland, this top-notch hotel treats guests with a celebrity treatment as they sleep in rooms that are soundproof with blackout curtains, indulge in the spa services, dine at both of the award-winning restaurants and get relaxed in one of the two pools, one of which is an infinity pool! This is also your closest option for castles to stay in Kilkenny. It's not a castle, it's a manor, but it's close enough!
Pro Tip: Fancy even more luxury? Perhaps one where you can sleep like a king or a queen? You can do that in Ireland!
Best Mid-Range Kilkenny Accommodation
The best hotels in Kilkenny don't have to come with a high price. Check out these hotels near the Kilkenny Castle!
Kilkenny Pembroke Hotel
Located just behind the Kilkenny Castle, this boutique hotel is a 4-star rated property with guest rooms that feature king-sized beds and generously spacious ensuite bathrooms. The on-site facilities include a restaurant that serves international and traditional Irish cuisine and a spa with a number of treatments available. As an added bonus the Kilkenny Golf Club is a short walk away from the property.
Kilkenny Ormonde Hotel
You're in for a treat that this 4-star Kilkenny hotel. Located just 2-minutes away by foot from Kilkenny's medieval main street (part of Medieval Mile), you're spoiled for this hotel's location and amenities. A large, 21 metre heated indoor swimming pool is available for use year-round, along with spa and fitness centre facilities that include a gym, sauna, stream room and more.
Kilkenny Inn
As one of the bestselling hotels in Kilkenny, this property is a steal with its stellar location that is only minutes away when walking to some of Kilkenny's best restaurants, shops, pubs and attractions. Not to mention the rooms are fun and trendy but still comfortable and inviting after a long day of exploring this historic city.
Best Budget Accommodation in Kilkenny
The best places to stay in Kilkenny for budget-conscious travellers.
Bridge View B&B
An affordable option for budget-conscious travellers, this Kilkenny bed and breakfast is one of the bestsellers in the city and for good reason! This charming guesthouse is ideal for travellers who love a quiet area and accommodation with a more homey touch. An added bonus is that despite the quiet area stellar attractions such as the Kilkenny Castle is only a 4-minute walk away, plus you get views of River Nore and a full Irish breakfast!
Hotel Kilkenny
Who says luxury can't be done on a budget? If you're up for walking the short 10-minutes to central Kilkenny during your visit then this is a top option for you to enjoy the finer things that hotels have to offer without the price tag. This 4-star hotel offers chic accommodation with free parking and guest rooms that are designed with French wallpaper and Italian marble. Amenities also include a pool, hot tub and an award-winning restaurant.
Club House Hotel Kilkenny
An excellent choice if you want to be in the heart of Kilkenny, this 200-year-old hotel built in the 1800s still keeps its old-world charm but with updated, modern amenities. With Kilkenny's top shops on your doorstep and a bar on-site with live music on Saturday's, there's no shortage of entertainment in and around this prime hotel.
Enjoy your holidays in Kilkenny and enjoy Ireland! I hope this article helped you find where to stay in Kilkenny for a comfortable time in the historic city centre!
Continue Planning Your Trip to Ireland!
Disclosure: This post contains affiliate links which I earn a small commission from and are at no additional cost to you. All images for accommodation used are from Booking.com.