Killarney is everything you want in an Irish town and is a must-visit on any Ireland trip because of its awesome location to Killarney National Park, the Ring of Kerry, the Gap of Dunloe and of course it has quite a few attractions worth seeing too!
For a small city Killarney has a lot of places to stay. But picking where to stay in Killarney is made simple with this easy accommodation in Killarney guide that breaks down the best places to stay in Killarney based on location, budget, luxury and of course, amenities. Get ready to have a stellar stay in this must-town without the hassle of doing a ton of research!
Best Area to Stay in Killarney
Pick where to stay based on these neighbourhoods in and around Killarney. From where to stay near Killarney National Park to the top hotels around Killarney and of course, in the city centre, these Killarney hotels are the top picks based on their location.
Killarney City Centre
BEST FOR: Being close to all the action
Killarney is a small town and staying anywhere in the city centre means that you'll be able to walk to all of the Killarney attractions, restaurants, shops and of course, pubs. The bus and train station are also just on the outside of the city centre and are a short walk to the majority of the accommodation options in Killarney. Without question, staying in the Killarney city centre is best for first-time visitors and most visitors in general.
TOP PICKS FOR KILLARNEY CITY CENTRE
Muckross
BEST FOR: Access to Killarney National Park
Muckross is a small town that you will most likely visit as one of the top Killarney sightseeing spots as Muckross House and Ross Castle, which is close-by are in this area. Muckross is in Killarney National Park and is ideal for visitors who want to be close to nature, prefer a more quiet spot but also still want to be close by to the action. Killarney's city centre is only a few minute's drive from Muckross so you can still check out all that the city has to offer easily.
TOP PICKS FOR MUCKROSS
Aghadoe
BEST FOR: Road trippers
Aghadoe is about a 10-minute drive from Killarney's centre or 20 minutes by bus. It's also where the Ring of Kerry Begins if you wish to kick off your Irish road trip at the true start and overlooks Lough Leane.
TOP PICKS FOR AGHADOE
Best Places to Stay in Killarney
Find the perfect hotel in Killarney for your budget, desired level of comfort, location and amenities with these best places to stay in Killarney.
Best Mid-Range Killarney Accommodation
These hotels in the Killarney city centre are excellent choices for mid-range budget travellers that love being close to the action and still crave a bit of luxury without forking out a lot of cash.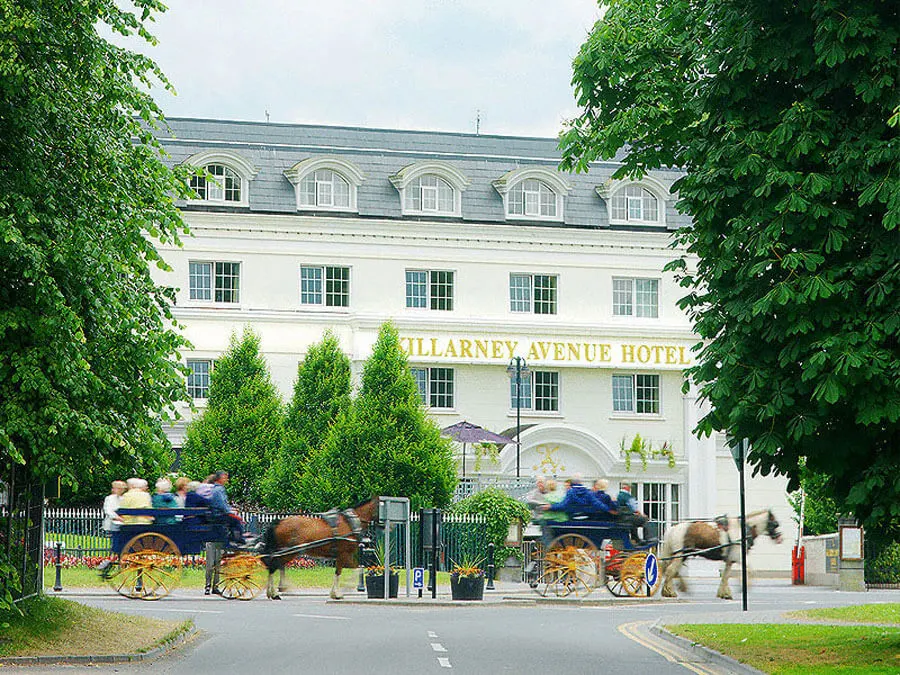 Killarney Avenue
This 4-star hotel is one of the most booked hotels in Killarney, and for good reason. The location is spectacular, right in the centre but also overlooking the Killarney National Park gates. Large windows provide picturesque views, the rooms are luxurious and guests have access to the amenities that include a gym, sauna and swimming pool at the sister hotel, Killarney Towers which is a 2-minute walk away.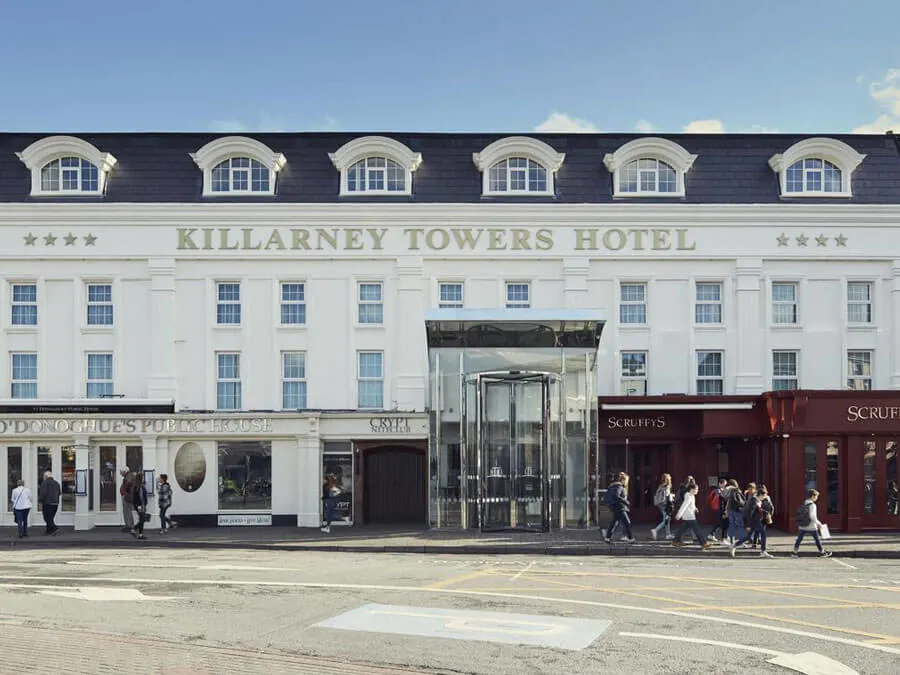 Killarney Towers
One of the top places to stay in Killarney, Killarney Towers is right in the heart and centre of the town and offers guests luxurious, comfortable accommodation. The on-site pub, O Donoghue's is a popular spot for locals that has live music every night during peak season. A fitness centre and swimming pool are some of the top amenities on-site.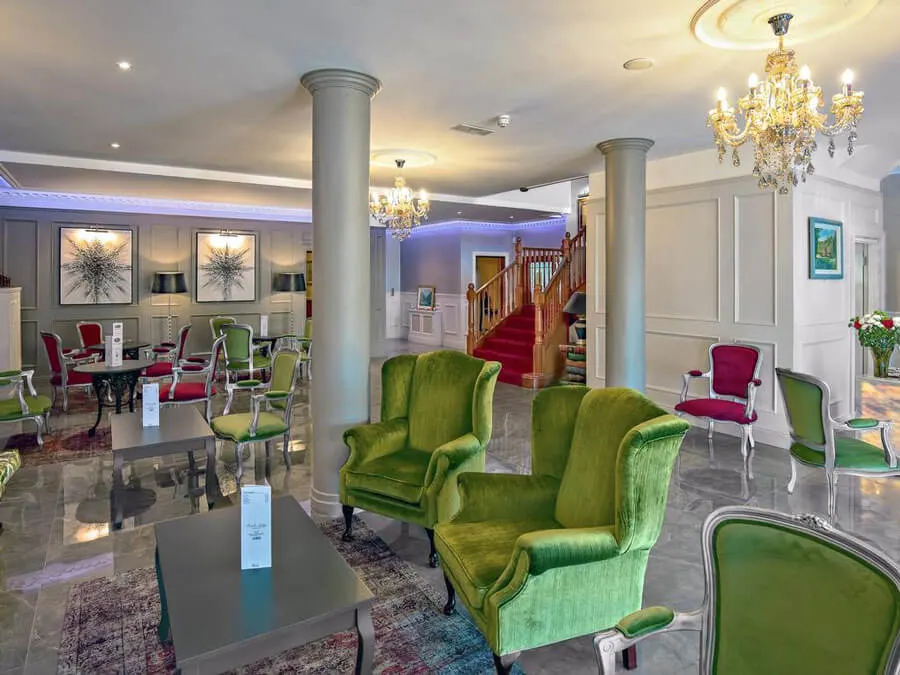 Brook Lodge Boutique Hotel
Ideally located, this boutique hotel has individually designed rooms, all fitted with king-sized beds and sleek furnishings. A sweet treat is that this Killarney hotel has its own private gardens right in the middle of Killarney! If you like to stay somewhere with style, don't think twice about this option.
Not quite what you're looking for? See more hotels on Booking.com.
Best Luxury Killarney Accommodation
These are the best of the best hotels in Killarney offering guests top views, stunning rooms and amenities so good you may not even want to leave the hotel.
The Killarney Park Hotel
This 5-star Killarney hotel combines modern luxuries with Irish charm as rooms are decorated with sleek furnishings or an elegant plaid. It's a family-run hotel that treats guests like celebrities with on-site amenities that include afternoon tea that's served daily by a log fire, an indoor pool, spa and an award-winning restaurant.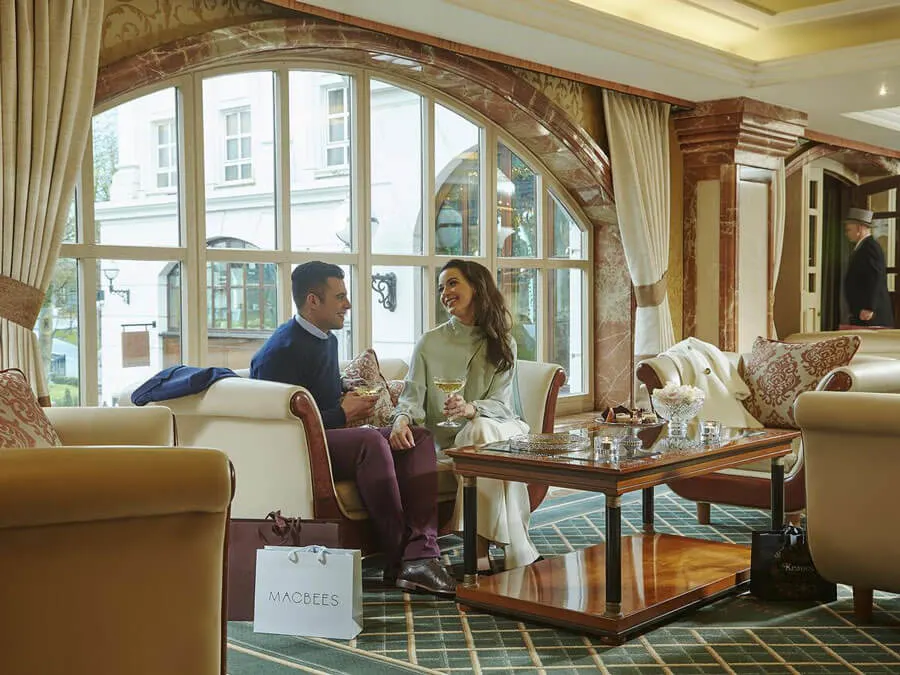 Killarney Plaza Hotel & Spa
Indulge yourself at this stunning 4-star hotel that spoils guests with views over Killarney National Park. A top choice and one of the best places to stay in Killarney, guests can expect to sleep in elegant rooms and bathe in marble bathrooms. The hotel's amenities are lavishly decorated and welcome visitors in with warm, dark tones and leather accents for a romantic feel. An indoor pool, spa, restaurant, a piano bar and a cafe that spreads over 4 floors are available.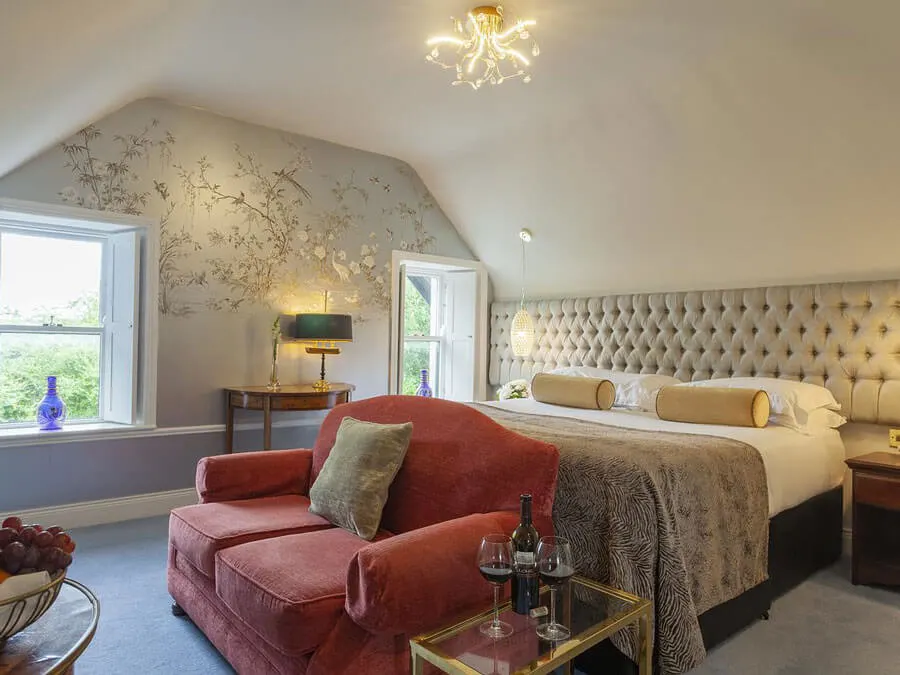 Killarney Randles Hotel
Just a 5-minute walk to Killarney's centre and a 5-minute drive to the racehorse track and Killarney National Park, this hotel is an excellent choice for guests who want the luxury without being right in the centre. Each room is elegantly designed, each with its own unique finishes and touches. The incredible amenities include an indoor pool, a luxurious, high-end spa and a restaurant that offers dining options outdoors with countryside views.
Pro Tip: For extra fun, why not stay in a castle in Ireland? Ballyseede Castle is just north of Killarney and would make your trip absolutely unforgettable!
Not quite what you're looking for? See more hotels on Booking.com.
Best Killarney Budget Accommodation
These are the top places to stay in Killarney for budget-conscious travellers. You won't have to sacrifice on location or amenities with these hotels in Killarney.
Castle Lodge
A family-run hotel that sits just at the gates of the national park, Castle Lodge is a great option for budget-conscious travellers that want to be between the park and the city centre. It provides all of the basic amenities that you need in comfortable accommodation and serves a cooked to order Irish breakfast every morning.
Failte Hotel
Right in the centre of Killarney, this hotel is an excellent choice for those who want to be right close to a top bar! The on-site bar is popular with tourists and locals alike and the restaurant that serves a variety of dishes including Irish, Mediterranean and oriental is an award-winning restaurant. With cosy rooms right in the city centre, what more could you ask for?
Killaran House
A highly-rated, award-winning guesthouse, Killaran House surely delivers. Guests can expect top hospitality, a cosy and charming house to call home for a few nights and a delicious breakfast from an extensive menu that is cooked to order every morning. Killaran House is just a few minutes walk from the centre of the town.
Not quite what you're looking for? See more hotels on Booking.com.
Enjoy your trip and stay in Killarney!
Continue Planning Your Trip to Ireland!
Disclosure: This post contains affiliate links which I earn a small commission from and are at no additional cost to you and help keep this site running. Images used in this article are from Booking.com.