Ireland is one of the most popular travel destinations in the world, and with good reason. As the home of Guinness, to a number of UNESCO World Heritage Sites including the picturesque Cliffs of Moher and the other-worldly Giants Causeway, and as the birthplace of pub culture, this tiny island has a lot to offer.
Get ready for a trip of a lifetime when you travel to Ireland. Expect good times, stunning natural sites, incredible history that dates back further than you can imagine, and more. A trip to Ireland is for those who love the outdoors just as much as it is for those who prefer to sightsee. So no matter if you're planning on doing an Ireland road trip, venturing across the country by train or bus, this Ireland guide is a great place to start planning for your Ireland trip.
The following articles include details for the whole island of Ireland including the Republic of Ireland and Northern Ireland.
Ireland Trip Planning
Have no idea where to start planning a trip to Ireland? Begin with these articles that cover the basics of when, where, and how.
Places to Visit in Ireland
Dublin
The most obvious place to visit in Ireland, which is also an absolute must and most likely where you'll begin and end your journey in Ireland is Dublin. Far from just Ireland's capital city, Dublin and its streets are the beating heart of Ireland that invites multiculturalism, embraces its history, and keeps it fun for locals and tourists alike. Wander through Dublin and you'll find yourself not only passing the charming pubs that you'd so expect but also walking upon rough cobblestones that have stories to tell. Take your time in Dublin, there is much to see beyond what meets the eye.
Is Dublin worth visiting?
Abso-freakin-lutely! A trip to Ireland is simply not complete without visiting the capital. Even if you can only spend 24 hours in Dublin, it's well worth making the most of your time here.
Galway
Galway is one of the finest destinations in all of Ireland and is a necessary stop on any trip. Packed with cafes, pubs, artsy shops, and growing around the River Corrib and along the Galway Bay, there isn't a moment of hesitation when visitors are asked how they feel about Galway. A loved city but locals and tourists, it's a city beyond just city attractions. It's full of entertainment, not just in the pubs at night where live music spills into the streets, but also during the day where buskers are always present and extremely talented. As if the city itself wasn't enough to convince you to stay for a while, Galway is also a great base for exploring the famous Cliffs of Moher, the intriguing Aran Islands, and the beautifully scenic Connemara National Park.
Is Galway worth visiting?
I'd say if you didn't stop in Galway then you didn't really visit Ireland, so yes, it's well worth visiting!
Cork
Some will say that Cork is even better than Dublin (especially the locals), but a visit is necessary for you to decide for yourself. Cork is both lively and youthful, and offers a mix of traditional Irish culture and architecture, with modern ideas and design. You'll find every bit of Irish culture that you could hope to find here, but also great additions to this city that keep it exciting, growing and thriving. Make a stop here not just for the city itself, but also, perhaps, as a base to visit the famous Blarney Castle where you can kiss the stone that is nearby to Cork. Did I mention that Cork has a pretty awesome foodie scene too?
Is Cork worth visiting?
If you're after a city in Ireland that is less touristy then Cork is a top choice where you can enjoy the local culture, a big Irish city, but still have plenty to do, touristy or not.
Belfast
A troubled past hasn't stopped this vibrant city from thriving in today's modern times. While Belfast is far more than just its history, you can't help but wander through the city and see the remains of the stories from the past that are worth hearing and learning about. Joining a Black Taxi tour is a must-do while in the city that will give you a little more appreciation for the grand buildings, pubs, and streets that you'll explore further. Take a wander over to the Titanic Quarter, where yet even more history is evident, and be sure to enjoy the nightlife that is some of the best in Ireland here. Not to mention the food, art, and culture scenes, Belfast truly has it all.
Is Belfast worth visiting?
I'm biased, Belfast was my favourite city in all of Ireland so I will say a massive yes to visiting. There's so much to do here, such a wide variety, and it's a great base for exploring further north in Northern Ireland to places such as the Giant's Causeway, and Game of Thrones filming locations.
Killarney
Killarney is a destination in Ireland that is nothing short of fantastic. The town itself, as charming as ever, caters to all budgets, while the national park that's within minutes of the town centre will transport you to a serene natural setting. Lakes, mountains, delicious cuisine, and castles, you name it, Killarney will show it to you. Not to mention the fact that Killarney is an excellent base for exploring the must-drive Ring of Kerry and the truly spectacular Gap of Dunloe. Killarney has been hosting visitors for a long time, including Queen Victoria in the mid-1800s.
Is Killarney worth visiting?
One piece of advice: Don't skip Killarney. Perhaps I'm biased because Killarney was the first destination I ever visited in Ireland, but I'm far from the only one who loves this touristic town that has so, so much to offer for all.
Dingle
The town of Dingle itself is enough of a reason to visit on its own, but look a little further and venture to where the land meets the water that is known as the Dingle Peninsula. As part of the Wild Atlantic Way, you're in for a treat. The scenery along the coastline? Dramatic. The town? Welcoming and full of colourful buildings. The peninsula? Epic for road trips and home to thousands of years of history. It's an area known for its artisans as well, so you'll find crafty souvenirs, local gin, and live music almost everywhere you go.
Is Dingle worth visiting?
If you're driving the Wild Atlantic Way along Ireland's west coast you will no doubt be stopping here. But for those who aren't driving it is possible to do day trips (or multi-day trips). I recommend visiting Dingle if you're driving.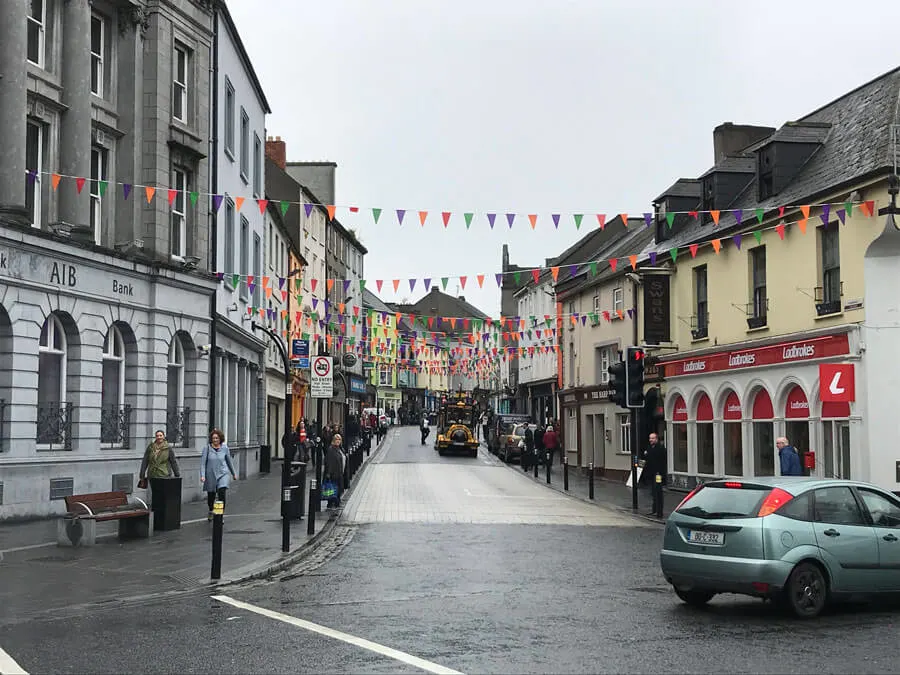 Kilkenny
Opt to wander through the streets of Ireland's medieval city, Kilkenny, which is known for its castle, and being a creative hub for artists. There's no doubt that you'll find yourself walking down Medieval Mile, the main strip of the town if you choose to visit here where you can find restaurants, shops, and of course pubs lining the street and small alleyways that you can duck into to explore more. Find the right one and you'll be treated to a step back in time as historic sites are in the heart and centre of Kilkenny town.
Is Kilkenny worth visiting?
If history is your thing, definitely! Or if you're looking to break up your trip between Dublin and Cork, Kilkenny is right in the middle and is the perfect spot to spend half a day. Otherwise, if you are short on time, I would recommend skipping Kilkenny to base yourself in bigger destinations.
Sligo
If you've ever wanted to surf in Ireland then look no further than Sligo. This county is known for having incredible waves and it's a beautiful spot to spend some time by the water, even if you don't like surfing. Venture inland slightly and there's the delightful town of Sligo where there's quite the foodie scene, or make your way to Carrowmore Megalithic Cemetery for a spot of history. Outdoor lovers and walkers can't miss walking around Benbulben either. Sligo County is endless outdoor landscape scenery from the ocean's edge to the rolling hills inland.
Is Sligo worth visiting?
For surfers or outdoor explorers with a car? Yes. Without a car, Sligo is difficult to explore so I would recommend sticking to the main areas of Ireland.
Derry
Derry may not be on your radar, but maybe the Netflix show Derry Girls might ring as familiar. Perhaps you've heard of Bloody Sunday? That happened in Derry. While this city in Northern Ireland is often thought of for its dark history, there's much more to see and learn when visiting. Take a day or two to learn about the history, see the murals the city is famous for, and then spend your time walking along the historic city walls that are still fully intact. Road tripping around Ireland? Derry is the perfect spot between the Wild Atlantic Way and the Causeway Coastal route.
Is Derry worth visiting?
Personally, I say yes, especially if you're travelling around Ireland. It's Northern Ireland's second-largest city so if you have the time, definitely make a stop here as it gives you a clear understanding of the country's history.