While Ireland is filled with many charming cities, none are quite like Galway. This pretty city along the Wild Atlantic Way offers itself to visitors as a place to explore the city's historic past that dates back thousands of years and is an excellent place to base yourself for scenic day trips to some of Ireland's must-visit sights.
There are many things to do in Galway and beyond that can't be missed so give yourself ample time on your Ireland trip to truly explore the top Galway attractions and fit in all of the best places to visit in Galway.
Top things to Do in Galway
Included below are the must-see Galway tourist attractions as well as the best Galway day trips that seriously are unreal and things to do in Galway that aren't just things that tourists love.
Join a walking tour
Whenever in Europe, one of my favourite ways to get to know a city when I first arrive is to join a walking tour so that I can familiarize myself with the city, see the most important landmarks and get details on the city's history that I wouldn't have learned just roaming around by myself. It's for these reasons that I highly recommend kicking off your time in Galway with a walking tour (paid and free walking tours are available), especially since Galway has quite the history!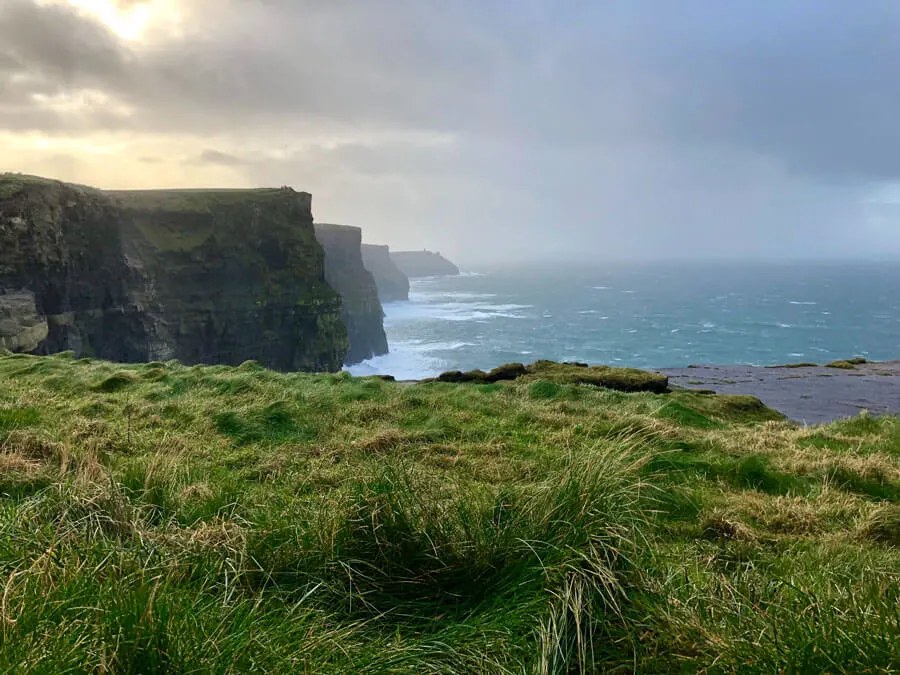 Don't miss a trip to the Cliffs of Moher
Located along Ireland's picturesque Wild Atlantic Way, the world-famous Cliffs of Moher will surely leave you breathless. The cliffs drop dramatically 200 metres into the Atlantic Ocean, giving visitors views of the Aran Islands on a clear day.
This UNESCO World Heritage site isn't just famous for its natural beauty, it's also home to many Irish legends and has been featured in films such Harry Potter and the Half-Blood Prince and The Princess Bride. A trip to Ireland is simply not complete without a visit to the Cliffs of Moher. Galway is the closest major city to this natural attraction so be sure to schedule time in for a Cliffs of Moher day trip!
Forgot travel insurance? No worries!
It's still possible to get affordable travel insurance when travelling.
SafetyWing can be purchased in 180 countries and provides coverage for medical, travel delays, luggage, emergency response plus other perks for a third of the price compared to the biggest competitor for similar coverage.
Explore the Latin Quarter
The Latin Quater is next to impossible to miss as it's the centre of culture in Galway. Stroll down Quay Street and allow yourself to be pulled into one of the many pubs serving up tall glasses of Guinness and traditional Irish pub fare, which is easily among the top fun things to do in Galway for tourists and locals alike. It's popular day and night to take in the atmosphere created by the street musicians who are always extremely talented.
The cobblestone streets are filled during the day by those shopping, looking for their next warm meal and are crawling with those who are looking for a good time and live music in the evenings.
Take a stroll down Salthill Promenade
One of the best things to do in Galway is make your way down the Salthill Prom for a relaxing walk along the Atlantic Ocean (relaxing based on how windy it is or isn't!). This walk will take you just outside of Galway City to the small seaside town of Salthill where there are some accommodation options as well. It's here you'll find small ice cream shops, a few pubs and even casinos.
If you're brave enough then you can jump into the usually chilly Atlantic Ocean waters off of the Blackrock diving board for an added thrill and for something different than the typical city tourist sights. Or it's fun to just watch those brave souls take a dive in while you stay warm on the shore!
Get a Claddagh Ring
The Claddagh ring was first made in Galway, in the area called The Claddagh that is just across from Galway City (you probably won't even notice when you're in The Claddagh it's that close). The Claddagh ring is a famous ring made of two hands holding a heart with a crown on top that represents, friendship, love and loyalty. Depending on which finger and which direction you wear the ring indicates your status as either single, in a relationship, engaged or married.
You can pop into one of the many stores that sell this famous ring but be sure to check out Thomas Dillion's, who have been making the Claddagh ring since 1750!
Chill out or get adventurous on Corrib River
The Corrib River may be small, running only 6km but it is the fastest flowing river in Europe. It's here, or along one of Galway's many canals, that locals love to sit and relax to the sound of rushing water. But if you're a more adventurous soul and are craving some adrenaline then opt to kayak down this rushing river.
Be lead down the whiskey trail
Once you've finished with all the things to do near Galway, take some time in the city to join in on a local Irish pastime, drinking whiskey! A guide will take you to several pubs in the heart of the city where you will have a taste of single malt or single grain whiskey. The third option is the famous Irish "Pot Still" whiskey which is made by a single distillery from a mix of malted and unmalted barley distilled in a pot still, hence the name. This tour will certainly quench your thirst so be sure to add it to your list of activities to do in Galway.
See the Spanish Arch
Originally an extension of the city walls and built to protect ships in the Galway quays, the Spanish Arch was built in 1584 and is one of two remaining arches left of the 500-year-old city walls. Although damaged through time, the Arch still stands strong to this day. Located near the water, you can see locals hanging around on the sunny days and enjoying a few drinks. Other than being a great monument and a testament to the city's rich history, the Arch nowadays acts as the entrance to the City Museum.
Experience the rustic beauty of the Aran Islands
Just at the mouth of Galway Bay lie the Aran Islands, three small islands that offer visitors the chance to step back in time. The islands have many ancient ruins, walls, monuments and are one of the only places left in Ireland where the local residents still speak Gaeilge, the traditional Irish language.
The best way to visit the Aran Islands is on a day trip from Galway, but you also have the option to spend a night or two, taking your time to explore these islands further. Most tours include a stop on Inisheer, the smallest of the three islands and a cruise past the Cliffs of Moher so that you get a chance to see their majestic size from the water.
It's also possible to purchase return ferry transfers and do a day trip yourself or as a part of a tour that offers a mini bus tour and then time to explore on the largest of the three islands, Inis Mor.
Take a day trip to Connemara National Park & Kylemore Abbey
Connemara National Park is famously known for its vastness, scenic landscapes, untamed woodlands and bogs. Mountains and hilltops weave through it creating a fantasy-like scenery. However, among all that wild beauty hide many castles. Like jewels in the rough, these castles rise from the earth dignified and proud. One such example is Kylemore Abbey, the most photographed castle in all of Ireland.
Visiting Connemara and Kylemore Abbey are typically done as a day trip as it is one of the most popular things to do around Galway. Tours often have stops at Lough Nafooey, the most haunted lake in Ireland, Lough Corrib and the village of Cong, among many other photogenic scenic spots.
Join a yoga retreat
For something alternative to do in Galway, why not join a yoga retreat, in the beautiful countryside of Galway County? There are a number of short, 2-4 day yoga retreats that would add a bit of relaxation and rejuvenation to your trip.
READ MORE: 10 Best Ireland Yoga Retreats
People watch in Eyre Square
Without a doubt, you will end up spending some time or at least walk through Eyre Square as it's one of the easiest things to see in Galway. While this square is well-known as Eyre Square, it was renamed as John F. Kennedy Memorial Park when he made a speech there during his time in office. The park is located in the heart of Galway City and is where you can grab a seat for a break from exploring or sit down at one of the many pubs that surround the square.
Learn Galway's history at the Galway City Museum
The City Museum is a Galway must-see spot for history lovers. The exhibitions offer a detailed look into the city's history, its inhabitants, way of life and so much more. You will learn who lived in the city, see tools and armor used from ancient times as well as sea science and more.
The museum offers both permanent and temporary exhibitions and is one of the top free things to do in Galway that is a great way to spend an hour or two escaping from any rain showers that may disrupt your exploring.
Visit Galway Cathedral
At first glance, this stunning building seems like it has stood in its place for centuries. However, the Cathedral was completed in 1965 making it one of the youngest cathedrals in Europe. While the outside may not seem overly impressive, built in a renaissance style, it's worth entering for a chance to see the mosaics and stained glass. You can enter for a service or you are allowed to visit for free between services, though a €2 donation is asked for.
Visit Ireland's largest lake
Take a cruise from the centre of Galway along Corrib River and to Lough Corrib, the largest lake in Ireland for some beautiful Galway sightseeing. For picturesque views and a bit of time off of your feet, this cruise is a great way to see some of Ireland's beauty near Galway.
Browse through Charlie Bryne's Bookshop
For a cozy way to spend some time and one of the best free things to do in Galway (in my opinion) is to visit one of the most famous bookshops in Ireland. Charlie Bryne's Bookshop is a maze of aisles with books piled high on all and every topic that you can imagine. Filled with over 10,000 books, this independent bookshop sells new, used and bargain books that you can browse when you need to get out of the rain.
Snap a picture at Galway Bay
Galway Bay is a scenic spot in the city that is well-known for the brightly coloured houses that line the city side of where Corrib River and the bay meet, right by the Spanish Arch. Be sure to make your way onto the other side of the river to get the best pictures of the houses, which can easily be done on a walk down the Salthill prom.
See Lynch's Castle
Right in the centre of Galway, this castle may not be what you picture but it is still a castle! Lynch's Castle is located on Shop Street and was built by the Lynch family, one of the 14 tribes that ruled Galway back in the day. Parts of the castle date back to 14th century but today this easy to miss castle is, unsurprisingly, a bank!
It's said that the term lynching originated from the Lynch's family. Legend has it that the father hung his own son after he murdered a Spanish sailor (while fighting over a woman). You can still see the coat of arms of the family on the castle and you're welcome to walk inside on the ground floor of the bank where descriptions and the history of the castle are displayed.
Have you ever dreamed of staying in a castle? While you can't at Lynch's Castle, there are plenty of other Ireland castle hotels for you to choose from, some of which are close to Galway.
Support local at Galway Market
Visiting a city and leaving without a sweet souvenir or tasting the local food should be considered a sin. To avoid committing this crime, make sure you take a stroll through the Galway Market. Not only will you be able to buy crafts and other sorts of souvenirs, but you can also have a taste of some of the delicious homemade food. The market is open on Saturdays and Sundays and provides an abundance of food and knickknacks for you to choose from. During the summer months of July and August, it is also open on Fridays.
And there you have it! A collection of the best things to do in Galway and top places to see in Galway that are sure to fill your time in this charming, picturesque and incredible city.
Galway FAQ's
When is the best time to visit Galway?
Galway is best visited during the same times as the rest of Ireland, between May and October, with the prime months for weather being June, July, and August. The shoulder seasons of May and September/October will have lower price points on accommodation and fewer tourists but the weather will be more typical Ireland weather – rainy. Galway is also famous for its festivals and you'll find them starting at early as March for St. Patrick's Day, all the way through until October. No matter when you visit, bring layers as you'll most likely visit the Cliffs of Moher from here and the breeze there is a little strong.
How many days do you need in Galway?
Galway is a great base to explore areas around that include the Cliffs of Moher, Connemara, and the Aran Islands. Honestly, I would recommend all of these trips and those alone make up 3 days in Galway! Ideally, 3-4 days in Galway lets you see the city, and do some day trips. The city itself can be done in 24 hours, but it's one destination that I wouldn't leave too little time in!
Where to Stay in Galway
Galway City is the place to be when visiting Galway. Guaranteed you're going to want to be able to walk back to your accommodation after a few pints at the pub or a full day of sightseeing. Luckily Galway is small enough and with plenty of accommodation right in the city that finding a place to stay is relatively easy. Here are a few top picks of the best places to stay in Galway:
The Hardiman: A luxe, elegant, and fabulous hotel right in the city centre.
Park House: A chic and welcoming 4-star hotel.
Jurys Inn Galway: Overlooking the Spanish Arc, this hotel can't get any closer to Galway's top attractions.
Continue planning your trip to Galway…