Ireland is full of bucket list destinations but one activity in Ireland that simply can't be missed during your Ireland trip is the chance to sleep like a royal and live out your fairytale fantasies in one of the best castle hotels in Ireland. There are quite a range of Irish castle hotels that vary in size, price and of course location.
Scattered across the country, some in cities and most outside of major tourist areas, this round-up of castle hotels will surely convince you that you absolutely must stay at least a night in one of these fabulous Irish castle hotels (just in case you're not already convinced).
When you book a castle hotel in Ireland it's so much more than just where you're going to rest your head at night, though you will be doing so in a fabulously decorated guest suite. From the decor to the activities available, the picturesque location to the castle hotel facilities, there's much to consider when booking one of the best castle to stay in in Ireland.
From weddings to hiking, golfing to spas, horseback riding to high tea, no matter what kind of castle hotels in Ireland that you're looking for, your stay in Ireland is bound to be an unforgettable one at an Irish castle from this article, hand-picked just for you.
Best Castle Hotels in Ireland – Top Picks
Picking the best castles to stay in Ireland is no easy feat, but these properties have been picked as the top picks based on their popularity, features and decor for a truly authentic Irish castle experience. Of course, more details are provided for each and more of the best castle hotels in Ireland below!
Top Castle Hotels in Ireland
There is quite a range of castle hotels in Ireland but I am happy to assure you that through thorough research these are among the best castles in Ireland to stay in for all budgets, desires and types of travellers.
Ballyseede Castle
Location: Ballyseed, Tralee
Venture north of Killarney and step into a world that dates way back at this Irish castle. The Ballyseede Castle is a luxurious property that encompasses 30 acres of woodland and private gardens for guests to enjoy during their downtime. The castle welcomes guests in through a grand entrance, complete with a large oak staircase, with traditional furnishings that are seen throughout the hotel and in each room that is uniquely decorated.
You won't have to venture far for entertainment. Other than long afternoon strolls on the property you can indulge with high tea in one of the drawing rooms that have elegant details such a marble. Plus, delicious traditional Irish cuisine is available on the premise for you to enjoy as you please.
Solo travellers can rejoice, this castle even has rooms for those who love to venture the globe alone!
Belleek Castle
Location: Belleek, Ballina
Step inside this castle hotel and experience old-world elegance right from the lobby, through the Great Hall and into all of the rooms. Guests are invited to sit back and relax in front of the 13th-century fireplace in the Great Hall or one of the other many open fires throughout. Or perhaps exploring some of the 1000 acres of woodland that sits along River Moy suits your fancy.
No matter where you explore in the hotel, each room will delight you with 17th-century nautical decor in one room to a bar built out of 400-year-old salvaged wood from Spanish shipwrecks in another and of course, elegant, castle-style decor for you to sleep surrounded by.
Guests are in for a treat at the castle's restaurant that serves warm and fresh country cuisine in a candlelit dining room for a truly romantic experience.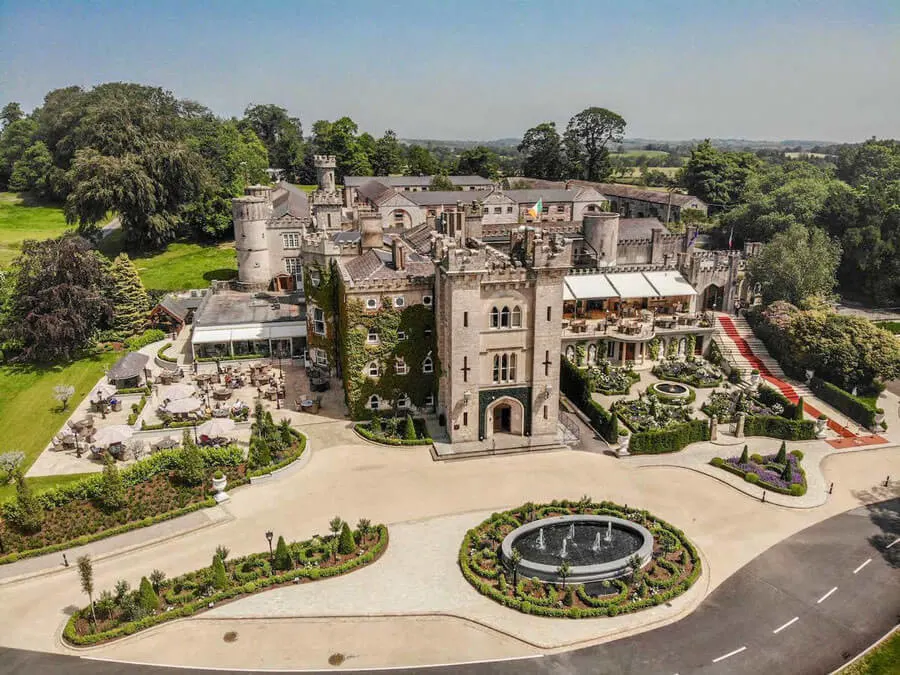 Cabra Castle Hotel
Location: Kingscourt
Elegant is an understatement, the spectacular Cabra Castle Hotel combines old-world style with modern updates for a truly beautiful combination of luxury for today's world. The grounds alone are breathtaking, while the guest rooms are filled with rich colours and textures, tempting guests to stay for longer.
Originally built in 1760, this 18th-century castle is just an hour north of Dublin airport, making it an accessible castle for both local and international guests to enjoy. From the picturesque grounds to the grand entrance and historic decor, this fashionably converted hotel is a top pick.
Guests have the option of booking a suite in the castle itself or in one of the courtyard buildings that have been converted into rooms for a more affordable option while still being able to use all of the elegant amenities.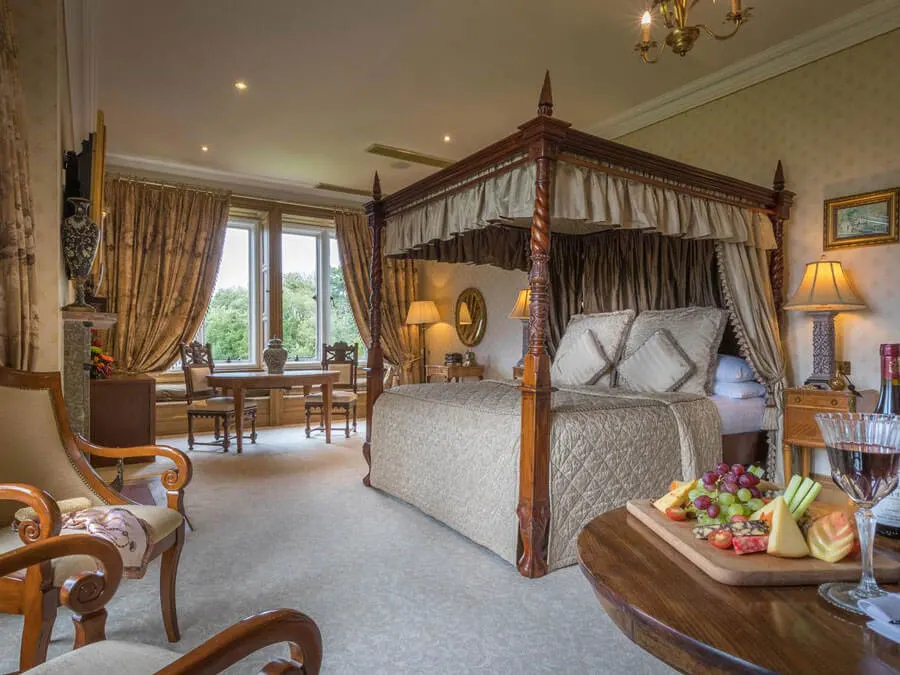 Lough Rynn Castle
Location: Mohill
Decked out in lavish, historic decor, this secluded hotel oozes with charm from its past. Nestled along the shores of Lough Rynn Lake, guests are easily swayed to roam around the castle gardens and across some of the 300 acres of forests and natural scenery.
Inside, the castle is adorned with antique furnishings to preserve the old-world feel, along with decorative glass, wood pannelling and open fireplaces that only add to the already warm atmosphere. Large soaking tubs, scrumptious high tea, grand sitting rooms and an award-winning, fine-dining experience are just some of the amenities to enjoy while staying at this castle in Ireland.
Clontarf Castle
Location: Dublin
Chic and fit for a modern-day royal and in the perfect location for those who love the city, Clontarf Castle is an excellent pick for travellers who want the castle stay experience while also sightseeing in one of Ireland's best city's – Dublin.
This 11th-century castle is only 10-minutes from the Dublin city centre but offers guests the chance to experience its luxurious charm not only in the boutique-style rooms but throughout. Rich textures and ornate decor fill the lounges, foyer and dining rooms where guests can enjoy a bold glass of wine, morning coffee, afternoon tea or a meal from the award-winning restaurant.
Ballygally Castle
Location: Ballygally
Ghost lovers, this is the place you're going to want to stay. This castle hotel is said to be haunted and even has a ghost room and dungeon. Besides ghosts, the property has remarkable views of the Antrim Coast, an area famous for its scenic splendor.
Originally built in 1625, this castle hotel still has original features, such as the exposed wood beams that decorate the guest suites. Many of the rooms have views of the coast and the Garden Restaurant offer guests a splendid view of the castle grounds while dining for afternoon tea or for modern British meals.
Kilkea Castle
Location: Kilkea
This large estate houses 140 rooms in the castle itself and on the grounds in various accommodation options. The guest rooms are a mix of Irish country charm, historic elegance and modern luxury while the shared areas of the hotel offer guests the chance to lounge in grand rooms with tall windows and furnishings decorated with royal colours.
Both formal and informal dining options are available on-site that serve traditional Irish cuisine with a modern twist. Guests can opt to enjoy a drink or a few at the hotel bar, wander through the immaculate castle gardens or participate in one of the many activities offered on the castle grounds. An 18-hole championship golf course, tennis, archery and horse-riding are just some of the ways you can keep yourself entertained.
Waterford Castle Hotel & Golf Course
Location: Waterford
Your dreams of being a princess are about to come true. Waterford Castle Hotel is situated on its own private island that guests access by a private car ferry so that it's just you, the other guests, and the welcoming staff who are there to help you have the most brilliant time.
Rich golds, deep reds, blues and greens decorate the castle halls and guest suites, each uniquely designed. While outside you're surrounded by green nature, the River Suir and have a plethora of activities for entertainment such as a driving range, archery, an 18-hole golf course, tennis and more.
Kilroran Castle Hotel & Spa
Location: Ballyfarnon
A more quaint and traditional style castle, Kilroran Castle Hotel & Spa really steps it up with their on-site spa that offers visitors the grand treatment. Swim in the indoor pool that has columns built around it or soak in the hot tub for a relaxing afternoon.
This castle hotel is just 45 minutes from Sligo airport and has activities available on the grounds or close-by that include hiking, golf, sailing and biking. Of course a fine dining restaurant and high tea are also on-site.
Dromoland Castle
Location: Newmarket on Fergus
Just 21km outside of Limerick, this 5-star castle hotel is one of the more updated and modern hotels on this list. While the exterior is absolutely fabulous and will help you live out your royal fantasies, the inside has all of the modern amenities and style that you love.
The dining room and common areas are more extravagantly decorated while the guest rooms are bright and chic with glorious bathrooms that are covered in white marble. Views from the rooms are of the castle gardens and some even include the lake.
Abbeyglen Castle Hotel
Location: Clifden
Nestled in the heart of one of Ireland's most picturesque destinations, Connemara, Abbeyglen Castle hotel offers itself as the perfect base for exploring the castle grounds and beyond into Connemara's jaw-dropping scenery. The Twelve Ben mountains can be seen in the distance from this Ireland castle and between sightseeing guests can enjoy the on-site spa, AA Rosette restaurant and free afternoon tea.
The guest rooms are elegant with country charm while the sitting rooms, bar and restaurant are dressed in warm colours and rich textures, with exposed stone and large lounges. Perhaps the best part of the accommodation, guests can savour drinks outside while taking in the beautiful Connemara views.
The Lodge at Ashford Castle
Location: Cong
Ashford Castle is perhaps the most famous of all the castle hotels in Ireland. Ashford Castle itself is also among the most expensive castle hotels in the country though it does pack some history. The 800-year-old castle was home to the Guinness family and was named a National Geographic Unique Lodge of the World.
As exceptional as Ashford Castle is, it's not to say that The Lodge at Ashford Castle, that is set on the Ashford Castle estate isn't magnificent. The Lodge overlooks Lough Corrib and gives guests a place to rest their heads just 40-minutes outside of Galway, close to the picturesque Kylemore Abbey and Connemara.
The guest rooms are chic and modern or cottage style fit for a royal. And for foodie lovers, Wilde's Restaurant serves up a 6-course meal filled with fresh local ingredients that you'll want to savour every bite of.
READ MORE: 18 Amazing Things to do in Galway
Ballynahinch Castle Hotel
Location: Ballynahinch
Ballynahinch Castle Hotel has one of the most striking and photogenic locations of the castles to stay in Ireland. Set in County Mayo, with the Twelve Ben Mountains as the backdrop, you're in for a treat not just because of the surrounding nature and picturesque location but also because of the numerous entertainment options available on the 700-acre property.
Spend time hiking, walking or cycling through the natural beauty, try your hand at woodcock shooting or join in the lobster experience in the summer. The guest rooms are elegantly decorated with updated, sophisticated ensuite bathrooms.
Lough Eske Castle
Location: Donegal
A charming and modern castle hotel, Lough Eske Castle is a stylish retreat for guests to get away from it all, even if just for a short time. This property is renowned for its luxurious spa services that include a sauna, steam room, massage services and a swimming pool that is set in a glass atrium so that guests can overlook the photographic grounds while relaxing.
The entire property just oozes elegance from the bathrobes to the oak furniture to the views of the pristine castle gardens. Close-by guests can participate in a round of golf, join a surf lesson or fish on the near-by Eske Lake.
Kinnitty Castle Hotel
Location: Kinnitty
Last but certainly not least, this gothic-style castle hotel that dates back to 1209 has gorgeous rooms that feature original decor for a unique stay. The property is massive, on some 650 acres that give guests the opportunity to explore by foot on the numerous trails by yourself or with a guide.
Gourmet cuisine is served at the on-site restaurant and guests are invited to sit in the bar and enjoy a Guinness in the Library Bar that features an open fireplace for an extra cozy atmosphere.
Enjoy your time in a castle hotel in Ireland and have the most fabulous stay living like a royal!
Continue Planning Your Trip to Ireland!