Kuta is far from the typical tourist image that people see of Bali but it certainly has it's appeal. It is the capital of entertainment in Bali and because of this there are many things to do in Kuta.
It's a far cry from the beaches of Uluwatu but Kuta Beach holds its place when it comes to beaches in Bali as it's still a great place to catch sunset and waves. Kuta is not traditional Bali but it does have a ton of shopping, shows, nightlife and water activities that is appropriate for all ages.
While a visit to Kuta is popular for most people as their first stop in Bali, it certainly can keep you busy for a few days or in the neighbouring region of Legian and Seminyak that is often grouped together with Kuta.
Forgot travel insurance? No worries!
It's still possible to get affordable travel insurance when travelling.
SafetyWing can be purchased in 180 countries and provides coverage for medical, travel delays, luggage, emergency response plus other perks for a third of the price compared to the biggest competitor for similar coverage.
Things to do in Kuta
Discover what to do in Kuta for the ultimate few days in Bali's entertainment capital from the top Kuta attractions to the best Kuta activities.
Chill Out on Kuta Beach
Once a quiet fishing village, Kuta Beach has boomed to become the most popular beach in all of Bali. It's a big beach resort destination with nearby Seminyak and Legion areas. Kuta Beach is frequented by surfers and many beginners because of the soft sandbar that makes it an ideal spot to learn.
Legian Beach which is just a walk down from Kuta Beach is also popular but less crowded.
Have a travel photoshoot
Hiring a vacation photographer is a great way to capture your Bali holiday memories for a priceless souvenir that will last a lifetime.
I hired a travel photographer from Localgrapher when I was in Canggu and the pictures from the beach turned out amazing, just as they would in Kuta.
READ MORE: Step Up Your Travel Pictures with a Vacation Photographer from Localgrapher
Visit Bali's first tiki bar
Catch the sunset, spend the day chilling by the pool or grab a meal at Azul Beach Club that's an easy stroll across the street from the beach.
The best part are the cocktails that are tiki-themed with a Balinese twist. Expect extravagant glasses, classic favourites and jumbo-sized treasure chests filled with delicious drinks for you and your friends to share.
Food and drinks can be enjoyed with views of the sunset and the beach from covered cabanas while the DJ plays or from the infinity pool that's framed perfectly by palm trees for an Instagram worthy evening.
My visit was sponsored by Azul Beach Club. As always, all thoughts and opinions are my own (but seriously, try the cocktails!).
Check Out Upside Down World Bali
If you need to escape the heat then you have a few Kuta sightseeing options, with Upside Down World Bali being one of them. This indoor entertainment venue is where you can strike a wacky pose where the furniture in each of the specially designed rooms is just wrong. Snap a picture while it looks like you're cooking upside down, hanging sideways in a living room and more.
Get Wet at Bali's Waterparks
Bali has not one, but two waterparks. The more popular of the two is Waterbom Bali which has 17 slides and has been built up for those who wish to spend a day entertaining themselves on the slides. Restaurants, pools and tropical gardens make it a spot for all ages.
Circus Waterpark is the second and closely located to Waterbom Bali. The draw here is that it is more kid-friendly with a dedicated kids area and the price is cheaper. There is also a lazy river, slides for adults, restaurants and a spa within the park.
Hit the Shops at Beachwalk
Beachwalk was opened in 2012 and is a first for Bali, straying away from the typical mall outlet style. Visitors have been streaming in ever since to visit the abundance of stores displaying international brands. It's only a quick walk from the beach for a much-needed break from the heat. Dining options are also available here.
Catch a Show at Kuta Theatre
Finding things to do in Kuta at night is not hard to come by and one of the top things to do in Kuta is to watch the magic and cultural show at Kuta Theatre. The performers wear traditional Balinese costumes that distract you from the illusions as they prepare.
Visiting Kuta Theatre is an excellent option if you aren't up for a night of drinking or it can be a good show before dinner.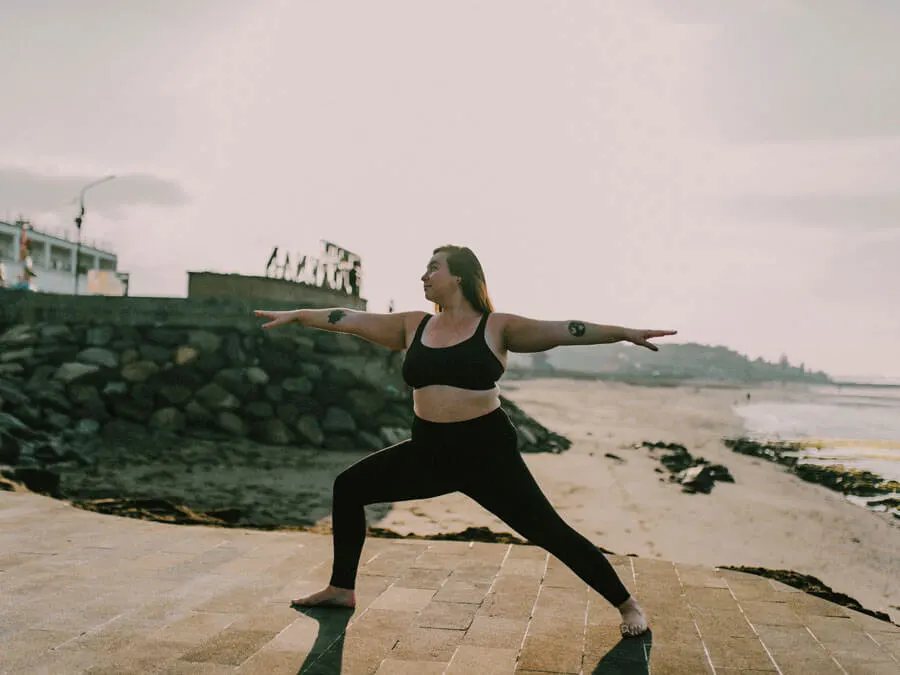 Join a yoga retreat
Chill out for a few days (or longer) on a yoga retreat in Kuta that treats you to a time of luxury that your body will thank you for between yoga classes and massages.
READ MORE: 11 Best Bali Yoga Retreats
Explore Dream Museum Zone
Dream Museum Zone (DMZ) is a 3D art trick museum and is for more than just kids, it's one of the most interesting places to visit in Kuta. A visit here and people of any age will want to release their inner kid with the amount of 3D paintings that allow you to interact with them.
The life-size murals are the ideal size for you to pose with so you can laugh at yourself later with the funny scenes playing out behind you.
Hangout with Sea Turtles
One of the best things to do in Kuta that actually gives back to the island is visiting the Bali Sea Turtle Society. It gives you the opportunity to help some local wildlife in the area. With a donation of your choice, you can own a turtle and help it back into the water. The turtle hatchery helps protect turtle eggs before releasing them into the wild.
The turtle hatching season takes place April to October and you can help out after 4pm.
Practice Surfing at Armada Flow House
If the waves aren't ideal for the day you always have the option to head to Armada Flow House where you can catch a few waves that are always consistent. It's available to adults and children alike with the option to choose a body or flow board. They also serve beachside favourites at the on-site dining.
Get Social at Sky Garden
Sky Garden is where people not just from Kuta but multiple areas in Bali come for a good night out. After 5pm you can catch their all you can eat dinner for ridiculously cheap prices and then all you can drink. The rooftop lounge is actually apart of a multi-layered complex of different venues where you can eat and drink until your heart's content.
Sky Garden also has top DJs from around the world visiting to spin you some tunes nightly. It has been voted the #1 nightclub in Indonesia and the 70th in the world.
See Vihara Dharmayana Kuta
It's possible to find culture in Kuta and one such spot is Vihara Dharmayana Kuta, a Chinese Buddhist temple. Though it's located on a busy street it still holds a special place as Tibet's 14th Dalai Lama did visit it when he was on his international tour in the 1980's. You can easily spot the temple from afar with its bright red walls and murals.
Be A Dare Devil on 5GX Bali Reverse Bungy
If adrenaline is your thing then 5GX Bali Reverse Bungy is for you. It gives you the feeling of a reverse bungy as you're catapulted into the air from the ground.
The bungy can reach speeds of up to 200km/h. If safety is your concern then don't bother yourself with worrying as the bungy was installed by a New Zealand company and safety is taken very seriously. As their slogan says, its the only legal way to get "high in Bali."
Kuta Accommodation
Read my detailed Kuta accommodation guide to find the best places from budget to luxury, hostels to hotels and villas.
How to Get to Kuta
Kuta is extremely close to the Bali airport, making it a breeze to get into the area. From the airport you have the option to grab a taxi, Bluebird is a trusted taxi company and they have a booth set up just outside of the arrivals hall. Many people will shout at you as soon as you leave for a taxi. Another option is to book a private car which can usually be done through your accommodation.
Getting Around Kuta
Kuta is easy to get around, it's small enough that you can walk to almost anywhere. If you're heading somewhere a little further grab a taxi or use one of the apps such as Grab, Uber or Go-Jek (the Indonesian version of Grab and Uber). Be aware that sometimes these app drivers cannot pick up in certain areas due to the taxi mafia.
Continue planning your Bali holiday…