Ubud is the centre of Bali and where all aspects of Balinese life come together, making it an exceptional place to visit as there are plenty of things to do in Ubud. It's a tourist paradise no matter your budget but don't let that deter you from visiting.
The village of Ubud itself is small but the surroundings are where the real magic and sites are and where you can expect to escape the hustle and bustle.
Visit Ubud and you'll find culture, art, good food, and shopping. Lot's of shopping. It's where yogis flock to to enjoy the serene settings just off of the busy streets and where visitors come to indulge in the local lifestyle through cuisine and the nature.
Ubud is as spiritual as much as it is a tourist centre and this unique combination makes Ubud one of the top destinations not only in Bali but in the world, making it a must-visit destination during any trip to Bali.
Forgot travel insurance? No worries!
It's still possible to get affordable travel insurance when travelling.
SafetyWing can be purchased in 180 countries and provides coverage for medical, travel delays, luggage, emergency response plus other perks for a third of the price compared to the biggest competitor for similar coverage.
Things to do in Ubud
In this article you'll find what to do in Ubud and travel tips to keep you busy for 2 days to 1 week. There are so many Ubud activities and places to visit in Ubud that your time spent here can vary a lot depending on what you want to do during your Ubud itinerary.
All prices are quoted in Indonesia rupiah. Check up to date conversions here.
Get Your Instagram Game on at Tegalalang Rice Terrace
The Tegalalang Rice Terrace are one of the most famous Bali attractions and one of the best things to do in Ubud. They were made famous because of their natural beauty even though it's really just a place where farmers do their work. The rice terrace uses a Balinese cooperative irrigation system and are one of three rice terraces in the region.
You are free to walk through the rice terrace for an entrance fee of 10,000 but you will also be asked to give a donation each time you cross into a new farmers property. The terraces offer incredible views from above for drone shots but also are stunning down on land.
If you don't feel like trekking through the terraces (beware don't go after it rains!) then you can get a beautiful shot on the famous 'Love Bali' swing that sits just outside of the terraces at one of the cafes that lines the street.
Marvel at the rice terraces from an infinity pool
Tis Cafe has yet to become popular but it will surely be soon because this cafe has not one but two infinity pools that you can float in while taking in the incredible views of the Tegalalang rice terraces.
The best part? Not many people hike through the part of the rice terraces that Tis Cafe overlooks. Prices are decent at the cafe as well so you can spend a few hours soaking in the sun and the views.
Visiting cafes (especially ones like this) are apart of Ubud sightseeing that is a can't-be-missed.
Brave the Ubud Monkey Forest
If you're as terrified of monkeys as I am then avoid this place at all costs. Don't ask why I still went, I suppose it was just curious to see what all the hype was about as this is one of the top things to do in Ubud.
The area is actually a Sacred Monkey Forest that is a sanctuary for the 700+ grey long-tailed macaques that live in the area. The forest is not huge but it is beautiful when you're not trying to dodge monkeys. Besides the monkeys, you'll see some temples, one of which is dedicated to village funerals.
The monkeys in this monkey forest are quite used to humans so do not bring in any food, plastic water bottles or wear jewelry. You may have a new friend or a few if you do.
Ubud Monkey Forest is located in central Ubud and is within walking distance of any accommodation that is in town. The entrance fee is 50,000. And be careful around Monkey Forest Road as some of the monkeys do come out of the forest!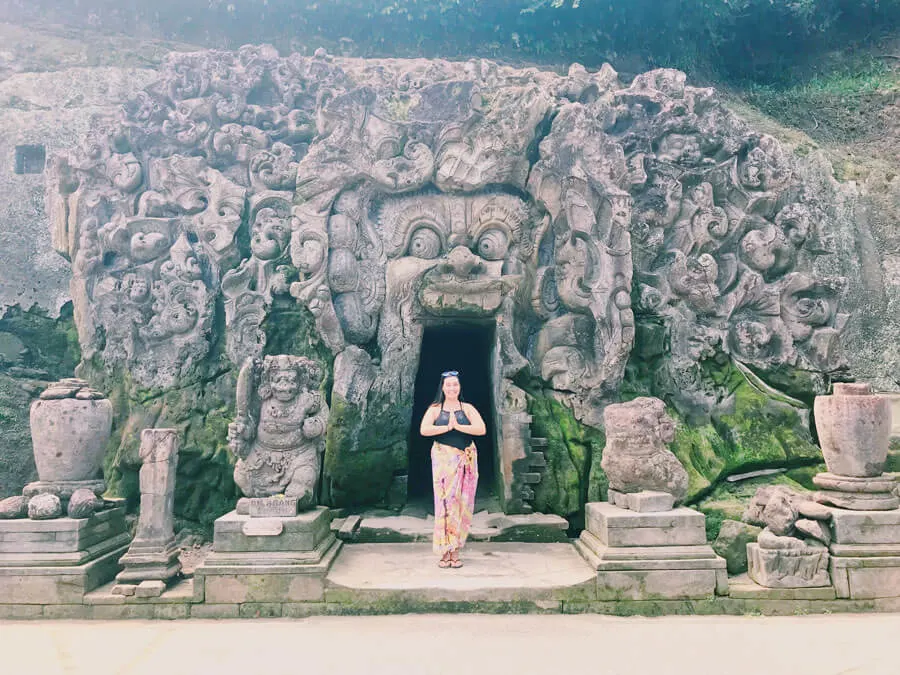 Visit Goa Gajah (Elephant Cave)
This 9th-century sanctuary is most famous for the face of the cave that has intricate details carved into the stone's surface. But walk around and you'll see the beauty of the rest of the area. Don't let its name fool you though, this cave is not where you'll find elephants.
Instead, there are bathing pools, rock-wall carvings, fountains and a meditational cave.
Goa Gajah has significant historical and spiritual value as it was originally built as a place for meditation. It is located just outside the centre of Ubud and has a 15,000 rupiah entrance fee. Many tours will include a stop at this famous spot.
Have a travel photoshoot
One of the best things I ever did for priceless memories was hire a vacation photographer through Localgrapher to get some epic travel pictures of me in Bali.
As a solo traveller or with an iPhone the quality of pictures can only be so great. But with a professional travel photographer you can get epic pictures of you in Ubud, frolicking through the rice terraces, wandering around temples or making friends in the monkey forests.
How would that be for a travel memory?
READ MORE: Step Up Your Travel Pictures with a Vacation Photographer from Localgrapher
Shop Through the Ubud Market
Ubud is the top place to shop in all of Bali and the Ubud art market is the centre of it all. It's located right in the heart of Ubud and offers a splendid selection of souvenirs from clothing to jewelry, bags, trinkets and much more.
Many hand-crafted goods can be found here that come from the neighbouring villages as Ubud is the centre of multiple art producing villages.
The market was also the location for a scene from Eat, Pray, Love. When you come here make sure you've got your bargaining skills ready.
Stop by Ubud Palace
Ubud Palace, Puri Saren Agung, is a royal palace that was built in the 1800's and is a main landmark in Ubud. It sits on a busy street but step through the gates and it will be peaceful to admire the traditional Balinese architecture that has been extremely well preserved. It is also a popular place to watch dance performances in the evening.
Chill out at an adventure club
You're probably wondering what exactly an adventure club is and you're not alone, I too wondered what I was getting myself into when I first visited D'tukad River Club.
Well, picture this: infinity pools, a heart shaped pool, swings, photo areas and more all right beside one of Ubud's most famous waterfalls while a DJ plays tracks in a booth overlooking the whole club. They even have floating breakfast in their infinity pools!
If you need a break from adventure or just want a day to chill out with a coconut or margarita then I highly suggest visiting D'tukad River Club which is about a 25-minute drive from the centre of Ubud.
The entrance is 20,000 rupiah which is to cover the entrance to Tegenungan waterfall. You can access the waterfall from the club and I recommend going about halfway down the steps for a great photo op without all the crowds at the bottom.
Stroll Along the Campuhan Ridge Walk
Another natural hot spot in Ubud is the Campuhan Ridge Walk which allows visitors to escape from the hectic Ubud centre streets.
The hilltop Campuhan Ridge Walk is just outside of the centre of Ubud and is a magical place to catch sunset and get a workout through the rice fields, ravine and lush green setting. It's a 9km walk from start to finish up and down moderate hills that makes you feel like you're further away from town than you really are.
Watch Sunrise from Mount Batur
Mount Batur is technically not in Ubud but the town acts a main spot for visitors to catch a ride to the active volcano. Mount Batur is an hour drive away in the town of Batur and is where many flock to to catch the sunrise from the volcano's summit.
It is claimed to be the easiest volcano trek in all of Indonesia, but if it's considered easy I don't want to know what the others are like! (That's coming from someone who is lazy and doesn't work out).
The trek itself is about 2 hours up steep and sometimes loose rock or volcanic ash but the sunrise view from the top of Mount Agung on Bali and Mount Rinjani on Lombok is breathtaking.
Dine at Room 4 Dessert
For a truly unique experience (or foodies, this is a must), book yourself at table at Room 4 Dessert, a restaurant with 7 courses of dessert. Yes, you read that right.
In fact, your whole experience is 21 courses, but don't worry, the first and last 7 courses are small like snacks.
The restaurant and dishes are curated by a world-famous chef, Will Goldfarb, from New York. His desserts are so unique that it landed Room 4 Dessert and the chef on the Netflix hit, Chef's Table.
I won't spoil it for you as they keep all of the courses secret but it is an experience worth having just outside of Ubud's centre for a night of fine dining and delicious cocktails which are paired with the 7 main desserts that are seriously works of art as well as food!
Visit Pura Taman Saraswati Temple
This scenic Ubud temple is in centre of town and is an escape and oasis in the middle of the hustle and bustle. Step in here to admire this water temple that has ponds filled with blooming pink lotuses and Balinese architecture, making it one of the best temples in Ubud.
This temple is one of the free things to do in Ubud but if you wish to dine with an excellent view of the lotuses then make sure to have a meal at Cafe Lotus. Dance performances are also held here.
Experience sound healing at the Pyramids of Chi
One of the most unique experiences I had in Ubud was participating in a sound healing session at the stunning Pyramids of Chi which are a 10-minute drive out of Ubud's main city centre.
The Pyramids of Chi are what the name suggests, pyramids, where a number of events are held inside, with sound healing being the most commonly held event.
You can expect a truly magical experience as experts lead you through a sound journey and explain the special meaning behind the pyramid shape. Cacao ceremonies, yoga, tantra sessions and much more are also offered.
A shuttle from the centre is available for those that don't drive.
Visit Kanto Lampo waterfall
While Kanto Lampo is not the most famous waterfall in Ubud, I do believe it's even better than the most famous waterfall which I talk about below.
Kanto Lampo is not as busy, though it's still known on the tourist trail. Less tours come here so you have a better chance of getting some pictures looking like no one else is there.
What's also great is that because there are rocks you can climb them (carefully) and get to take pictures in the waterfall! And after scootering around Ubud you're going to want to cool off too. These rocks are also why Kanto Lampo is so pretty as the water gushes over the rocks.
To the left of the waterfall the water continues and is also a pretty spot for pictures with nice lighting.
Marvel at Tegenungan Waterfall
Tegenungan Waterfall is a powerful waterfall that is about a 20-minute drive outside of the town centre. It's the most easily accessible waterfall in the region that is between Ubud and Denpasar. Since its location is so good it is extremely popular so aim to go early before the crowds of tourists arrive.
Entrance is 20,000 and there are about 100 stairs to get down. There are some Instagram-worthy spots on the way down too including a giant swing in front of the waterfall. There is a large pool of water that you can swim in as well.
Though if you enter from the D'tukad River Club side there are less stairs, less people and an adventure club!
My personal favourite part of the area was the small waterfall that you can see on the left hand side of the stairs about half way down. There's less people, it's beautiful and there's also a small swing.
Get Blessed at Tirta Empul Water Temple
One of the most known temples in Ubud, Tirta Empul is a national heritage site that was built in 960AD and tells the story of good versus evil through carvings on the stone walls. Tirta Empul means 'holy water spring' but is mostly known as the Ubud water temple to visitors.
The temple was named such because of the holy water spring that is within the temple complex.
It's here that many locals come multiple times a year on important dates to get blessed under the spouts of water that have the holy water flowing from into purification pools where a few fish also live. Visitors are welcome to take part in the blessings.
Tirta Empul Water Temple is outside of Ubud, about a 20-minute drive and I highly recommend going with a local guide or doing research beforehand so you can properly perform the ritual for blessings under each spout of water and know what each statue pouring water out stands for. This temple really is the best of Ubud.
Get Your Yoga On
Ubud is the epicenter of yoga in Bali and for good reason. The peaceful practice suits its surroundings well with the tranquil and quiet nature of rice fields, forests, and flowing water down the river. Yoga retreats in Ubud can be found in abundance within Ubud village itself and the surrounding areas.
Classes are also available at the many studios for those who wish to practice only once or a few times. The most popular and well-known yoga studio in all of Bali is Yoga Barn which is in Ubud. I can vouch that it's a great place to practice!
Or if you want to dive a little further into your yoga practice, book a yoga retreat! Retreats in Ubud range from a couple of days to a week or more, meaning you can add an Ubud yoga retreat onto your itinerary!
READ MORE: Best Yoga Retreats in Ubud and Beyond
Take a Cooking Class
Cooking classes are available all around Bali but there are tons in Ubud as it's one of the most popular activities in Ubud. Most are just outside of town and though they are a more expensive Bali activity they are totally worth it.
You will learn to make Balinese dishes, see the techniques used and then get to taste just how delicious all of the dishes are from soups to mains to desserts.
Check out less busy rice terraces
While the Tegalalang rice terraces are stunning, they're busy. A great alternative is to go further and see the Jatiluwih rice terraces that are about an hour outside of Ubud.
They're just as pretty (if not prettier) because there are mountains as a backdrop. You also have the opportunity to drive through the rice terraces as the main road of the area winds through them which is one of the most beautiful drives I've ever done in Bali.
Entrance is 40,000 and tours do make their way to these rice terraces now, though far less than Tegalalang. If you're driving up for a day trip there are a number of waterfalls in the area too.
Jatiluwih is also a UNESCO World Heritage Site and is often combined with other UNESCO sites on Bali as a part of a tour. Bike tours through rice paddies are popular too.
See the Most Instagramable Spots in Bali
Doing tours from Ubud is not uncommon either as Ubud acts as a great base. The Mount Batur Sunrise Trek is one of them (well technically it's only the morning) but another great one is visiting the Gates of Heaven at Lempuyang Temple which is in the northeast of Bali.
Instagram tours of Bali are also available, with guides who take you to the best spots and some even have photographers ready to capture the perfect moments in the best spots on the island.
See a Traditional Balinese Dance
Ubud is the hub of all things relating to art in Bali from painting to hand-made crafts, music and even dance. If you want to see a Balinese dance then Ubud is the place to do it as you'll have the most options here.
Each dance tells a story and is truly unique. The colourful costumes and make-up are worth seeing alone. There aren't many things to do in Ubud at night but this is one of your options.
If you want to see the kecak fire dance I recommend seeing it at D'tukad River Club. They host a dance every Thursday or on the night of the full moon. Uluwatu Temple is the most famous place to see it with sunset over the temple and ocean behind the dancers but it's a bit of a drive away!
Learn Traditional Dance
Instead of just observing, why not try learning Balinese dancing for yourself? It's a unique way to understand the culture a little better and a fun challenge as the dance can be harder than it looks! Check in with your accommodation for advice of where the best classes are.
See History at Pura Gunung Kawi
Pura Gunung Kawi is a very Balinese temple in the way that it has rice field across both sides of the path the leads you down to the temple. It's a unique archeological site because of the carvings that are carved directly into the rock.
It is said that the man who made the carvings did it just using his own nail. On-site there are also a number of shrines and the site overlooks a river that flows down from Tirta Empul Water Temple.
This temple is a 20-minute drive outside of Ubud and has 300 stairs down. Entrance is 15,000 rupiah.
Chill out at a spa
Spas are scattered all across Ubud so there is no need to fear if there is not a spa on-site at your accommodation. Ubud is the perfect place to chill out and relax and what better way is there to do that than with a massage between temple hopping or yoga sessions?
Spas in Ubud range in price with the cheapest being very affordable with an hour Balinese full-body massage for 70,000. Many are walk-in's but some require appointments, such as Ubud Traditional Spa (which is worth checking out).
On my last trip to Ubud I spent 4 hours at Purti Ubud Spa for a final day of pampering for a really affordable price. They have quite a few packages available and I recommend the spa. There are multiple locations so make sure you book for the right area!
Visit the Bali Swing
Have you seen pictures on Instagram of girls swinging above a lush green forest with long dresses blowing behind them? If you have then there is a very high chance that it was taken on an Ubud Swing.
There is one swing that is know as the Bali swing but you don't have to go out of your way for it as there are plenty of swings in Ubud that are typically included in tours.
Cycle Down a Volcano
Want to get active and feel adventurous without too much effort? Then the Downhill Bike Tour is for you. You'll spend the day riding down Kintamani volcano for scenic views over Ubud and stopping in the hottest spots outside of town such as the famous rice terraces. Don't worry, you get driven up the volcano to start!
Swing by Tibumana Waterfall
If you want to see a waterfall near Ubud that isn't packed with tourists then a stop by Tibumana Waterfall is a must. This secluded waterfall is one of Bali's better secrets, and though it's popular enough that there is an entrance fee of 10,000, there are still very few people there.
This waterfall may not be as powerful as Tegenungan Waterfall but the serene setting and quiet atmosphere make this simple waterfall a picturesque destination.
Check Out the Bamboo Forest
Also just outside of Ubud is the Bamboo Forest, another hidden gem that isn't so hidden yet not very many people check it out. You can visit it on your own to get some stellar Instagram shots or you can choose to do a bike tour through the forest and enjoy your surroundings.
Get Adventurous and Go White Water Rafting
For water activities in Ubud try river rafting, which is surprisingly available in Ubud. Ayung River runs through the surrounding area of Ubud making excellent rapids for travellers to enjoy.
Step away from the cultural side of Ubud for a while and enjoy some adrenaline through the beautiful surroundings.
Ubud Accommodation
Read my detailed Ubud accommodation guide to find the best places from budget to luxury, hostels to hotels and villas.
How to Get to Ubud
Getting to Ubud is easy with a few options available. From the Bali airport, taxis will be the most expensive at 300,000 but private drivers booked in advance can be very affordable.
This is because Ubud is actually quite a distance from the airport and it will take 1-1.5 hours to get to Ubud. You can try to negotiate with private drivers for a better price or organize through your accommodation.
From other areas of Bali you can get a taxi or private driver or for a more budget-friendly option choose to use Grab, Uber or Go-Jek (the Indonesia version of Grab and Uber). These drivers will usually try and negotiate a higher price with you but stick to your price and you'll find a driver.
Lastly, scooter rentals are 50,000-80,000 a day and you can drive yourself.
Getting Around Ubud
The town of Ubud itself is very small and you can easily walk to all of the main Ubud attractions in town within 20 minutes from one end to the other.
The rest of the main attractions in Ubud are located outside of Ubud itself, though they're still considered things to do in Ubud. To get to things such as waterfalls, rice terraces and temples many people choose to hire a driver or guide as there are plenty of tours and sightseeing in Ubud available that will take you to all of the main highlights.
It's also possible to make your own itinerary as private drivers are affordable, typically starting at 500,000 for the day. Or you can choose to get yourself around on a motorbike for 50,000-80,000 a day. Ubud is very nice to drive around once you're outside of the main centre.
Enjoy your time in Ubud, I hope this helped you find all of the top places to see in Ubud and where to go in Ubud!
Continue planning your Bali holiday…