It's no doubt that Croatia has become widely popular in recent years, especially in Dubrovnik thanks to the filming of Game of Thrones, making it one of the top spots to visit on any Croatia trip.
Tourism has boomed and so have accommodation options in the entire country. This guide will help you decide where to stay in Dubrovnik for any budget from Dubrovnik hotels for those wanting privacy without a price tag to the best hostels in Dubrovnik to 5 star luxury hotels in Dubrovnik.
These places to stay in Dubrovnik are meant to give you an overall highlight of what is available and to help you decide which area is the place for you to be.
Disclosure: This post contains affiliate links which I earn a small commission from and are at no additional cost to you and help keep this site running. All images used in this article are from Booking.com.
Best Area to Stay in Dubrovnik
Dubrovnik Old Town
BEST FOR: Being close to the action
The Old Town is a UNESCO World Heritage Site and where the majority of things to do in Dubrovnik are. This is the most expensive area of the city and obviously the oldest but there are still affordable options within the Old Town walls.
Pile
BEST FOR: Budget and location mix
Pile is just outside of the Old Town walls so the area still offers plenty of amenities and is close to all that Dubrovnik has to offer but it doesn't have the price tag that comes with accommodation that is inside the city walls.
Ploce
BEST FOR: Luxury
On the opposite side of the Old Town from Pile, on the eastern side lies Ploce, an area known for its jaw-dropping views over the water and luxury hotels.
Lapad
BEST FOR: Beaches
Some of Dubrovnik's best beaches are here and this lively spot that the locals love is also not far from the Old Town which can be accessed by a quick jump on a public bus. If you stay at a hotel here you'll probably have unreal views of the water.
Best Mid-Range Dubrovnik Accommodation
These are the best hotels in Dubrovnik for those wanting to spend more money exploring the city than on their accommodation bill.
Hotel Petka
Hotel Petka has rooms with sea views, is a boutique-style hotel and is only 600 metres from the beach. The Old Town is a bit of a walk away but the public bus stops directly in front of the hotel and drops you off just outside of the Old Town gates so minimal walking is required if you don't want to.
Two restaurants are on-site serving local Dalmatian cuisine and the property is pet-friendly.
Berkeley Hotel & Day Spa
Berkeley Hotel & Day Spa is close to the Gruz Harbour where guests can get a great view overlooking the water from some of the sea view rooms.
The hotel boasts a pool and includes a tasty breakfast. A spa is on-site and it is possible to organize luxury boat charters, fishing excursions and much more.
This boutique-style hotel is family run with staff receiving top reviews for how helpful they are and modern yet comfortable rooms are provided.
Hotel Zagreb
Travellers who are looking to be close to the beach and water need to look no further than Hotel Zagreb. This prime spot in Lapad Bay is tucked away amind lush gardens that are available for the guests to roam through.
Four tennis courts are on the property as well as a terrace where local cuisine is served.
The Old Town is easy to reach by public bus. The hotel is both pet and family-friendly.
Not quite what you're looking for? Find more hostel options on Booking.com.
Best Luxury Dubrovnik Accommodation
These Dubrovnik luxury hotels have the views and the rooms to please.
Hotel Dubrovnik Palace
Hotel Dubrovnik Palace is a hard place to beat. It's one of the best places to stay in Dubrovnik with views of the Elaphite Islands and luxury surroundings.
Close to the beach, Hotel Dubrovnik Palace offers a scuba diving centre and all rooms have a balcony to take in the incredible views from.
Modern, with earthy tones, 4 restaurants (one of which is one the beach), a spa, indoor pool and a fitness studio, this oceanside hotel is perfect for everyone who craves luxury.
Rixos Libertas Dubrovnik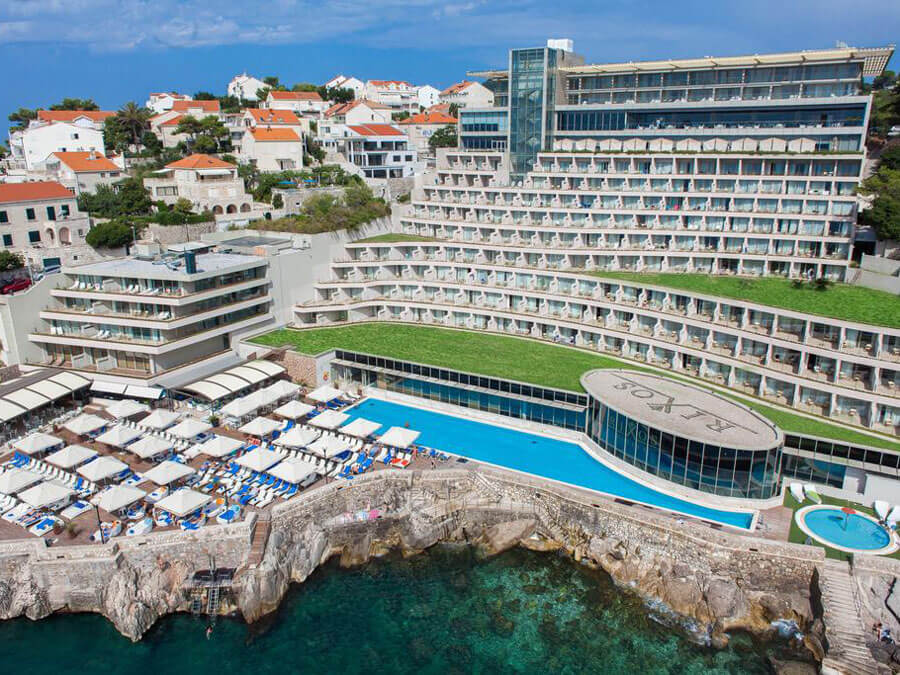 This 5-star Dubrovnik hotel offers first class service to all of its guests. You'll get panoramic sea views from the outdoor pools plus the option to use the indoor pool, 3 bars, one of which is a beach bar, 2 restaurants serving Mediterranean dishes and still only be a 15-minute walk to all of the attractions in Dubrovnik's Old Town.
Hotel Neptun Dubrovnik
Spoil yourself at this 4-star hotel that comes with access to a cliff top pool. Most rooms feature a balcony overlooking the stunningly blue waters of the Lapad Peninsula.
A spa as well as multiple restaurants with terraces are available on the property and a bus stop in located close by for guests to go and explore Dubrovnik's Old Town.
Not quite what you're looking for? Find more hostel options on Booking.com.
Best Budget Dubrovnik Accommodation
These Dubrovnik hostels are all in the Old Town so you have everything available at your doorstep without a hefty price tag.
Hostel Angelina
Hostel Angelina is one of the most highly rated hostels in all of Dubrovnik and has a prime spot located in the Old Town. The hostel is in a 400-year-old building and has a terrace overlooking the roofs of the Old Town. I personally stayed at Hostel Angelina and think that it is the best place to stay in Dubrovnik on a budget. The location couldn't have been more perfect (be aware that there are lots of stairs though, it is the Old Town!). You can also plan all of your activities in Dubrovnik with the helpful staff at the front desk, pretty much every tour is available.
Hostel Sol
Hostel Sol offers private rooms for 2-4 guests and is close to Gruz port. Here you'll find it quiet and the room are modern, bright and spacious. There is free parking available along with common area facilities that include a kitchen and lounge.
Hostel Amnesia
Stay right in the heart of Dubrovnik and have the city's ancient streets on your doorstep. The old city walls are only 200 metres away and you're surrounded by a ton of restaurants, shops and attractions. Hostel Amnesia is small, yet comfortable and welcoming with friendly staff.
Not quite what you're looking for? Find more hostel options on Booking.com.
Planning your visit to Croatia? You'll love these posts.