So you want to live out your California dreams of cruisin' down the most famous and beautiful coastal highways in the world with the roof down (or maybe you're picturing a VW van, so windows open) as the fresh ocean air whips through your hair and the sunshine beats down onto your skin?
I don't blame you, with so many movies and music written about the Golden State it's no wonder that your curiosity has peaked and you are ready to begin planning your California Pacific Coast Highway road trip itinerary. The best part about this stretch of highway is that it can easily be combined with other iconic California road trips, or take you further north to more picturesque states.
The coastal views are just one of the many highlights on this scenic drive. You'll be pulling over to take in the views of the ocean, waterfalls, venture inland to vineyards, stop for hikes across rolling hills, see grandiose homes, colorful seaside towns, marine wildlife, and much, much more.
It's difficult to put into words just how truly beautiful this part of the California coast drive is so buckle up and get ready to be thoroughly blown away by Mother Nature herself at all of the best stops on the Pacific Coast Highway.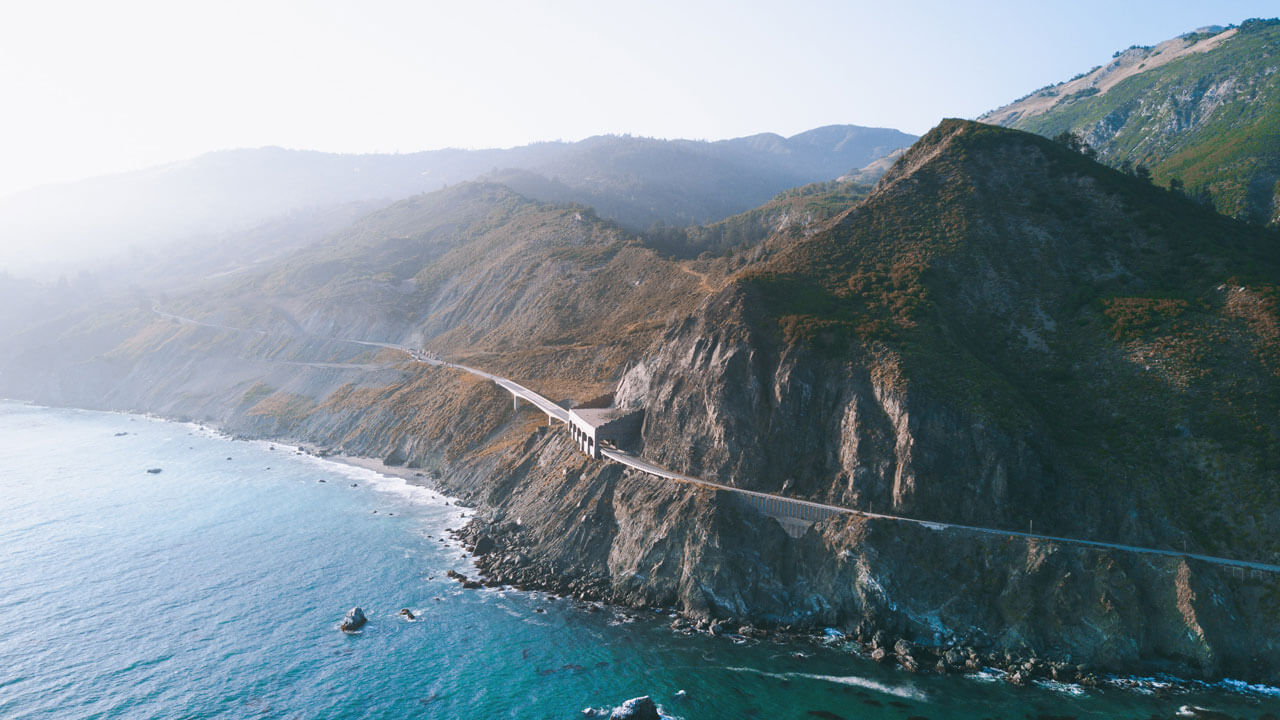 Best Time to Drive the Pacific Coast Highway
While California can be visited any time of the year, the fall or springtime are the best times of year to drive this coastal route. In the spring you will find wildflowers dotting the side of the road and nature will be coming alive showing off its new green hues, and waterfalls along the route will be gushing after the rain typically stops in February. The fall (wine harvesting season!) brings lots of sunshine and high chances of clear skies so that you can put your roof down and coast just like they do in the movies to live out all of your California dreams. Keep in mind that the fall can also bring wildfires, so be mindful of this time too.
But first: If more of California is on your mind, don't miss the other California itineraries & guides!
Where Does the Pacific Coast Highway Begin and End?
The California stretch of the PCH drive actually begins in Dana Point in Orange County and ends in Leggett in Mendocino County, north of San Francisco. In California, this route follows Highway 1 (mostly) but if traveling onwards to or from the north, the Pacific Coast Highway follows Highway 101 all the way up to Olympia in Washington, with some saying that it truly begins (or ends, depending on how you're looking at it) in San Diego. For this itinerary, we'll focus on a Los Angeles to San Fransico road trip, with extra stops.
What is the Best Way to Drive the Pacific Coast Highway?
Honestly either way is a fabulous way to drive the PCH. But most will say that from north to south is best for unobstructed ocean vistas. But even driving south to north you will be impressed by the scenery so really choose what direction is easiest for you with your point of arrival and departure. Others will say that ending in LA is not a highlight as Highway 1 turns into a busy street that does not offer promising views. Whatever direction you choose, you're still stopping at the same places and taking in the same amazing scenery. This itinerary travels from the south, beginning in LA, to northern California.
How Long Does it Take to Drive the Pacific Coast Highway?
For the California section of the PCH, 5-10 days is recommended, depending on your schedule, with a week being that sweet spot where you will still be able to see tons. Here are recommendations of Pacific Coast Highway stops for each itinerary length.
Pacific Coast Highway Itinerary 5 Days
Day 1: LA to Santa Barbara
Day 2: Santa Barbara to San Siemon
Day 3: Big Sur
Day 4: Monterey to San Francisco
Day 5: San Francisco
Pacific Coast Highway Itinerary 7 Days
Day 1: LA to Santa Barbara
Day 2: Pismo Beach to Paso Robles
Day 3: Big Sur
Day 4: Monterey to Santa Cruz
Day 5: San Francisco
Day 6: Muir Woods and Point Reyes
Day 7: Mendocino and Avenue of the Giants
Pacific Coast Highway Itinerary 10 Days
Day 1: Los Angeles
Day 2: LA to Santa Barbara
Day 3: Pismo Beach to Paso Robles
Day 4: More time in Paso Robles or onwards to Big Sur
Day 5: Big Sur (1st or 2nd day)
Day 6: Monterey to Santa Cruz
Day 7: San Francisco
Day 8: Muir Woods and Point Reyes
Day 9: Mendocino and Avenue of the Giants
Day 10: More time in Mendocino or return
Or option to start in San Diego.
Pacific Coast Highway Road Trip Itinerary
This itinerary follows the 7-day plan and notes where you can add in if you'd like! Use this as your base and add or subtract based on what you love to do or can take a pass.
Day 1: Los Angeles to Santa Barbara (or Solvang)
Approx. Driving Time: Just shy of 3 hours
This itinerary assumes that you have already had time to explore LA, but if not add on 2-4 days in the City of Angels before heading out to begin traveling north for this California coast road trip!
Malibu
From the Santa Monica Pier, you'll be able to travel at a better pace (the part of the PHC running through LA is known for typical LA traffic which means it doesn't move much), and you'll be gliding along the coast past Malibu where you can always make a quick stop to ogle at the luxurious mansions of celebrities and other rich folk or dip your toes in the water at one of the many beaches that Malibu is known for.
Oxnard
Further on and you'll reach Oxnard (be sure to stay on Highway 1 here, where Highway 101 merges with 1 for a bit). This is where you can add an additional day to your itinerary and make a trip out to Channel Islands National Park, the least visited national park in the country.
Ventura
You have the option to make a small pit stop in Ventura where you can enjoy the Ventura Pier that's 1700 feet long and home to a restaurant and bait shop so you can try fishing from the pier yourself. And of course, there are great beaches such as San Buenaventura State Beach where you can hike, take in the coastline on foot, or even venture across some sand dunes.
Santa Barbara
Next up is Santa Barbara, where you'll most certainly want to stretch your legs if you haven't yet! Santa Barbara is far more than a place to stretch your legs though. Take time to enjoy lunch (seafood is of course recommended). Without stops you'll be here in about 2 hours so earlier stops are definitely recommended. There are lots of things to do in Santa Barbara that you could spend the rest of the day here if you so choose to.
Some highlights of this classic California city include Stearns Wharf (more beaches and an awesome place for sunset) and Misson Santa Barbara for history fans to learn about the history of them (where Native Americans were converted to Catholicism). Santa Barbara is also a great spot for wine lovers with lots of wine tasting rooms available which would make this a great place to stay the night.
Solvang
Santa Barbara isn't the only place with great wine today! If you opt to continue onwards and slightly inland you'll come across Solvang and wonder why a European-looking city ended up in California. This Danish-inspired town is as picturesque as European towns come and a stop here is a quirky way to end your first day on the Pacific Coast Highway. Plus it's about as close to the Santa Yzen Valley as you can get! Enjoy Danish pastries, roaming through the picturesque town for pictures, and settling in for the night.
Day 2: Pismo Beach to Paso Robles (or Cambria)
Approx. Driving Time: 2 hours
Pismo Beach
Pismo Beach is a great spot for surfers and non-surfers alike. Whether you love to get in the water yourself or simply watch or have nothing to do with surfing at all, make a stop here. At Oceano Dunes Natural Preserve you can rent an ATV to drives across the sand dunes, and Pismo State Beach is a great area for a number of activities including surfing, swimming, fishing, and more. If you're visiting between November and February don't miss the chance to spot tens of thousands of monarch butterflies at the north end of the beach at the Monarch Butterfly Grove.
San Luis Obispo
There's no need to stay here for long, but it is worth driving out of the way to see the famous Madonna Inn which is about as kitschy as hotels come! You don't need to be a guest here to enjoy the over-the-top decor and appreciate the effort that went into designing something so…cool! Either stop here for lunch at Alex Madonna's Gold Rush Steak House or to pop into the bakery for a sweet treat. You can always skip this slight detour and have lunch in Morro Bay which will definitely not disappoint.
Morro Bay
You'll know before you even get there where exactly Morro Bay is because its most famous attraction, Morro Rock, stands at almost 600-feet tall, showcasing to visitors on-land and in the water that Morro Bay is near. The rock, if you're curious, is an ancient volcanic formation. But besides Morro Rock, this small tourist town is also a marine wildlife sanctuary so you will be sure to spot some friends who love the water such as sea lions or harbor seals.
Take some time at the Embarcadero to spot the marine animals, pop into shops, and to enjoy delicious food at one (or maybe more) of the restaurants with excellent views over the water.
Paso Robles
While there is much to be enjoyed in Morro Bay; surfing, kayaking, eating…I encourage you to finish your day in Paso Robles so that you can enjoy some of the region's wine close to your bed for the night. Paso Robles is of course most known for wine, but you'll also find a number of breweries here for samples, olive oil tasting, and no doubt lots of options for great food and even mineral hot springs. Don't drink too much though, hiking with a hangover is not ideal.
Cambria
If wine isn't your thing and nature is more up your alley, skip Paso Robles and continue along the coast to the charming seaside town of Cambria. Perhaps go for a hike on Bluffs Trail at the Fiscalini Ranch Preserve and take a walk along the boardwalk at Moonstone Beach which you should definitely do for sunset.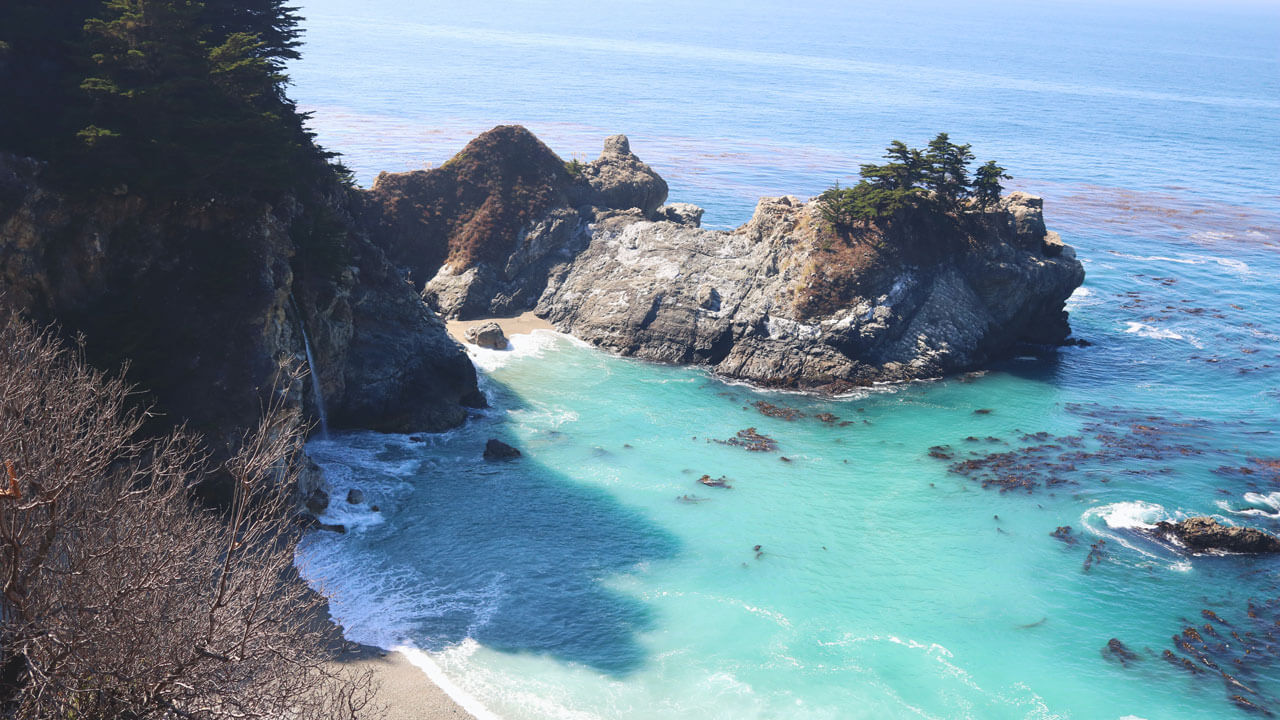 Day 3: Big Sur
Approx. Driving Time: 3 hours
Today is dedicated to exploring the most famous and photographed section of the Pacific Coast Highway: Big Sur. This rugged coastal area is filled with some of nature's finest showpieces so be sure to have your eyes on the surroundings (or on the road if you're driving!). It's a big day though, so head out early! 2 days in Big Sur is recommended, but you can fit it into one if need be!
San Siemon
First up is the town considered the beginning or ending point of the Big Sur portion of a Highway 1 road trip. There are a few reasons to stop here, the first being Hearst Castle, an insanely over-the-top rich person's castle that is a mish-mash of design and is such a vision of a unique individual that grand doesn't even begin to describe it. Second is Elephant Seal Vista Point, whereas I'm sure you can guess, is where you can spot quite a number of elephant seals. Visit this spot between November and March and you'll see the cutest of them, the pups! Lastly, Piedras Blancas Light Station is another spot you may wish to add.
Big Sur
This day will mostly be filled with pulling over and taking pictures of the stunning scenery. For those who love hiking, there are plenty of trails in Big Sur that will deliver optimal coastal views. Many are quite short so you can do multiple hikes through this day. Pfeiffer Big Sur State Park is just one of a few state parks in the area so if nature is your thing, then you're in for a treat.
Don't miss pulling over to see McWay Falls, Pfeiffer Beach, and of course the legendary Bixby Creek Bridge. Leave time for exploring another state park, Point Lobos, before heading to the end (or beginning, depending on which way you're coming) of the Big Sur stretch of coastline, Carmel-by-the-Sea. Take time to explore the downtown of this town that's home to more of the rich or continue onwards to Monterey for the night.
Day 4: Monterey to Santa Cruz
Approx. Driving Time: 1 hour
You may look at the map and think that today is such a short day with only an hour of driving between the two destinations and you're right! Take today as a bit of a breather or add a second day into your Big Sur itinerary for this part of the drive, basing yourself for a second night in Monterey or Carmel.
Monterey
Spend a couple of hours taking in Monterey, indulging in a yummy breakfast and finding your way to the Monterey Bay Aquarium (even if you don't love aquariums, this one is impressive and next level), over to the Old Fisherman's Wharf and to Cannery Row. Yes, the Cannery Row that was made famous by John Steinbeck's novel.
Capitola
Make a short pit stop in the beachside town of Capitola where the colorful condominiums are bound to catch your eye. Other than that, perhaps a walk on the beach. This stop isn't necessary but can break up the short drive before hitting Santa Cruz.
Santa Cruz
Spend the rest of your day and night in Santa Cruz by heading out to the boardwalk where you'll find the a quirky theme park. The roller coaster that has been here since 1924 and the boardwalk is one of the key features that make Santa Cruz famous. Other attractions include the wharf, a surfing museum, Natural Bridges State Beach, and dolphin or whale watching cruises. There's even a 19th-century train that will take you on a scenic ride through Henry Cowell Redwoods State Park and back down to the Santa Cruz boardwalk where you can begin the journey.
Day 5: Onwards to San Francisco
Today is all about getting to San Francisco. Depending on how much time you want for your days in San Francisco, plan to get here by mid-day for a day and a half in the city, or head straight to the City by the Bay for a full two days (if you get up early!).
Half Moon Bay
For those who want a few nature stops on the way, Half Moon Day is one option. This state park is beautiful and home to a number of beaches that are quite picturesque. Stay clear of attempting to surf at Maverick's Beach (unless you're a pro on a surfboard) but visit if you wish to see surfers riding some of the biggest waves on California's coast.
Moss Beach
Moss Beach is another great stop to spend more time in the golden sand, soaking in the sunshine, and getting in a few last moments before hitting the first big city since leaving LA!
San Francisco
There is no shortage of things to do in San Francisco, you could easily spend a few days here exploring the city and the areas nearby. But a few of the highlights that simply can't be missed (or must at least be considered) are obviously seeing the Golden Gate Bridge, the Fisherman's Wharf, Chinatown, riding a cable car, and visiting Alcatraz. One of my favorite things to do in a new city is to take a walking tour to get my bearings, understand the city's history, and learn about what shaped the area.
Spend the night in San Francisco with the option to spend another full day (and night) in the city. When you're ready, continue following the PCH itinerary below!
Day 6: Muir Woods and Point Reyes
Approx. Driving Time: 2-5 hours
Muir Woods
If you haven't yet gotten a great view of the Golden Gate Bridge, don't forget to! You can find some great shots at spots such as Marshall's Beach on the south side while heading out or Battery Spencer on the north side. Then onwards to see some redwoods! California is filled with incredible redwood trees and the closest and most popular to San Francisco are in Muir Woods. Named after the famous John Muir, a naturalist that had a hand in making a few parks such as Yosemite and Kings Canyon.
Today you can still take in the natural beauty (so long as you book a parking spot in advance, it's that popular), and enjoy a short hike (there's lots to do today!) among the magnificent redwood trees.
Point Reyes National Seashore
For a slight detour off the Pacific Coast Highway (that is well worth it) make your way through Inverness (the beautiful Cypress Tree Tunnel is here) before arriving at Point Reyes National Seashore and the lighthouse that is here. This is a great spot for hiking and bird watching especially. Give yourself plenty of time to get here, and if you're planning to hike, opt to stay nearby for extra time. But the town, views, and food here alone (hey, oysters!) it's worth taking the detour. If you visit the lighthouse it will add quite a bit of time to your driving today.
Continue on to Mendocino to end your day here, grab some dinner, and spend the night. You'll explore tomorrow!
READ MORE: Picturesque Things to Do in Point Reyes
Day 7: Mendocino and Avenue of the Giants
Approx. Driving Time: 2.5 hours (one-way)
Mendocino
Spend the morning exploring Mendocino and before heading out, pop into one of the vineyards for a (responsible) wine tasting. Downtown Mendocino is quite cute to spend some time in, but nature is a big draw to this area as well, with hikes in Russian Glutch State Park (try the Fern Canyon Trail or Headlands Trail to Devils Punchbowl Overlook), or kayaking as there a quite a few sea caves to explore here.
READ MORE: Best Things to Do in Mendocino
Avenue of the Giants
While not technically a part of Highway 1, continue driving further north on Highway 101 and make an exit to Avenue of the Giants which is one of the best drives in California (other than the PCH road trip of course). This road trip is only 31 miles but you will be humbled as you weave your way between the giant redwoods in Humbolt Redwoods State Park. You'll even drive through a tree!
Continuing Your Pacific Coast Highway Road Trip
Return to LA or another major city (add 0-1 day): If you need to get back to LA to return your day, add an additional day to drive back (it will be a long one (about 9 hours from Avenue of the Giants). Or you could drive back to San Francisco to return your car rental and fly back to LA or out of San Francisco.
Spend time in LA (add 2-3 days): If you want to fit Los Angeles into this itinerary as well I would recommend 2-3 days but if you really have to squeeze it into a jam-packed day seeing the most important highlights to you.
To Seattle (add 7 days): Finishing the California section of the PCH puts you in a great position to continue the Pacific Coast Highway all the way up the coast! While California has many great highlights, there's even more beauty if you continue north on Highway 101 up to Seattle in Washington.
Begin in San Diego (add 1-3 days): Starting your road trip in San Diego is a great choice too, so you could give yourself some time to see the city and the sights through Orange County (or maybe a stop at Disneyland!).
I hope you thoroughly enjoy driving the Pacific Coast Highway (no doubt, of course you will) and found this guide helpful. Safe travels dear reader!