If you adore rugged cliffs, secluded beaches, and stunning coastal views, you'll love Big Sur. California's most beautiful stretch of coastline runs from Carmel-by-the-Sea to San Simeon and boasts an abundance of wildlife, peaceful hiking trails, and incredible scenic vistas.
Conveniently located between San Francisco and Los Angeles, Big Sur offers itself as a fabulous weekend getaway for locals and tourists alike in California. So, if you're in or heading to the Golden State, check out these epic things to do in Big Sur that will make your trip truly memorable.
What to Do in Big Sur
Although Big Sur is known for its coastal sights, inland wonders are also plentiful. With eight state parks in the region, you'll enjoy varying landscapes and terrains, from redwood forests to relaxing creeks and much more. There's a lot you can pack into a weekend in Big Sur!
---
Heads-up: I don't want you to miss all of the other California travel guides I've got to help you plan an epic trip.
---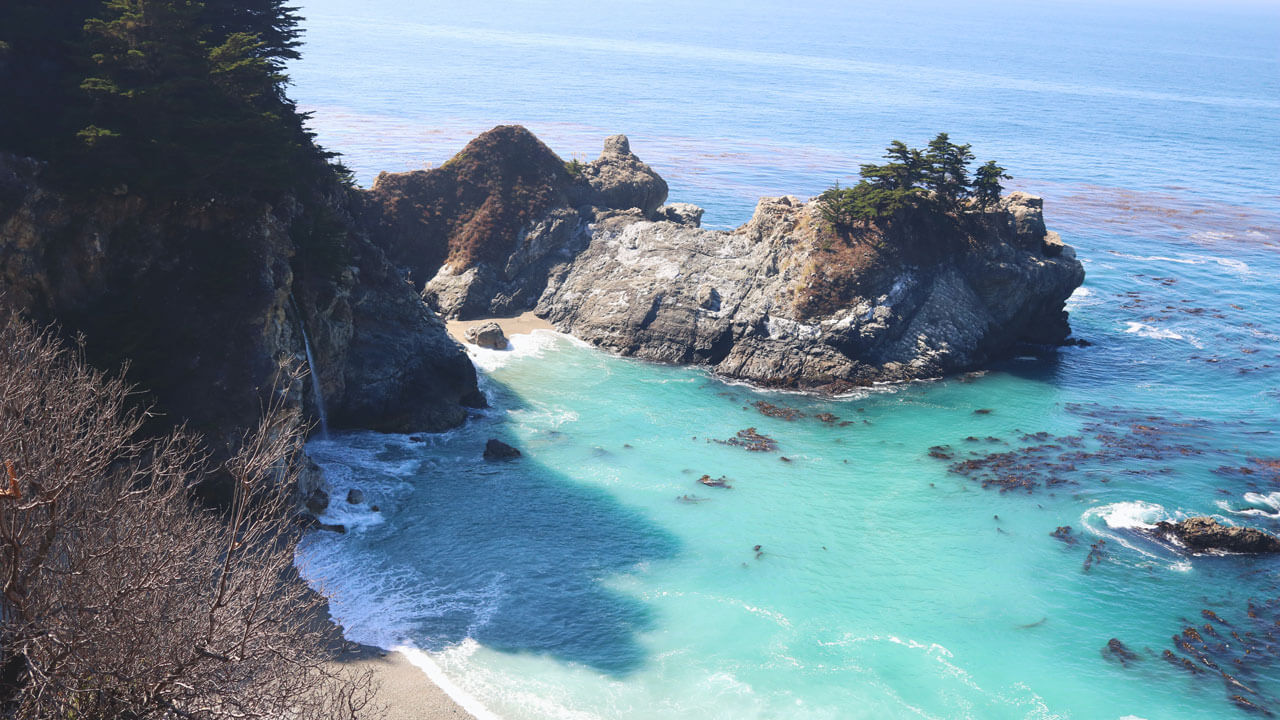 Check out the unique ocean waterfall, McWay Falls
No matter how many waterfalls you've seen before, we guarantee you've never seen one like McWay Falls in Julia Pfeiffer Burns State Park! This iconic natural water feature is one of the top Big Sur attractions and is one of just two tidefalls in California (the second is in Point Reyes National Seashore). Here, you'll find a gushing fall where the water cascades from an 80-foot cliff straight into the Pacific Ocean.
You can witness this natural phenomenon any time of the year, as the water flows from McWay Creek year-round. However, at low tide, the water crashes onto the sand, then becomes a tidefall at high tide, with the water directly emptying into the sea.
Unfortunately, McWay Beach is not open to the public. However, you can still get up close to Mcway Falls via the 0.5-mile (0.8km) Waterfall Overlook Trail.
Go hiking in Point Lobos
Point Lobos State Natural Reserve, just south of Carmel, boasts rocky cliffs, hidden caves, and some of the most dramatic views in Big Sur. The nature reserve is also full of native wildlife, particularly marine animals, such as sea otters, seals, whales, and sea lions.
Hiking the Point Lobos Loop Trail is one of the best activities in Big Sur and an excellent way to explore Point Lobos State Natural Reserve. As the entire trail hugs the coastline, you have plenty of opportunities to spot wildlife in the sky and the ocean.
The 6.7-mile (10.8 km) loop takes between 3 and 4 hours and although the trail is long, there are plenty of places to stop off and enjoy the view along the way, as well as tidepools and rocky beaches to explore. So pack a picnic and make a day of it in this beautiful part of the coast.
Hop in a kayak
With 71 miles of stunning coastline, there are many fantastic spots for water sports like kayaking and paddleboarding. Some parts of the ocean are too choppy for beginners, so be wary, but several areas, like Pfeiffer Beach and Sand Dollar Beach, are protected from the wind and have calmer waters. You can access the water for recreational activities here for a small entrance fee.
As Big Sur is known for being misty, rocky, and choppy, it's always best to head out into the water with a professional kayaking company rather than risk going alone. If you're inexperienced with kayaking, we recommend joining one of the many guided tours in the area.
Explore Pfeiffer Big Sur State Park
Although the shoreline and cliff sides are the most popular places to visit in Big Sur, the in-land Pfeiffer Big Sur State Park offers an alternative experience. This non-coastal state park shows a different side of Big Sur and is incredibly beautiful too.
If you're visiting during the summer, the Big Sur River Gorge is a Big Sur must-see. By following a short trail from the campground, you'll arrive at a refreshing swimming hole and a lovely rocky beach where you can sunbathe and relax.
You can also visit the purple-sand Pfeiffer Beach and sea caves. The beach is best after recent rainfall when it boasts a vibrant shade of purple. Here, you'll also spot the iconic Keyhole Arch, a natural phenomenon that magically lines up with the sunset perfectly.
Hike to Pfeiffer Falls
Pfeiffer Big Sur State Park is also home to one of the most beautiful hikes in Big Sur, the Pfeiffer Falls trail. This short hiking route takes you through the giant redwoods in a peaceful forest setting, bringing you to the slow-moving 50-foot Pfeiffer falls.
You can extend the 1.3-mile (2 km) trail for another 0.6 miles to see Valley View Lookout. It's totally worth the additional climb as you'll enjoy a fantastic view of the valley and surrounding forests. The hike has a fair incline initially but is suitable for most fitness levels and takes no longer than 90 minutes.
Marvel at Bixby Creek Bridge
Bixby Creek Bridge is one of the most famous things to see in Big Sur, it's truly an iconic symbol of the Pacific Coast Highway too. This Instagram-worthy open-spandrel arch bridge is one of the region's most visited spots due to its graceful architecture and priceless coast side setting. On one side of the bridge, you'll find deep canyons and lush greenery, and on the other side, turquoise waters and crashing waves.
You'll spot the 280-foot tall bridge 5 miles north of Point Sur. Lookout points from the north and south sides give different but equally stunning perspectives. However, the Castle Rock viewpoint on the northside has some small trails to explore and is a popular place to watch the sunset.
Spot whales at Monterey Bay National Marine Sanctuary
If you're a fan of marine life, a visit to Monterey Bay National Marine Sanctuary is a must. Here you can see whales in their natural habitat all year round on a whale watching tour. During this educational activity, you'll hop on a boat at Monterey Old Fisherman's Wharf, and a marine biologist or naturalist will take you to the best sighting locations.
You'll learn all about the marine life in this protected area and see hundreds of California sea lions in the harbor too. Whales are around here every day, including blue whales, fin whales, and gray whales, so you certainly won't leave disappointed. Plus, you might see some dolphins during the 3-4 hour tour, too.
Stroll around Limekiln State Park
Limekiln State Park is one of the most underrated state parks in Big Sur. It covers 710 acres and is home to lush redwood forests, a beach, and a waterfall. However, the most iconic attraction in Limekiln are the four 100 foot tall lime kilns, which were used in the 18th century.
The peaceful area oozes history and beauty, and like all state parks, it's best explored on foot. There are three short trails that you can do here in one visit; Limekiln, Limekiln Falls, and Hare Creek Trail.
The Limekiln path takes you to the four rusty lime kilns through a canyon. Next, the Limekiln Falls route crosses a stream several times before arriving at the 100-foot limestone falls. Then, the Hare Creek Trail climbs through the majestic redwood forest before reaching the park's largest creek.
Go mountain biking on Old Coast Road
While hiking is one of the popular Big Sur activities, the area has some incredible mountain biking trails too. Old Coast Road is a historic road that locals used to take before Bixby Creek Bridge was built. Now, the rarely used dirt road makes a scenic route for visitors with bikes or 4WDs to explore.
The route is around 10 miles long each way and passes by tons of beautiful nature like rugged creek beds and redwood groves. It starts on the north side of Bixby Creek Bridge and weaves inland until it ends by Creamery Meadow in Andrew Molera State Park. If you don't have your own bike, you can rent e-bikes from several companies around Big Sur.
Admire the views from Ragged Point
Ragged Point is known as the gateway to Big Sur, located 15 miles north of San Simeon. Here, the coastline is wide open, giving some of the best ocean views along California's coast. In addition, various short hiking paths will take you through the forest to hidden beaches and cascading waterfalls.
Recommend is the 0.6-mile (0.9km) Cliffside Trail that leads to the gorgeous black sand Young Creek Beach and the 300-foot Black Swift Falls. Although the hike is short, the rocky terrain makes it reasonably strenuous, so make sure you wear proper hiking shoes.
Visit Point Sur Lighthouse
The 19th-century Point Sur Lighthouse sits atop a 361-foot-tall volcanic rock right by the shoreline. You'll find this famous landmark in Point Sur State Historic Park, which you can explore on a guided tour.
The state park runs guided walking tours from the visitor center every Saturday at 10am and Wednesday at 1pm. The excursion typically lasts between 90 minutes to 2 hours and provides an opportunity to learn more about the area's history. If you can't make it for a tour, you can still admire the monument from the outside and enjoy the dramatic cliff views that Big Sur is so famous for.
Catch a wave on a secluded beach
Many tranquil beaches in Big Sur offer uncrowded surf breaks to experienced surfers. Sand Dollar Beach, Willow Creek, and San Carpoforo are three popular surf spots, all of which are at their best during the fall. You'll find the best conditions and relatively warm waters from September to November.
If you've never surfed before, you can book a private surfing lesson at Del Monte Beach, just north of Big Sur. During this 2-hour activity, an experienced instructor will teach you how to navigate the waves along with positioning, paddling, and pop-up form. Or you know, you can just watch the surfers do their thing.