Big Sur is one of the most-visited parts of the California Pacific Coast, thanks to its breathtaking coastal views and diverse array of natural wonders. Taking a road trip along Big Sur is a memorable and exciting experience for locals and visitors alike.
What's more, because Big Sur is conveniently located just south of San Francisco, it's possible to visit on a day trip. Alternatively, you can extend your journey (which is highly recommended) and turn it into a fun nature weekend getaway with a two-day Big Sur itinerary.
Just as there is no specific amount of time you should spend in Big Sur, there is no right or wrong way to drive along this famous coastal road. Big Sur stretches from Carmel-by-the-Sea to the north to San Simeon in the south. Journey south from SF or north from Los Angeles as a part of a Pacific Coast Highway road trip for epic views that won't disappoint.
This article shares one and two-day itineraries entering from the north. However, if you're coming from the south, simply reverse the itinerary and you will still experience all of the best things to do in Big Sur.
One Day in Big Sur
If a Big Sur day trip is all you have time for, you can still drive the entire stretch of coastline and back, so you don't miss this iconic part of the Pacific Coast Highway.
If you're driving from San Fransisco, San Jose, or Fremont, it will take you between one and two hours to arrive in Carmel, the beginning of the Big Sur region. From there, the 90-mile drive to San Simeon takes 2 to 2.5 hours, not including stops. So, considering all the travel time, starting your road trip early in the morning is essential.
When you plan a trip to Big Sur, aim to arrive in Carmel-by-the-Sea by 9 am (unless you plan on sunrise here) to maximize your time in the region. This will give you 8-9 hours of daylight to explore before driving back in the evening. Opt to start your day in Carmel, it's worth exploring this charming town or get out into nature right away!
---
But first: Planning a trip to California? Don't miss the rest of my California trip guides!
---
Point Lobos
After a long drive to Big Sur, you'll be itching to get out of the car and stretch your legs. Luckily you don't have to wait long as you'll come to the first state park in the region right after Carmel.
Point Lobos State Natural Reserve is full of wildlife and nature. A highlight is the Point Lobos Loop Trail that hugs the rocky cliffside and passes by various coves and secluded beaches. The trail is a 6.7-mile (10.8 km) loop, but many shorter routes cover a smaller section and take less time.
For example, the South Shore Trail is just 2.5 miles (4 km), taking less than 90 minutes. Alternatively, the Cypress Grove Trail is a quick 20-minute walk, and the South Plateau Trail to Bird Island is 50 minutes. So, no matter how much time you have, you'll have a chance to see some of the incredible marine wildlife in this area, such as sea lions, seals, and sea otters.
Garrapata State Park
Make your last stop of your road trip one of Big Sur's hidden treasures. Garrapata State Park is located 6.7 miles south of Carmel and features 2,939-acres of untouched beauty, which Big Sur is famous for. It's one of the less-visited parks in Big Sur because it's not well signposted, but even so, there is plenty to do here.
If you're keen to do some snorkeling in Big Sur, head to the hidden Moby Ling Cove or Soberanes Point. Plus, don't leave without doing the short 0.6-mile (1 km) Garrapata Bluff Trail or the 1.2-mile (2 km) Soberanes Point Route.
Bixby Creek Bridge
10 miles south of Point Lobos is another famous (really, the most famous) Big Sur attraction, Bixby Creek Bridge. Driving over this enormous bridge is one of the most exciting parts of any ​​Big Sur road trip itinerary, as you're welcomed with incredible vistas on both sides.
On your right, you'll be in awe at the view of the waves crashing against the cliff and the multi-shade ocean, ranging from turquoise to deep blue. On your left, you'll see far into the deep canyon. There are lookout points on each side of the bridge, and it's highly recommended that you stop at both as they give different perspectives that are, for lack of a better word, very Instagram-worthy.
Point Sur Historic Park
Point Sur State Historic Park is home to the 19th-century preserved Point Sur Lighthouse, 8.5 miles from Pfeiffer Big Sur. You don't have to be a history buff to appreciate this ancient landmark as the setting is incredibly picturesque, too.
The lighthouse sits 361 feet above sea level atop a volcanic rock cliff, giving extraordinary vistas of the waves crashing against the rocks. It's possible to go inside the lighthouse on a guided tour on specific days and times. However, the grounds are always open to the public, and it's certainly a worthy place to stop off.
Pfeiffer Beach
Continue your scenic drive for another 25 minutes south, and you'll come to one of the most popular beaches in Big Sur. Pfeiffer Beach is located in Los Padres National Forest and is famous for its unique purple sand and the rock formation, Keyhole Arch. While the latter is best observed at sunset, Pfeiffer Beach is a lovely place to enjoy a picnic during the day, though you will most likely be here around sunset!
The time of year you're visiting Big Sur will determine how long you want to stay here. If you're blessed with a warm summer's day, you can enjoy a spot of sunbathing. However, if the weather is not on your side, you can take a few snaps and continue on your way to dinner and your accommodation for the night.
There are few options around Pfeiffer Beach, most of which are camping. But if you prefer a room with a bed, try these options:
Alila Ventana Big Sur: An adults-only resort that is very luxe, secluded and is certainly a place that you'll want to call home for more than a night. No doubt the spa here will entice you.
Big Sur Lodge: Accommodation with basic but comfortable rooms with a restaurant on-site and a pool to cool off.
Big Sur River Inn: A charming option that's perfect for a night that's in nature yet you're still close to everything in the area. A restaurant and a general store are also on-site.
Two Days in Big Sur
Today attractions and sights are right on your doorstep. Get up early to enjoy some morning hikes!
Pfeiffer Big Sur State Park
You can get plenty of walking in at Pfeiffer Big Sur State Park which offers some of the best hikes in Big Sur. The area displays stunning inland scenery, such as the redwood groves and a refreshing river gorge. There's plenty of wildlife to see here, too, from deers to turkeys to the elusive bobcats.
Like with all state parks, you'll find an excellent selection of walking trails to suit your level and preferences. The 1.3-mile (2.1 km) gentle Pfeiffer Falls Trail is a popular choice, as is the equally easy 1.2-mile (1.9 km) River Gorge Trail. Alternatively, if you don't mind a little challenge in exchange for beautiful views, hike the 1.8-mile (2.9 km) Valley View Overview Lookout route.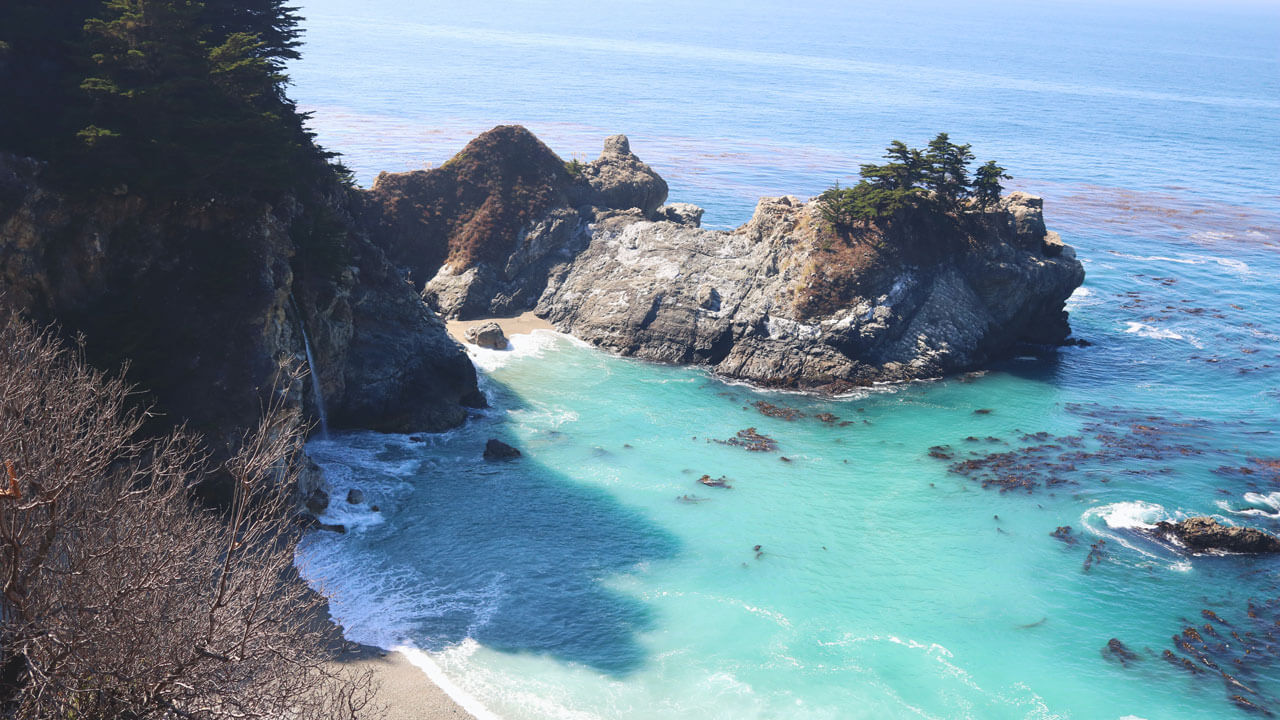 McWay Falls
One of the most iconic sights in Big Sur is McWay Falls, which is located in Julia Pfeiffer Burns State Park. The water from this unique waterfall cascades down an 80-foot tall cliff straight into the pacific ocean, making it a tidefall. There are only two of these in California, with the second being Alamere Falls in Point Reyes.
The water comes from the all-year-round McWay Creek, so you'll see this natural phenomenon no matter the time of year you visit. However, at low tide, you'll witness the water crashing on the shore, whereas it drops straight into the ocean at high tide.
McWay beach is not open to the public, so you cannot see the waterfall from below, but this isn't a problem. There are several excellent spots to see it from the top along the Waterfall Overlook Trail. What's more, the walking path is just 0.5-mile (0.8km), so you don't have to schedule much time at this popular natural sight.
Partington Cove
Next up, check out this lovely hidden cove north of McWay Falls. There are many natural wonders to see here, including a freshwater river running straight into the ocean, various sea creatures in the tide pools, and a historic 60-foot tunnel.
A short 1.1-mile (1.8km) will take you to the cove, passing through the forest and tunnel. Going down, it's a significant descent, meaning there so expect a steep incline coming up too. However, it only takes about 10 minutes each way and is accessible for most people.
Take in the views at Ragged Point
No road trip is complete without a magnificent sunset. As you can imagine, there are incredible sunset spots all along Big Sur, but one of the best is at Ragged Point. You'll find Ragged Point just 15 miles north of San Simeon, and you'll know when you arrive at what visitors call the 'Million Dollar View.'
This stretch of coastline opens wide, producing breathtaking panoramas and unobstructed ocean and cliff vistas. If time permits, arrive before the sun begins to set, giving you time to head down to the black sand beach and the stunning Black Swift Falls. You'll reach both of these attractions via the short 0.6-mile Cliffside Trail, giving you time to get back up in time for sunset.
If you're on a day trip, make your way back north along the coast after the sunset. Or, if you're staying the night, continue down to your chosen accommodation in San Simeon.
With an extra day available, you can admire the vistas coming from the southern direction and stop off at some more incredible sights along the way.
Elephant Seal Vista Point
Set off early this morning for a magical experience watching the elephant seals at The Piedras Blancas elephant seal rookery, just 4.5 miles north of San Simeon. Stopping here is an incredible sight for any animal or nature lover. The elephant seal population can reach up to ​​17,000 from October to March. But even if you're visiting at a different time of year, you'll enjoy plenty of sightings, as they are present all year round.
Elephant seals are most active during the early morning, and early evening, so it's recommended to make the Elephant Seal Vista Point the first stop of your day. You'll find a large viewing platform right by the parking lot, which is open to the public at no cost.
Where to Stay in Big Sur
If you're planning a trip to Big Sur that's longer than one day, you have some options when it comes to the best places to stay in Big Sur. While all the towns around have unique offerings, San Simeon is the most popular area for tourists and road trippers. Keep in mind that Big Sur is not built up, so accommodation is more limited and tends to be on the higher end.
San Simeon is the midway point between San Francisco and Los Angeles, so this small town is an ideal place to stay no matter which direction you're coming from but is especially ideal if coming south from LA. Stay here before beginning your Big Sur journey! As the gateway to Big Sur, this small town boasts lush landscapes, iconic attractions, and plenty of amenities. There is also a range of accommodations for all budgets; here are the top picks.
​​Luxury: Ragged Point Inn is ideal for road trippers looking for a splash of luxury on their short getaway. With gorgeous sea views, an on-site restaurant and bar, and a private balcony, you'll love the lavish and tranquil ambiance here.
Mid-Range: The 3-star Morgan Hotel offers comfy and affordable rooms a stone's throw from the beach with cozy amenities like an in-room fireplace and oversized bathrooms with a bathtub.
Budget: Sea Breeze Inn on Hearst Drive is an excellent choice if you want to keep costs low on your road trip. The ensuite rooms have all the amenities you need, such as a mini-fridge, microwave, and kettle, and many have sea views.
Big Sur FAQs
How many days do you need in Big Sur?

While it is possible to do a few of the main highlights with only 1 day in Big Sur, it's recommended to spend a weekend in Big Sur, 2-3 days. This will allow you to see the highlights including viewpoints, a beautiful sunset, and get in multiple hikes.
What is the best time of year to visit Big Sur?

Big Sur is always in season, but that being said, the best time to visit Big Sur is the fall. During this time of the year (September-November) you'll have warm temperatures, beautiful colors, and fewer crowds. Summer is the most popular time of the year to visit, while in winter things will have shortened hours and heavier rainfall. Spring brings beautiful wildflowers. But if there's one thing to note it's to always bring a jacket, no matter the time of the year as the temperature can vary from the beaches on the coast to inland hikes.