For many yogis, there is no better place for a yoga vacation than the tropics. Countries like Thailand and Bali are well-known spots for wellness retreats, however, the Sri Lanka yoga scene has quite the reputation as well. The country's warm climate, vibrant atmosphere, and mouth-watering food have resulted in an influx of yoga retreats in Sri Lanka.
If your soul is calling you to a distant tropical paradise, it's time to book a Sri Lanka yoga retreat where you can get your flow on by the beach, feel the ocean air, and relax into Sri Lanka's beauty. Check out these ten yoga retreats in Sri Lanka and get planning your next yoga holiday today.
Best Retreats in Sri Lanka
While you will find most retreats on the south coast, the following list features an exciting selection of yoga retreats in Sri Lanka.
Starting from: $185
This idyllic yoga retreat takes place in a hideaway location in the center of the country. It's only ​​19 kilometers from Kandy, yet it feels like you are deep in the jungle, making it the best yoga retreat in Sri Lanka for nature lovers.
Aside from twice daily Hatha, Vinyasa, and Yin classes, you'll experience jungle trekking, waterfall swimming and will learn how to cook authentic Sri Lankan food. Moreover, you'll stay in the Polwaththa Eco-Lodges, where you can expect to spot a wide array of local wildlife, from monkeys to deer.
Starting from: $910
There is an increasing number of ayurvedic-focused yoga retreats in Sri Lanka. Still, one of the best is this 8 day Ayurveda yoga holiday in the western province of Beruwala. The retreat combines ancient and scientifically proven therapies that will allow you to learn more about your body and embark on a holistic healing journey.
Your days will consist of morning yoga and meditation sessions, Ayurveda treatments, free time to explore the surroundings, and ayurvedic meals tailored to your body type. You'll stay in a comfortable holiday-style villa fully equipped with modern amenities.
Starting from: $1,272
This 8-day intensive retreat is the best yoga retreat in Sri Lanka for anyone looking to break through their negative thought patterns and transform into the best version of themselves. Green Peace Inn Retreats will take you deep into your subconscious thoughts and behaviours with a jam-packed schedule of breathwork, yoga, and guided meditation.
You will practice yoga twice a day, alternating between Hatha, Vinyasa, Yin, and Restorative. Morning yoga is followed by a 2-hour breathwork session focusing on a specific chakra. In the afternoons, you can enjoy ayurvedic treatments, go surfing, or socialize with your new friends before evening yoga, dinner, and meditation.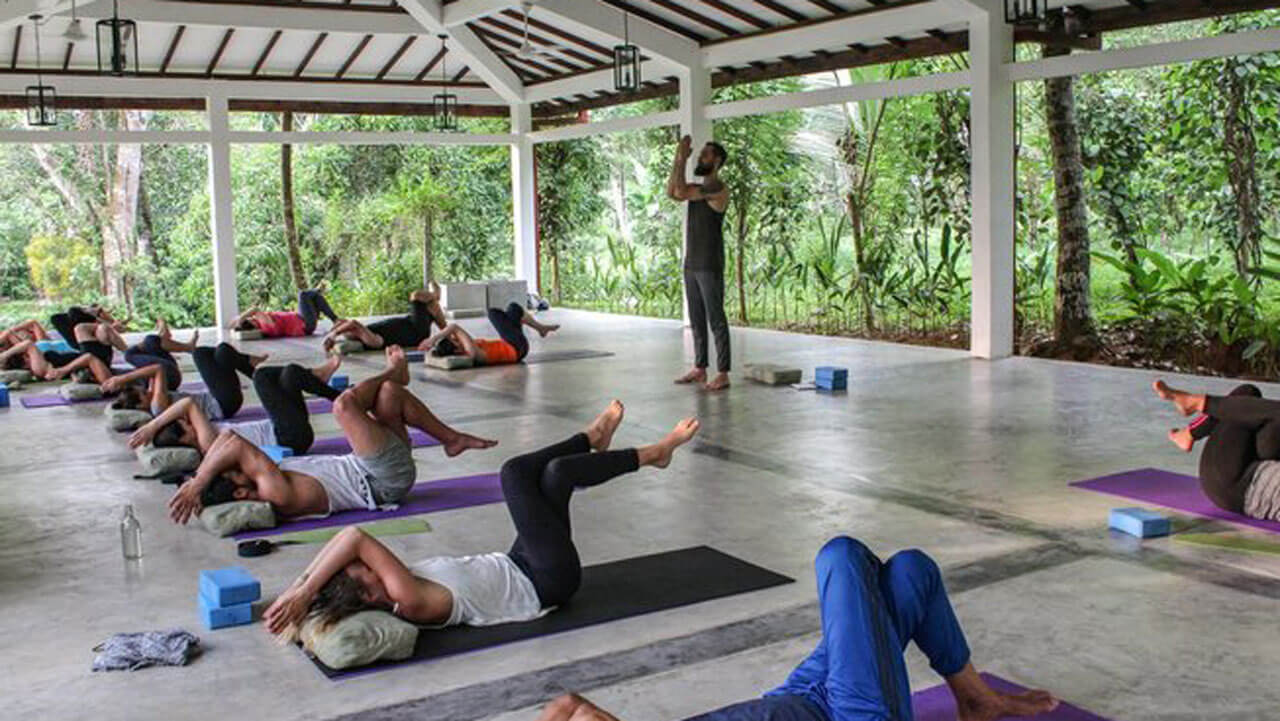 Starting from: $1,125
On this well-rounded, holistic Sri Lanka yoga retreat, you'll spend 10 days deepening your yoga and meditation practice in the peaceful, healing environment of Kalutara. You'll practice a range of yoga styles, including Hatha, Vinyasa, and Ashtanga, and you'll meditate with a Buddhist monk.
Because this retreat has a strong focus on ayurvedic healing, you'll spend these 10 days nourishing your body from the inside out with wholesome ayurvedic food. You will also be able to partake in daily mindfulness activities such as plantation walks, tree planting, and cooking classes.
Starting from: $364
Sri Lanka's south coast is a fantastic place for surfing. If you've always wanted to surf a wave, a surf and yoga retreat in Sri Lanka will surely be an unforgettable experience. Surfing can be physically exhausting, so balancing your time on the board with some time on the mat is essential. That is exactly what The Surfer Beach Camp offers on their 8-day yoga and surf camp.
Aside from daily surf and hatha yoga sessions, the retreat includes accommodation and two meals a day. You'll visit all the best surf spots in Weligama, and the experienced instructors will help you catch the best wave of the day. Plus, this camp caters to all levels, including beginners.
READ MORE: Best Yoga & Surf Retreats Around the Globe
Starting from: $2,132
This sacred healing retreat in the Galle District will help you heal past traumas and awaken into your most authentic self. The experienced yoga teachers will use Kundalini, Hatha, and Kriya practices to help you move past fear and towards love and acceptance.
The program also includes various ayurvedic treatments, relaxing Watsu water therapy, and some planned excursions like cooking classes and visiting a Buddhist temple. Plus, you'll be staying in a cozy home just a few minutes from the ocean.
Starting from: $840
If you prefer the mountains over the beach, this 6 day Ella retreat in Sri Lanka is for you. This yoga vacation is unique because you can get super close to nature by glamping under the stars. But don't worry if that's not your thing, as there's a cozy cottage you can stay in instead.
The program includes morning yoga and pranayama classes, a mid-morning trip to a local attraction, followed by lunch in the town centre. In the afternoons, you'll visit another sight or take a gentle nature walk before returning to base for a relaxing meditation session. This retreat offers a beautiful balance of yoga, nature, and sightseeing, making it one of the best yoga retreats in Sri Lanka for those looking to explore.
Starting from: $998
Island Spirit offers a unique fairtrade wellness retreat in Sri Lanka, which combines cultural activities with surfing, yoga, and meditation. All activities are arranged directly with small, local businesses, and food is locally sourced. What's more, Island Spirit donates 10% of its profit to a local project.
On this surf and yoga retreat in Sri Lanka, you'll enjoy six Hatha and Ashtanga classes, six surf lessons, an ayurvedic massage, and various craft and wellness workshops. In addition, you'll savor fresh smoothie bowls every morning, traditional Sri Lankan lunches, and go on street food adventures in the evening.
Starting from: $473
Many Sri Lanka yoga retreats offer a wide range of activities besides yoga. This can be ideal if you want to learn surfing or go hiking. However, if you're solely looking to immerse yourself in everything yoga, this 11-day yoga vacation in Ahangama is perfect. You'll stay at The Nuga House, 100 meters from Kablana beach, giving you that tropical vacation vibe.
The program includes 3 yoga classes every day, more than you will find on most other yoga retreats in Sri Lanka. The early morning session is Hatha flow, followed by a mid-morning class where you'll dive deeper into the foundations of yoga. The evening class is therapeutic, helping you unwind and relax for a blissful night's sleep.
Starting from: $500
Nutritious food is the foundation of a healthy lifestyle. This cooking and yoga retreat will teach you how to fuel yourself with the right food while deepening your yoga and meditation practice. You'll learn to cook organic, ayurvedic meals, pick your own fresh vegetables from the vegetable garden, and explore plantations and paddy fields.
You'll be staying in the award-winning Plantation spa villa, a converted colonial home. The comfortable environment will help you relax and recharge, along with twice-daily yoga and meditation sessions.
What something a little different? Don't forget to check out BookYogaRetreats, where new retreats are always being added!
Discover more yoga travel options!