Porto is a magical and charming city deserving of a spot on every Portugal itinerary. Even JK Rowling was inspired for pieces of her Harry Potter novels. Get ready to stay a little while because this city will sweep you off your feet and these Porto hostels and Porto hotels ranging from budget to luxury will pull you in to stay a little longer.
Accommodation in Porto is abundant but this Porto accommodation guide will help you find where to stay in Porto for any budget and still be close to the action and main city sites.
Disclosure: This post contains affiliate links which I earn a small commission from and are at no additional cost to you and help keep this site running. Images used in this article are from Booking.com.
Best Area to Stay in Porto
Ribeira
BEST FOR: Being in the middle of the action and views
Ribeira is the area right along the waterfront of the Douro River and is considered the best place to stay in Porto for many. Most of the city's action will take place here and there are an abundance of shops and restaurants, plus some of the best views in the city. The downsides are that this area will be louder and prices will be higher as most people want to stay here.
TOP PICKS FOR RIBEIRA
Baixa/Sé
BEST FOR: Being in the centre of it all
It doesn't get more central than Baixa as it the equivalent of Porto's downtown. This area is slightly uphill from the Ribeira area and though you won't have views of the river, you will still be close to plenty of Porto's attractions. The most central (and most beautiful) metro station, San Bento, is here and will be able to take you to anywhere in the city easily. Baixa is full of shopping, Porto sightseeing attractions, restaurants, nightlife and the majority of Porto's accommodation options.
TOP PICKS FOR BAIXA
Cedofita
BEST FOR: Trendy local life
Cedofita is a great option for those who want to be close to the city centre and within walking distance of city attractions. This trendy neighbourhood is known for its art scene and where you'll find cool cafes, art galleries and unique concept stores. This area is generally more on the quiet side.
TOP PICKS FOR CEDOFITA
Vila Nova de Gaia
BEST FOR: Quiet nights and easy access to wine
Vila Nova de Gaia is the area across the river from central Porto and is an area that no doubt you will be visiting if you're looking to try some wine. It's in Vila Nove de Gaia that you'll find all of the port wine cellars and great views over all of Porto. This area is a top choice is you prefer somewhere that's quieter as most people will retreat back to the Porto side of the river for nightlife.
TOP PICKS FOR VILA NOVA DE GAIA
Best Mid-Range Porto Accommodation
These are some of the best hotels in Porto that are affordable and either close to the airport or right in the historic city centre.
MyStay Porto Centro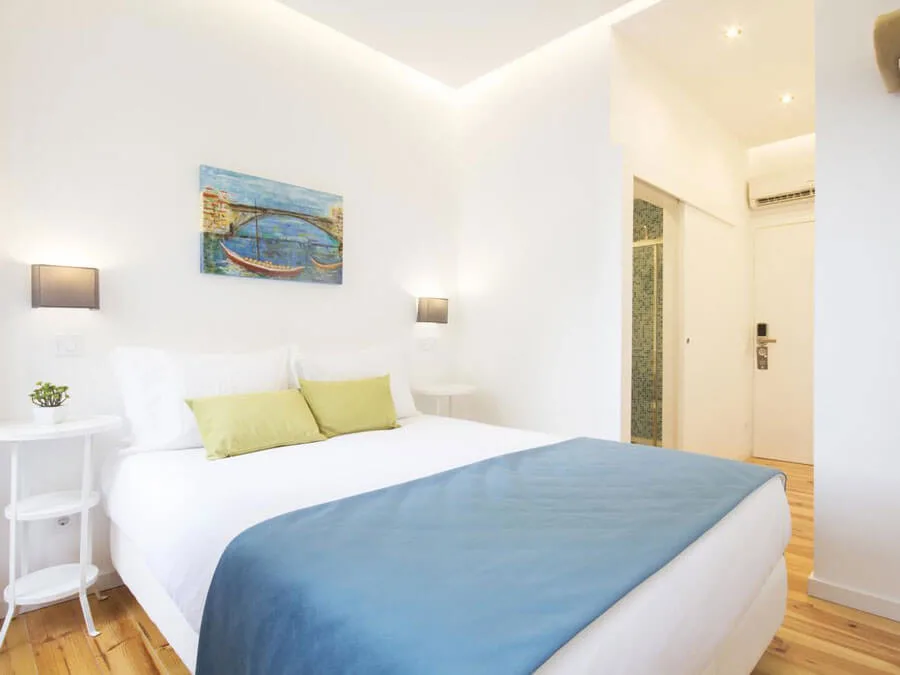 A great location, this affordable Porto hotel is right on the edge of Cedofita, making it easy walking distance to Porto's centre and attractions such as Lello Bookshop and Clerigos Tower. This simple accommodation is bright, airy and has all of the amenities you need for a peaceful stay in Porto.
Descobertas Boutique Hotel Porto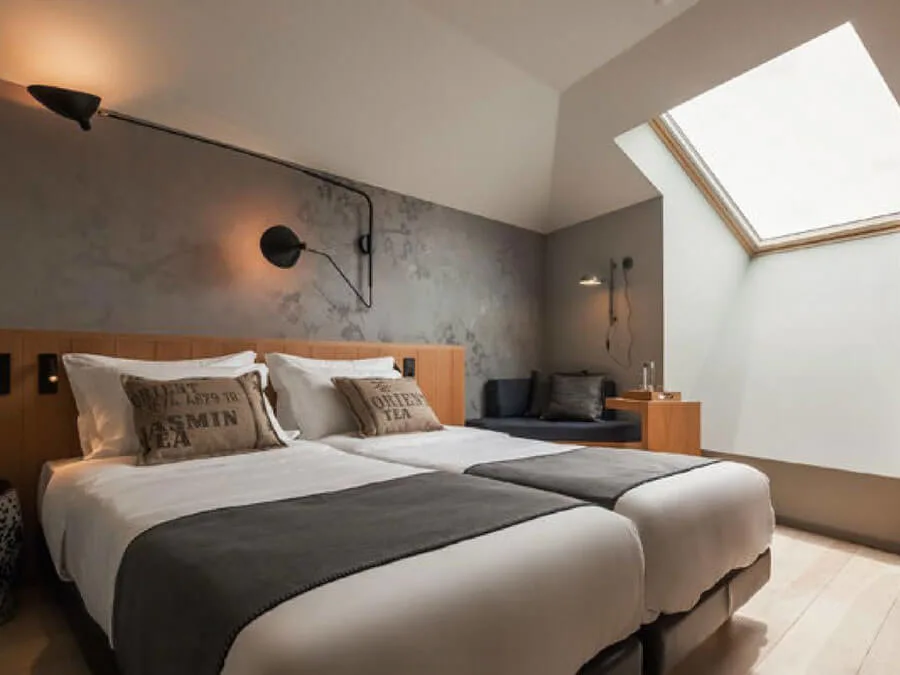 This sleek and modern Porto hotel is in Porto's most sought after area, Riberia, where guests are just minutes from the river and the number of restaurants that line the water for some of the best views in Porto. Located on a pedestrian-only street, you won't have to worry about cars or excess noise waking you in the night. An abundance of Porto's top sights are within a short walking distance from this spectacular hotel.
Moov Hotel Porto Centro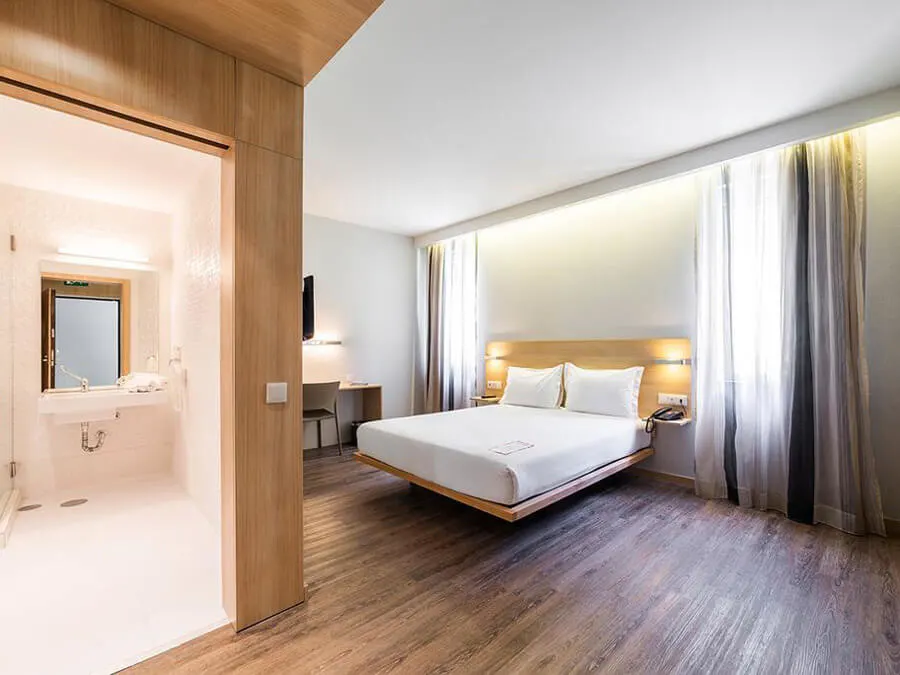 Moov Hotel Porto Centro is often sold out so look into this property quick as its stylish modern rooms will surely impress you for the price. This hotel in Porto was once an Art Deco cinema, it has now been refurbished into a trendy and bright hotel. A buffet breakfast is served daily for an extra charge and the outdoor terrace is a favourite of guests.
Not quite what you're looking for? Find more hotel options on Booking.com.
Best Luxury Porto Accommodation
These Porto luxury hotels will impress you with design and the views from your room.
Pestana Vintage Porto Hotel & World Heritage Site
The views don't get better than at this swanky hotel. Easily one of the best places to stay in Porto and one of the few 5-star hotels in Porto, Pestano Vintage sits along Douro River which guests can see from their rooms. Each room has a large bathroom and has been restored from a 16th-century building. The hotel also sits in the historic Riveria Square. Guests can indulge at the on-site bar, restaurant and spa. Previous guests have loved the complimentary breakfast, views and better than perfect location.
Hotel Mercure Porto Centro
One of the top places to stay in Porto, Hotel Mercure Porto Centro has an unbeatable location with a restaurant serving traditional Portuguese cuisine with views overlooking Douro River. Close to the romantic Riberia District, there are lots of the city's main attractions to explore with 10-minutes walking distance. The hotel is modern and fresh within room service available and a bar on-site.
Hotel Cristal Porto
Hotel Cristal Porto just yells Porto at you in a soft and inviting way with rooms that are mostly white with the traditional Portuguese blue and white tiles as appropriate accents. Previous guests the loved quiet garden tucked away to escape from the busy city but many major attractions and a metro station are within walking distance. A restaurant, bar and room service are available with breakfast included.
Not quite what you're looking for? Find more hotel options on Booking.com.
Best Budget Porto Accommodation
These are the best hostels in Porto. Be surprised because these are some swanky designer hostels that are bound to impress.
PILOT Design Hostel & Bar
This awesome hostel is trendy and has been designed to be one of the best hostels in the world. All of the rooms are clean and slick, there is a lounge/bar area and an outdoor terrace. The staff are very friendly and helpful who will give you tips on the city. The walking tour from the hostel is great as well and when you stay here you'll get free goodies such as free port wine tastings and free shots at the bar every night. There is also a kitchen but the perfect location means you'll probably be eating out every night! I personally stayed here and highly recommend it!
Gallery Hostel
With an excellent location, it's no wonder why Gallery Hostel is one of the popular hostels in Porto. Its contemporary design is sleek and with have you sleeping peacefully with its relaxed atmosphere. Private rooms, as well as dorm rooms up to 6 people, can be booked with some offering balconies and sitting areas in the room (amazing for when you don't feel like socializing in the common area!) and all have great city views!
Being Porto Hostel
Being Porto Hostel is another favourite hostel in Porto. It's stylishly designed and will have you feeling like you're at home more than you are in a hostel. It's homey with warm colours in all of the rooms and has a shared kitchen with exposed brick. Talk about a nice freakin' hostel! Both private rooms for up to 4 people and dorm rooms are available. Some rooms even offer balconies and plenty of Porto's star attractions are very close-by.
Not quite what you're looking for? Find more hostel options on Booking.com.
FAQ
What's the best neighborhood to stay in Porto?
It's all based on personal preference but the majority of visitors to Porto prefer to stay in neighbourhoods in the centre of Porto or close to the river. Baixa/Se is the heart and centre of Porto while Riberia is the neighbourhood right along the river.
Where is the best area to stay in Porto?
That all depends on what you like! Riberia is the best area to stay in Porto for views. Baixa/Se is the best area for attractions and sights. Cedofita is a great area that's still in the city but a bit more local.
How many days should you stay in Porto?
2-4 days in Porto will suffice and will depend on how leisurely you want to explore the city. That being said, Porto is small and you could easily see the main sights in two days. Don't forget to add an extra day to your Porto itinerary for a day trip to the Douro Valley, it's a must-visit for wine lovers!
Where is the centre of Porto?
The centre of Porto is Liberdade Square which is located in the Baixa/Se area.
Is Porto a walkable city?
Absolutely! While the transit in Porto is reliable, it shouldn't take you longer than 20-30 minutes to walk to most parts of the city, so long as you're staying in one of the area mentioned in this article.
Planning your visit to Porto? You'll love these posts