The small Central American country, Guatemala, is an unlikely yet idyllic yoga hub where yoga retreats and teaching training have rapidly grown in availability over recent years. This vibrant country boasts a mesmerizing volcanic backdrop, lush rainforests, and rich Mayan heritage, all waiting to be explored. So, if a Central America adventure is on your bucket list, why not combine it with a yoga teacher training in Guatemala?
Top Yoga Teacher Training in Guatemala
You can practice yoga in Guatemala with views of the famous Lake Atitlán, on the shores of an ancient volcanic crater, or even on a secluded island.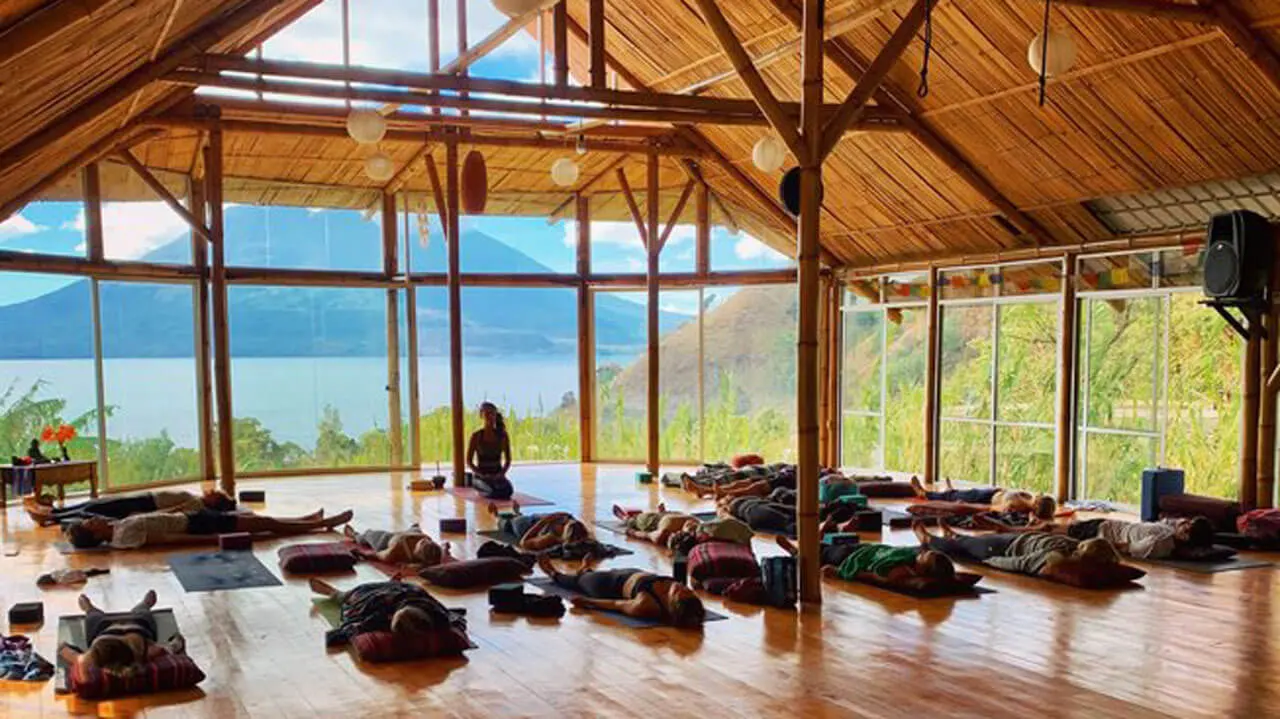 21 Day 200-hr Transformational Ashtanga Vinyasa Yoga Teacher Training at Lake Atitlan
Starting from: $3,697
Whether you want to deepen your personal practice or you have dreams of becoming a yoga instructor, Doron Yoga's YTT in Guatemala will transform your life. Set amongst the breathtaking surroundings of Lake Atitlán, you'll learn how to create Ashtanga Vinyasa, Yin, and Nidra yoga sessions either for yourself or others. In just 3 short weeks, you'll feel empowered in your personal practice and confident to share your passion with others.
As the course lasts just 21 days, this is one of the most intensive yoga teacher training in Guatemala. Most days will start at 6 am and finish between 7 and 9 pm. You'll start each day with pranayama, meditation, and ashtanga asana practice before a mid-morning lecture on philosophy, anatomy, subtle energy, etc. After a leisurely lunch, you'll partake in an asana clinic or some teaching practice, followed by an evening program or study time.
Every Sunday, you'll have the day off to explore, go kayaking, or unwind with a massage. You'll stay at the eco-friendly Doron Yoga & Zen Centre in a shared or private room and will enjoy three delicious vegetarian meals each day. Upon completing the course, you will come away with a 200-hour RYT certification, the foundation of a yoga teaching career.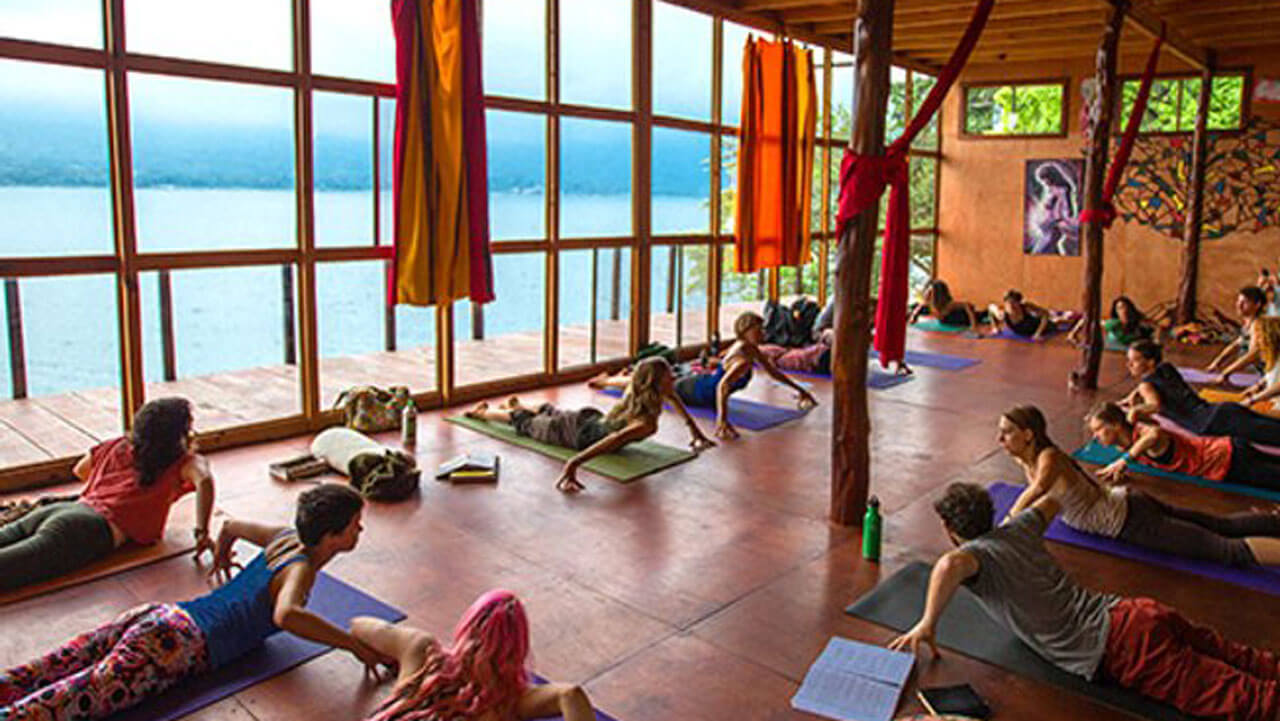 21 Day 200-Hour Yoga Teacher Training in Santiago Atitlán, Sololá Department
Starting from: $3,600
Join Mystical Yoga Farm in the Highlands of Guatemala for an inspiring and transformative YTT in a tranquil location. This multi-style Guatemala yoga course includes Hatha, Vinyasa, Ashtanga yoga (Sadhana style), guided meditation, and pranayama. The program also features community circles and karma yoga to create a welcoming and nurturing space.
The course teaches vital topics like anatomy and physiology, yoga sutras, and teaching methodology. Although this YTT is short, you'll dive straight in and start practice teaching from day one so that you leave full of wisdom and confidence. At the end of the program, you'll be able to lead both Vinyasa and Hatha classes and have a thorough understanding of various meditation techniques.
The days typically run from 6 am to 8 or 9 pm. The staff will prepare three vegetarian meals a day using fresh produce from the vegetable garden. Your accommodation is a shared or private room at the super secluded retreat centre, accessible by boat only. Plus, this eco-farm is totally off the grid, with filtered water, composting toilets, and solar hot water and electricity!
4 Week 200-Hour Sacred Earth Yoga Teacher Training in Tzununa, Lake Atitlan
Starting from: $4,095
This 4-week Sacred Earth yoga teacher training in Guatemala with Awakened Spirit Yoga is set in the peaceful village of Tzununá by the magical Lake Atitlán. The program combines ancient yogic wisdom with the intelligence of nature, teaching you how to instruct yoga classes, make a difference in your community and create a positive impact.
You'll practice Ashtanga and Vinyasa yoga and study all the crucial yoga topics, including philosophy, chakras, sequencing, anatomy, and more. During the rest of the time, you'll learn how to connect to nature and care for the earth with sustainable projects and permaculture. What's more, you'll discuss issues like social justice and diversity and learn how to engage with your community and nurture your personal relationships.
The unique focus and teachings of the Sacred Earth program make it the best yoga teacher training in Guatemala for eco-conscious yogis, changemakers, and activists. The course includes trips to Mayan regenerative communities, local permaculture organizations, and organic farms, and all food is included, too. In addition, you'll be staying at the eco-friendly Bamboo Guest House, a 10-minute walk from the lake.
30 Day 200-Hour Shamana Yoga Teacher Training at Lake Atitlan
Starting from: $2,999
This Guatemala yoga course focuses on self-reflection and self-healing, enabling you to step into the best version of yourself to share your light with others. Alongside your lectures and asana practice, you'll receive personal coaching in a nourishing, supportive environment.
Another unique component of this course is the 5-day immersion module of Ayurveda. Here, you'll learn about the relationship between yoga and Ayurveda and how the two practices can help you heal yourself and others. Other topics include the chakras, yogic lifestyle, and mind management, where you'll learn various relaxation and meditation techniques.
This yoga teacher training in Guatemala is not your average 200-hour YTT. Instead, Shamana Healing Centre's program will help you discover your life's purpose as you explore yourself and this beautiful country. You'll partake in Kirtan chanting, fire ceremonies, dance events, market trips, and more. You'll stay directly at the retreat centre, and Ayurvedic vegetarian meals and airport transfer are included in the price.
31 Day 300-Hour Earth Medicine Advanced ​Yoga Teacher Training in Tzununa
Starting from: $4,750
For yogis who have already completed their first 200-hour teacher training, this advanced 300-hour YTT in Guatemala is for you. This month-long course will deepen your knowledge and teach you new wisdom from shamanism, tantra, and sound healing modalities. What's more, it will enable you to become a 500-hour RYT (registered yoga teacher) and give you a much larger toolbox to work from.
Along with learning new adjustments and going deeper into yoga anatomy, you'll break down the postures in a much more comprehensive way than you did in your initial 200-hour YTT. In addition, you'll practice bhakti-yoga with kirtan, bhajan, and sacred song ceremonies.
You'll stay at the homely Casa Cobananda with stunning views of the lake and volcanoes. Here, you'll enjoy delicious vegetarian meals and can soothe your aching muscles in the onsite sauna. Most days will start at 6:30 am and run until 8 pm, with multiple half days and full days off throughout the course.
What's next?
Get my How to Choose a YTT Mini Guide! Avoid scams, what you MUST consider & my top course recommendations
Need a way to deepen your practice before YTT? Try my 30-day yoga adventure – Journey Home
Practice yin & vinyasa classes with me on YouTube to prepare for your upcoming training
Other amazing destinations for a YTT course