Hanoi is the capital of Vietnam and is home to chaos, beautiful architecture and mouth-watering food. In this busy city you'll find the streets filled with food stalls, a ridiculous amount of motorbikes somehow riding in sync, a look into the country's history and art.
It is considered a must stop and is one of the most popular cities to visit in southeast Asia. Hanoi also acts as an ideal jumping off spot for many attractions worth visiting like the UNESCO World Heritage site of Halong Bay, Sapa for trekking and Ninh Binh which is described as Halong Bay on land.
Love it or hate, Hanoi is a city that needs to be visited to understand the country's influence from the Chinese, French and Americans who all invaded the country at one point and left this unusual yet addictive culture. I share what to see in Hanoi and the best things to do in Hanoi to help create your Vietnam itinerary.
Old Quarter
Hanoi's Old Quarter is first on this list for a reason, it is easily one of the top things to do in Hanoi. Though it is one of the most popular attractions in Hanoi it is the perfect place to witness local life in Hanoi. Take a few hours to stroll the 2000-year-old chaotic streets of the Old Quarter, trying new foods from the street stalls and picking up some souvenirs. Not to mention you can marvel at the decaying yet mesmerizing French architecture.
Temple of Literature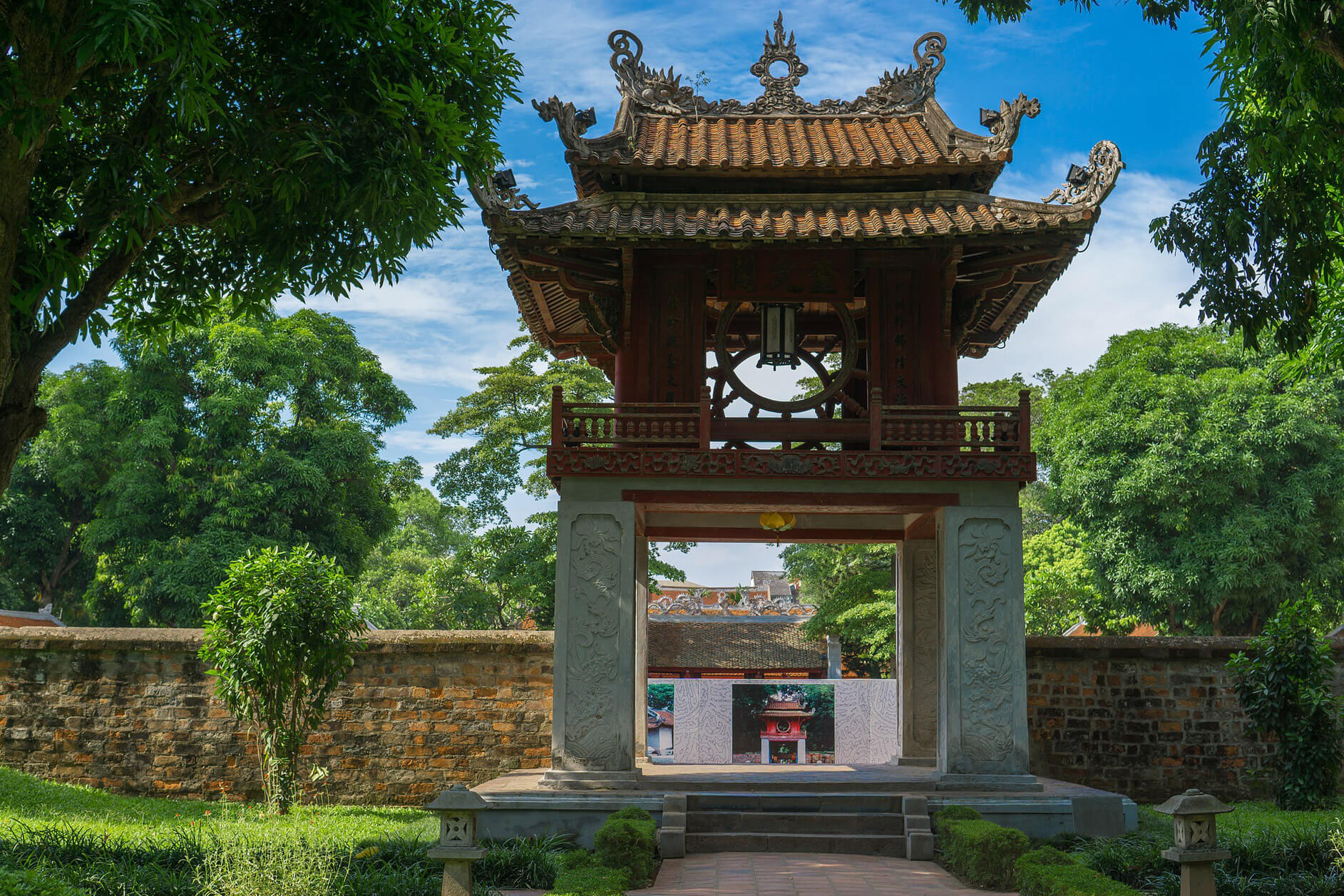 Built in 1070, the Temple of Literature was Vietnam's first national university and was dedicated to Confucius. Today it is a beautiful park made up of 5 courtyards which you can visit to see the remains of one of the oldest structures in the country.
Ho Chi Minh Mausoleum
Ho Chi Minh was the much-loved leader of Vietnam who was the first communist leader of the country. Today the mausoleum is his final resting place where you can see his embalmed body in a glass case and is one of the most visited Hanoi attractions. The mausoleum was modeled after Lenin's Mausoleum in Moscow. What's interesting yet sad is that this mausoleum was created against his will as Ho Chi Minh wished to be cremated. Minutes away is the Presidential Palace and Ho Chi Minh's House on Stilts.
One Pillar Pagoda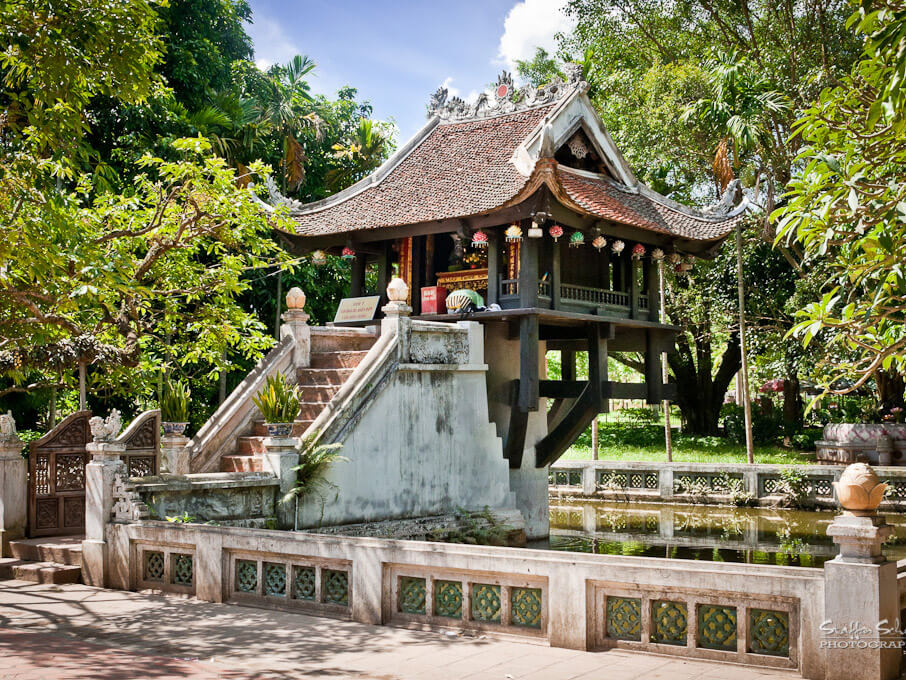 One Pillar Pagoda is regarded as one of Vietnam's most iconic temples. It was built in 1049 and is on stilts over a lake, designed to look like a lotus blossoming on a single pillar.
Hoan Kiem Lake & Ngoc Son Temple
Hoan Kiem Lake is a popular spot for locals and is one of the most scenic places to visit in Hanoi. Get here early in the morning to watch locals go about their daily routines like practicing Tai Chi. In the middle of the lake is Tortoise Pagoda, built because of the giant turtles that live in the lake. Ngoc Son Temple is on Jade Island on the lake and is a beautiful place to watch the sunset. It is accessed by one of the iconic bridges and is one of the best things to do in Hanoi.
Quan Su Pagoda 
Quan Su Temple is the headquarters for the Central Buddhist Congregation and is one of the most important temples in the country. It is not one of the largest or most visited so it is a little off the beaten path for many visitors but is worth visiting for its importance to the locals.
Hanoi Opera House
Built by French colonialists between 1901 and 1911, the Hanoi Opera House now stands as a gorgeous example of French architecture in the centre of Hanoi in the French Quarter. It is still used to this day where Vietnamese dance, opera and musical performances are held.
Vietnamese Women's Museum
One of the not-so-popular Hanoi tourist attractions, this museum is fascinating because it focuses solely on women in Vietnam and is worth a visit It showcases propaganda posters, costumes, and fabrics from tribes. But more importantly, it shows the role of women in Vietnamese culture and society and their efforts during the war.
Imperial Citadel of Thang Long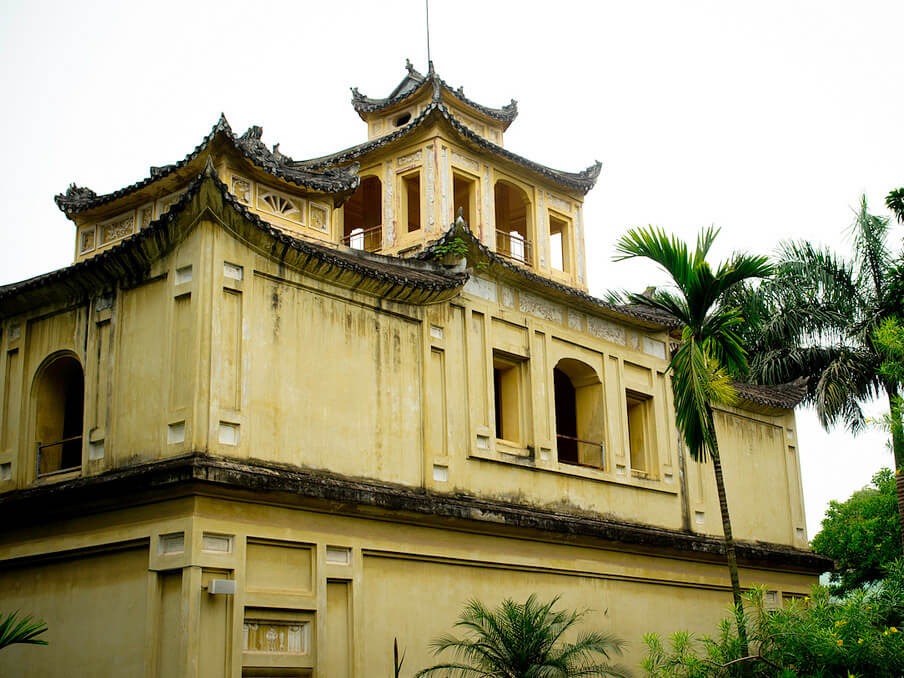 Also known as the Hanoi Citadel, it was acknowledged as a UNESCO World Heritage site in 2010. It was once the centre of Hanoi and on the site many artifacts were found that showed ancient roads, ponds and wells from as early as the 6th century.
Xuan Market 
Every major city in southeast Asia has a market and Xuan Market is Hanoi's largest and oldest making it one of the top things to see in Hanoi. You'll find everything here in the four-storey building that it is found in from fish on the first floor to souvenirs, knock offs and clothing.
Hoa Lo Prison (Hanoi Hilton)
Hoa Lo Prison was used for political prisoners of the French colonists. During the Vietnamese war it was nicknamed Hanoi Hilton when US prisoners were held there. Today it is a small museum that still has the original guillotine.
Where to Stay in Hanoi
A quick guide to help you navigate the many options of hostels and hotels in Hanoi.
Central Backpackers (Old Quarter)
I consider this the best place to stay in Hanoi, you'll be right in the action and in one of the city's best districts, the Old Quarter. This hostel is a prime spot to meet fellow travellers and is amazing for socializing with their nightly free beers and great bar. Plus even more come to visit the hostel from Central Backpackers – Original, the sister hostel.
READ REVIEWS: Hostel World | Booking.com
Vietnam Backpacker Hostels – Downtown
Another hostel in the Old Quarter that is great for it's nightly events that include happy hour, themed nights and quiz nights. Breakfast and free water is also included. But if you want to opt for a more chilled out hostel and vibe check out their sister hostel, Vietnam Backpackers – The Original.
READ REVIEWS: Hostel World | Booking.com
Classic Street Hotel
A sweet hotel in an amazing area of the city that is within walking distance to many of the top attractions such as Hoan Kiem Lake. It is decorated in Vietnamese decor and is well priced with free Wi-Fi and an on-site restaurant.
READ REVIEWS: Booking.com | Hotels Combined
Hanoi Capella Hotel
Another hotel in an awesome location that is surrounded by street food stalls, shopping and must-see attrations such as Ngoc Son Temple. Wi-Fi is available throughout the property, there is on-site bar and restaurant plus bike hire.
READ REVIEWS: Booking.com | Hotels Combined
Seriously don't skip Hanoi on your trip to Vietnam. Most people start or finish in Hanoi or Ho Chi Minh and the thoughts on Hanoi are pretty split. Don't listen to what anyone says, just go and make a decision for yourself! Enjoy your Hanoi sightseeing, it really is an incredible city.
Travel Insurance Vietnam
Picking travel insurance is an essential part of planning a trip for everyone, including your trip to Vietnam
If you can't afford travel insurance, you can't afford to travel

World Nomads

 is an affordable option that I personally recommend
I've made 2 claims with World Nomads for doctors appointments and antibiotics in the Philippines and Australia
No idea where to start? Check out my 

travel insurance guide

 to help you pick the best option for you
Don't think you need travel insurance? 

Read these travel horror stories
Heading to Vietnam? You'll love these posts:
Disclosure: This post contains affiliate links which I earn a small commission from and are at no additional cost to you.