Christmas in Austria, like Germany, is celebrated with a ton of Christmas markets. Though the country is smaller there are fewer but they are closer together which makes exploring more that much easier.
Christmas Markets in Austria offer different handmade crafts and traditional sweets that differ from the country's larger neighbour to the north. The Christmas tree was even brought into the house by Austrian royals first and the snowglobe was invented in Vienna so Austria knows a thing or two about Christmas.
Plus all of these cities in Austria are perfect for Christmas market breaks! Add on some Christmas markets in Germany for the ultimate trip.
What You Need to Know About Christmas Markets in Austria
Christmas markets in Austria are actually called Christkindlmarkt because Santa is called Christkindl
The most popular Christmas markets in the country are in Vienna and Salzburg
Christmas markets open in late November and most close just before Christmas (though some are known to stay open longer)
Christmas Markets in Austria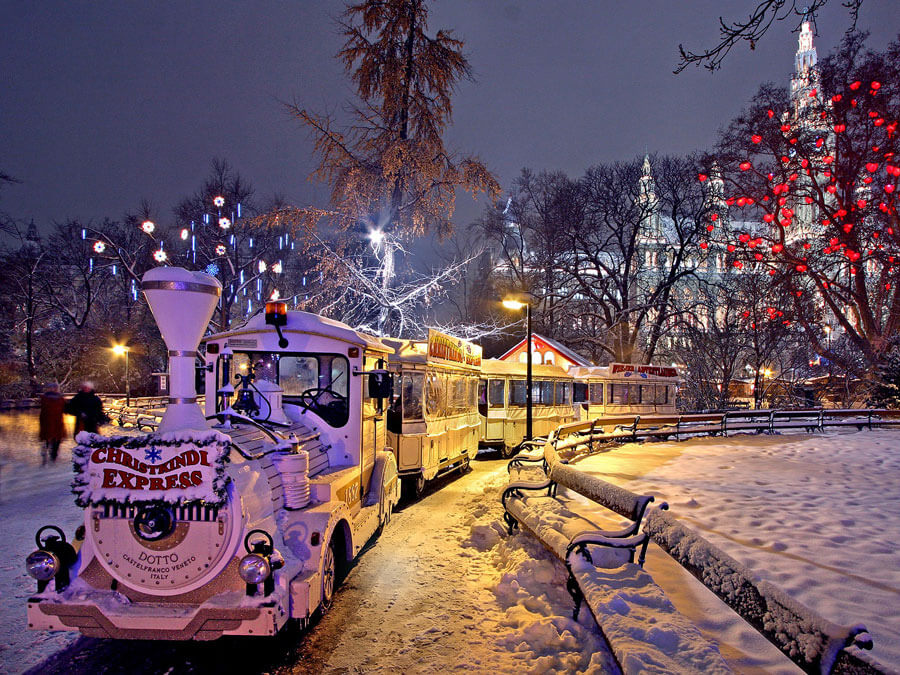 Vienna Christmas Markets
Out of all of the cities that I visited, Christmas in Vienna was the most beautiful Christmas markets with a wide selection of both big and small markets with stunning backdrops of beautiful architecture. If you only visit one place in Austria for Christmas markets, make it Vienna (plus the city is super beautiful in the winter!), it has some of the best Christmas markets in Europe.
You can even do a Vienna Christmas market tour!
Christkindlmarkt at Rathausplatz
Christkindlmarkt at Rathauspltaz is one of the most known Christmas markets in Vienna because it is the most commercial and touristy. But don't let that deter you from visiting!
Even locals come here to watch the lights twinkle on the giant Christmas tree that stands in front of city (that makes for a really nice backdrop).
It's quite large with over 150 stalls so you can easily spend some time here looking at the knick-knacks and eating all the food. There are even rides like a merry-go-round and a skating rink. Bring your own skates or rent them.
Location: Rathauspark in front of Vienna City Hall
Dates: November 17 – December 26, 2018
Art Advent on Karlsplatz
Not only is the location of this Christmas market beautiful, located in front Karlskirche church, but it is also different from your traditional Austrian Christmas market.
Here you'll find arts and crafts from around Austria instead of the typical knick-knacks that you'll see at the majority of Christmas markets. Not to mention that all the food at this market is certified organic.
Shows are put on here too with fire dancers, fashion and theatre.
Location: Karlsplatz
Dates: November 23 – December 23, 2018
Schönbrunner Weihnachtsmarkt
This Vienna Christmas market is a favourite for locals and tourists, the Christmas Market at Schönbrunn cannot be missed. Schönbrunn Palace itself is spectacular even without the Christmas lights shining in front of it.
I recommend spending the afternoon seeing Schönbrunn Palace and the evening at the market as this is one market that is a little out of the way. Live music also plays in the evenings during the week and afternoons on the weekend.
As an added bonus if you're around Vienna for New Year's, Schönbrunner Weihnachtsmarkt also stays open until January as a New Year's market!
Location: Schönbrunn Palace
Dates: November 24, 2018 – January 6, 2019
Old Viennese Christmas Market on Freyung
The Christmas market held at Freyung is very old, first operating in 1772. Selling traditional Austrian handicrafts, lots of mulled wine, gingerbread, jewelry and more, this market is great to visit as you explore the city centre of Vienna.
Location: Freyung square
Dates: November 23 – December 23, 2018
Christmas Village on Maria-Theresien-Platz
Another market in the city centre, the Christmas Village on Maria-Theresien-Platz has yet another beautiful backdrop with two museums surrounding the market. Arts, crafts and the typical food are found here at over 70 booths.
It's perfect to visit between museums or to use the Museum of Natural History or the Museum of Art to warm up.
Location: Maria-Theresien Platz
Dates: November 21 – December 26, 2018
Find more Christmas markets in Vienna and info.
Where to Stay in Vienna
Hostel: Wombats City Hostel Vienna
Mid-Range Hotel: Carlton Opera
Luxury Hotel: Hotel Sacher Wien
Salzburg Christmas Markets
Salzburg doesn't have many Christmas markets (2 really) but like Vienna it really shows its true beauty in the winter. The streets are decorated with hanging Christmas lights in star shapes and the main city squares are filled with stalls for the markets.
From Salzburg I highly recommend taking a day trip to Hallstatt, it's one of the most beautiful places I've ever been with mountains topped with snow surrounding a lake and the small town. There's also a Christmas market there too!
Salzburg Chriskrindlmarkt
This Salzburg Christmas market has got some serious history. It first appeared in the 17th century and was the first Christmas market to open after the major cities of Vienna, Paris, Amsterdam and Nuremburg.
Today it's the largest market in Salzburg and is a delight to walk around with lights hanging above you, right beside Salzburg Cathedral. A nativity scene, a skating rink, gingerbread and roasted chesnuts await you.
Location: Cathedral and Residenz Square
Dates: November 22 – December 26, 2018
Mirabell Square Christmas Market
A smaller market compared to Salzburg Christrindlmarkt, the market in Mirabell Square is newer but still centrally located with lots of culinary treats.
Location: Mirabell Square
Dates: November 22 – December 24, 2018
Hellbrunner Adventzauber

Just a 20-minute bus ride outside of Salzburg's city centre is Hellbrunn Castle that holds its own Christmas market in the courtyard. It only gained populairty within recent years and sells all of the usual goodies but the real treat here is going for a sleigh ride pulled by reindeers!
Location: Hellbrunn Courtyard
Dates: November 22 – December 22, 2018
Find more Christmas markets in Salzburg and info.
Where to Stay in Salzburg
Hostel: Yoho International Youth Hostel Slazburg
Mid-Range Hotel: Adlerhof
Luxury Hotel: Altstadt Hotel Stadtkrug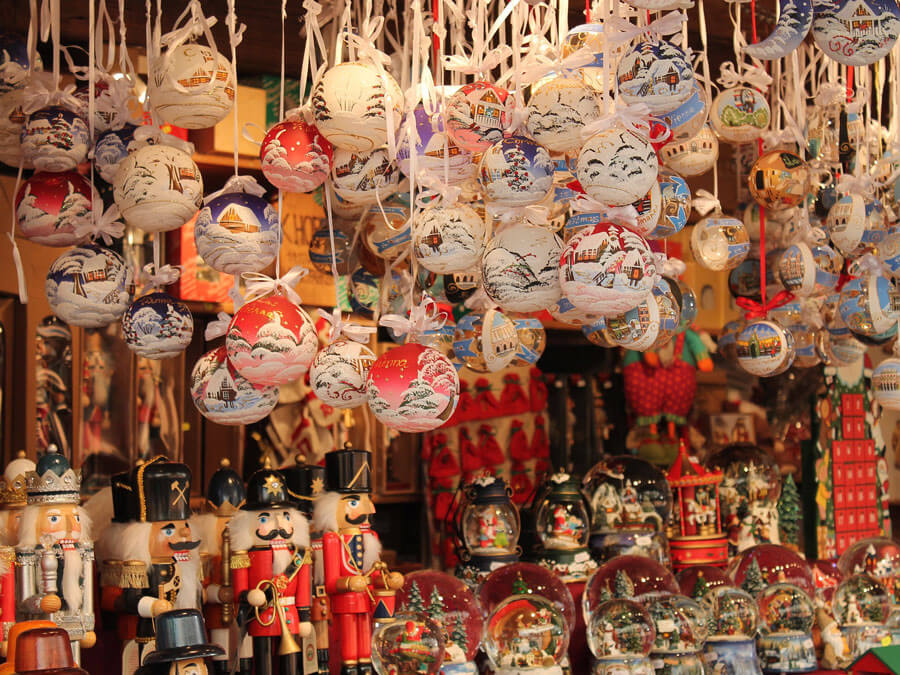 Innsbruck Christmas Markets
Visitors come to Innsbruck to be by the mountains, perhaps for a skiing trip, but the Christmas markets here are made so much more special because of the stunning backdrop of the mountains. They too are just as romantic as the ones in Vienna.
Old Town Christmas Market
Stop by this Innsbruck Christmas market if you like tradition. Here the large Christmas tree sparkles beside famous Golden Roof in Innsbruck. At 5:30 everyday you'll be able to hear the trumpeteers on the balcony performing traditional Austrian Christmas songs.
Location: City centre, in front of the Golden Roof
Dates: November 15 – December 23, 2018
Marktplatz Christmas Market
The Markplatz Christmas Market is ideal for kids and adults too. A 14-metre tall tree stands glimmering in the light with over 17,000 Swarovski crystals on it. The usual stalls of food and crafts are here too along with a petting zoo and puppet theatre.
Location: Marktplatz
Dates: November 15 – December 23, 2018
Hungerburg Christmas Market
For the market with the best views in all of Austria make your way up to the top of Innsbruck on the Nordkette cable car where from the mountains you'll get a spectacular view over Innsbruck.
The market is known for its handmade Austrian Christmas decorations.
Location: Hungerburg cable station
Dates: November 25 – Decemer 23, 2018
Find more Christmas markets in Innsbruck and info.
Where to Stay in Innsbruck
Hostel: Marmota Hostel
Mid-Range Hotel: Hotel Goldene Krone Innsbruck
Luxury Hotel: Hotel Grauer Bär
Graz Christmas Markets
A less visited city by tourists (but not for good reason) is Graz. The Christmas markets here are just as pretty, very festive and have beautiful locations plus there are fewer tourists here.
In Graz you'll see a lifesize nativity scene made of ice and an advent calendar that's projected onto the town hall.
Hauptplatz Christmas Market
The largest and most known market in Graz, Hauptplatz Christmas Market is right in front of the town hall and features traditional handicrafts. While here don't miss Feuerzangenbowle, wine and rum that's mixed together and set on fire.
Location: Hauptplatz
Dates: November 23 – December 24, 2018
Mariahilferplatz Christmas Market
This Christmas market offers an alternative to the typical traditional markets. There's a big ferris wheel here which provides views of Graz decorated in sparkling lights and a music program.
Location: Mariahilferplatz
Dates: November 23- December 23, 2018
Glockenspielplatz Christmas Market
A favourite in the city, Glockenspielplatz Christmas market keeps with its local theme each year, Styria, selling products from local producers in the Styria region.
Location: Glockenspielplatz
Dates: November 23 – December 23, 2018
Find more Christmas markets in Graz and info.
Where to Stay in Graz
Hostel: A&O Graz Hauptbahnhof
Mid-Range Hotel: Ibis Budget Graz City
Luxury Hotel: Hotel Weisler Graz
I hope that these have inspired you for your next Christmas market trips!
Disclosure: This post contains affiliate links which I earn a small commission from and are at no additional cost to you. Taylor's Tracks is a participant in the Amazon Services LLC Associates Program, an affiliate advertising program designed to provide a means for us to earn fees by linking to Amazon.com and affiliated sites.