Christmas in Austria, like Germany, is celebrated with a ton of Christmas markets. Though the country is smaller and there are fewer, they are closer together which makes exploring more that much easier and there the spirit of Christmas is still all around.
Christmas Markets in Austria offer different handmade crafts and traditional sweets that differ from the country's larger neighbour to the north. The Christmas tree was even brought into the house by Austrian royals first and the snow globe was invented in Vienna so Austria knows a thing or two about Christmas.
Plus all of these cities in Austria are perfect for Christmas market breaks! Add on some Christmas markets in Germany for the ultimate trip to Austria and beyond! Get ready to hear the sound of Christmas carols and let yourself be enchanted.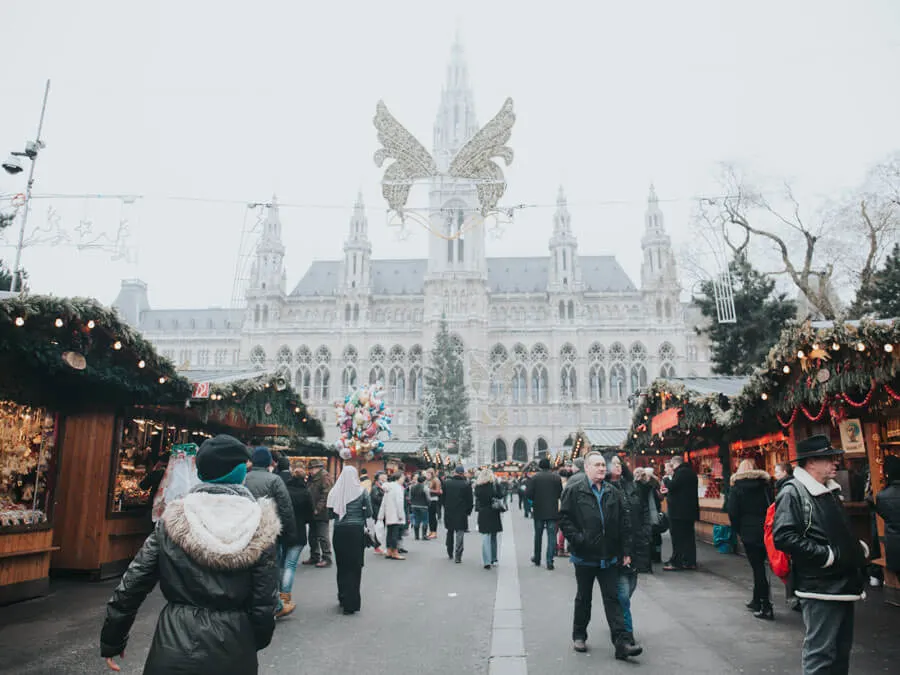 What You Need to Know About Planning a Christmas Market Trip
It's necessary to plan your trip as a trip to Europe for Christmas markets is not like any other trip. These trips often take more planning, mainly because Christmas markets are so popular and people from around the world come to visit them. Since the markets are only up for a month or so it means that the most popular spots are flooded with tourists and locals who come out to enjoy this wonderful tradition. Use these tips to make your trip to Austria smooth and easy.
---
Planning a trip to Austria? Don't miss this totally customizable Austria itinerary!
---
Best Places for Austrian Christmas Markets
Plan to visit between the end of November and just before Christmas. Many Christmas markets shut down on December 23rd, some a few days earlier and some close just for Christmas and then open up again until New Years Eve. Ideally you're going to want to plan to come no earlier than the last week of November and no later than the week before Christmas.
Book Accommodation Well in Advance
Since so many people come Austria for the magical experience and the beauty of Christmas markets you will not be the only one looking for a top hotel deal or a place to stay. While larger cities such as Vienna and Salzburg often have spots available closer to Christmas market dates you can typically get away with booking only a couple of weeks in advance. In smaller cities you will want to book even earlier, at least 2 months in advance is my advice. For both, the earlier the better as you'll get the most choice and a higher chance of finding a deal. And don't forget that hotel booking sites such as Booking.com often have cancellation up to sometimes even a week before. Be sure to read the details if you are thinking of cancelling!
I've included recommendations for all budgets on where to stay in each city below to help save you a bit of research time!
Check the Dates for Each Christmas Market
Each market has different dates with some staying open after Christmas, most not, some opening mid-November, others not. Pick the markets that you really want to go to and plan around the dates that they're open. Remember, the dates change each year too so be sure to find up-to-date information.
How Long to Spend in Each Destination
While a trip solely to visit Christmas markets sounds like a lot of fun, it does tend to get repetitive if you're planning on spending two weeks Christmas market hopping! Give yourself an extra day or two in destinations to break up your Christmas festivities and see the beauty of each place in the winter. Plan to spend 1-2 days at the markets and an additional 1-2 sightseeing.
Spend Time at Each Christmas Market in Austria
When I spend time, I mean to visit both during the day and at night. Christmas Markets in Austria are fabulous during the day but when the lights turn on at night its a whole other atmosphere that is just magical.
Where are the most popular Christmas markets in Austria?
Vienna and Salzburg are the most popular places for Christmas markets in Austria but Innsbruck, Graz and even the small town of Hallstatt are excellent choices too.
Other Destinations for Christmas Markets in Europe
While Austria offers a great and wide range of Christmas markets there are so many other places worth travelling to that are only a couple of hours away with fabulous Christmas markets too! Head to Bavaria for Christmas markets in Munich or further north for even more Christmas markets in Germany, hop over to Hungry to check them out in Budapest, check out Zagreb in Croatia, Prague in the Czech Republic or Bratislava in Slovakia for different takes on Christmas markets.
Where to Visit the Best Christmas Markets in Austria
Luckily Austria is a small country and it makes visiting multiple cities easy to see a wide selection of Christmas markets. That being said, there's no need to venture far, or even outside of Austria's larger cities in order to see multiple Christmas markets! In Vienna and Salzburg, you're spoiled for choice for Christmas markets and I guarantee you'll have many to visit!
Vienna Christmas Markets
Out of all of the cities that I visited, Christmas in Vienna was the most beautiful Christmas markets with a wide selection of both big and small markets with stunning backdrops of beautiful architecture. If you only visit one place in Austria for Christmas markets, make it Vienna (plus the city is super beautiful in the winter!), it has not only some of the best Austrian Christmas markets but Christmas markets in Europe.
You can even do a Christmas market tour in Vienna!
Christkindlmarkt at Rathausplatz
Christkindlmarkt at Rathauspltaz is one of the most known Christmas markets in Vienna because it is the most commercial and touristy. But don't let that deter you from visiting!
Even locals come here to watch the lights twinkle on the giant Christmas tree that stands in front of city (that makes for a really nice backdrop).
It's quite large with over 150 stalls so you can easily spend some time here looking at the knick-knacks and eating all the food. There are even rides like a merry-go-round and a skating rink. Bring your own skates or rent them.
Location: Rathauspark in front of Vienna City Hall
Art Advent on Karlsplatz
Not only is the location of this Christmas market beautiful, located in front Karlskirche church, but it is also different from your traditional Austrian Christmas market.
Here you'll find arts and crafts from around Austria instead of the typical knick-knacks that you'll see at the majority of Christmas markets. Not to mention that all the food at this market is certified organic.
Shows are put on here too with fire dancers, fashion and theatre.
Location: Karlsplatz
Schönbrunner Weihnachtsmarkt
This Vienna Christmas market is a favourite for locals and tourists, the Christmas Market at Schönbrunn cannot be missed. Schönbrunn Palace itself is spectacular even without the Christmas lights shining in front of it.
I recommend spending the afternoon seeing Schönbrunn Palace as it's one of the top things to do in Vienna, and the evening at the market as this is one market that is a little out of the way. Live music also plays in the evenings during the week and afternoons on the weekend.
As an added bonus if you're around Vienna for New Year's, Schönbrunner Weihnachtsmarkt also stays open until January as a New Year's market!
Location: Schönbrunn Palace
Old Viennese Christmas Market on Freyung
The Christmas market held at Freyung is very old, first operating in 1772. Selling traditional Austrian handicrafts, lots of mulled wine, gingerbread, jewelry and more, this market is great to visit as you explore the city centre of Vienna.
Location: Freyung square
Austrian Christmas Village on Maria-Theresien-Platz
Another market in the city centre, the Christmas Village on Maria-Theresien-Platz has yet another beautiful backdrop with two museums surrounding the market. Arts, crafts and the typical food are found here at over 70 booths.
It's perfect to visit between museums or to use the Museum of Natural History or the Museum of Art to warm up.
Location: Maria-Theresien Platz
Find more Vienna Christmas markets and info.
Where to Stay in Vienna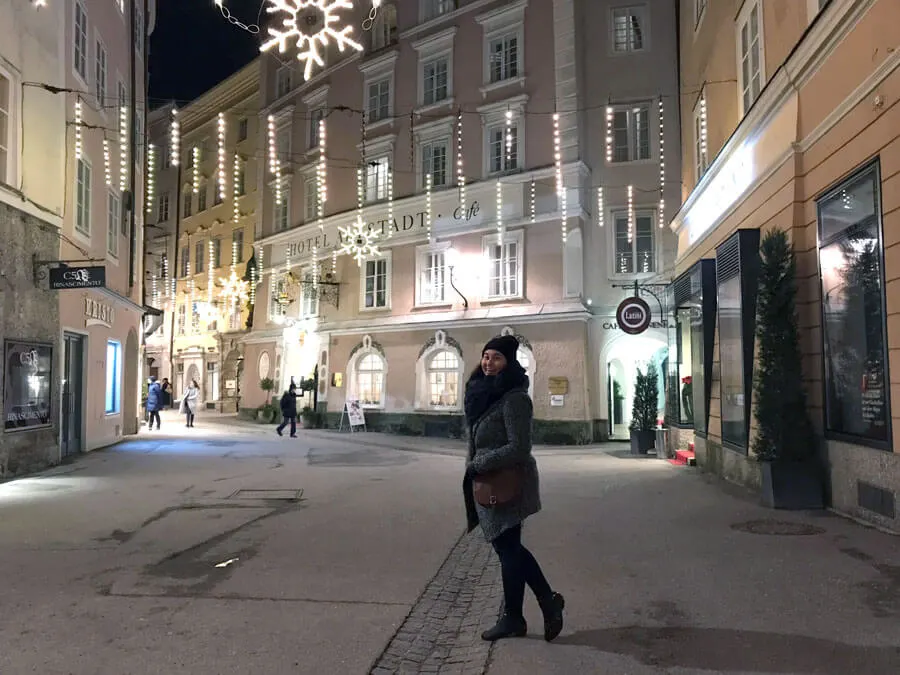 Salzburg Christmas Markets
Salzburg doesn't have many Christmas markets (2 really) but like Vienna it really shows its true beauty in the winter. The streets are decorated with hanging Christmas lights in star shapes and the main city squares are filled with stalls for the markets.
From Salzburg I highly recommend taking a day trip to Hallstatt, it's one of the most beautiful places I've ever been with mountains topped with snow surrounding a lake and the small town. There's also a Christmas market there too!
Salzburg Chriskrindlmarkt
This Salzburg Christmas market has got some serious history. It first appeared in the 17th century and was the first Christmas market to open after the major cities of Vienna, Paris, Amsterdam and Nuremberg.
Today it's the largest market in Salzburg and is a delight to walk around with romantic lights hanging above you, right beside Salzburg Cathedral. A nativity scene, a skating rink, gingerbread and roasted chesnuts await you.
Location: Cathedral and Residenz Square
Mirabell Square Christmas Market
A smaller market compared to Salzburg Christrindlmarkt, the market in Mirabell Square is newer but still centrally located with lots of culinary treats.
Location: Mirabell Square
Hellbrunner Adventzauber

Just a 20-minute bus ride outside of Salzburg's city centre is Hellbrunn Castle that holds its own Christmas market in the courtyard. It only gained popularity within recent years and sells all of the usual goodies but the real treat here is going for a sleigh ride pulled by reindeers!
Location: Hellbrunn Courtyard
Find more Christmas markets in Salzburg and info.
Where to Stay in Salzburg
Innsbruck Christmas Markets
Visitors come to Innsbruck to be by the mountains, perhaps for a skiing trip, but the Christmas markets here are made so much more special because of the stunning backdrop of the mountains. They too are just as romantic as the ones in Vienna.
Old Town Christmas Market
Stop by this Innsbruck Christmas market if you like tradition. Here the large Christmas tree sparkles beside famous Golden Roof in Innsbruck. At 5:30 everyday you'll be able to hear the trumpeters on the balcony performing traditional Austrian Christmas songs.
Location: City centre, in front of the Golden Roof
Marktplatz Christmas Market
The Markplatz Christmas Market is ideal for kids and adults too. A 14-metre tall tree stands glimmering in the light with over 17,000 Swarovski crystals on it. The usual stalls of food and crafts are here too along with a petting zoo and puppet theatre.
Location: Marktplatz
Hungerburg Christmas Market
For the market with the best views in all of Austria make your way up to the top of Innsbruck on the Nordkette cable car where from the mountains you'll get a spectacular view over Innsbruck.
The market is known for its handmade Austrian Christmas decorations.
Location: Hungerburg cable station
Find more Christmas markets in Innsbruck and info.
Where to Stay in Innsbruck
Graz Christmas Markets
A less visited city by tourists (but not for good reason) is Graz. The Christmas markets here are just as pretty, very festive and have beautiful locations plus there are fewer tourists here.
In Graz you'll see a lifesize nativity scene made of ice and an advent calendar that's projected onto the town hall.
Hauptplatz Christmas Market
The largest and most known market in Graz, Hauptplatz Christmas Market is right in front of the town hall and features traditional handicrafts. While here don't miss Feuerzangenbowle, wine and rum that's mixed together and set on fire.
Location: Hauptplatz
Mariahilferplatz Christmas Market
This Christmas market offers an alternative to the typical traditional markets. There's a big ferris wheel here which provides views of Graz decorated in sparkling lights and a music program.
Location: Mariahilferplatz
Glockenspielplatz Christmas Market
A favourite in the city, Glockenspielplatz Christmas market keeps with its local theme each year, Styria, selling products from local producers in the Styria region.
Location: Glockenspielplatz
Find more Christmas markets in Graz and info.
Where to Stay in Graz
Food and Drinks You Must Try at Austria Christmas Markets
Plan to eat and drink well and come hungry, these are the must-try seasonal treats that will fill your belly.
Glühwein (Mulled Wine)
This traditional Christmas market drink you'll see various versions of across Europe and for good reason! Glühwein translates to mulled wine which is warm wine that has spices, tea, sugar and spirits added to it. The spirits are typically brandy or rum but I've been to some market stalls that ask you if you prefer a shot of vodka in it!
This hot, delicious drink is perfect to heat your hands and body as you roam through markets but be aware that some of quite strong so be sure to have plenty of traditional Austrian food along with it. You can find red or white but red is by far more common.
Additionally, know that when you pay for your glühwein it includes a couple of euro deposit for your mug. If you love it, it's yours to keep but if you prefer to not carry home an abundance of mugs bring it back to the stall to get your deposit back. Some of them are quite cute and many people collect them.
Punsch
Punsch (punch) is another popular alcoholic drink that is made of fruit juice, spices and wine or spirits. There many different kinds of punch that you can try from the traditional orange punch to a strong punch, apple, berry, pomegranate, even coconut, there's a definitely a punch that your tastebuds will love.
There is also a children's, non-alchohlic punch available too for the kids to keep warm.
Tea & Hot Chocolate
For those who prefer to do their shopping booze-free, tea and of course hot chocolate are widely available.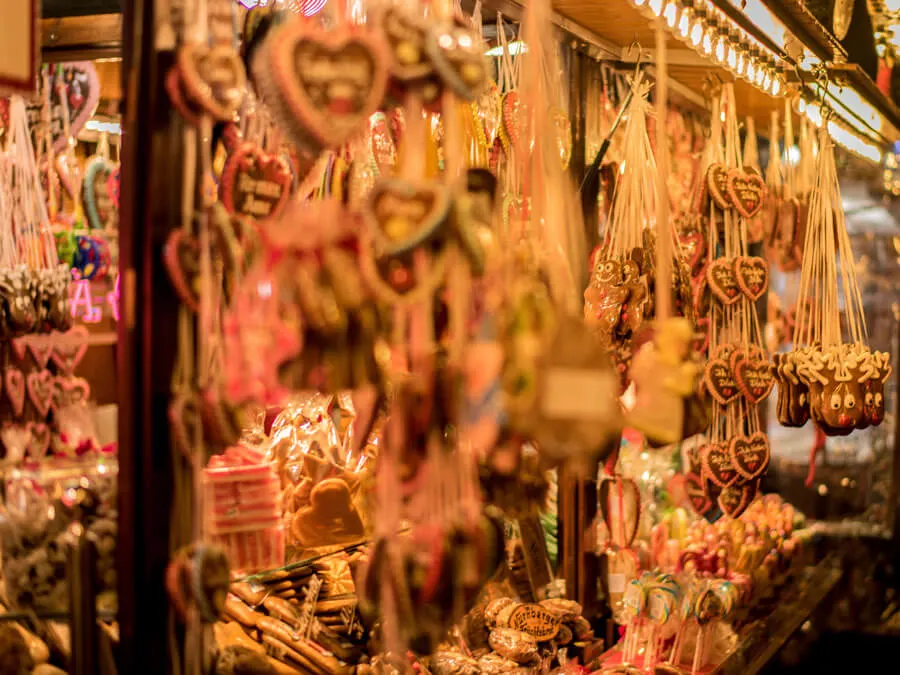 Christmas Biscuits
While there are many to try, I'll include a few of the most popular Austrian Christmas cookies. Perhaps the most famous Austrian Christmas biscuit, vanillekipferl is known for its crescent shape. These small cookies taste like almond and vanilla and are dusted with icing sugar. These were always a favourite in my house growing up around Christmastime.
Linzer Augen (a personal favourite of mine) are made from two soft cookies that are stuck together with jam, typically with a decorative cut out on the top with icing sugar on top. Rumkugeln, rums truffles are balls of deliciousness rolled in coconut. And lebkuchen is a classic that you see around the world, gingerbread!
Maroni
You know it's Christmastime in Austria when the maroni stalls start popping up! Maroni is roasted chestnuts and you can find this treat that's not sweet around the city's and in the markets.
Käsespätzle
Love macaroni and cheese? Well, käsespätzle is even better. Made with eggs noodles, covered in cheese and topped with fried onions, this is a favourite dish.
Langos
Popular at Hungarian Christmas markets, the Austrian langos is slightly different but equally delicious. It's a Christmas version of fast food as it's deep-fried potato dough that is flattened and is typically quite large (so best to share). It may not sound amazing but the garlic paste makes it amazing. Other versions are available too but some of the extra toppings you'll see most often are cheese and sour cream.
Sausage
No Austrian Christmas market trip is complete with trying some of the local sausage. From bratwurst to käsekrainer (it's stuffed with cheese) to frankfurters, there are plenty to try! Another option, though available year-round, is the Austrian version of a hot dog, bosna. It's topped with multiple ingredients, including curry and is very tasty.
Leberkas
Last but certainly not least, and definitely not the end of food to try at Christmas markets in Austria, leberkas is a type of meat, like meatloaf and is served on a semmel, which is a type of roll, making it a great snack to go as you walk!
What to Buy at Austrian Christmas Markets
I'm not here to tell you what you buy but if you're looking for something traditional and want to have an idea of how much room to leave in your suitcase, plan to bring some of these favourite souvenirs home.
Ornaments
No matter what Christmas markets in Europe to go to, they all sell an abundance of ornaments. Some you'll see quite frequently around many markets, others are totally unique. They're easy to pack and small and make for a great gift for others back home too!
Christmas Village Decorations
Though not as popular as ornaments, lots of markets sell many variations of Christmas houses and accessories to create a Christmas village.
Snow Globes
Since the snowglobe was invited in Austria it makes sense that it's perfect place to pick one up!
Lebkuchen
Lebkuchen is a giant gingerbread cookie, yes, but they're also decorative. You'll find these everywhere across Europe in all sorts of shapes with different coloured icing and different sayings.
Other Christmas Market Souvenirs
This list could go on forever, but to keep it short other typical souvenris include wool items, Christmas decorations, nutcrackers, lots of food and snacks, wooden toys, honey and jam and much, much more.
Christmas Traditions in Austria
While Austria is similar to what is celebrated for Christmas in North America, there are a few things that are slightly different.
Presents are opened on Christmas Eve
Traditionally in Austria Christmas presents are opened on December 24th, not Christmas Day like what is typically practiced in North America.
Krampus
Krampus is by far the scariest Christmas tradition I've come across. While children you have behaved well receive peanuts, tangerines and sweets, those who behaved badly may have a visit from a figure from folklore. On December 5th (Krampus Day) these figures come out and parades happen in Upper Austria where those dressed in costumes that include scary masks, horn and lots of fur and sheepskin make their debut while children and adults watch. I'll stick to believing in just getting coal in my stocking!
Christkind
There's no Santa Claus in Austria or Father Christmas who brings the presents. Instead, it's Christkind, the Christchild, Baby Jesus!
I hope that these have inspired you for your next Christmas market trips and given you a glimpse of what to expect in Austria during your Christmastime visit!