Pack your bags for a weekend of adventure and get to discover the best of Tobermory with this detailed guide to the Caribbean of Ontario. Picturesque waters, dramatic cliffs, rocky shores, and rugged coastline make up the Bruce Peninsula with Tobermory perched at the top. Wedged between two beautiful national parks, and a highlight as not only one of the best places to visit in Ontario but Canada as a whole, Tobermory is a small tourist town packed with activities and scenery for nature lovers. Dive into this Tobermory guide that includes the things to do in Tobermory that I did on my 3-day trip, including where to stay and eat too.
As Tobermory is experiencing overtourism please tread lightly, leave no trace, and be kind to nature as the Bruce Peninsula is home to unique and fragile ecosystems.
Best Things to do in Tobermory
Discover Tobermory and the best of the Bruce Peninsula at these incredible natural (mostly) attractions.
Bruce Peninsula National Park
One of the main attractions in Tobermory is the truly majestic Bruce Peninsula National Park, which is one of the best national parks in Canada. Located on the shores of the stunningly blue Georgian Bay, this national park is diverse and invites visitors to explore its rocky shores. The rocky forest will lead you to dramatic cliffs, through scenery that will make you feel like you're in a Lord of the Rings film, and through wetlands that a range of wildlife calls home.
As for things to do in Bruce Peninsula National Park… there's lots. This park is known for hiking and camping, but it's also a great place for swimming. Not to mention wildlife watching, kayaking, scuba diving, mountain biking, and more. It can be explored in the winter too by snowshoeing and cross country skiing. Below I've highlighted the best places to visit in Bruce Peninsula National Park.
Hiking Note: When visiting this park please wear hiking shoes or at least shoes with a good grip if you plan on hiking parts of the Bruce Trail as the trails are rugged, rocky, and can be slippery when wet.
Important! Due to the popularity of the Grotto and Halfway Log Dump and covid restrictions, parking reservations are required between late May and late October. Reservations fill up quickly so be sure to book early (minimum a month if not sooner). Book your reservation here.
The Grotto
The most popular site in the Bruce Peninsula, the Grotto is a natural cave that you can actually go into. But if you want to get into the water you don't have to go into the cave as around the area there are easier ways to dip your toes in. Plus there are viewpoints to see the cave from above too so be sure to explore around the area.
The hike to the Grotto is an easy 1km gravel/dirt path but once you get to the Grotto and the shores around it are rocky and can get slippery. There are bathrooms on the main path if you need to change.
I recommend hiking from the Grotto parking lot on Horse Lake Trail (moderate) which links to the Bruce Trail (this section is moderate) to Indian Head Cove and the Grotto. From the Grotto continue onwards west to Boulder Beach and take Mar Lake Trail from there which is a quiet, moderate – difficult trail. You will get a map of the trails when you enter the park.
Halfway Log Dump
Halfway Log Dump is one of the most popular places to visit in Bruce Peninsula National Park. This site is a rocky shore that has easy access to the water, making it a great place for a swim if you are willing to wade into the chilly Georgian Bay waters. The hike to this site is more like a light stroll that's just under 1km from the parking lot on an easy gravel/dirt path.
Don't spend all your time by the water though, on your way back from the beach, hang a right (away from the washrooms) onto the Bruce Trail and hike to some of the viewpoints as you head towards the Grotto. Within 1-2km you will see a number of viewpoints that are worth the difficult hike!
Hiking between the Grotto and Halfway Log Dump, an 8km hike on the Bruce Trail, is a popular, but strenuous hike. Note that if you walk one way, you'll also have to walk back as no shuttles are provided.
Singing Sands Beach
Singing Sands is a part of Bruce Peninsula National Park and gives you an awesome place to relax after some hiking! This area also has some easy hiking trails and a boardwalk to explore, but the main draw is the beach on the shores of Lake Huron. The water is chilly but since it's so shallow for so far out, in the summer it's still a good temperature to cool off in.
Parking is on a first-come-first-serve basis and the lot fills up fast but also keeps the beach from becoming too crowded. Don't forget your park pass before visiting.
Fathom Five Marine National Park
This unique park was Canada's first National Marine Conversation area and marked an important decision to protect Canada's diverse waters as well as land. What's so special about this park isn't just the ecosystem (that includes over 30 kinds of orchids on Flowerpot Island) but also the 22 shipwrecks that make this park a haven for divers. Whether you're exploring this park on land or in the water, it's truly worth the visit, especially since it's in the heart of Tobermory.
Cruise over to Flowerpot Island
Flowerpot Island is one of the main draws to Fathom Five Marine Park and is usually the first thing people even know about the park. This island is just off the coast of the Bruce Peninsula and is famed because of the two unique rock formations that look like flowerpots. The hike to these rocks is easy but I recommend going further to see the cave and lighthouse. At the lighthouse, you have the chance to sit in the red chairs that Parks Canada places in some of the most scenic spots in the national parks across the country. There's also a set of chairs along the flowerpot main hiking trail (the part of Loop Trail that is along the coast).
It's recommended by Parks Canada to plan 1.5 hours to see the flowerpots and cave, 3 hours to add on the lighthouse, and 4-5 hours to do the full loop. Bring your swimsuits too as swimming is possible but be mindful that is it rocky with deep dropoffs. Camping is also available on this island.
To get to flowerpot island you will need to book a cruise. More details on that below!
See Shipwrecks
If you're visiting Flowerpot Island then you will need to hop on a cruise that will also take you to some of the most noteworthy shipwrecks in this park. Cruises are on boats that have glass bottoms so you get pretty epic views of the major shipwrecks as you learn the history behind the area and why the shipwrecks are wrecks. I recommend Bruce Anchor Cruises simply because it's the company I went with but there isn't really any difference in companies as they do the same thing.
It's also possible to see more shipwrecks, including the ones we saw on the cruise on a kayak. My friend and I saw 5 shipwrecks with a 2-hour kayak rental from Tobermory Cruise Line.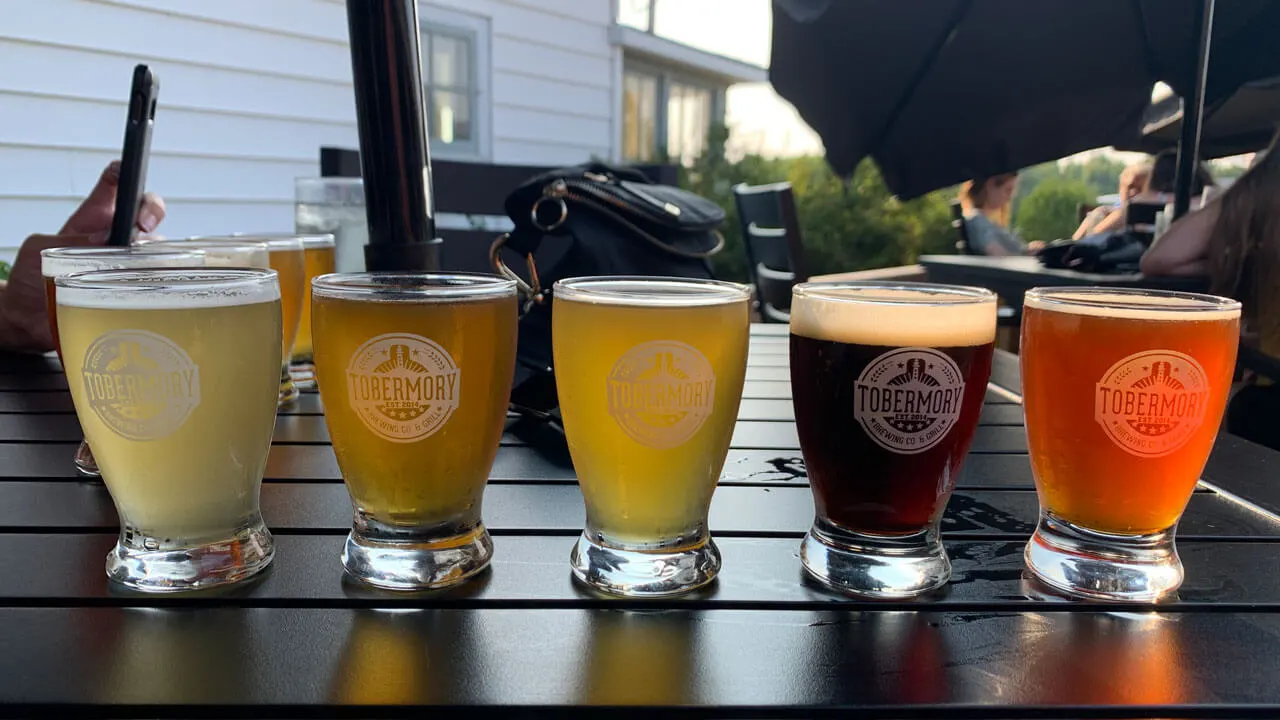 Tobermory Brewery
As much as Tobermory is all about nature, there's definitely some time you're going to want to relax! Head over to Tobermory Brewery to taste test the local brews and even bring some home with you. I'm not a big beer drinker but I always try the local beer and I gotta say it was some of my favourite craft beer. It's also a restaurant so you can grab a bite to eat as well.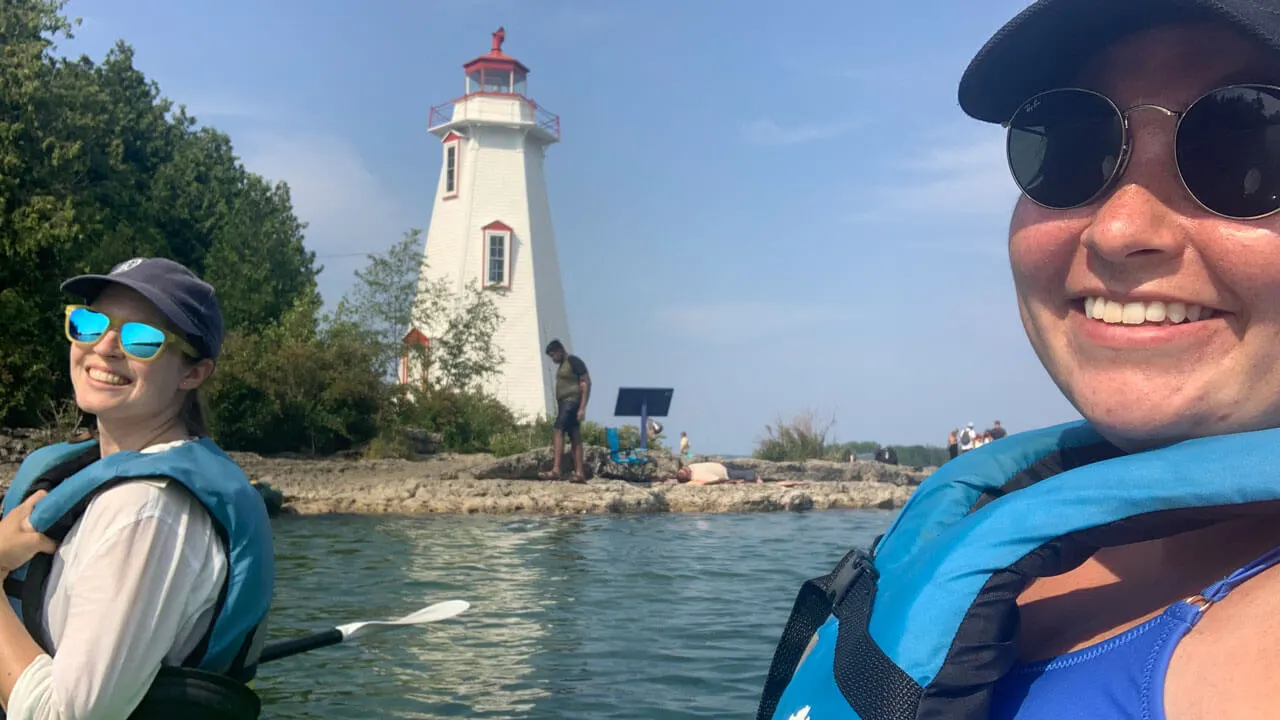 Go Kayaking, Canoeing or SUPing
There are a number of places to rent kayaks, canoeing, or standup paddleboards in and around Tobermory. Paddling through Big Tub Harbour is the most popular spot in Tobermory to do so but around Lion's Head is an ideal spot too where you can coast on top of the stunningly blue waters and peer into what's underneath.
Explore Town
Take an evening to explore town as there are a few shops to pop into and it's lovely to just sit by the water and watch the boats dock and take off. In town you can find a grocery store to stock up on snacks, The Sweet Shop for candy and ice cream, restaurants, a BeaverTail stand, a book store, and other shops for local souvenirs.
Visit Big Tub Lighthouse
Get out on the water to get the best view of Big Tub Lighthouse (you'll also cruise past it on the cruise to Flowerpot Island) or visit the rocky shore that the lighthouse sits on. This red and white lighthouse is a pretty picture spot but it does much more than just look pretty. Though the lighthouse you see today is no longer the original structure from 1885, it still helps guide boats through the often treacherous waters of Lake Huron and Georgian Bay. Swimming is possible here and be sure to keep an eye out for divers as it's a popular spot to do so. It's also a great spot for a picnic!
Little Cove Adventures
A great activity for kids and adults alike, this aerial park is a great activity to do between hikes or maybe if parking is full at trailheads.
Tobermory Lookout Tower
No need to go on a hike to get to a stellar lookout, but you will need to walk up some stairs! At the Bruce Peninsula Park Visitor Centre you can walk up a 65-foot tower for views over Georgian Bay. This is one of the best places in Ontario for fall colours.
Stargazing
Don't miss the chance to take a look up at night. Bruce Peninsula National Park and Fathom Five Marine Park are two of only 13 Dark Sky Preserves in the country, and Canada is home to some of the best dark-sky spots in the world. You can even see the Milky Way!
Hike the Bruce Trail
The Bruce Trail is a 900km trail that runs from the Bruce Peninsula all the way down to the Niagara Peninsula and is Canada's oldest and longest footpath. While some will tackle the entire trail over months or sections over years….some of us aren't quite as intense! But it's possible to hike parts of the Bruce Trail throughout Bruce Peninsula National Park and other areas along the Bruce Peninsula. The trail in this northern section is rugged so prepare yourself for moderate to difficult hikes and dress yourself and your feet accordingly. In Tobermory, you can find the northern terminus, the start of the trail.
Lion's Head Lookout
Though not technically in Tobermory, Lion's Head is located in the Bruce Peninsula and is a great stop for any trip to Tobermory. The Lion's Head Lookout trail has become extremely popular and for good reason, the lookouts off of 200 feet cliffs are incredible. If you hike this trail you will hike along a part of the Bruce Trail and get to see even more beautiful blue waters. Kayaking, rock climbing, and more can be done here too. If you don't want to do your hike heading into or out of Tobermory or drive the 45 minutes to the trailhead there are accommodation options in Lion's Head too.
The hike itself is labeled as moderate though I'd say it's closer to difficult as the terrain is quite rocky. Be sure to continue past the first viewpoint (which is labelled) as the viewpoints get better. Follow this map on AllTrails to get to the best viewpoint. This hike will take you 3 hours total for out and back moving at a steady moderate pace with little lingering at the viewpoints. Purchase your parking ticket according to your hiking speed as a parking attendant comes by frequently.
And be sure to get to the trailhead early as the parking lot is small and fills up very fast. Hiking shoes or very grippy shoes are highly recommended.
Where to Eat in Tobermory
While you have your fair share of places to eat in Tobermory, here is where I checked out and what I most enjoyed! Due to Tobermory's popularity in recent years, it's very rare to find a spot without a lineup for dinner (sometimes lunch too) so it's recommended to show up early and don't be surprised if you wait for 45 minutes or longer.
Shipwreck Lee's
Head here for delicious fish n' chips made using the local fish – whitefish – and other pub grub. Don't miss trying their local beer and take home the can because it's pretty cool.
Tobermory Coffee Company
Breakfast wasn't as easy to come by in Tobermory because our accommodation didn't provide any, but we found great local coffee (which you can buy bags of to take home too), lattes, and breakfast at this spot just across from the Chi Cheemaun Ferry terminal.
Las Chulas
I don't know what it is about this town, but there are tacos everywhere! Las Chulas is my top choice for tasty flavour and little wait time.
Tacomory
I read about Tacomory everywhere doing my research for Tobermory so of course I visited. This taco truck is popular so expect line-ups. While the food was good, I recommend Las Chulas if you only have time for one taco place.
Tobermory Brewery
Great patio, great beer, great food! This is also one of few restaurants in Tobermory that are open past 8PM, but still line up early.
Coconut Joe's
Head here for burgers, tacos, and drinks by the water on an island-themed patio. Plan for dinner as they're not open for lunch.
How Long to Stay in Tobermory?
3 days and 3 nights is an ideal timeframe for Tobermory. This gives you time to do 1-2 hikes per day, beach time, the chance to go on a cruise, kayak, and enjoy the local restaurants and sites without being rushed.
Keep in mind that since Tobermory has become so busy many things need to be booked in advance such as parking for hikes and scenic spots, and the cruise to Flowerpot Island. Book early and plan accordingly.
Where to Stay in Tobermory
Where I personally stayed is no longer taking reservations but the closest in both location and vibe is the charming New Buddha Bing Unique Experience Cottage and Cabins. The location is ideal, being a 2-minute walk away to the main strip in town. The rooms were recently redone and it is cute, cozy, and perfect for friends and families alike. This accommodation is very cute cabins and has coffee-making stations and microwaves in the cabins.
Other recommendations:
If you're looking to stay somewhere closer to Lion's Head and to drive into Tobermory or to be close to the Lion's Head hike before hiking it the next morning (which is a great idea) two great options are Lionheart BnB or Bear Tracks Inn.
Enjoy your visit to Tobermory and the Bruce Peninsula!
Continue planning your trip(s) to Canada's best natural spots!