While Hatha and Vinyasa remain the favoured yoga practices, another style quickly growing in popularity is the energetic style, Kundalini. Kundalini yoga teaches you techniques to activate and channel energy upwards through the chakras for a spiritual awakening, that brings life (your breath) to your body in a way that is quite unfamiliar to those in the west.
A Kundalini yoga teacher training course will teach you how to raise your consciousness and facilitate spiritual awakenings in others. What's more, many of the top international yoga schools specialize in this style, allowing you to gain your Kundalini yoga certification wherever you want.
Top Kundalini Yoga Teacher Training
These global Kundalini teacher training courses take place on blissful Mexican islands, rural US towns, mountainous Portuguese villages, and more.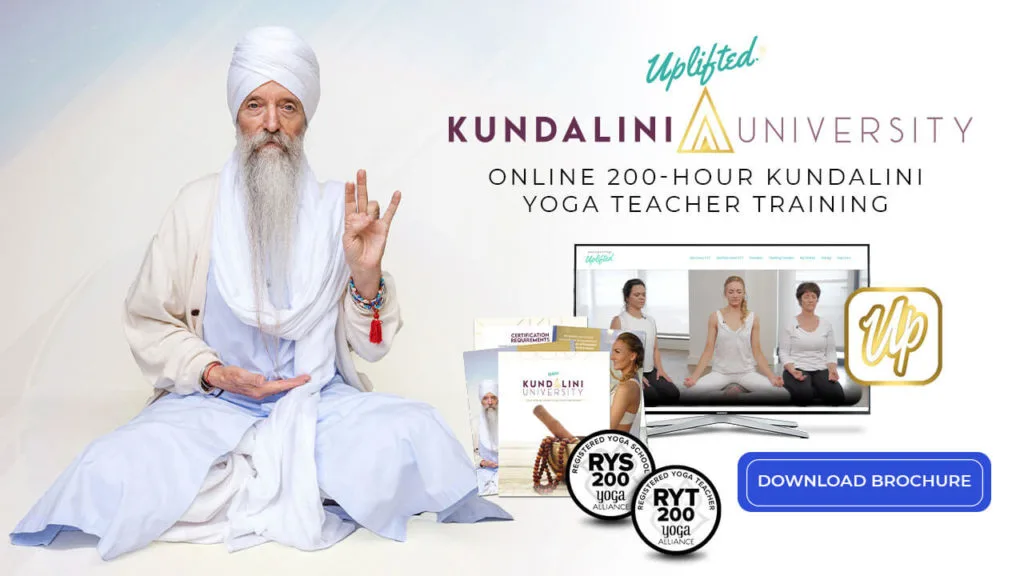 Kundalini University 200-Hour Online Yoga Teacher Training
What do you get when you combine 50+ years of Kundalini Yoga Teacher Training experience with the best in online YTT delivery? Uplifted's Kundalini University! This Yoga Alliance approved YTT is the brainchild of 75-year-old Guru Singh (Kundalini teacher of celebrities like Seal, Tony Robbins and more) and Brett Larkin, the original founder of the online YTT industry back in 2015.
Access 100 hours of professionally filmed videos that you can download to your iPhone/Android or stream to TV or computer the moment you enroll. That's just the start of training.
Next you move through a 6 month "live" component on Zoom that builds on the pre-recorded material, interacting with the same students each week (with the majority of Zoom sessions being taught by Guru Singh himself, which is amazing!). Guru Singh and Brett deliver a brand new, inclusive Kundalini curriculum and original Kundalini yoga kriyas and manuals, making this the ideal training for those who want to evolve the Kundalini lineage away from KRI/Yogi Bhajan. This course gives an in-depth review of yogic science with Kundalini yoga meditations, asana, and pranayama techniques.
29 Day 200-Hour Traditional Kundalini Tantra Yoga Teacher Training in Rishikesh, India
Starting from: $999
One of the most popular ​​Kundalini yoga teacher training in Asia is this 200-hour course at Kundalini Yoga Ashram India. As the first Kundalini Yoga ashram in Rishikesh, this renowned school teaches ancient traditional Kundalini Yoga and its Vedic and Buddhist tradition. As a result, it is one of the most authentic yet affordable Kundalini yoga courses worldwide.
Here you will learn detailed instructions on how to open your chakras, tap into your Kundalini energy, and how human anatomy affects the flow of this energy. So, along with experiencing a personal awakening, you'll gain the skills to lead Kundalini practices and facilitate transformations in your students.
The intensive course includes Kirtan and chanting, Indian classical dance, Shaktipat energy transmission, and sound and reiki healing. Moreover, along with shared or private accommodation at the ashram, the price includes three nutritious vegetarian meals a day with locally sourced, organic produce.
14 Days 200-Hour Introduction to Kundalini Yoga Training on the Island of Cozumel
Starting from: $2,411
This Kundalini yoga training in Cozumel, Mexico, teaches the Sri Aurobindo lineage of Kundalini, including the science of the chakras and energetic planes. The program goes into depth for the standard 200-hour TTC as you take a deep dive into this energetic practice for 14 days, leaving with a Kundalini yoga certification and a deep understanding of how to help others raise their consciousness.
You'll start each morning with a 2-hour practice of kriyas, asana, meditation, and pranayama. After breakfast, you'll study the Gurukula Yoga Origin theory before a second practice in the afternoon and a final theory class.
You'll stay at the homely Casa Chakras where you can feast on home-cooked vegetarian gourmet meals. Extra perks include a Mayan sunset tour and sunrise yoga on the beach so you can take in the beauty of this stunning park of Mexico.
---
Kundalini Demystified 30-Hour Yoga Alliance Continuing Education Course
In love with Kundalini Yoga but not ready for a Kundalini Yoga Teacher Training? Brett Larkin's 30-Hour Kundalini Demystified course meets you where you are. Whether you're a brand new student to Kundalini or a yoga teacher, her course dissects the alignment and energetics of all of Kundalini core poses with two demo students.
It also contains detailed videos and a slide deck that covers all of Kundalini's most common (and taboo) topics: from Sikhism and the Yogi Bhajan scandal, the origins of the practice, the bioenergetics of chanting and more.
Brett makes Kundalini Yoga accessible to a broader audience and her approach is down-to-earth and relatable. It's the perfect bite size version of her full 200-hour Kundalini training that she co-leads with Guru Singh, where they go even deeper into the Kundalini yogic philosophy and Kundalini yoga kriyas designed by Guru Singh himself.
YACEP continuing education credit available for teachers.
---
22 Day 200-Hour Traditional Kundalini Mukta Tantra Yoga Teacher Training in Algarve, Portugal
Starting from: $1,971
Join Mukta Tantra Yoga at Karuna Retreat Centre in the beautiful Algarve, Portugal, to learn the traditional Tantra yoga of Kundalini, including chakras, mantras, sounds, vibrations, and elements. With these tools, you'll be able to use your body, mind, and senses to unlock your Kundalini Shakti and guide others to awaken theirs.
This Kundalini teacher training includes an in-depth study of the spiritual Divine Goddesses and how the chakras, bandhas, and mudras relate. You'll start each day with prana and Tantric breathwork, followed by Kundalini asana practice, then your daily lectures. Then in the evening, you'll have a second practice and meditation session.
The Kundalini YTT takes place in the small Portuguese town of Monchique, located in the mountains with breathtaking views of the Algarve. The package includes all meals and shared accommodation, or you can upgrade to a private room.
25 Day 200-Hour Kundalini Yoga Teacher Training in Les Cévennes, France
Starting from: $2,561
For authentic Kundalini yoga teacher training in Europe, head to Matsya Yoga Academy in Vienna, Austria. Here you will learn the history of the practice by studying the ancient scriptures and mysticism around divine energy.
The intensive 25-day training includes twice-daily Kundalini practices with pranayama and meditation and two theory classes. Topics include the philosophy of Tantra, the science of Kundalini and practice guidelines, mantra and secret Bija, and yogic ethics. Upon completion, you'll receive a Kundalini and Hatha yoga 200-hour Yoga Alliance diploma along with Matsya Academy scripts of seven ancient texts.
Accommodation is right at the studio with other fellow trainees. While it may be small, it certainly is cozy and creates a great atmosphere to connect with the other participants as for tapping into your inner goddess.
29 Day 200-Hour Kundalini Yoga TTC Traditional Style in Rishikesh, India
Starting from: $999
Do you dream of becoming a Kundalini yoga instructor, but money is tight? In that case, this super affordable Kundalini yoga course in Rishikesh is a superb option. On this 29-day course at Samadhi Yoga Ashram, you'll be guided through the process of Kundalini awakening while learning how to instruct others.
The program combines Kundalini practices to awaken the dormant energy, and Tantra practices to unite Shiva and Shakti. Hatha yoga, pranayama, and meditation are included, too, along with detox cleansing techniques. The course also features a heavy emphasis on philosophy so that you can truly understand the function of Kundalini Shakti before teaching it to others.
Although the course is intensive, you'll have times of rest and fun with weekly bonfires and dance parties, nature excursions, and an Ayurvedic massage. You can choose a shared or private room at the ashram, where your three daily vegetarian meals will be served.
What's next?
Get my How to Choose a YTT Mini Guide! Avoid scams, what you MUST consider & my top course recommendations
Need a way to deepen your practice before YTT? Try my 30-day yoga adventure – Journey Home
Practice yin & vinyasa classes with me on YouTube to prepare for your upcoming training
Other training to deepen your practice: